Forum Regular
Join Date: Nov 2008
Location: Superior, CO
Posts: 126
Mentioned: 0 Post(s)
Tagged: 0 Thread(s)
Quoted: 9 Post(s)
Re: Jerry can holder
---
So far, surprising little! I figured it'd move more than it does. I'll have to say that I haven't had it fully loaded off-roading yet. I should have results for that in a few weeks. If it does move, I already have a few ideas.
Forum Veteran
Join Date: Apr 2011
Location: Boston, MA
Posts: 589
Mentioned: 0 Post(s)
Tagged: 0 Thread(s)
Quoted: 1 Post(s)
(Thread Starter)
Re: Jerry can holder
---
So it's looking more and more like fuel cans go up top unless I can get enough money for a
kick butt trailer!
Forum Superstar
Join Date: Aug 2010
Location: NJ
Posts: 1,618
Mentioned: 0 Post(s)
Tagged: 0 Thread(s)
Quoted: 29 Post(s)
Re: Jerry can holder
---
hmmm I'm definitely going to take the spare off and do some research on this subject
Forum Superstar
Re: Jerry can holder
---
Quote:
BTW -- Am I the only that thinks that
ARB's $500 solution
for holding a 5 gallon gas can is a little expensive? Yikes!
You do realize that is a swing out that only works on their bumper. You can't just add that to your stock bumper. Have you priced dual swing out carrier rear bumpers? That is about the going rate for a single swing arm with a gas can carrier on it.
Fuel cans easily mount on the roof with some tie down straps. Just get some nice cans that won't leak.
---
2001 UZJ-100 Land Cruiser - 35" MTRs, ARBs fr/rr, 4.88s, ARB front, BIOR rear & skids, Radflo 2.5s, OME springs, 1" BL, WKOR rails, DT headers
1997 FZJ-80 Locked - Sold
2007 Supercharged FJ Cruiser - Sold
To see what me and Roux have been up to, check out our instagram page: Laytonsky
-Layton
TLCA# 20623
I have a V8!!
Join Date: May 2006
Location: WY
Posts: 22,797
Mentioned: 202 Post(s)
Tagged: 3 Thread(s)
Quoted: 5081 Post(s)
Re: Jerry can holder
---
Quote:
Here's my solution. I built this up and have tested it a few times already with good results. Before anyone pipes in about how to get into the back, yes, it's a bit of a pain but this is just my test-mule. If I find that it functions perfectly, I plan to incorporate a swing-out. My criteria were that, I was able to hold 10 gallons of fuel, a cooler, and any other "dirty/wet" items I didn't want inside. Beyond that, I wanted as much clearance as possible and also for the set-up not to cover my brake/reverse lights or license plate. I wanted to be able to see out the rear window as well. So far all of this has been accomplished. I haven't tested it for extreme departure angle but what little I have done, I don't foresee any trouble. However, I'll find out for sure in a few weeks.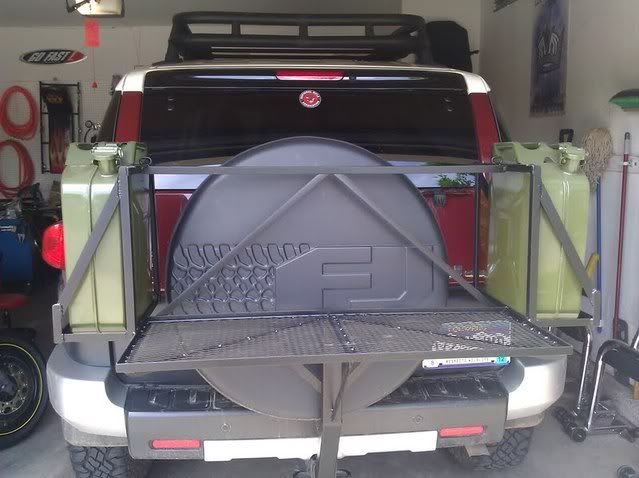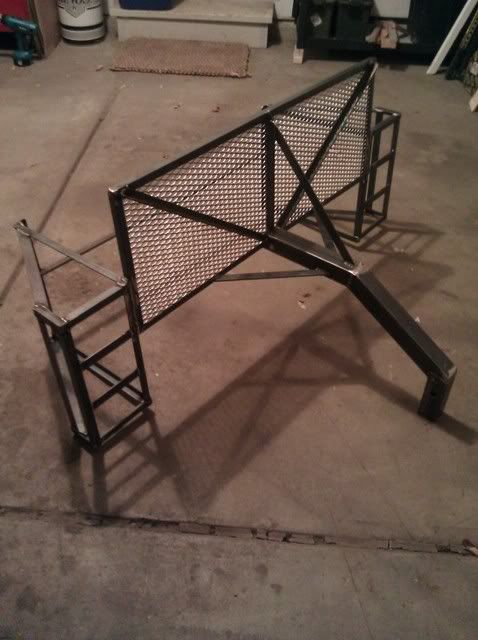 Nice setup. Many years ago I had a '90 Toyota pickup and an ATV. With the ATV in the bed there was no place for a cooler. A friend and I made a setup similar to yours. The arm and basket were 2 pieces for easier storage. The basket had a receiver on the rear of it and the arm came out a little farther than yours to reach the rear of the basket. No side can mounts. The bottom of the basket was even with the top of the tail gate and we welded a couple of little tabs so that they could "catch" the basket on top of the tail gate if it moved. They weren't needed as the single mounting point worked great and didn't have enough movement to need anything more. It didn't have a cross brace either.
I normally had a 40qrt Igloo cooler, two of the same gas cans as you do, and a Coleman stove on end behind the cooler, or a Volcano Stove or other gear in it with the cooler, but without the gas cans. I took several trips off road to different areas to camp and ride and had no problems with the basket set up moving or rubbing anywhere. I also used it on two trips of 2000 miles each for extra room to bring stuff back for my Mother when my Grandpa died. Worked great.
I used a locking pin at the hitch and where the basket attached to the arm. The basket was approx 4'x2-1/2'x2' going by memory. The arm came out of the receiver approx 8" and then angled out and up and at the end was a vertical section for the basket. The arm was made from square thick wall tube. The basket frame was 1"x1" square tube with expanded metal floor and sides. The receiver on the basket was made of square tube.
Just wanted to give you an idea of how mine worked going through ditches etc. since they are very similar setups just a different vehicle.
It did great. I have thought about pulling it out of the shed to see what it would take to use it on the FJ, but never have. I think I could just use a hitch extender piece to set it out far enough to clear the spare.
Later on I picked up a small trailer for the ATV and we welded a post on the front. The basket would sit down on it and was used for carrying fuel cans etc on the trailer.
---
Go ahead, skin it! Skin that smoke wagon and see what happens...

I'll ride in on a sunny day, Sing you a song, steal your heart away Like a cowboy Hang my hat like I'm here for awhile Kick off my boots and drive you wild Like a cowboy Well baby you know I can't stay long You wake up, I'll be gone Until then I'll hold on Like a cowboy.

TLCA #9031
Forum Superstar
Join Date: May 2009
Location: NY
Posts: 2,638
Mentioned: 0 Post(s)
Tagged: 0 Thread(s)
Quoted: 8 Post(s)
Re: Jerry can holder
---
Currently running my Scepters up top..
---
2011 Army Green TTSE. Mods: Boztek CB Mount, Cobra 75W CB with Firestik, Uniden BCT8 mounted on MPAC Saddle Rack, MPAC Cargo Side Rack, MPAC Rear Rack, Husky Liners, Scepter Cans Roof Mounted, Rugged Ridge Headlamp Guards, Body Armor Tail Lamp Guards, Warrior Shovel Mount, Baja Basket, Metal Tech Front Bumper with Bash Plate, Rigid Dually D2 Roof Rack Lights, Ellis Precision Knobs in Stealth Black, ARB Safari Snorkel
Forum Veteran
Join Date: Oct 2011
Location: Northern Virginia
Posts: 410
Mentioned: 0 Post(s)
Tagged: 0 Thread(s)
Quoted: 2 Post(s)
Re: Jerry can holder
---
I recently saw an FJ on the highway with dual jerry cans mounted on the rear in pockets. Almost like the cooler/gear holder that mounts behind spare tire or into the tow hitch.

However, it looked like it was made just for the cans. They were mounted long ways on either side of the tire.

Anyone ever see this before?
New Member
Join Date: Jan 2009
Posts: 25
Mentioned: 0 Post(s)
Tagged: 0 Thread(s)
Quoted: 0 Post(s)
Re: Jerry can holder
---
This seems like a pretty cool option
Products
Forum Veteran
Re: Jerry can holder
---
Quote:
Currently running my Scepters up top..
Man, how I dig that rig.
Have you lifted it?
Forum Superstar
Re: Jerry can holder
---
i just throw mine on the rack, strap them down and roll. I'd like a better solution, but it works for now.
---
***CLICK BELOW TO CHECK OUT MY FJ BUILD***
http://www.bakesfj.com
**FOLLOW ME ON FACEBOOK**
-BAKER-
Currently Active Users Viewing This Thread: 1

(0 members and 1 guests)