Discussion Starter
•
#1
•
G'Day all,
Rules ask for first post here, so afew details about me first, long time 4wder, who had an original FJ45 23 years ago, on 35's with nice 350 engine, and many mods inc bronco power steering with variable ratio, 4w disc brakes, highmount winch etc, and 15 years ago, I had a 77 FJ40 on 38's with LS7 454 and 3" lift, and tubbed fender wells, cage, 60 housings, high mount etc.
Many turbo and supercharged 80 series petrol and diesel in between, on 35/37/40" tyres, the odd patrol on 36/38/40" tyres, and triple bypass shocks, a 78 series troopy on 36" swampers, and TX Prado TD, among others.
I own a 4wd and car customising shop and parts business near Melbourne [Geelong South] in Victoria Australia, and like to do remote trips, and preparing vehicles for remote travel.
Our new truck is a new 011 FJ cruiser in titanium, delivered in March 011, and in the first few weeks we have fitted roof racks, floor mats, tow bar and plug loom, vapour injection LPG, 3" exhaust, 35" MTR kevlar tyres on Pro Comp rims, 70mm long travel lift using Bilstein shocks, bump spacers, front diff drop, and the body mount trim to fit the 35's, and have some Exp One front and rear bars coming, XP 9.5 winch, and the 4.56 diff gears have just arrived, so some solid pinion spacers to go with them, and some modded Toyota rock rails and a rear storage system for the 60lt Engel and gear for travel.
Will add details as we go in a build thread.
Day 1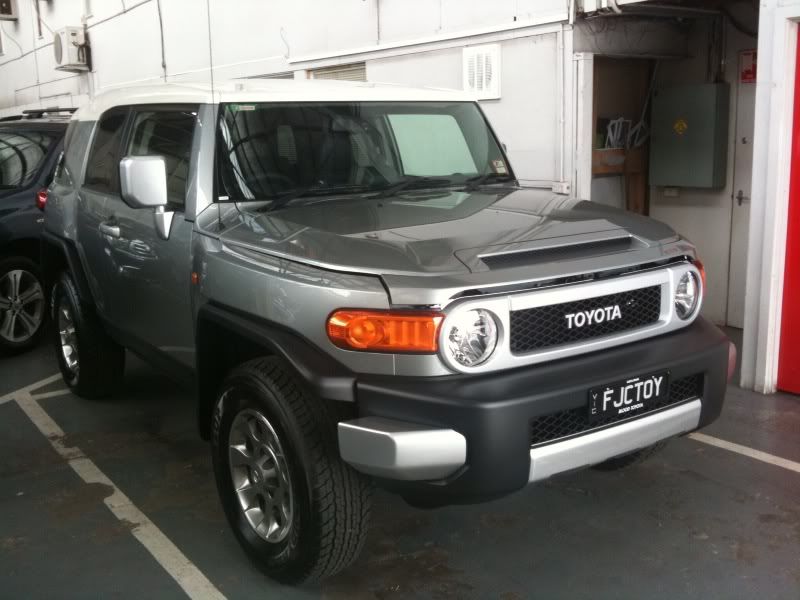 week 1
month 1