Discussion Starter
•
#1
•
Once again, courtesy of forum member Lzalusky.
Shrockworks is hosting another group buy for a popular modification to his own rig. Please read the ENTIRE description as there is a lot to take in here, but it looks like all the bases are covered.
This will run much like the last group buy, but this time rather than breaking it up into a two stage interest/group buy ordeal we will just ask that upon posting here, go ahead and PM Lzalusky with payment info. Paypal will be default, but if you would like to send a money order he can get you an address. Only after we have confirmed that the minimum number of orders has been reached (shooting for 25) will payment be taken.
Also, note that these prices are introductory prices and should we choose to continue making this kit available after the group buy the price will likely be higher.
2010-2014 FJ Dual Battery Tray and Emission Pump Relocate Group Buy
As we all know, the 2010+ FJ has pretty limited space in the engine bay, making it more difficult than previous years to fit add-ons like a second battery, auxiliary relay box, compressor etc.
One advantage of the 2010+ FJ however, is that it has a reinforced mounting point on the passenger side front of the vehicle. This location is a mirror image of the driver side, which holds the stock battery. This is desirable for a second battery because the body has been reinforced in this area and has considerably more structure than the thin wheel well sheet metal found near the firewall in the common second battery location.
This kit allows the installation of a second, group 34 battery in this location and consists of the following parts:
 CNC Bent Heavy Gauge 304 Stainless Steel Tray
 Black Anodized 6061 Aluminum Battery Clamp
 HDPE Tray Liner
 Tin-Zinc Plated J-Bolts
 Stainless and Cad Plated Hardware to Complete the Installation
The stainless tray bolts to the body in the second battery location, pushing the battery forward and out of the way of the air box. It includes integral mounting brackets to relocate the power steering reservoir and AC line that sit on the mounting plane, pushing then slightly further into the engine bay.
For 2010-2012 FJ's, this kit is all you need to add a second battery! The washer fluid reservoir kit and smog pump relocation kit are not required to complete installation of the dual battery tray on these model years. 2013 and 2014 FJ's will need to relocate the secondary air injection pump. A kit that works in conjunction with our washer fluid reservoir relocation system to move the pump to the rear passenger location is available and will be discussed later.
Compatible Batteries:
The kit was designed around an Optima Yellow Top D34 battery, but will fit other group 34 size batteries. The maximum battery dimensions are 10.1"L x 6.8"W x 6.9"H, with the height measured from tray to clamp and not including the terminals. Many group 34 batteries are longer than the Optima, so be sure to check.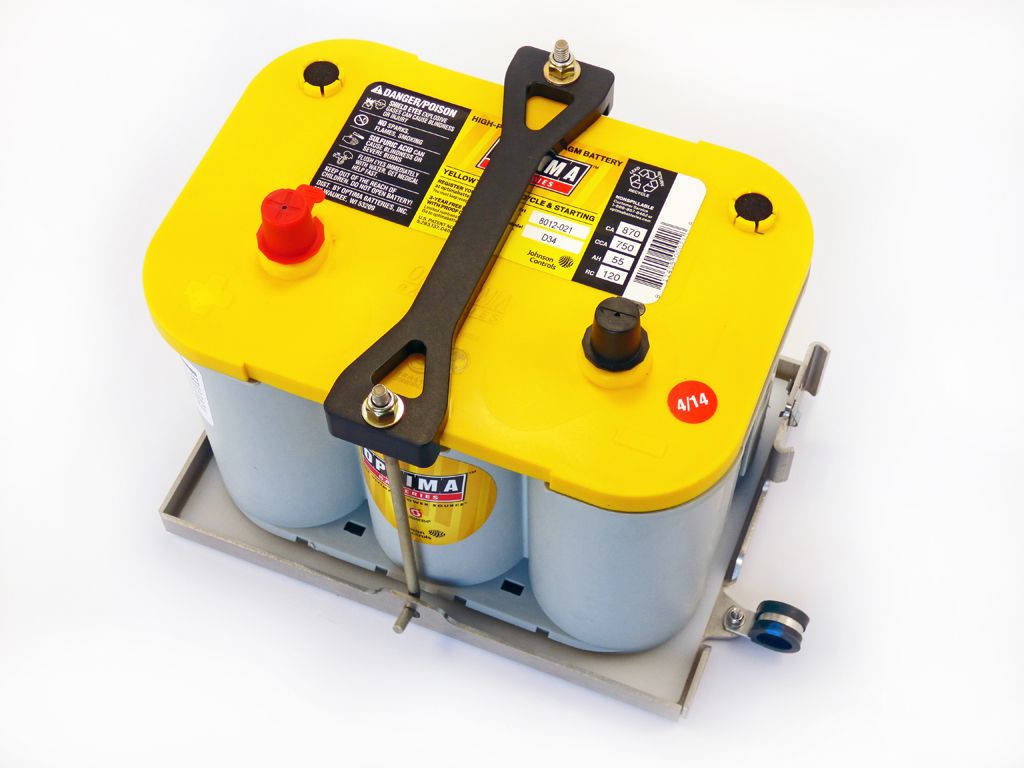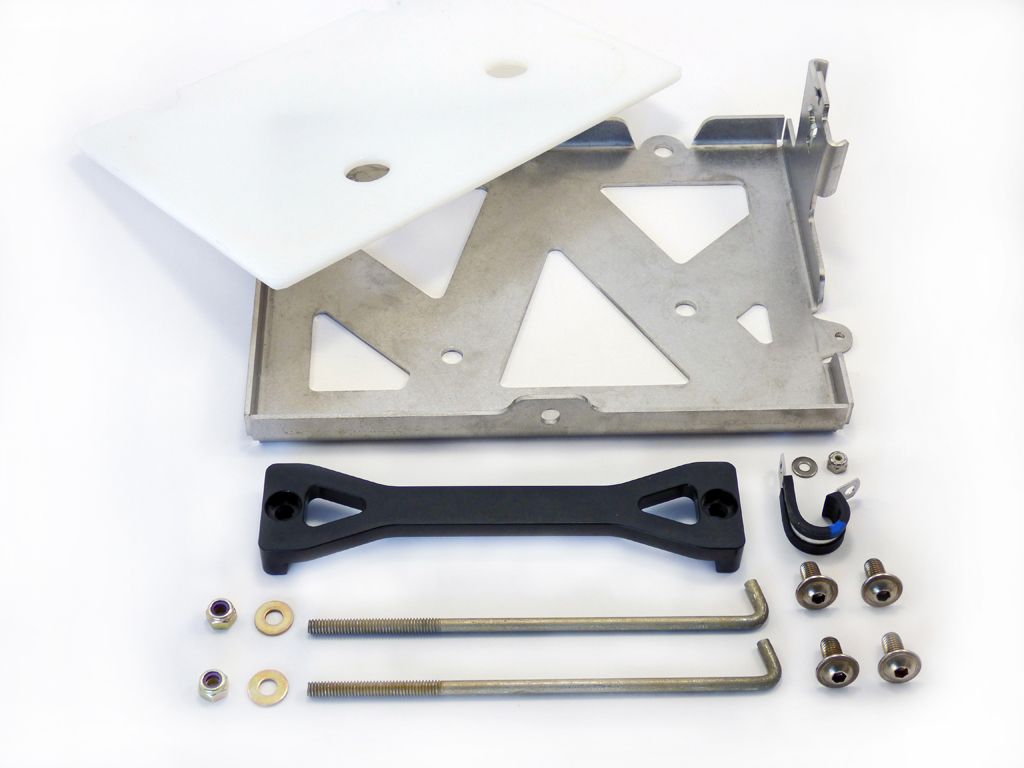 Secondary Air Injection Pump Relocation Kit:
As previously mentioned, 2013 and 2014 FJ's will need to relocate the secondary air injection pump to the passenger rear of the vehicle. This kit allows just that, but requires the washer fluid reservoir relocation kit for installation.
The kit includes the following:
 304 Stainless Steel Mounting Bracket
 Stainless Coupler
 Plug and Play Pump Harness Extension
 Stainless and Silicone Tube Clamp
 All Hardware to Complete the Installation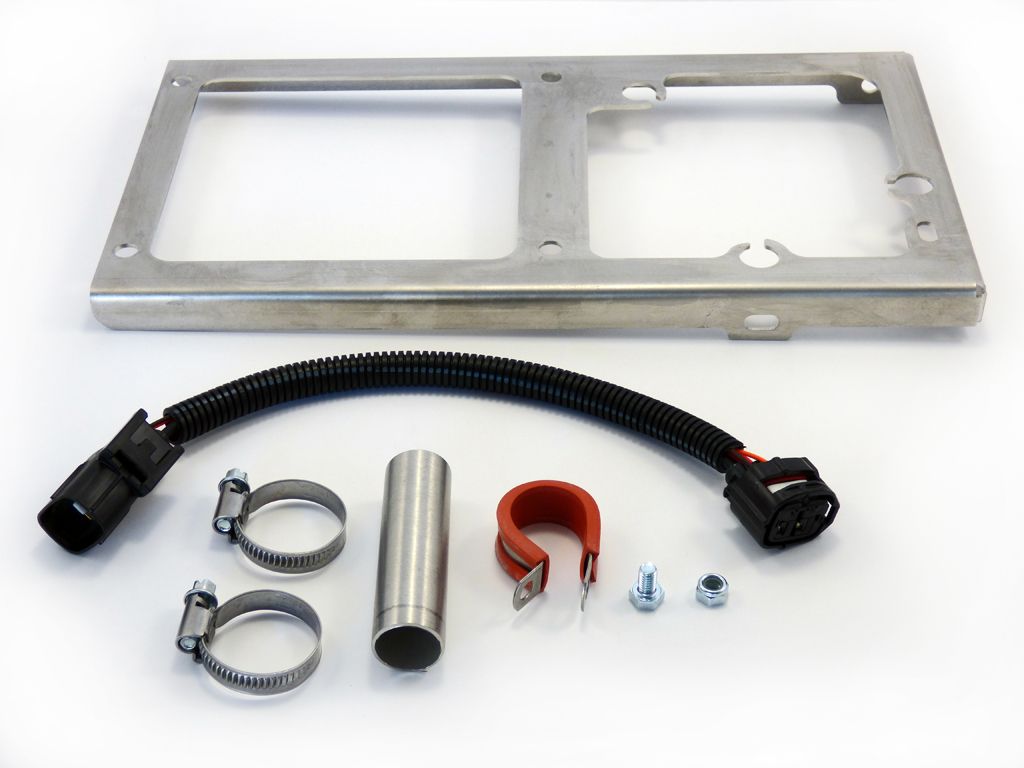 * While this kit will retain complete functionality of the secondary air injection system and prevent any codes from being thrown, it may cause issues with the visual emissions equipment inspection in some states. As such, this kit is designed for off road use only. The buyer is responsible for understanding any local, state or federal regulations pertaining to the on road use of this kit.
Pricing and Delivery:
Pricing:
Battery Tray Kit - $130* + $16 Shipping
Battery Tray Kit + Pump Relocation Kit - $185* + $18 Shipping
Washer Tank + Battery Tray + Pump Relocation Kit - $434* + Free Shipping
If you want some other combination of the above kits we can handle that as well.
*CA residents add 8% sales tax
Delivery:
The kits will take 3-4 weeks to manufacture and ship out after completion of the group buy. We are shooting for a minimum of 25 for both the battery tray and smog pump relocation kits. The current long lead item is the connector housing for the harness extension in the pump relocation kit. Orders for or containing the pump relocation kit may be delayed slightly while waiting on this part.