----THE MOD LIST----

---Suspension---
King extended Front Coilovers 650Lbs with Reservoirs
King Rear Shocks with Reservoirs
FJTOYMAN Rear Shock Skids
Icon Delta Joint Upper Control Arms
Toytec Superflex Rear Coils
Icon Front Coilover Covers
Icon 2.5 Rear Shock Boot kit

---Wheels and Tires---
TRD Black Six Spoke Wheels
285/75/16 Duratracs
Winter Nokian Hakkapelitta on FJ 17" OEM Wheels

---Exterior---
Demello Single Hoop
Toyota Rock Rails
Two sets of Step Assists
Blackout TT part
White TTUE Grill
Warn M8-S
Factor55 Prolink OD Green
Ellis Precision Fairlead
Summit 6 Grill Badge
Summit X Grill Badge
AVS Ventvisors
Rad Rubber Engine Splash Guards
Gzila awning mounts
ARB Awning 2000- 814201

---Lighting---
PIAA Platinum LED H4 Headlight bulbs
Baja Designs Squadron-R Sport Cornering/Fog with Toyota Switch
Pfran LED Interior Lights

---Under Hood/exhaust---
TRD Intake
TRD Exhaust
Expedition One Washer Bottle
Scuba Mod
ARB CKMTA12 Twin Compressor
ARB Aluminum one gallon tank
Bandi Compressor mount
Air Horn
Warn Power Interrupt Kit
Odyssey 34R-PC1500
Ellis Precision Battery Clamp TRD


---Interior---
Ellis Precision Shift Knobs Black Stealth with TEQ symbol or TRD symbol
Springtail Solutions Pet Barrier
Springtail Solutions Side Rack Combo
Springtail Solutions Center Console Saddle Army Green
Industrial Forming Rolltop Cover
Old Style FJ Mats for the front and cargo mat
Husky Floor Mat for back seat area
K&N Cabin Air Filter
Heated mirror mod with Highlander switch
Heated Seats
CH4X4 Switch Panel and Twin Compressor Switch and Winch Switch
Cobra 75 WX ST CB W/Bandi Mount.

---Other---
Yakima Swing Daddy to carry bikes
Thule Hull a port pro and Yakima Rail grabs to carry kayaks




UPCOMING....................................................................................................................

?????????????????

Our new iceberg! March 2014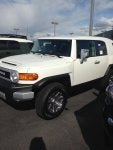 Minor Iceberg build starts on page 13!
Mods for the Iceberg
Duratracs
76 Ball on the antenna
Blackout TT Parts, Black Grill with White Toyota Emblem
Springtail Solutions Saddle
Springtail Solutions basket
Old Style FJ Mats for the front and Trails Team cargo mat
Husky Floor Mat for back seat area
Toyota Rock Rails with 2 sets of Step Assists
AVS Ventvisors
PIAA Superior Bass Horns
Pfran LED Interior Lights
Heated Seats
Rigid Industries DOT/SAE Fog Lights
K&N Cabin Air Filter
Winter tires Nokian Nordmans on FJ 17" OEM Wheels
M416 Trailer with Autohome Maggiolina Grand Tour