Well it finally happened guys! I made the jump from 285/75R16s on my black 16" TRD wheels to 315/70R17 BFG KO2 tires on the black 17x7" TRD wheels! (Sometimes called TRD Pro wheels, TRD SEMA wheels or Midnight black TRD wheels). I had always wanted to run a better tire than my junky Grabbers and I wanted to stay within the all-terrain realm to keep it driving nice on road and off road. From what I read and have seen the KO2s are a great tire, and my dad picked up this specific set from
@toyotacolin
but seeing that they are Load Range C, installers refused to put them on insisting his Raptor needed at least Load Range D (the Raptor comes with Load Range E from the factory though). So with an extra set of tires sittingaround doing nothing and with me wanting new tires, I snagged them from my dad! Now I needed wheels to run them on since mine were 16" wheels. I wanted to keep it true to the Trail Teams style with the TRD wheels and when we first got to see the 17" TRD wheels on that FJ-S Cruiser Concept at the FJ Summit in 2013, I fell in love! I knew I wanted the 17" TRD wheels and since they were now readily available with them coming on TRD Pro 4Runners I got a set and then had the combo installed! They are awesome!
Check it out!
Before:
After: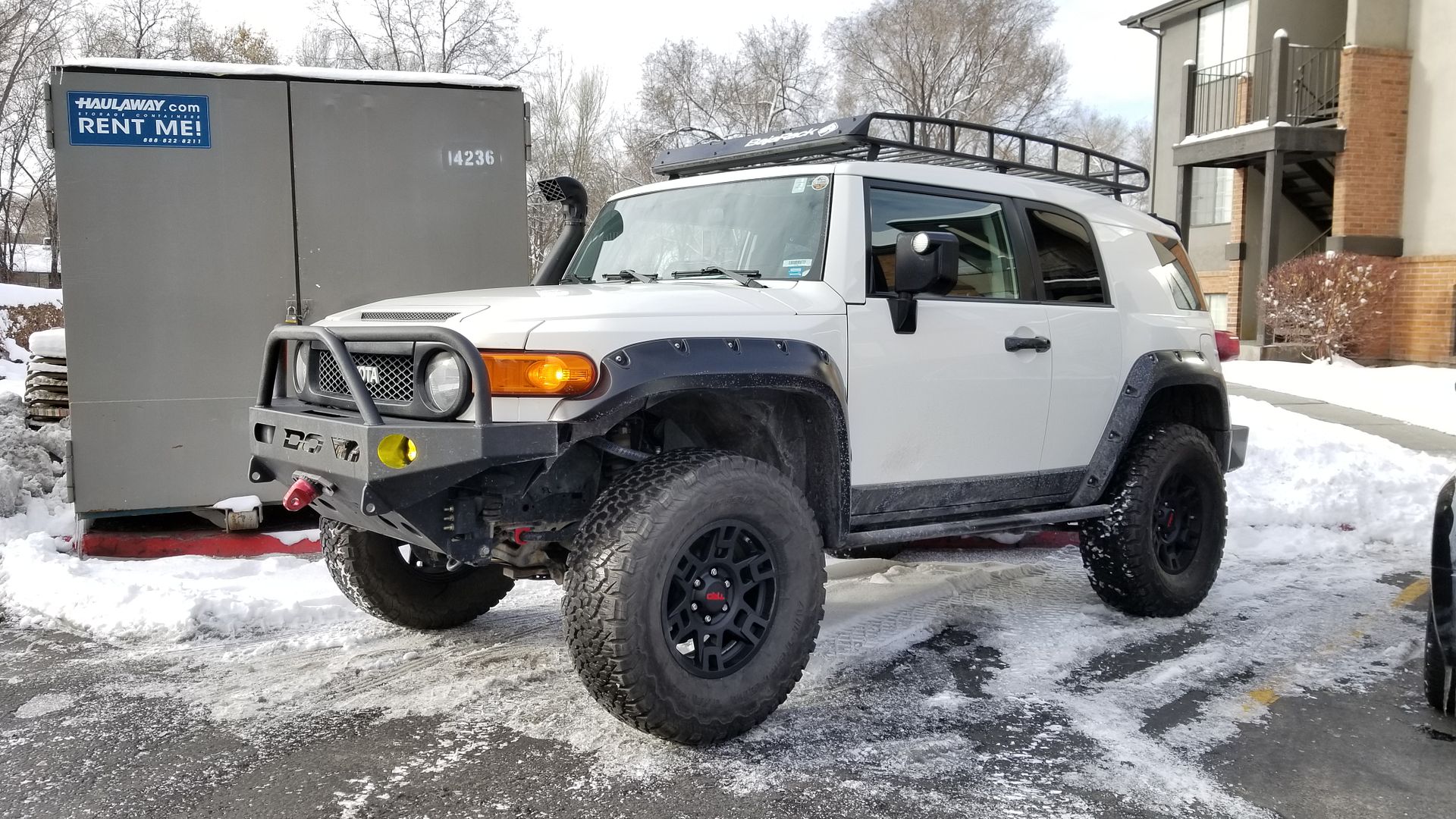 Before:
After:
Here is a comparison showing the size difference of the 33s vs the 35s
And here is a cool photo showing the old BFG KO tread vs the newer BFG KO2 tread
Putting 4 315s in the back of the FJ with the seats folded down fits perfectly!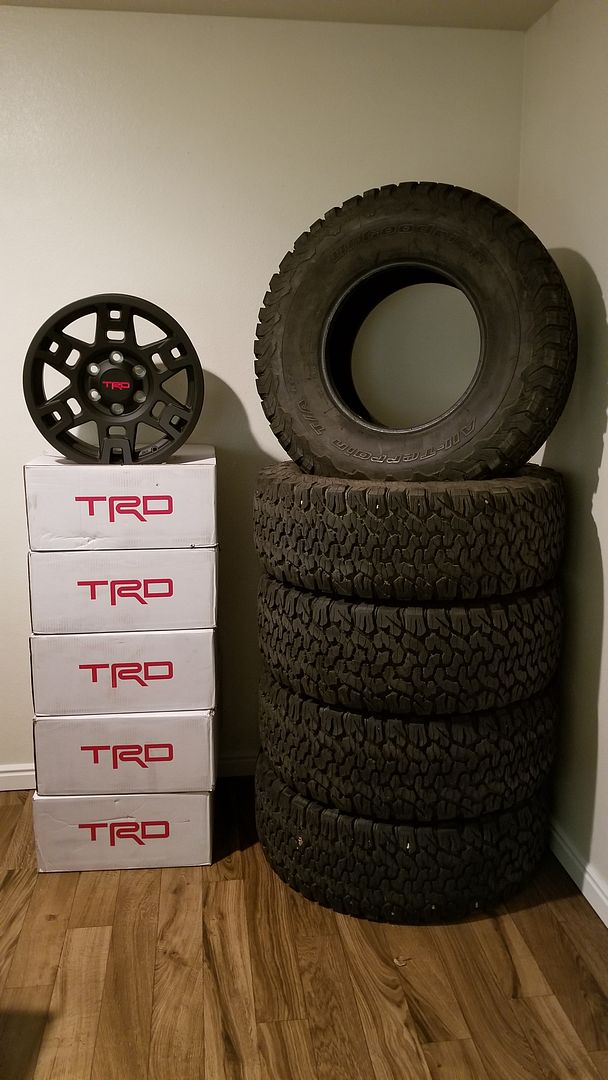 And now the glamour shots!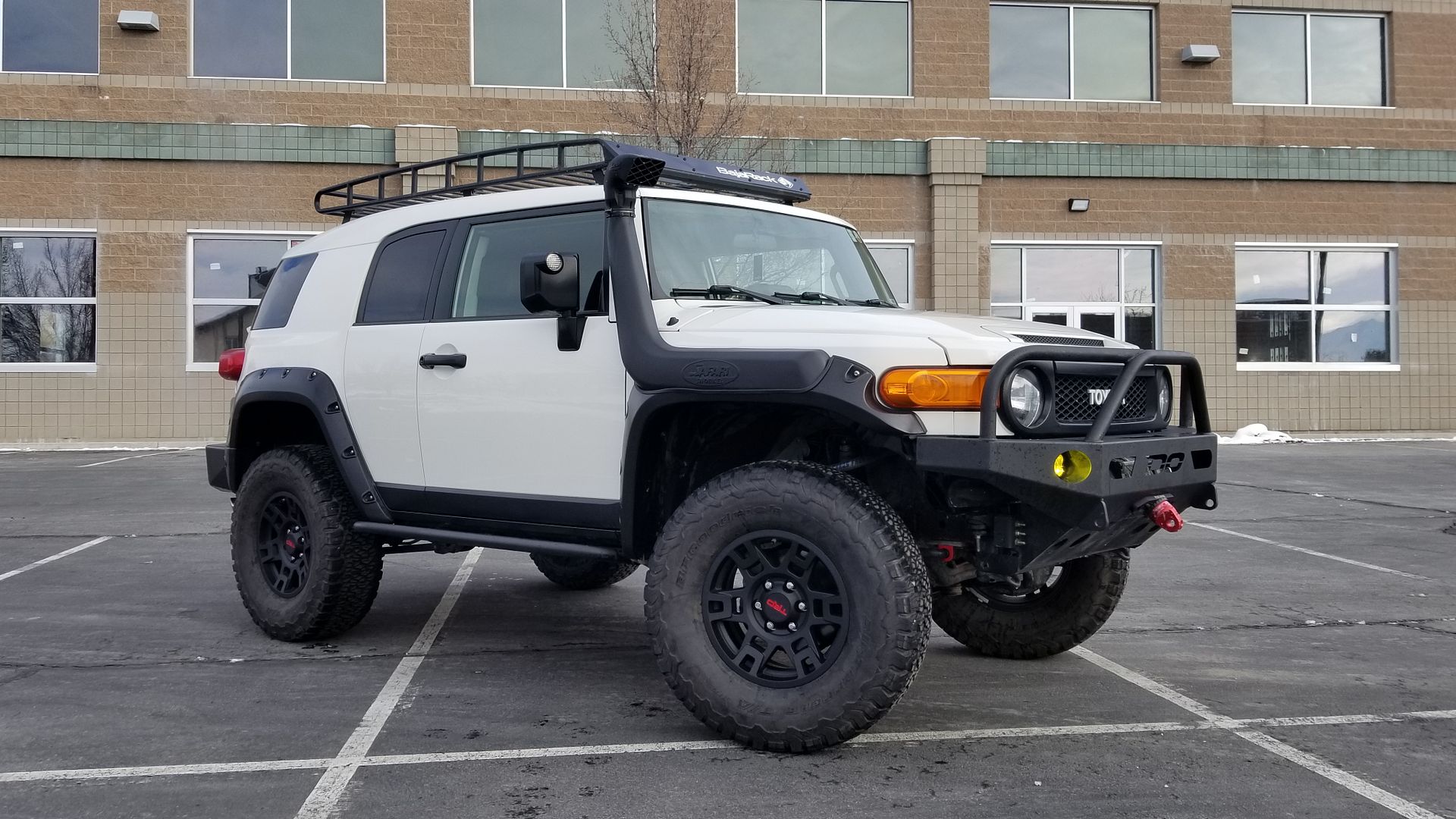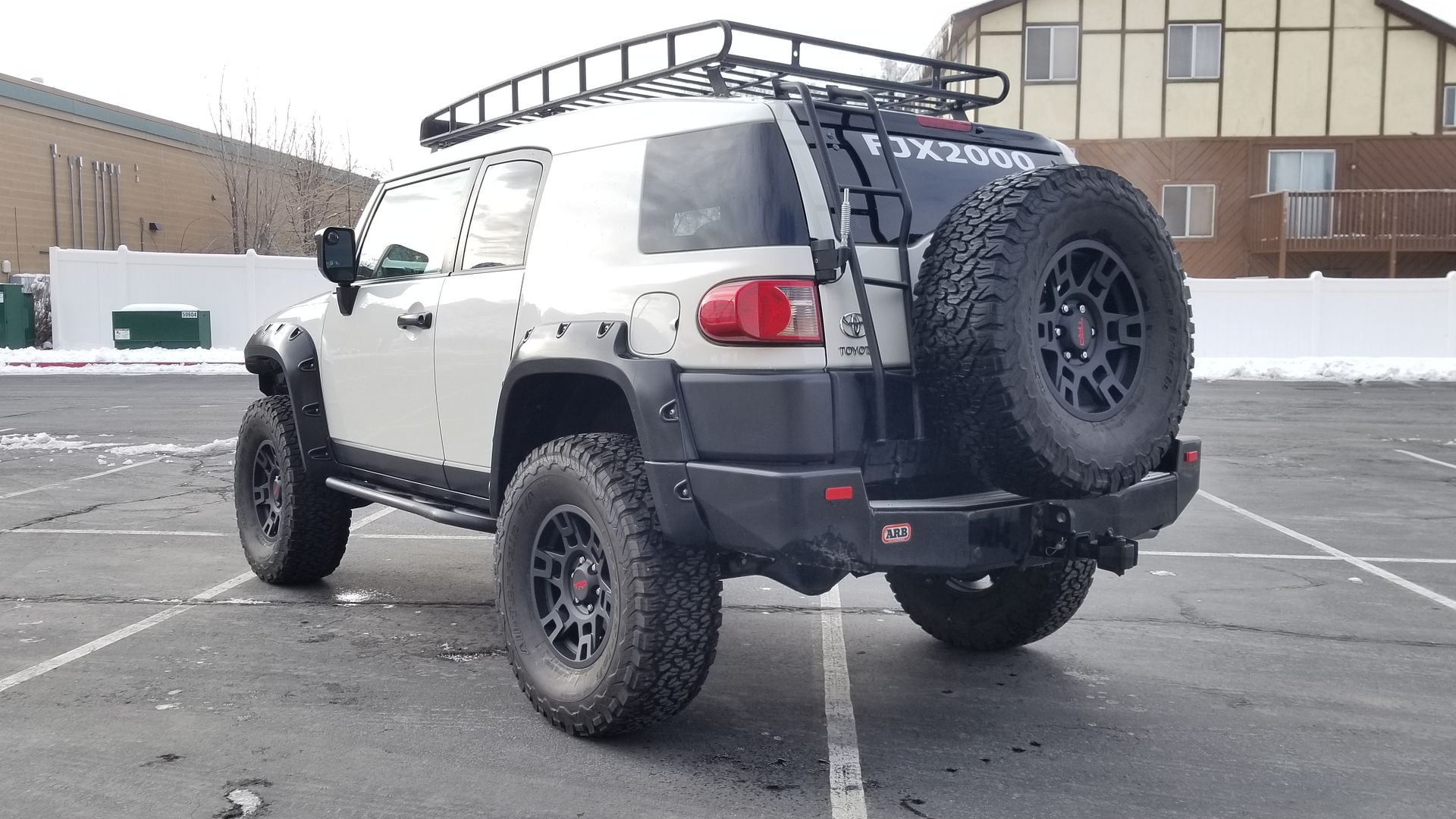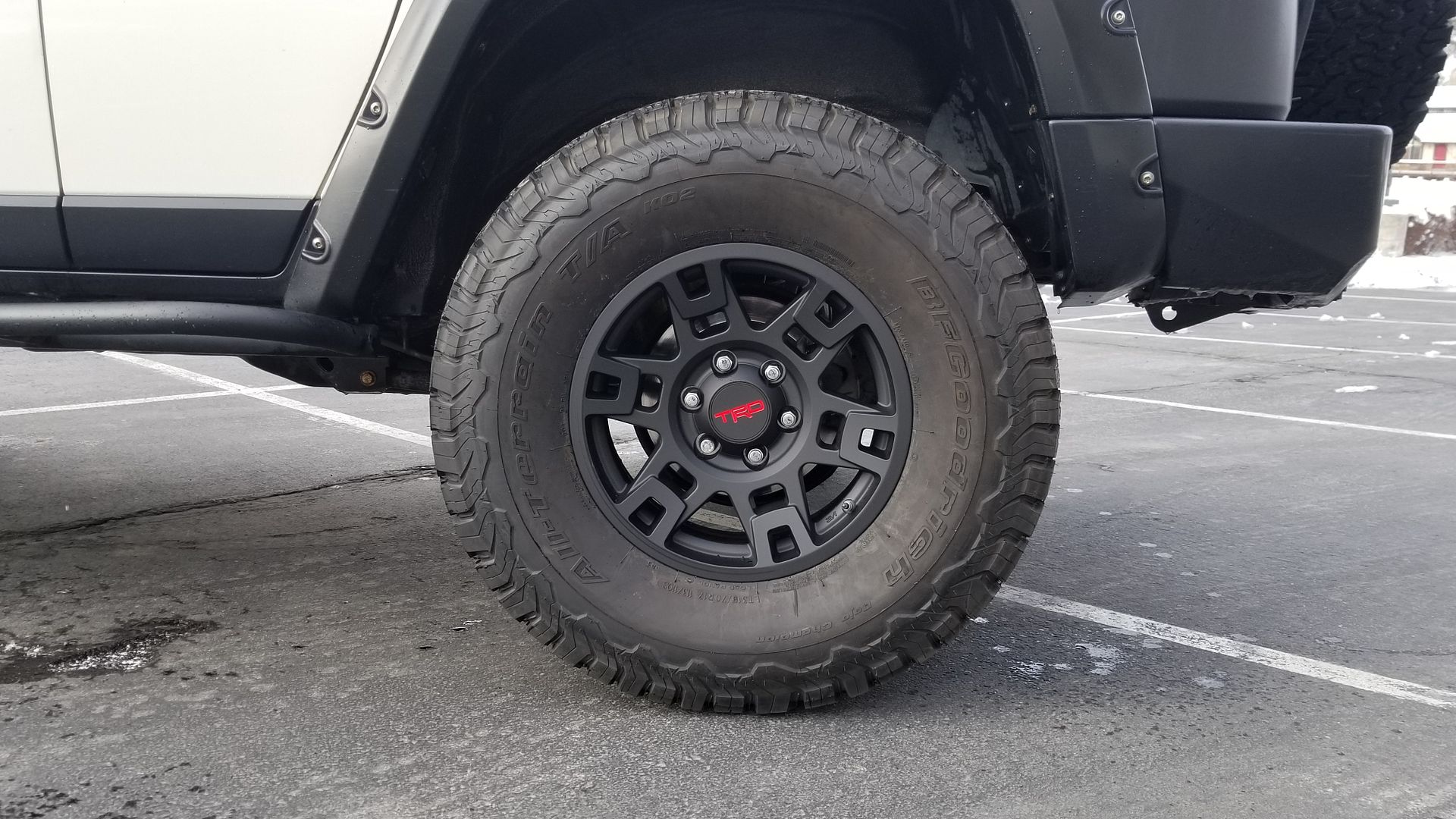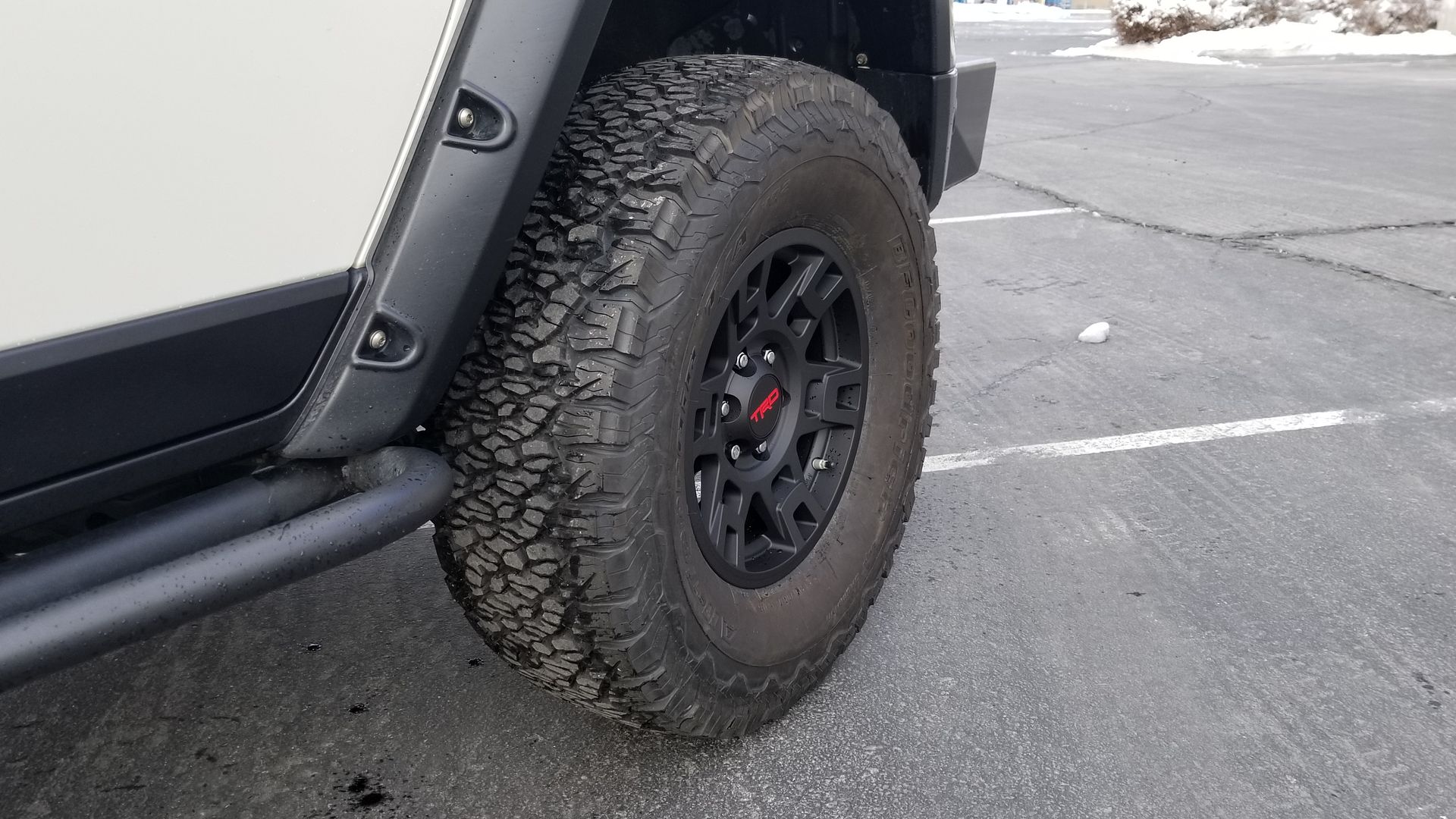 Here is a shot down the side so you can see what they look like width wise compared to the Bushwacker fender flares. Note: I also have 1.25" Spidertrax wheel spacers installed.
I did have rubbing initially when turning sharp, but after an alignment and having them shove the castor to about 4 degrees (they got mine to 3.5 on the drivers side and 4.0 on the passenger side) the rubbing is gone! At least when driving on-road. But if there is and issue when off-roading, then it is time for getting more aggressive with my BMC and hammering the pinch welds! Here are photos of before the alignment where it was rubbing.
Loving the look so far, we will see how they go! Played with the tire pressure to see if the tire would make fuller contact with the ground and help the tire wear more evenly but whether they are at 45 psi or 30 psi they are pretty much the same. It is nice since my factory TPMS sensors from the old 16" TRD wheels were able to be installed on the new TRD wheels with the use of the Toyota TPMS rebuild kit I ordered straight from a local Toyota dealer.
Love the look, love the feel, and loving the extra grip!