Does it work, Yes! How does it compare to A-Trac, only time will tell...
Intro:
All of you know by now that if you didn't get an FJ with a rear Diff Lock, you automatically didn't get A-Trac. Now surprisingly, the locker has nothing to do with A-Trac, its just that Toyota apparently thought that if you don't need a locker you have no use for A-Trac ether.
Looking at the difference between a Locking FJ and Non-Locking FJ you will find only one difference that has anything to do with A-Trac, which is the Brake Computers Part Number (The one mounted to the Brake Booster).

All the wiring, sensors, actuators, etc… are the same because A-Trac uses the same system as VSC, ABS, and Trac. So the only difference is programming.
Now since Toyota has not released the Re-Flash for the Brake Computer (Dealer theory is just replace the unit) and a new Brake Computer is as much as a ARB Locker (If you have the money for a Air Locker, than by all means, go for it, I will… sooner or later) there is really no good way to get A-Trac. So my theory was converting Trac into a from of 'A-Trac', different problem, same end result…
Thanks:
First of all, let me say THANK YOU to some members who have helped without even knowing it; because of their previous research, posts and answering some questions, I was able to find a way to do this.
Thank You to: PRCruiser, Kansas Law Dog, Tranman, Homdad, and Tibaal89
Theory:
Trac is a from of A-Trac with one major difference: Trac only works in 4Hi (HL) and A-Trac only works in 4Lo (LL). Contrary to most peoples believes, Trac does NOT control RPM in 4Hi (HL), only in 2 wheel (H) drive.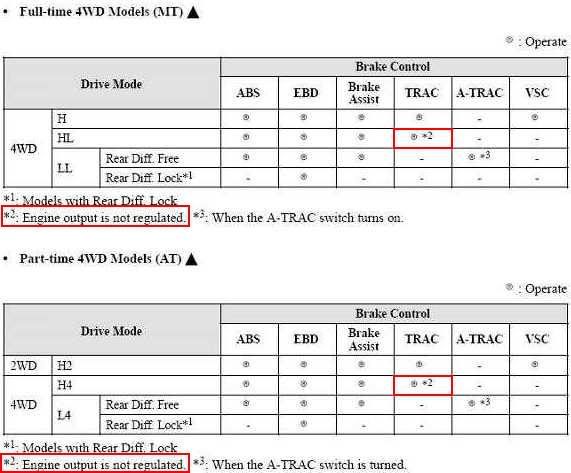 Actually making Trac work in 4Lo (LL) is as simple as bypassing the 4Lo (LL) switch for the Brake Computer and ECU.
One question remains:
Does Trac control the front wheels or just the rear?
EDIT: After several tests, yes 4Lo-Trac does control all 4 wheels.
How:
The mod is actually very simple. All your doing is interrupting the ground signal from the 4Lo (LL) indicator switch to the Brake Computer and ECU, therefore making them think your still in 4Hi (HL).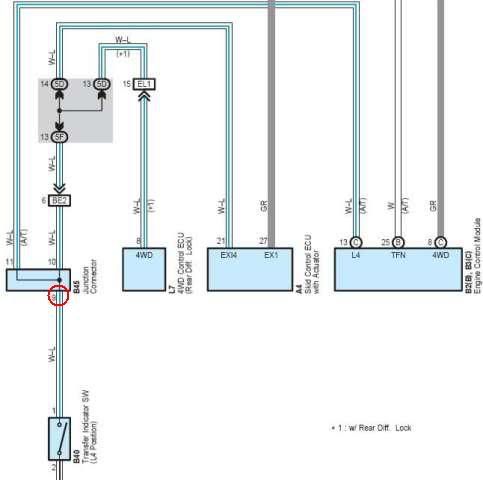 Mod:
Look under the dash on the passenger side, you will see one of the main harnesses running through the firewall. Taped to it you will see a Blue Jumper (B45).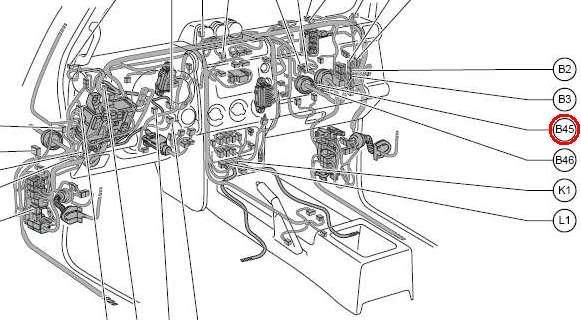 In this jumper are 3 White/Blue (W/L) wires, you need to unpin (or cut, or cut and put a switch in, which ever you prefer) the wire on pin 9.
EDIT: According to BlueMeanie it is better to have a switch because when in thick mud you need momentum to get you though so turning off 4Lo-Trac can be helpful.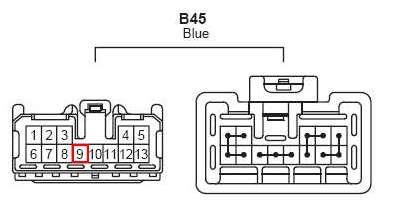 If your looking at the wire side of the connector, with the release button on top, it will be the 3rd W/L wire (the one all the way to the passenger side). MAKE SURE you get the W/L wire on pin 9 if you get one of the other 2 you will have a X-Mas Light Dash!
That's it! Your done!!!
To Unpin the wire so that this mod is 100% reversible, see post 23
http://www.fjcruiserforums.com/forums/1224220-post23.html
This is a picture of mine after the mod. I put a switch in line so I could test it, the brown wire goes straight into pin 9. The 'aftermarket' W/L wire goes to the wire that used to be on pin9. Hope that helps...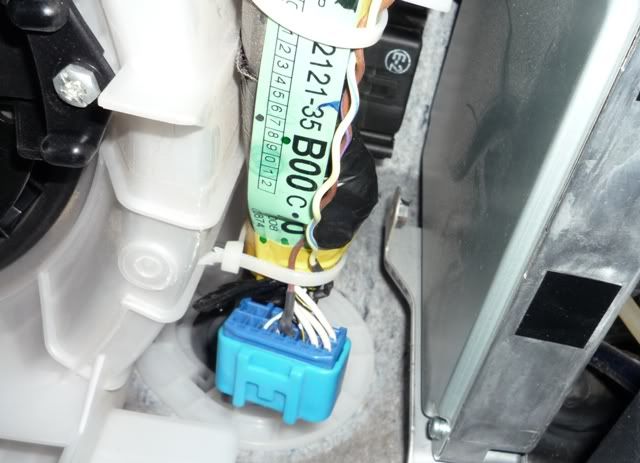 The way you know its 'Engaged':
Go into 4Lo (LL). Usually the car with the swirly marks will turn on, telling you that Trac is no longer active. If your in 4Lo (LL) and that light does not come on, the mod worked and you now have 4Lo-Trac. Trac will disengage when hitting the brake and/or clutch.
Obstacle Example:
In January of 2008 I attempted a steep hill climb on lose dirt, some rocks and large ruts. I got stopped at a point where passenger font and driver rear where just spinning. I tried for 30 minutes, different lines, but the truck just got into a worse position every time. So I gave up and backed down the mountain.
In December of 2008 I attempted the same hill climb, I again got stuck at the same spot, again same problem (2 wheels spinning). I then flipped my switch to turn 4Lo-Trac on, shifted into 3rd (seams to work better) and kept a steady foot on the gas. With some guidance of Homedad, the truck started moving, the brakes where engaging like crazy, my Trac light where blinking like crazy and the truck just kept on going.
Disclaimer:
I, this forum or anyone posting in this thread cannot be held responsible for any damage that might occur to your vehicle because of this modification. By modifying your own wiring harness you take full responsibility of any damage, injury, etc… that might occur.
UPDATE:
Post 73 from PRCruiser:
this is the video I made when I finished everything. You'll see a RR diff button but I dont have e-locker on my FJ. I have it there for a future ARB locker.

4LO hack using atrac button