UPDATE - 6/26:
(*-these trails have been reversed based on good advice from multiple sources to this order: Gemini Bridges THEN Long Canyon)
Also, I will be traveling with my SPOT Tracker and can provide any interested party a link that will enable the poor schmucks who missed out on this trip to watch our progress through the Utah wild in near realtime on Google Maps. It updates our position every ten minutes or so. Just PM me and I will send you the link. It is viewable immediately, however it will not start posting our progess until the morning of the 20th. Ain't technology grand!
UPDATE - 7/10:
Forget PMing me, why don't I just post the link here? Good question! Here it is...
SPOT "Moab Day Long Safari" Shared Page
Enjoy watching from the relative safety of your home as we enjoy some of the most striking panaramas in this great nation of ours from the relative safety of our beloved FJs.
Come join us for a day long safari through the Utah wilds​
With all the folks who will be in the Moab area just before the Summit, my wife and I decided to plan a BIG, LONG, SCENIC trip through some great terrain.
Here is the plan. Meet at the City Market at
8:00am
with a FULL tank of gas and at LEAST a gallon of water for every person in your truck. Lunch will be on the trail, so bring some eats. We'll head north out of town at 8:30am and follow the Colorado River along RT279.
*First trail:
Gemini Bridges
. Starting at the US191 entrance we will go south then west to RT313.
*Second trail:
Long Canyon
. We will be starting at the RT313 entrance and going east to Jug Handle Arch and RT279.
We will then drive along the Colorado River on RT279 turning east on RT128 for the scenic pavement drive to...
Third trail:
Onion Creek
. Heading east off the highway we'll pass Fisher Towers and follow the creek. Lunch will be along the way at a random scenic spot.
Forth trail:
Rose Garden Hill
. Turning north and up the hill to the top of the mesa. This may well be the hardest part of the journey, (though still fairly mild compared to some other trails in the Moab area). But it's important to complete this leg to get set up for the final trail.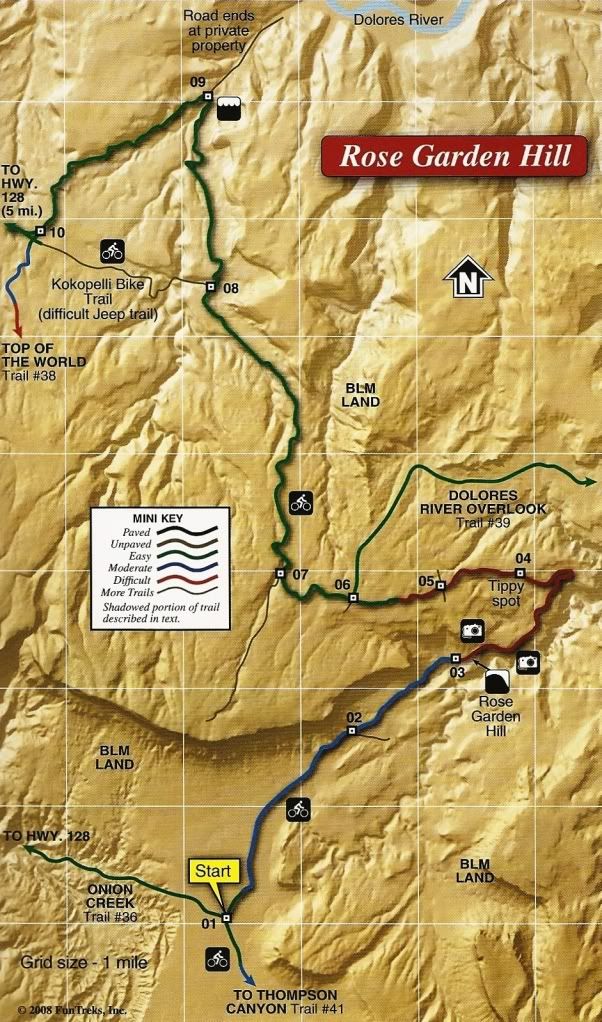 Fifth trail:
Top of the World
. For the finale we will turn south again and head down to the magnificent view of TOTW. The idea is to get here in time to chat about the day's trails and watch an astonishing Utah high desert sunset. We will NOT be starting where the map below has it's 'START' point, but rather at the parking area for the Kokopeli bike trail at the point marked '02'.
Depart after dark and head back into Moab. This should give all you play'as a chance to use those nifty lights you've been sticking all over your rig!:bigthumb:
What then? Can anyone say 'Moab Brewery'?:rocker:
Confirmed Attendies:
Apexbasher
drcaduceus
DallasFJ
baja mike
bc_indiana
linnfj
fjrohrs
Johne
El Tejon
j0enickel
(your name here)
Possibly/Maybe:
colorado mainiac