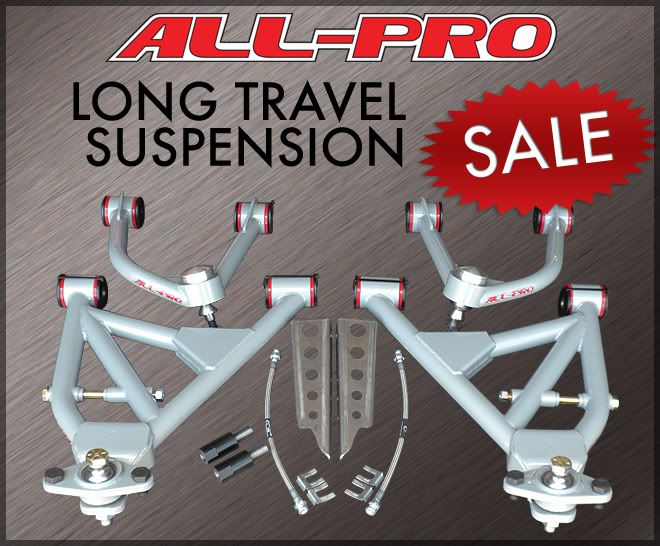 $1,950.75
- 10 Kits Available at this price!!!
Lower Control Arms, 4130 Chromoly, TIG Welded
Upper Control Arms, 4130 Chromoly, TIG Welded, Fully Gusseted, Dust Caps
Tie Rod Extenders
Spindle Gussets
Extended Steel Braided Brake Lines, DOT Approved
------------
All-Pro Off Road's Long Travel IFS suspension system for 05+ Tacomas, 03+ 4Runners, and 07+ FJ Cruisers, is now available at a more affordable price! Get 12" of wheel travel with our 2" wider per side kit! From the rocks to the sand, this all-terrain long travel kit does it all without sacrificing comfort, quality, and performance. Make getting to the trail head part of the fun!
Included with this killer deal you get 10% off the additional options:
(Only applies when purchasing into the Long Travel Kit)
Coilover Shocks
All-Pro Off Road offers either Walker Evans or Fox Racing coilover shock packages that are specifically designed for use with our Long Travel kit. Instead of using a generic 8" travel shock, we have them built to the correct length with internal stops, eliminating the need for limit straps. Both systems feature race-inspired 2.5" body high quality coilover shocks, springs and upper mounts that fit into the factory towers.
Walker Evans 2.5 Non Resivoir - ($1,050) $945
Walker Evans 2.5 Remote Resivoir - ($1,295) $1,165.50
Fox Shox 2.5 Remote Resivoir - ($1,395) $1,255.50
Coilover Adapters
We are the only company to offer a billet aluminum adapter so that you can use your existing aftermarket coilovers with our LT kit. It is a good way to get the additional travel, track width and strength of our LT kit, without having to buy new coilovers up front. You can always upgrade to the LT specific coilovers at a later date to gain an additional 1" of travel. We also offer a trade-in program as well, giving you market value for your used coilovers as credit towards the LT version.
($129) $116.10
Heavy-Duty Steering Kit
To eliminate the weak factory tie rod, we have developed a heavy-duty steering kit that utilizes a powdercoated 1" x .156 wall DOM tie rod with top quality ¾" spherical rod ends (heim joints) on both ends. We include boots with our kits to help keep out the elements, however, they do not provide an impenetrable seal, so regular maintenance is required.
($495) $445.50
Chromoly Axle Shafts
Our extended heat treated 4340 chromoly axle shafts, made by Currie Enterprises, are required for 4x4 applications. They are inserted into the factory inner and outer CVs to retain 4WD. Please specify vehicle when ordering.
($495) $445.50
Timbren Bumpstops
All-Pro has teamed up with Timbren SES to offer an upgraded bumpstop for use with our LT kit, or even stock arms. They are made of a softer compound than their usual offerings for weight carrying, and they provide a smoother, stop than the factory bumpstop without needlessly limiting travel. Recommended for 33"+ tires.
($195) $175.50
Official List:
1. Matt B.
2. Patrick L.
3. Brennan L.
4. Kolin K.
5. Matt S.
6. Jeff B.
7. Scott O.
8. Max T.
9. Dave B.
10.