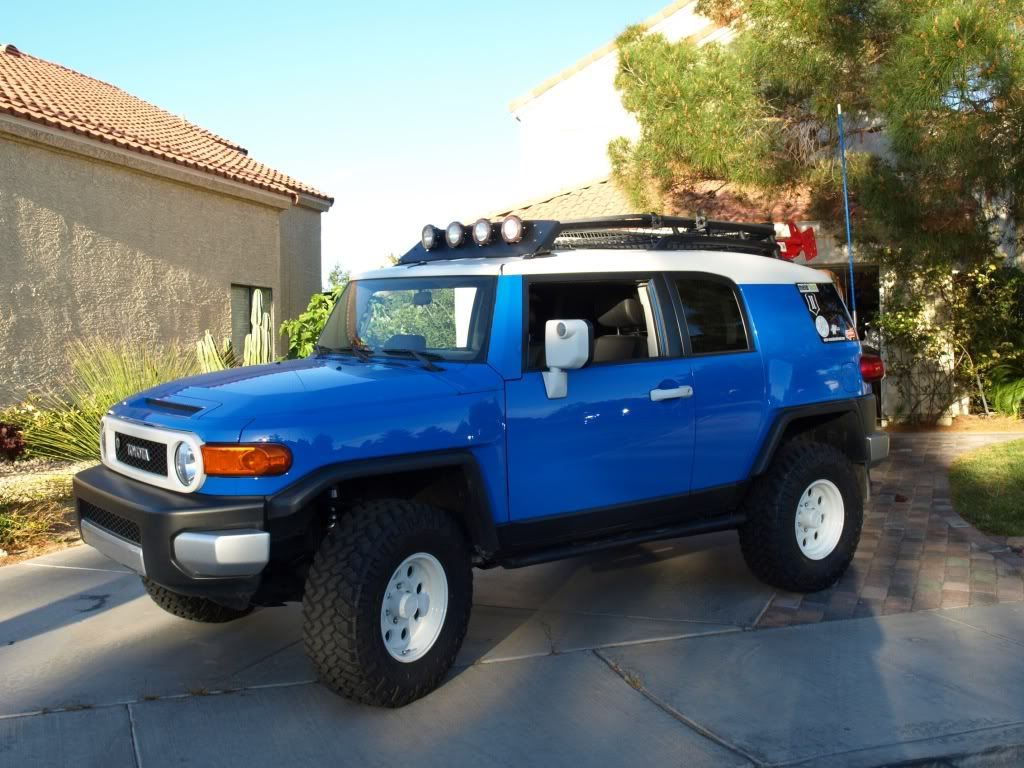 Current Photo
Purchased in September 2010, AC (
A
tomic
C
upcake) arrived from Columbus, OH.
Stock Specs:
2008 6AT 4WD
Rear Locker
A-TRAC
Roof Rack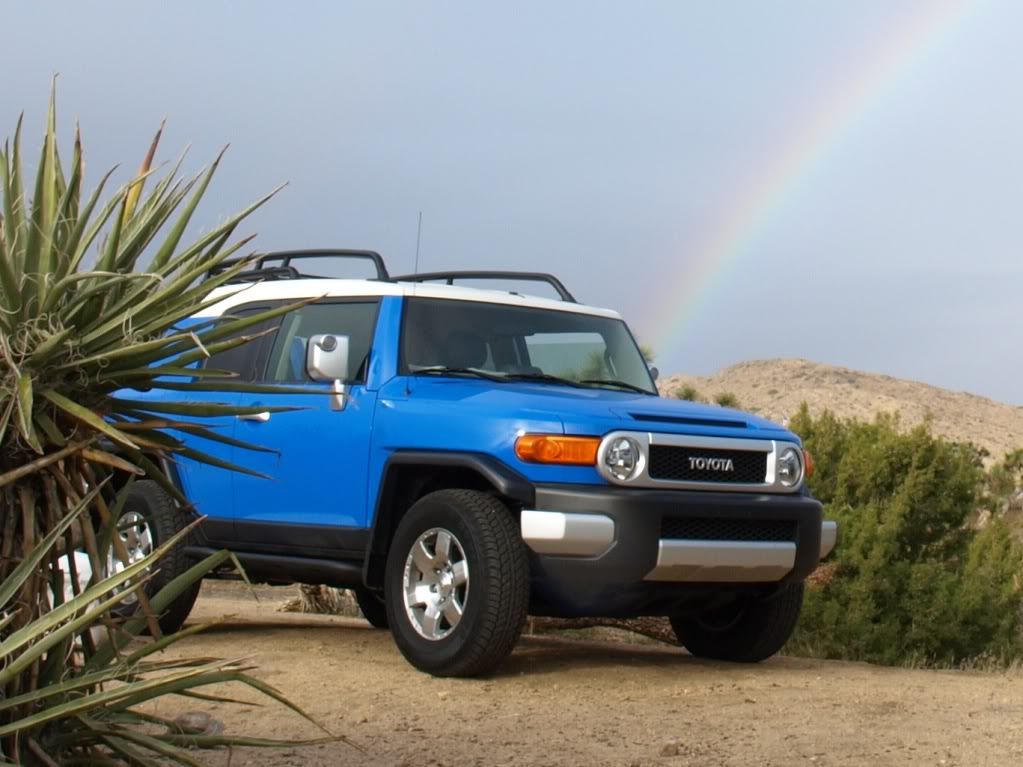 AC's first trip out to Joshua Tree NP
Prior to AC, I had a 2002 Jeep Grand Cherokee (WJ). After lifting the WJ, it came down with a bad case of the notorious death wobble. I have always liked the look and versatility of the FJ, but I also test-drove a Rubicon Unlimited. The end-goal at the time was to find something that could hold my family and carry the gear needed for our outdoor expeditions.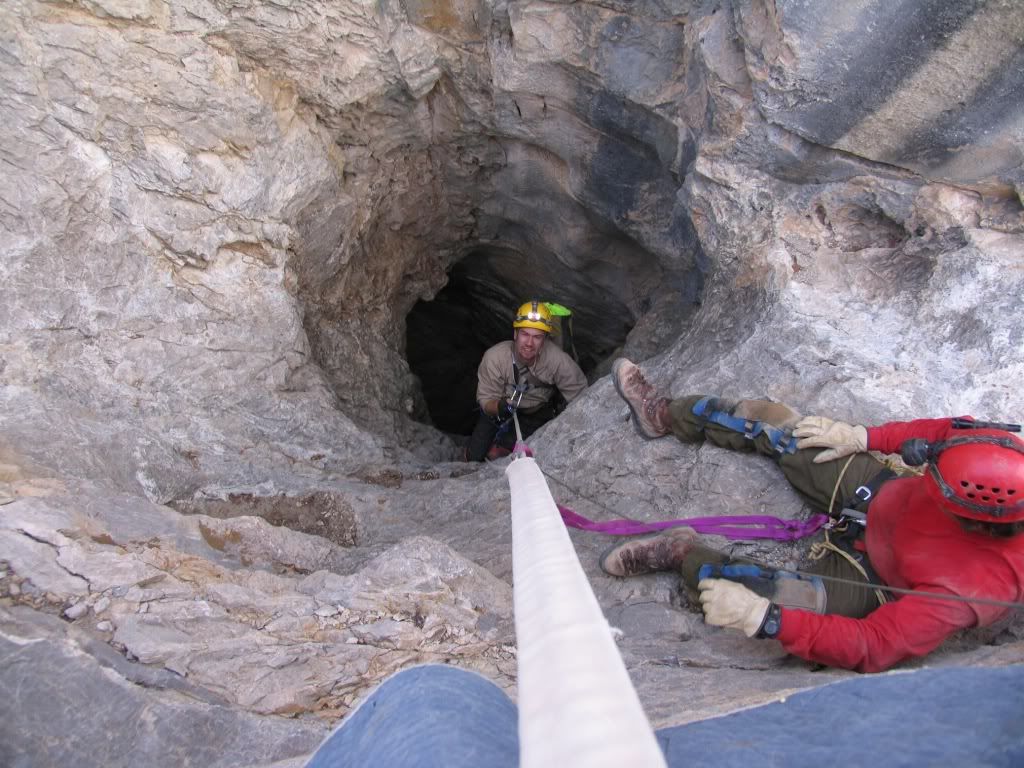 Caving requires plenty of gear
Well, after seriously talking to a salesman at the Jeep dealership, I decided not to buy a Jeep (or anything) from that D-bag. We left and went directly to Carmax and spent about two hours searching for the right FJ. We gave the salesman (not the D-bag, but a very helpful guy named Mike) the rather specific requirements:
4WD
Voodoo Blue or Sun Fusion
A-TRAC
Rear Locker
Factory Sub
2008 or newer
Automatic Trans (my fiance can't drive stick)
About three weeks later, AC finished the trek from Columbus to Vegas, and I took her home:clap:
Having three weeks to think about the first mod to make, plenty of time to research, and the fact that roughly 97.54% of our trips are over desert terrain, armor needed to be the first priority (
The First $2000
Thanks, Larry!). Two weeks later the rock sliders arrived from
White Knuckle Offroad
.
I decided that AC needed a little entertainment enhancements. I added Sirius Satellite Radio as well as a spiffy mount for my iPod Touch.
Panavise Products
TSS Radio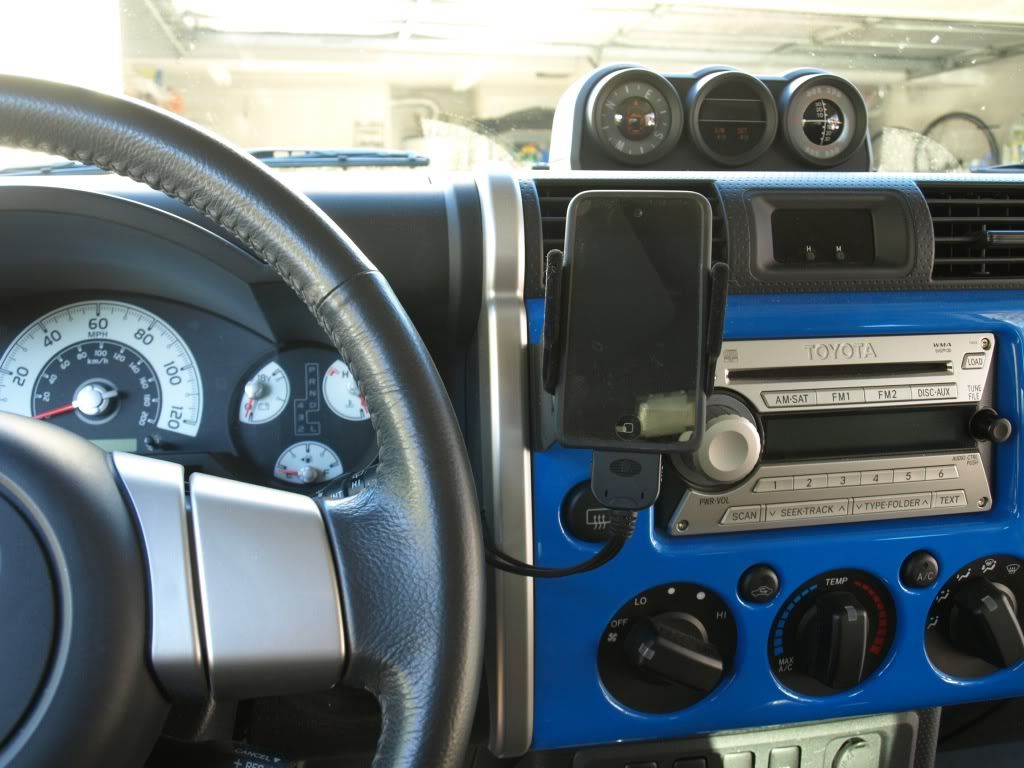 I used the direct hook-up for Sirius. I found a iPod to USB and stereo mini cable on e-Bay. The iPod is spliced directly into the existing wiring behind the dash, allowing the aux plug to remain available. Every cable is neatly tucked behind the dash.
Knowing that more electronics were in AC's future, I decided to add a secondary electrical system to handle everything soon to come. A Blue Sea fuse block was modified to allow for 50% constant power, 50% switched power. I used 1/8" sheet metal to create a custom panel to mount the fuse block, relays, and breakers.
12-Circuit Switched Fuse Block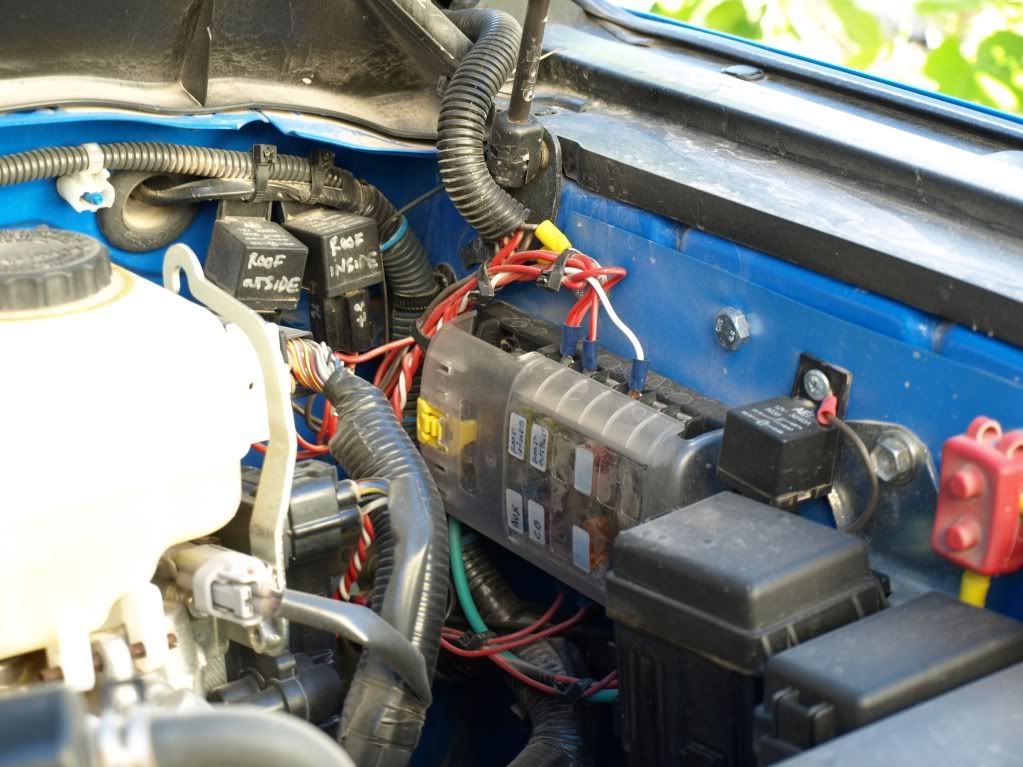 The area under the center console was pretty dark, so I added a LED light under the radio. A little research done, and I have one that matches the color of the dash lights pretty nicely.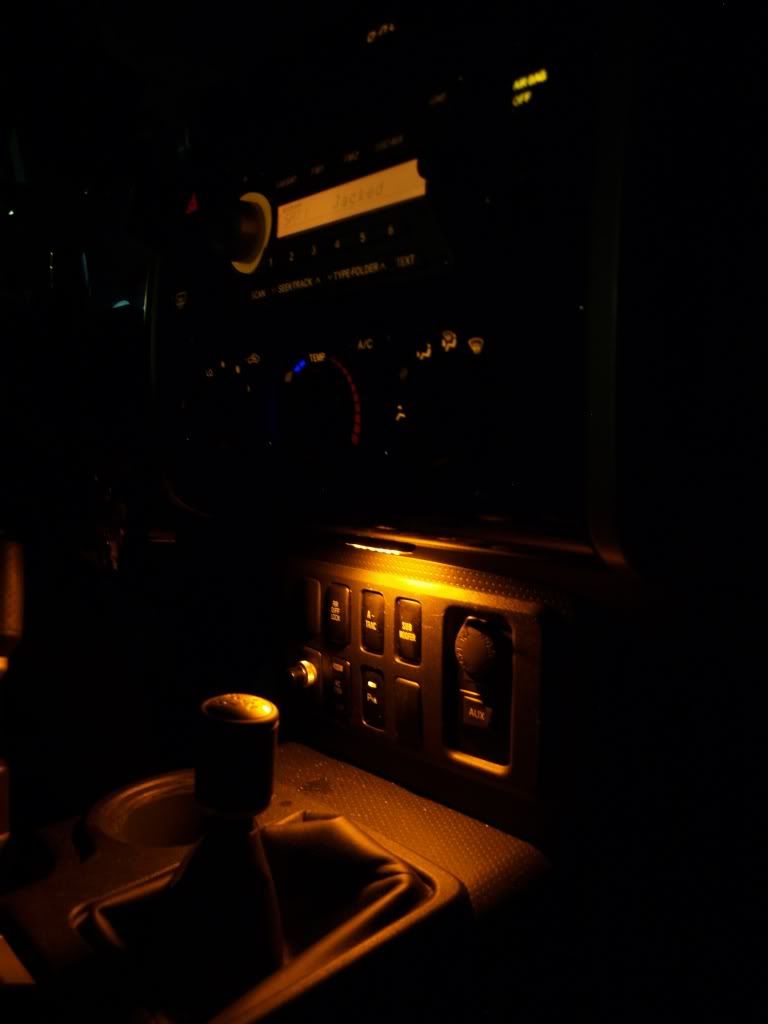 Oznium LED
After a caving trip that ended hours after dark and following our friend's XTerra with factory driving lights, I decided that lighting needed to come next. Again, more research... Which led me to Ricochet and their awesome Air-Dam. I ordered four 4" HIDs to outfit it. That trip also inspired the need for some camp light; something that's low power and can stay on for hours without the engine running. LEDs were the way to go.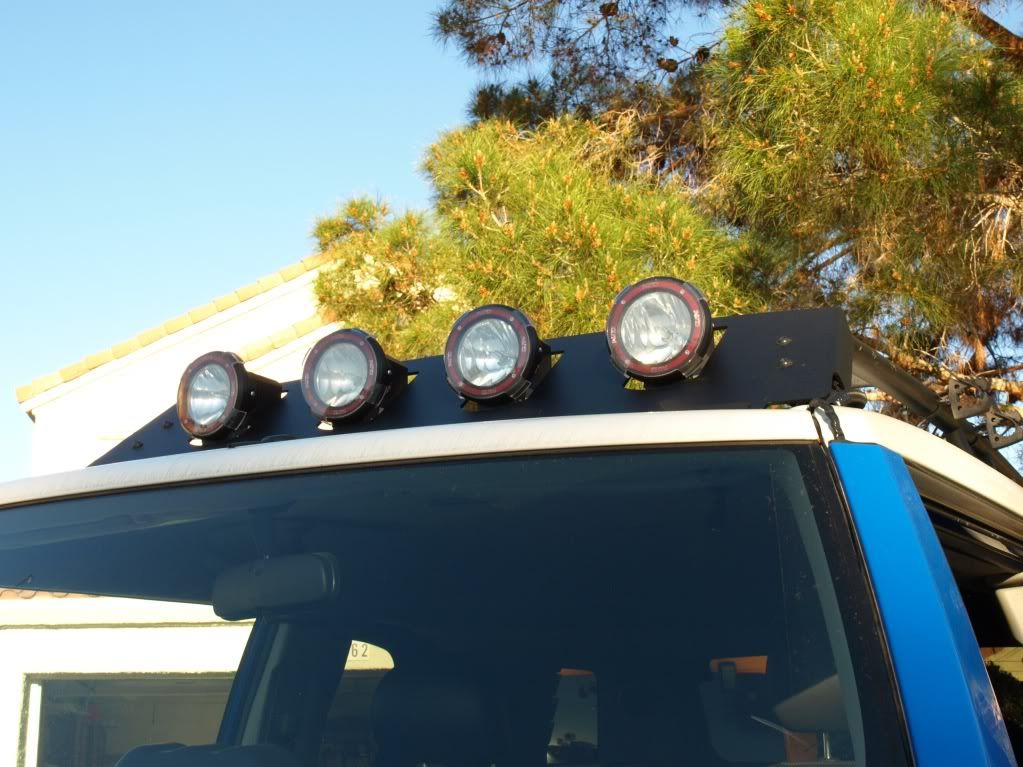 Ricochet
HID Air-Dam, 4x 4" HIDs
2x
Rigid
Duallys
So, I needed to be able to turn the lights on and off, but I wanted to maintain a clean, factory-looking install. I found a three-switch panel and installed it to the left of the steering column. Lots of Dremelling was involved. I decided to add the switch for the [coming soon] fog lights.
How to install 2 new switch plates under the driver's side vent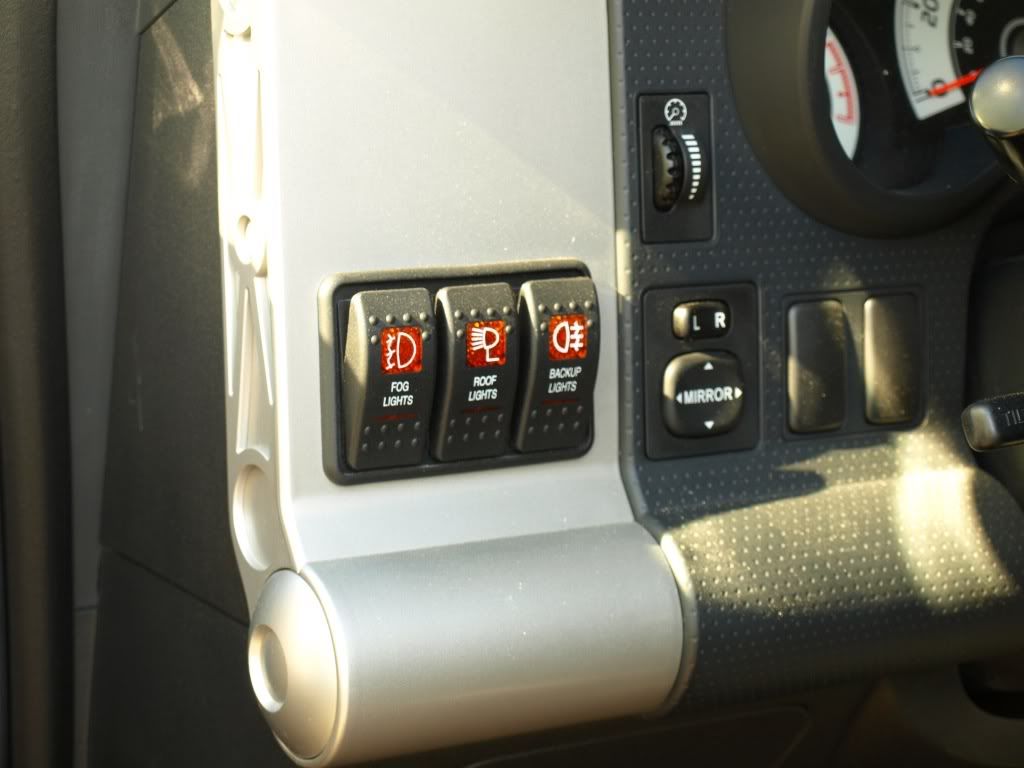 OTRATTW
With AC's first summit on the horizon, a CB was in order. Again, I wanted a clean install, which meant more time with the Dremel. I purchased a Cobra 75WXST along with the Big Bill combo from
Walcott CB
. I used a blank switch under the radio and mounted the connection there. Walcott doesn't carry a blue Fire Stik, so I ordered that from Amazon.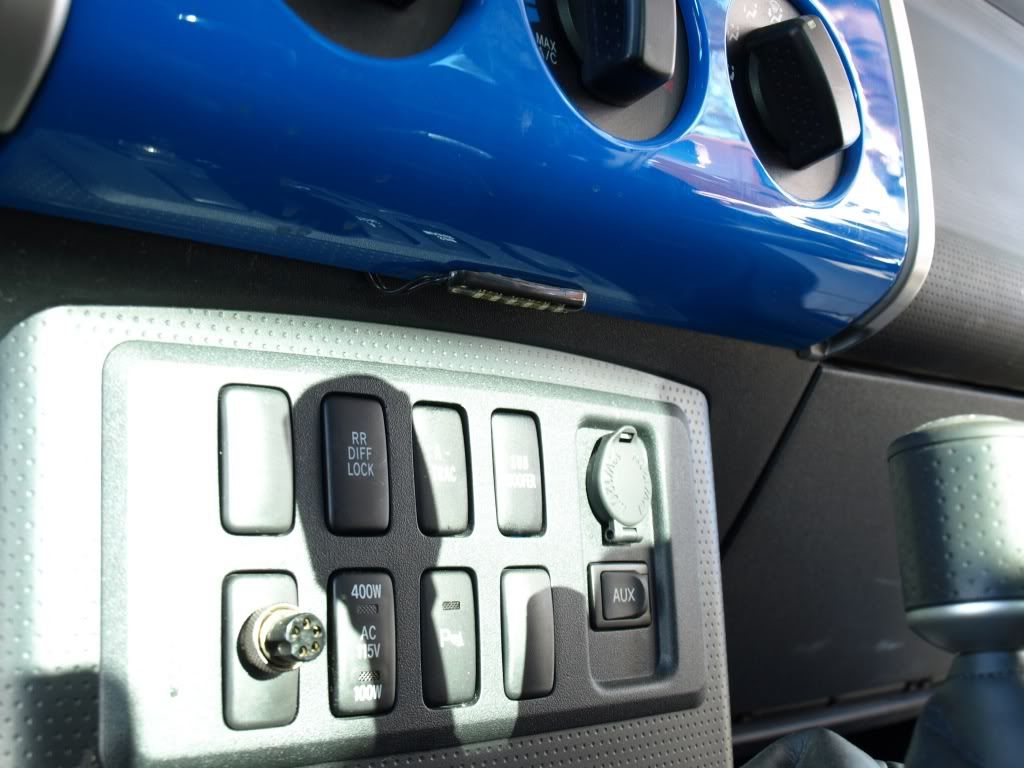 CB hook-up
About a month out from the FJ Summit 2011, I found a used set of Ricochet skid plates for sale on the Summit Swap Meet (thanks, Hornsfan!). These rode home on the roof (yeah, a little useless up there), but I got them home, painted, and mounted.
After the Summit, AC needed to stand out just a bit. So, taking some FJ40 inspiration, I painted the bezel, mirrors, and door handles white to match the roof. I used Duplicolor Toyota Natural White from AutoZone, and the match is almost perfect.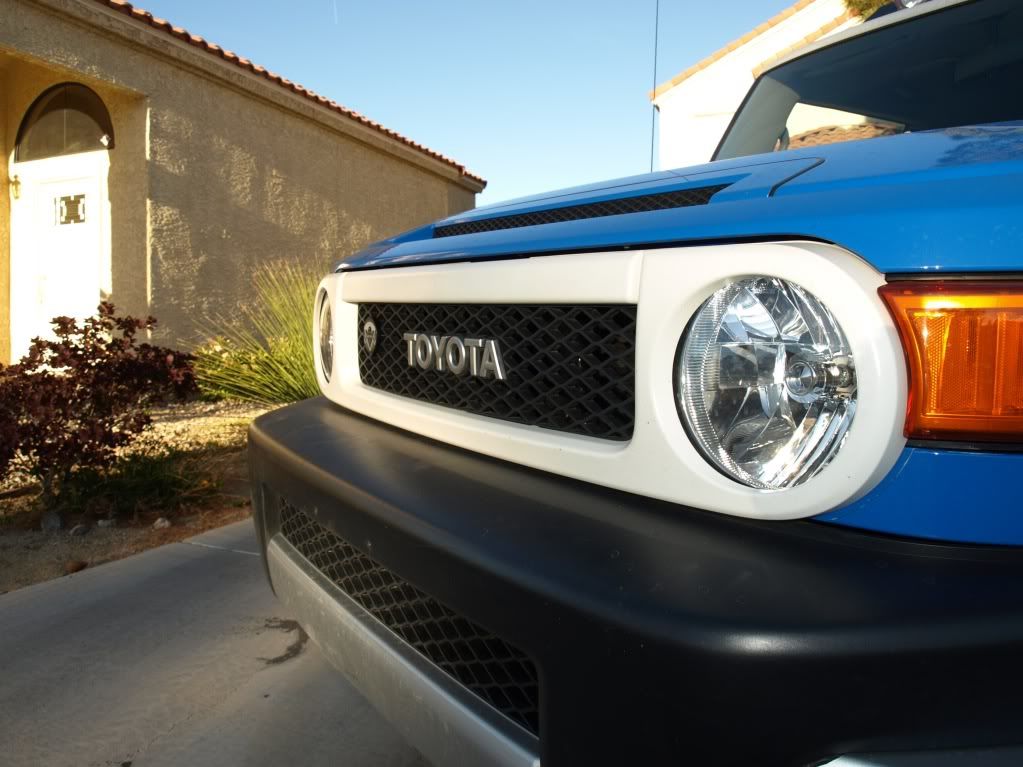 AC's White Bezel
About a year went by using Harbor Freight's El-Cheapo air compressor, an upgrade was seriously necessary. My fiancee gave AC a present for my birthday, the Source 10lb CO2 tank, in yellow. Of course, I needed a good place to keep it. So, I purchased the FJ Side Rack from
SpringTail Solutions
. The fire extinguisher is mounted on the rack, too.
M-Pac Rack with CO2 and Fire Extinguisher
A few weeks later, right about the same time my tax return came back,
Metal Tech 4x4
decided to have a sale on Icon. I purchased a Stage One lift and Icon tubular UCAs. As my previous truck had some serious suspension issues, I did not want to go with just any lift kit. Icon is one of the most well-regarded suspension companies according the extensive research I have done. I also wanted a lift that would allow adjustments when more weight is added down the road. The UCAs will be installed very soon.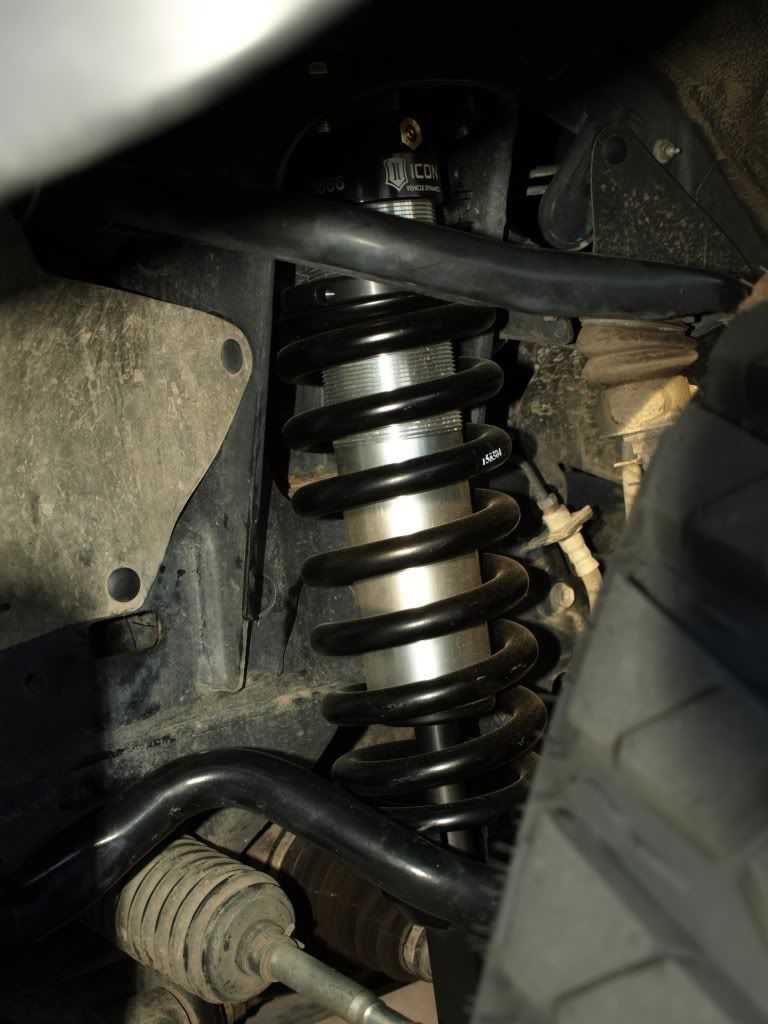 I have been planning on swapping out the factory wheels for quite some time to finish AC's white out. The factory tires needed to go, too. I was looking for something wagon-wheel style to keep in line with the FJ40 look. Fortunately,
Discount Tire
came through. I purchased a set of MB 72s (16x8.5) in machined silver and had them custom painted to match. I had them wrapped in Nitto TrailGrappler 285/75/16.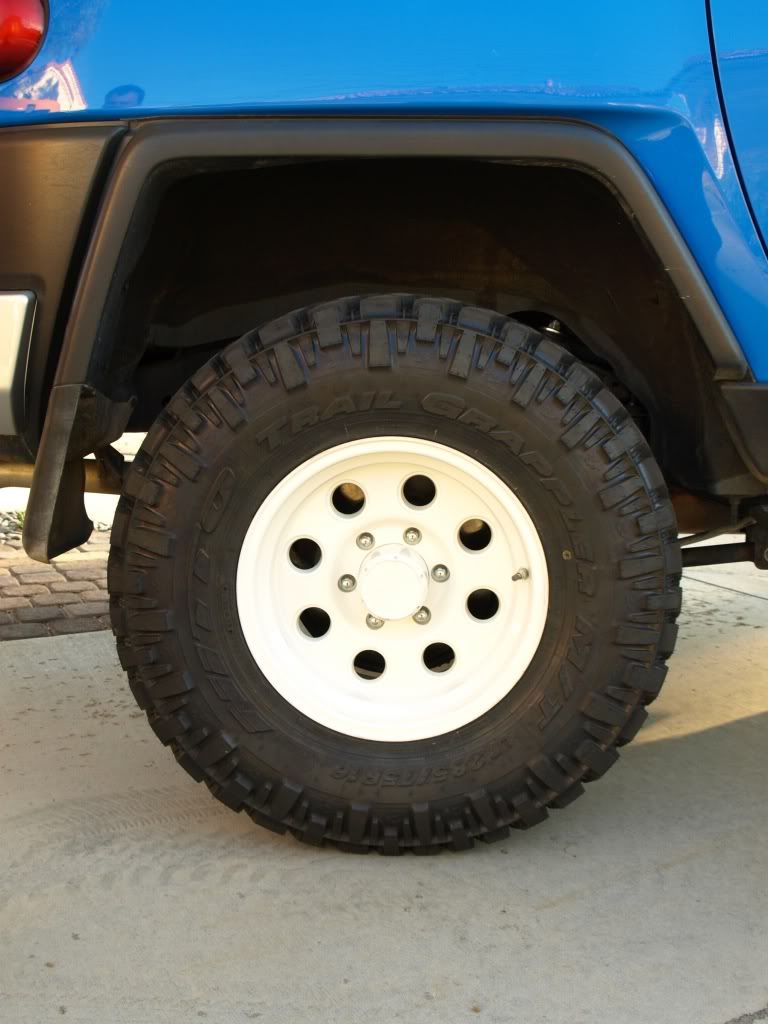 Mods to Date...
Interior:
Oznium Under Dash LEDs
Panavise iPod Touch Mount
Sirius XM Satellite Radio
Electrical:
Blue Sea 12-Circuit Fuse Block
Back Seat 12V Socket
Dash 12V Socket for GPS
OTRATTW Fog, Driving, Back Up Switches
Lighting:
Ricochet HID Air-Dam
4x 4" HIDs
2x Rigid Duallys Back Up Lights
Armor:
Full Set Ricochet Skid Plates
WKOR HD Rock Sliders
Suspension:
Icon Stage One
Icon Tubular UCAs
MB 72 16x8.5 Wheels (Painted White)
Nitto TrailGrappler 285/75/16
Exterior:
White Bezel
White Door Handles
White Mirrors
Communication:
Cobra 75WXST CB
Bandi Mount
4' Blue FireStikII
Recovery:
High Lift Jack
RockTek Slider Adapter
The Source 10lb CO2
Fire Extinguisher
Pro-Comp Tow Strap
Iron Man Off-Road Snatch Strap
Wish List:
The Toy Outfitters Rear Links
Outrider Suspension Armor
Boztec Rear Diff Skid
Expedition One Front Bumper
Red Eye Fabrications Rear Swing-Out Bumper
Baja Low-Profile Rack
Gobi Ladder
LED Fog Lights