Discussion Starter
•
#1
•
I have to begin with a sad story of the FJ that got me hooked, I found it in Houston, flew to get it and drove it back. The previous owner had Toyota paint all the silver inside and out to match the TRD wheels. 6mt, TRD, man was I in trouble!
I only had it for about 6 months. I had done some minor mods, and just begun FJ research. Then I was cut off on an access road, and hit a curb sideways, rolled it, and ended up on the roof, had to cut myself out... Total loss. I couldn't find another FJ that would do, and went back to a GMC Z71 for a few years.
I couldn't take it anymore. I started trolling the forum again, and stalking dealerships... Then I found this loaded beauty with 36k on it, and is covered bumper to bumper to 125k... Well, anything that I leave on it!
After a over year of owning my FJ, I have done quite a bit, and have plans for much more! I have to give a big thank you to all the forum members here who tolerate us newbs hounding you for questions that you have forgotten about years ago. If weren't for you guys documenting your successes, and failures, guys like me would never have the confidence to take apart the entire interior of a car that I owned for about a week.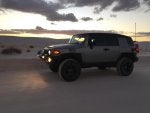 ​