AZSANDSTORMER: A slow build
Well, I've been wanting to do a "build" thread for awhile, so I decided to stop procrastinating and "just do it". This is not one of the "epic" builds that is seen here often in the forums build threads, but perhaps it has a few morsels that might be of interest.
A "Brief" History and Rationale
I purchased my Sandstorm 2008 MT6 as a replacement cum "backup " for my 1986 FJ60 Landcruiser. It turns out the FJ60 truly epitomizes the phrase "long term project" as I've had it for ten years and I'm still working on getting the "bugs" out of its GM Vortec Conversion. Turns out it has a fairly specific fuel supply issue that it only experiences once or twice a year so it's difficult and time-consuming to replicate and test any given fix (see
Curing Vapor Lock in a 5.7 Vortec FJ60
on IH8 Mud if you're so inclined). So IT happened in July 2008 in Las Vegas (>100 degrees). We were stuck. We couldn't get home, and obviously couldn't get to the Sierra Nevadas where we were trying to go (we only go to Vegas passing through; it's never a destination). The LC had messed up quite a number of vacations so it had to stop. I had my eye on those [relatively] new FJCruisers for awhile and thought they were pretty cool. I liked the Sandstorm color the most; seemed to fit most with the Land Cruiser heritage. Desert Toyota was nice enough to put my Land Cruiser on a Toyota transport to home, helping with that headache. So I purchased the FJC to replace the LC and voila, that's that. Not so easy. The only problem being that it's excruciatingly difficult to part with the original LC, the "project" vehicle that I've obsessed over for the last ten years. So, having faith that the LandCruiser will eventually be up to snuff, I've tried to make the FJC and FJ60 complementary, with their builds focusing on slightly different goals that reflect their underlying strengths. The FJC: smaller, more "modern", more comfortable at highway speeds, and believe it or not, more fuel efficient (to some degree). This is more suited to trips requiring more highway miles and for traveling "light", not camping as much, and probably less likely to take the dog. The FJ60, conversely, is bigger and not quite as highway oriented (though not shabby with the Vortec Conversion). It already had pretty much all the mods it needs to make it an ideal "Expedition"-type vehicle. The FJC, therefore, should stay relatively road-worthy and as efficient as possible, yet still have enhanced off road capabilities relative to stock. I've maintained stock size tires to minimize unsprung weight and rolling resistance, although I might step up to 285s at some point. I've added a Demello Aluminum front bumper (glad I waited so long now that Aluminum Demellos are available) with a Warn M8000S (with synthetic line). LRA Aux tank, after much consideration and hand-wringing, is now installed (12/2013). The rear Demello bumper is on the docket now, as is blackout, wheels/tires (after they finally wear out), and, what the heck, Katzkin leather (maybe a little later).
So here we go:
Here is how it looks currently, starting with the exterior (after new front end):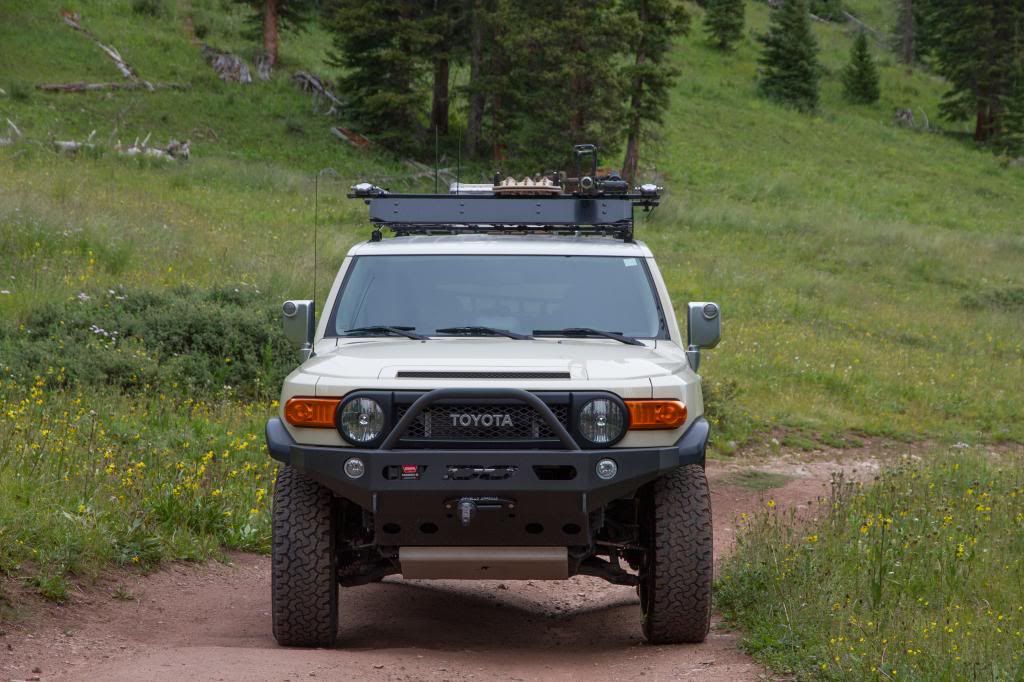 (Before new front end):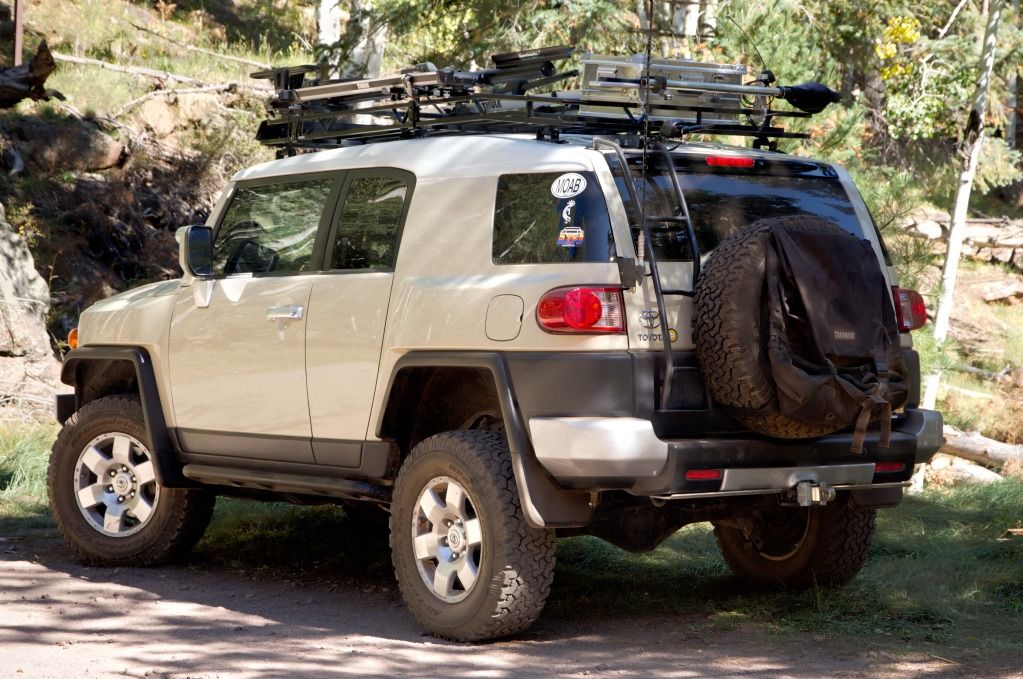 A look under the hood. With the TRD Supercharger (obtained 2012) and the Wrangler/Optima battery (2008) setup with the ARB Compressor (one of my favorite mods). The original ARB Compressor was mounted on the left fender but had to be moved after the TRD S/C was added. It fit, but it was way too crowded. The first compressor , by the way, was replaced, kindly (after the warranty had technically expired), by ARB because there was a problem with the motor that caused overload and blowing of the fuse. It's been fine ever since.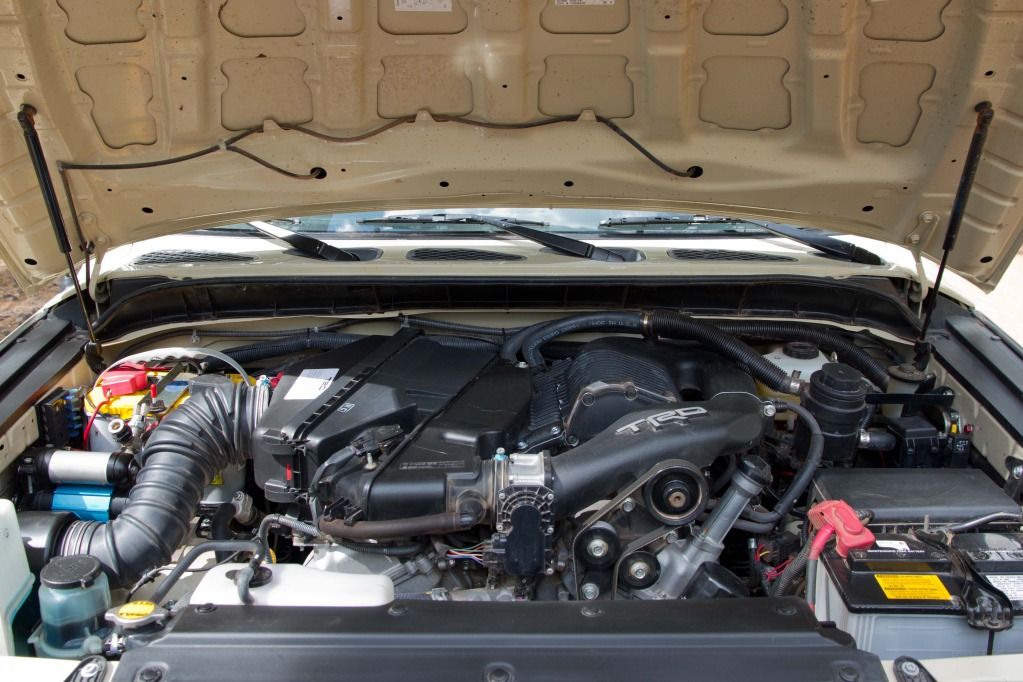 The TRD Supercharger. I found the FJ Cruiser to perform quite nicely even pre-S/C but living and traveling in the mountainous Southwest, often under load, you can never have too much power. I'm planning on keeping the FJC (essentially) forever, so I thought it would be a reasonable investment. I'm liking it.
Wrangler/Optima Battery and ARB Compressor. They fit nicely in these spaces.
Ricochet Skids. I have the bash plate, engine, transmission, and transfercase skids (as well as the rear bumper skids).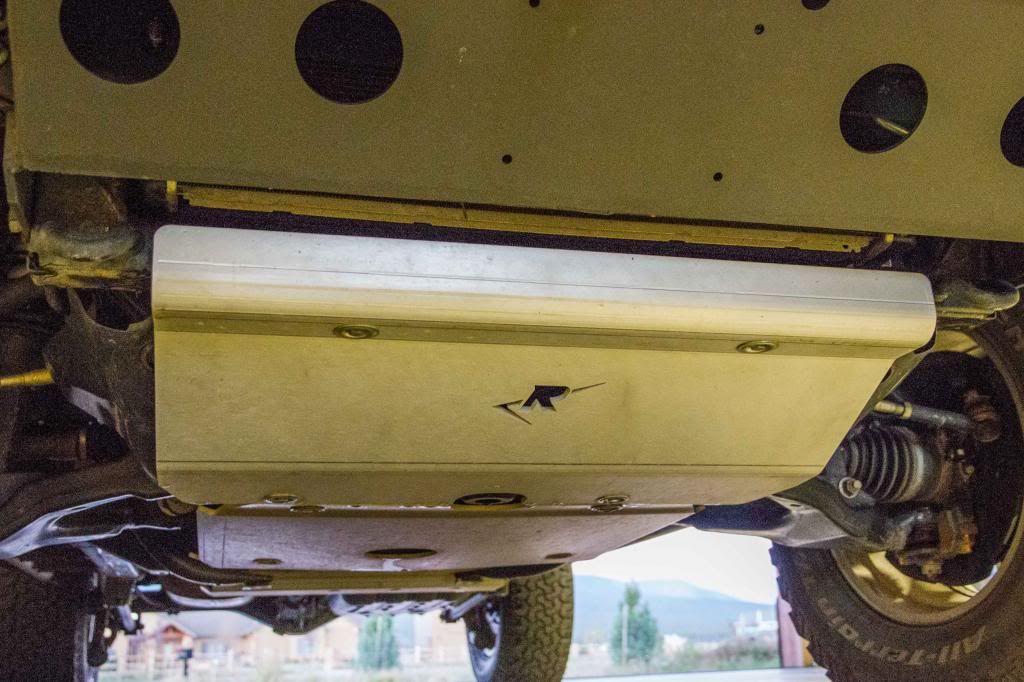 Garvin Roofrack . These definitely aren't the most popular roofracks on the forums, but I have one on each of my Cruisers. The most compelling reason for me using this system is that Garvin makes Thule/Yakima bar mounts, other nice accessories, and the 3/4" square bars make a convenient mount point for just about anything else. My Maxtrax fits nicely up there as well (not on current photo).
More Roofrack Items. The Alubox, mounted on the rack with rubberized u-bolts, holds my recovery gear, keeping it accessible and not buried in and cluttering the rear cargo compartment. The Hi-Lift mounted nicely on Fourtreks. The Diamond antenna on the Diamond motorized mount mounted on the Gobi rack is for my Yaesu 7900r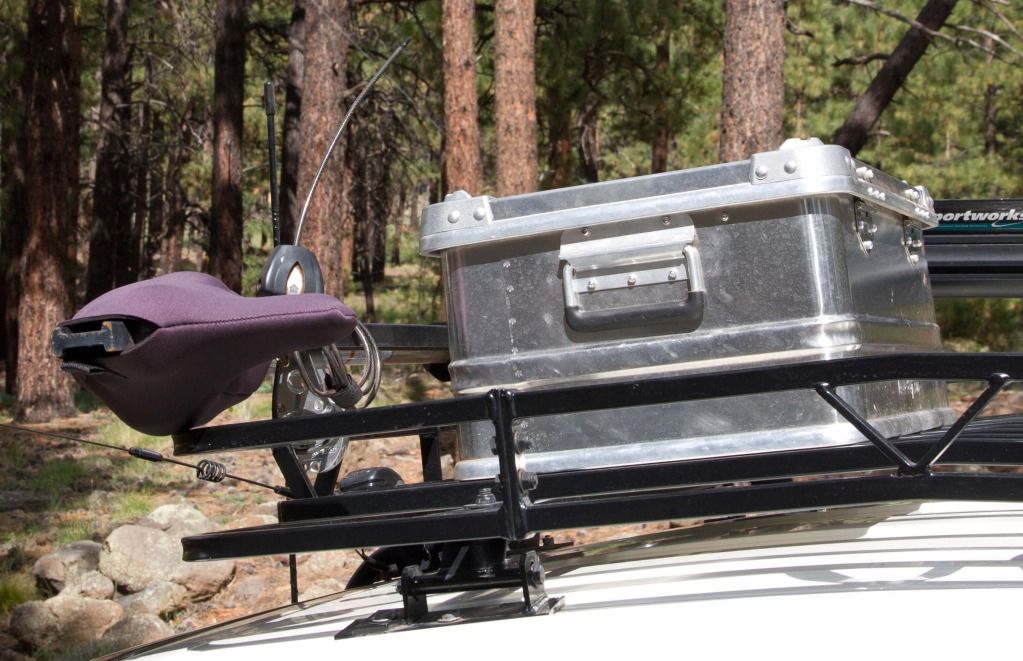 Off the back. We've got the Gobi Ladder and the Trasharoo. I find the Gobi ladder is a handy adjunct to frequent visits to the roof to adjust the load or to hang out and access the view. The Trasharoo is also an awesome inexpensive mod.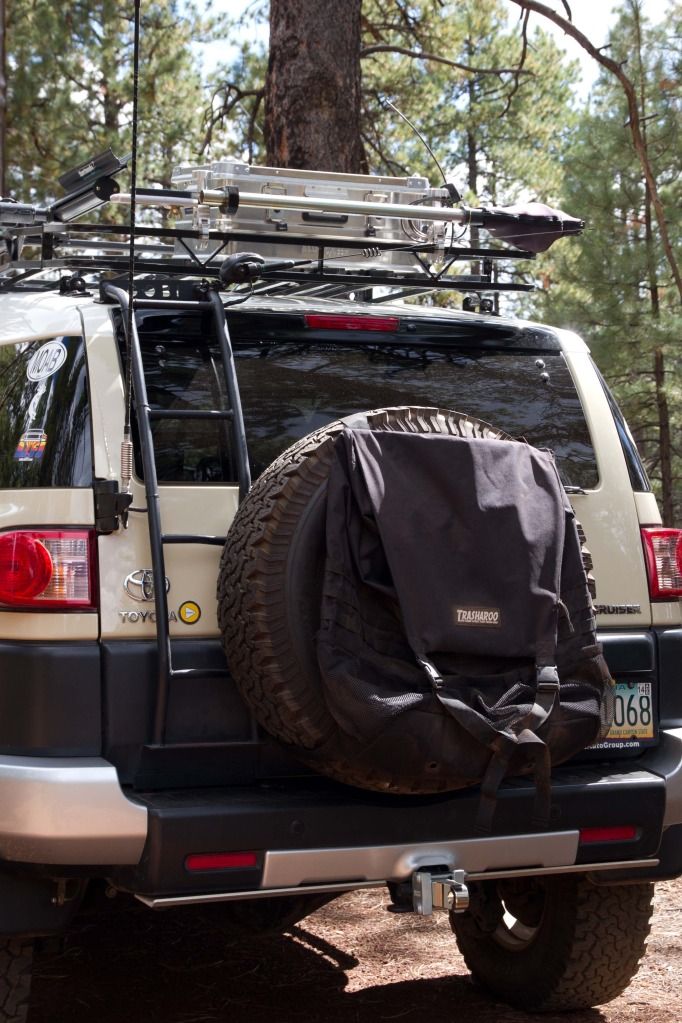 Firestik on Boztec mount. I decided to omit the quick release because the antenna just fits in the garage without it.
Ricochet Skid on stock bumper with Ricochet bumper skid, OEM Receiver, and Viking Recovery Hitch.
Allpro High Clearance Tailpipe. This is a straightforward install and it eliminates the stock pipe hanging down problem. Trimming of the ricochet skid was necessary, however.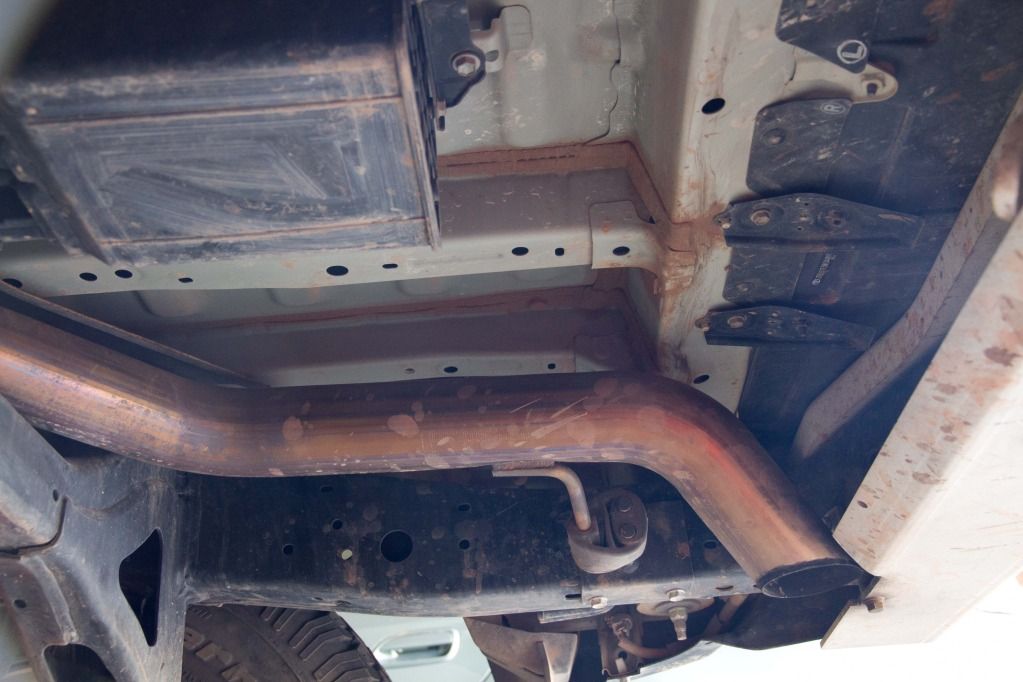 Exotic Stock wheels with BFG 265/70/17s. They're working fine for now but I may upgrade to new wheels with 285 tires at some point. They do scratch fairly easily offroad with the exposed spokes.
Icon Coilovers. These are standard travel.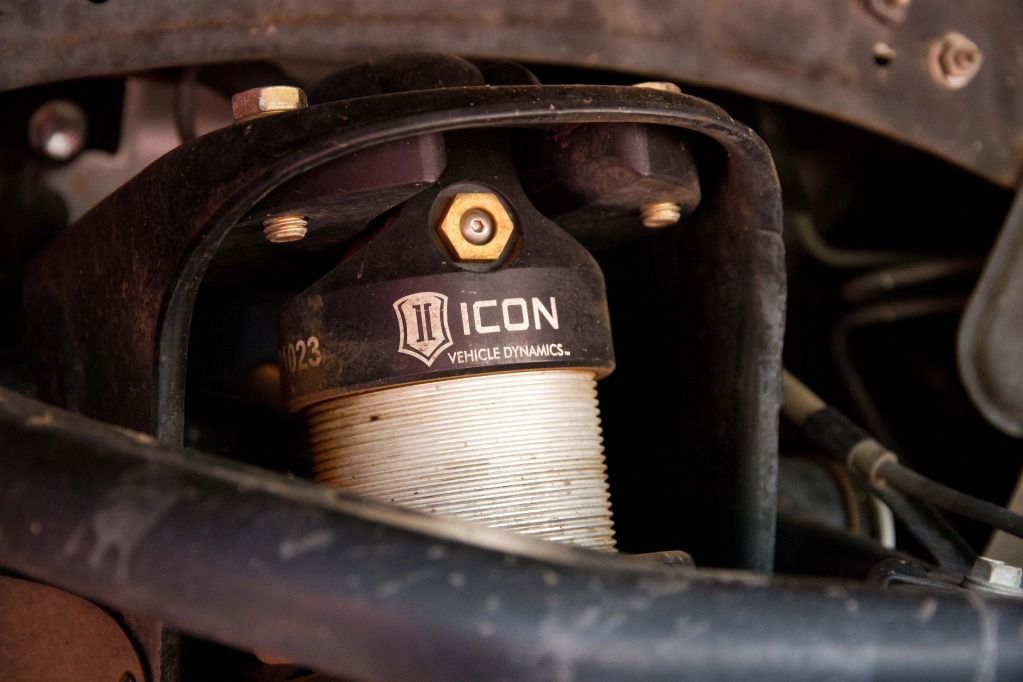 Icon VS 2.0 Shocks. These are working great. The first set was squeaking out of the box. Icon sent me a new set and they've been fine.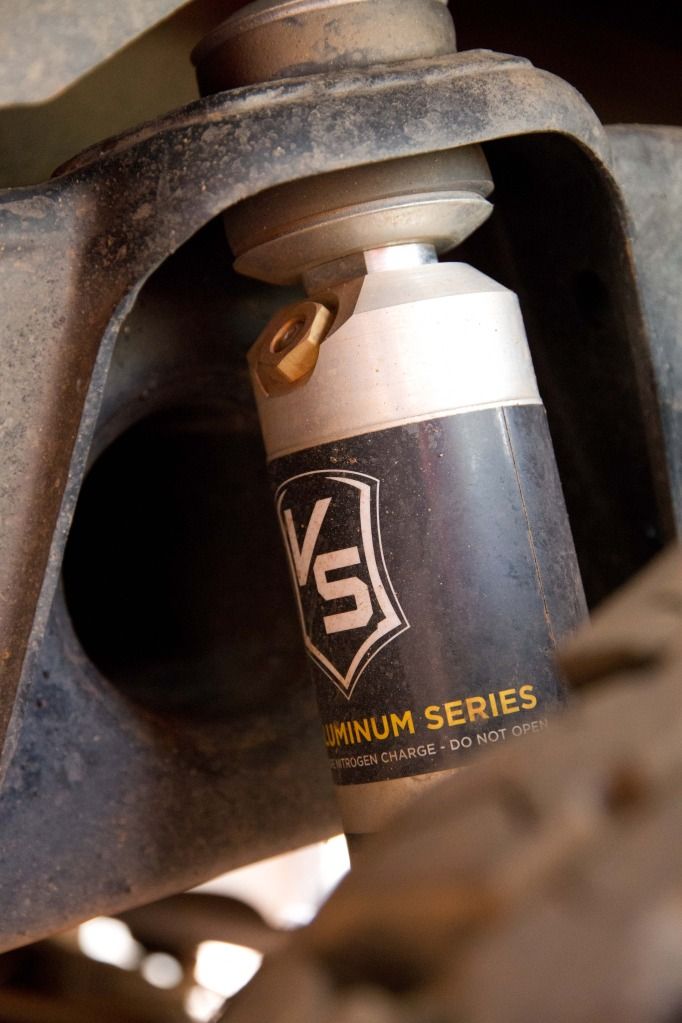 Icon Springs with Airlift airbags inside. The Airlift airbags have been the perfect answer, for me, to how to deal with variable loads without having to purchase springs that are too stiff for routine travel.
See next post for the Interior

Current Mod List:
Garvin Roofrack
Gobi Ladder
Cooper ST MAXX 285/75/16
SCS F5s
OEM Sliders -> Demello Hybrid Sliders
Wrangler/Optima Dual Battery Setup
Engel MT 45
ARB Underhood Compressor
TRD QuickShifter
Iron Mountain Performance Shift Knobs
TRD Supercharger
ICON 2.5 Front Coilover with OEM UCA
ICON 2.5 Rear Coilover with Remote Reservoir
ICON Rear Upper Link
Metal Tech Rear Lower Link
Demello Aluminum Single Hoop Front Bumper
Demello Aluminum Rear Bumper
Warn M8000S (Synthetic Line)
Factor 55 Prolink
Airlift Airbags in rear coils -> Busted/removed
ICON "Expedition" Coils
Ricochet bash/engine/transmission/transfer case skids
Hi-Lift mounted on Fourtreks
Maxtrax in Desert Sand mounted on roofrack
Alubox mounted on rack for recovery equipment
Tuffy Concealed Carry Box under driver seat
Tuffy Console
Yaesu 7900R with Diamond Antenna with Diamond motorized mount on Gobi Rack
Cobra 75WXST with Firestik mounted on Boztec Mount
Adventure Trailers custom Fridge Enclosure with slide for Engel
Raingler Barrier Net
MPAC Rear Center Console Rack
MPAC Straddle Bag
LRA 30 gallon Aux Fuel Tank
Safari Snorkel
Future Mods:
Escape Gear Seat Covers
? ICON Extended Travel Coilovers? with UCAs (It rides pretty nicely now and I don't notice a particular lack of travel on the trail)