2008 Toyota Trail Teams Special Edition FJ Cruiser
Jump to Summit 2014 (#8) Trail Photos...
Jump to Trail Photos...
07/06/2014 Photo:
Warrior Products Low Profile Roof Rack
07/02/2014 Photo:
Vinyl Porn (
MORE HERE!
)
06/22/2014 Photo:
Newly refinished tail light housings and new Trail Tail LED pucks.
http://www.fjcruiserforums.com/forums/interior-exterior-visual-tech/330586-rocktek-tail-lights-old-new-w-duplicolor-bed-armor-new-led-pucks.html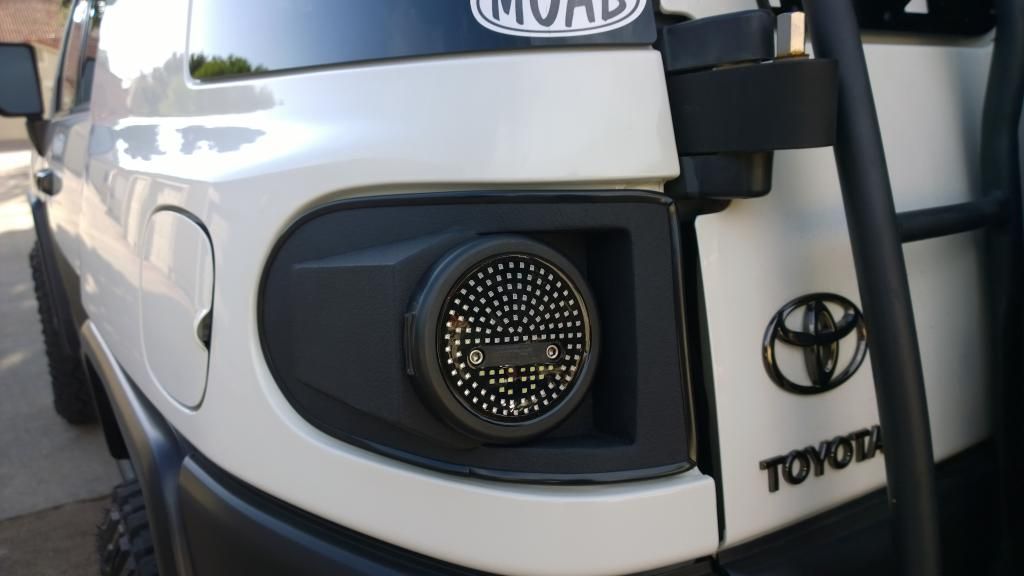 06/15/2014 Photo:
New Goodyear Duratrac 285/75R16. Kept the 1.5" spacers on for now.
05/23/2014 Photo:
Freshly removed OEM roof rack and air dam.
10/1/2011 Photo:
New MetalTech Bumper, 1.25" Spacers, & Ricochet HD Skid
12/31/2010 Photo:
New 305/70R16 Goodyear Fierce Attitude MT's
11/23/2010 Photo:
New MetalTech Bumper and PIAA Fog Lights
Pre Summit Photo:
06/14/2010 Photo: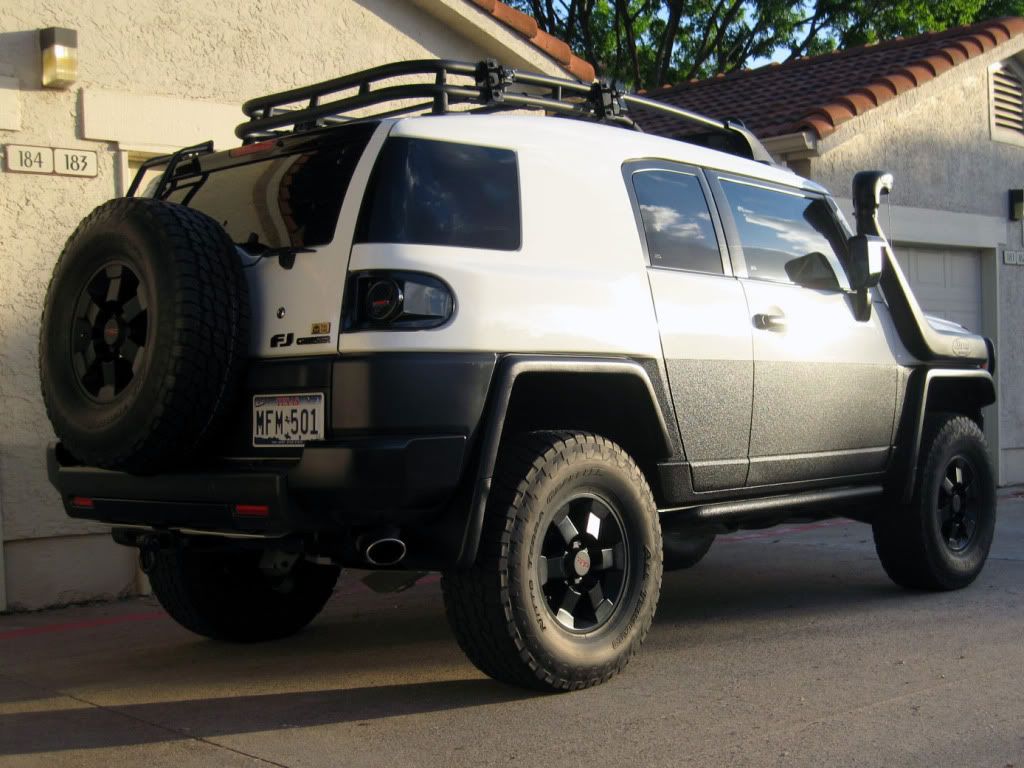 PART I: SEARCH & RESCUE
I purchased my FJ in March of 2009 after many months of looking, comparing and pricing. I had wanted an FJ since they debuted late in 2006. I really fell in love with the Trail Teams Edition because of the white/black color scheme, which was the same color scheme as my previous ride – a 1994 Pathfinder XEV6.
From the start I had no delusions of grandeur in thinking I could find and afford a low miles 2008 TTSE, and set my sites on a used 2007/2008 of any color within my price point of low-mid 20's. After test-driving a 2008, and even a 2009 at a dealer, I stumbled upon what I thought was a mirage.
A seller in Houston, Texas had a listing for a 2008 TTSE with 6500 miles for right at my mid 20's cap. The kicker to this was that it was very well equipped already with some very unique modifications (all of which were taking it toward the direction I wanted to go with the build.) I came to find out this truck was purchased by a Toyota manager and built up by his Toyota mechanic to be his beach toy.
Lucky for me the cost of the beach house he was also building had gotten out of hand and he had to sell his 'Baby' before ever even taking it offroad. A second buyer purchased it, couldn't make payments and his extended family was selling it (and having to pay the note!) Long story short, this FJ was listed very plainly and poorly, thus slipping through the cracks. (The fact that the economy had tanked and no one was buying anything didn't help their cause either.)
Lucky for me, I had been saving and planning on a new purchase…so this was prime striking time! So I drove to Houston, test drove it and purchased the next day after seeing it was literally still in show room condition.
Here is what all my researching, waiting, and looking patiently turned into:
Unlike many build pages; I have quite a few modifications to list prior to me ever touching it. The most striking is the Rhino lined bottom half of the doors. I had to see it in person before committing to the purchase…but I absolutely love it! It hits the line of the front and rear fenders, which to me is the natural point to stop it.
I am so used to it now that when I see an all white TTSE, I have to admit, they look a bit odd to me.
The list of "pre-mod" mods:
-Rhino lined doors
-Safari Snorkel
-Garving Hi-Lift & Axe/Shovel mounts
-Hi-Lift with a matching Rhino lined handle
-True-Temper Axe
-Trail shovel
-Gobi Ladder
-Tail Light Guards
-2-3" spacer lift
-295/75 R16 Nitto Terra Grapplers
-Toyota Air Dam w/ Hella lights
-Toyota Brush Guard w/ Hella lights (TTSE package)
-Toyota Rock Sliders (TTSE package)
-TRD Exhaust (TTSE package)
-non Toyota tow package
-custom cut rear TTSE skid to accommodate tow package
-custom black chrome Toyota/FJ badges.
So leaving Houston driving back to Dallas…I was all ready to hit the trails! (and start making payments!)