I may be getting these two bumpers...either separate or at same time frame :rocker:and wonder who might have the best deal overall....price+shipping....etc.
Went wheeling and kissed front bumper on ditch bank...then knocked off rear bumper wing coming out opposite side...plus some scratches above and stuff. Yes she was BRICK red when I started...LMMFAO
My first pick for front bumper is the Expedition One Trail Series DIAMOND style
For the rear bumper I am interested in what Expedition One is coming up with but not sure I want to wait...so the only other I really like is the WARN Off-road rear bumper with integral 2" receiver and recovery points.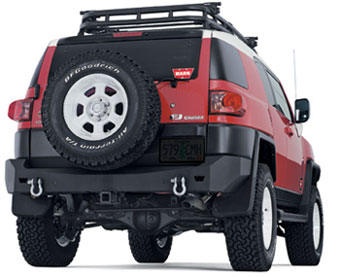 This bumper will allow me to add Lucrums rear swing away tire and jerry can adapter later when I have more money...hahaha...but is a good solid start with good clearance and protection with the hitch.
I appreciate any help in pricing...I checked 4x4GroupBuy but the price was not that much less than retail unless the shipping is free then it is worth considering. Thanks again...and look forward to your responses.