Discussion Starter
·
#1
·
BIG NEWS AND A BIG YES
finally back after our adventure!
We have been on a 3 week vacation and just got back last night. We started our journey in FLagstaff with Rebecca's mother...tons of beer and partying to start it all off right hehehheh, she is doing well and enjoying life in that awesome town!
We traveled to the beautiful hills of OUray colorado for the FJ Summit 08. Where we took tons of pictures while I lead trails through the spectacular San Juan range. Met some fantastic folks......and saw some old friends, it was an unbelievable experience...the memories will last a life time, cant wait till next year!
After that we went to MOab Utah for an event called Moab Mayhem (which was put together by one of my 4x4 clubs) our local buddy Mike from SAlt Lake was to take us on some trails. When we met up with everyone in the morning he asked me to take charge (which was a nice gesture after my HELLS GATE mishap last year LMAO check youtube for TrAiLbUs1 :rofl::rofl
We brought 10 fj's up gold bar rim without any real issues except one broken rear shock on a rig..but that was replaced within minutes since i brought a spare stock one. We had dinner with our friends that night, and talked tales of the trail... GOOD TIMES.
The next morning we were scheduled for the raffle, which would be held on the top of a trail called ON TOP OF THE WORLD. Little did many know what the day held in store....for half a year myself and my good friend Rich from FLorida have been planning this. On the way up to the top, a front axle broke on Rich's rig (total fluke) we disassembled the axle and he limped to the top of the trail. We got to the top and it was an amazing day...gorgeous clouds with a storm over the distant La Sal mountains.
Everyone received a ticket for the raffle and it began.....people started winning items...except for me, which no one noticed hehehheh! The last ticket was to be drawn and the prize was a toyota keychain box (with a ring hidden inside)...Rich called out the number....I walked up received my prize...turned to my love Rebecca and got down on one knee, exposing the ring....WILL YOU MARRY me I asked...with the biggest smile on her face and looking like she was going to faint she replied YES!!!!!!! After 9 years of living together we final are taking a step further and couldn't be happier! Now we can always say we were engaged on TOP OF THE WORLD:cheers:
The question!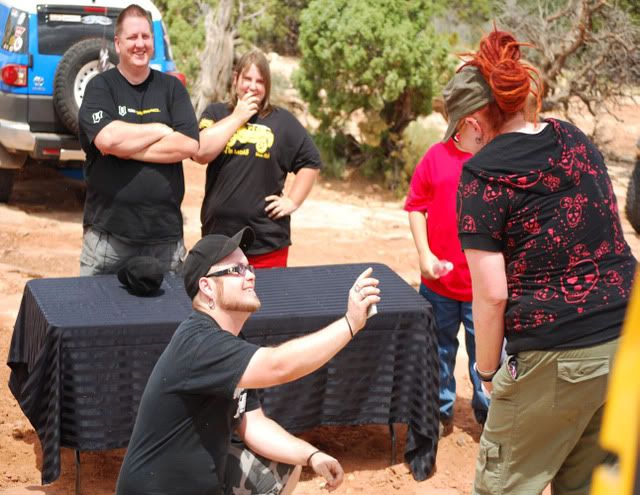 The answer!
Result :lol:
and some wheeling of course! Gold Bar Rim bump!
Cheers to everyone! Thank you all for a fantastic vacation!
Jake and Rebecca