It is that time of year where I go through my bug out bag and make sure that everything is up to date. I thought that I would share the contents with those of you that may consider making up your own emergency "git –n-go" bag.
If you are not familiar with the concept of "bugging out", the primary purpose of a bug-out bag is to allow one to evacuate quickly if a disaster should strike.[9] It is therefore prudent to gather all of the materials and supplies that might be required to do this into a single place, such as a bag or a few storage containers. The recommendation that a bug-out bag should contain enough supplies for seventy two hours arises from advice from organizations responsible for disaster relief and management that it may take them up to seventy two hours to reach people affected by a disaster and offer help.[3]
Such a plan should include the ten essentials of survival as listed below with rational (borrowed from the Wikipedia "Ten Essentials").

• map and compass assists one in not getting lost in the field. Losing one's bearing in unfamiliar terrain raises the risk of anxiety and panic, and hence, physical injury. Maps that cover the relevant area in sufficient detail and dimension (topography, trails, roads, campsites, towns, etc.) and the skill and knowledge to use them are indispensable when traveling through the outdoors, especially when the place of travel lacks signage, markings or guides. Even a basic compass alone can help an individual find his way to safety, by allowing him to maintain a consistent direction of travel. GPS receivers are excellent; however, like any electronic device they can fail and should not be relied upon as the sole means of navigation.

• Flashlights and headlamps protect against physical injury when traveling in the dark. A flashlight is also useful for finding things in the pack, observing wildlife in dark crevices and folds, and for distant signaling. Extra batteries and bulbs are highly recommended. Lamps using LEDs have become very popular, due to their robustness and low power consumption.

• Extra food and water can prevent or cure hypothermia and dehydration, common illness that can be serious risks in the backcountry where immediate medical response is not possible. These items also minimize the likelihood of panic. It is not recommended that one eat food when there is no water, as the body requires water to metabolize food.

• Extra clothes protect against hypothermia. Multiple layers of clothes are generally warmer than a single thick garment. By having the ability to simply take off a layer of clothes, one can avoid overheating, which can cause sweat and dampen clothing. Moreover, a change into dry clothes is the fastest way to become warm. Extra clothing is also useful for protection from the elements, including thorns, insects, sun, wind, and often cold. If necessary, they can be cut into bandages, used as a tree climbing aid, made into hot pads, pillows, towels, or makeshift ropes. For overnight trekking, one should keep one set of clothes dry for wear in the evening. One can wear the "day" clothes during the next day's hike when they are drier.

• Sunglasses Sunlight, especially when reflected in snow, can seriously limit visibility, and jeopardize one's ability to travel safely. Sunglasses also help prevent any possible eye injury inflicted by tree branches, flying debris, and other possible hazards while traveling on foot.

• A first aid kit usually contains items to treat cuts, abrasions (blisters), punctures and burns. Additional items might address broken fingers, limbs, cardiac conditions, hypothermia, frostbite, hyperthermia, hypoxia, insect and snake bites, allergic reactions, burns and other wounds. If applicable, include any personal medications.

• A knife is useful for opening packages, building shelter, shaving wood for tinder, eating, field surgery (after sterilization), cutting rope and clothing, etc. A multi-tool such as a Leatherman is also a versatile choice. A larger knife (machete) might be essential when one needs or desires to go off trail into thicker growth. A heavier axe or knife is more effective when one has larger needs for construction or for collecting firewood.

• Matches (or a lighter) and fire starter (typically chemical heat tabs, canned heat, or magnesium stick)[4] to light a campfire is useful for preventing hypothermia and to signal for aid. In an emergency, a fire increases one's psychological will to survive.

• A water treatment device (filter or chemical treatment) makes water potable. All water, including that from streams, lakes, or pools, needs to be treated for bacteria and viruses in order to ensure safety. Most backcountry travelers carry a water filter: low end models are inexpensive and provide protection against many pathogens, but not viruses. Some more expensive filters and improved chemical treatments get rid of most health risks, including giardia and other protozoa and viruses. Treating the water reduces the likelihood of gastrointestinal diseases. Since some chemical treatments such as iodine or chlorine may leave a bad taste, many suggest mixing in a flavor to hide the taste. These include powdered lemonade or fruit drinks, Tang, Gatorade, or Crystal Light.

• A whistle is a compact, lightweight, and inexpensive way to signal for help. Although a person cannot shout for a long period, he can whistle for extended amounts of time. Moreover, the sharp sound of a whistle travels over longer distances than the human voice, and provides a much more distinct sound. Although environmental factors such as wind, snow, and heavy rain may drown out a voice, the sound of a whistle is clearly distinguishable in the field.
Below you will see how I set up my Bug out bag….Your needs may vary depending on your location in the world but generally the setup is pretty basic. My BOB is a little overdone for a 72 hour pack as I think that I could go for quite a while with the setup that I have.
You will see that I added a Defense/Hunting category to the list of contents. In my opinion .22 is adequate for defense and gives you the most ammo for weight carried. Since I plan on avoiding any potential conflicts, it should do fine. I will be adding a detachable scope to the gun soon for longer range prey.
One thing that I can emphasize as very important is to have a list of the contents and to be organized…that way if there is an emergency, it is easier to access the items that you need. Note that my bags are labeled with MPAC Mark and identify labels when possible as other members of the family may not be knowledgeable to the bags contents. Finding an item quickly during a disaster could mean the difference between life and limb.
My bag is set up so that as items are used…parts of the bag can be discarded or because of the nature of MOLLE, the items can be split up and carried by different persons. This will help limit the weight one person carries or can facilitate transportation of foraged items.
[/I][/COLOR]
Doc's Bug Out Bag Contents​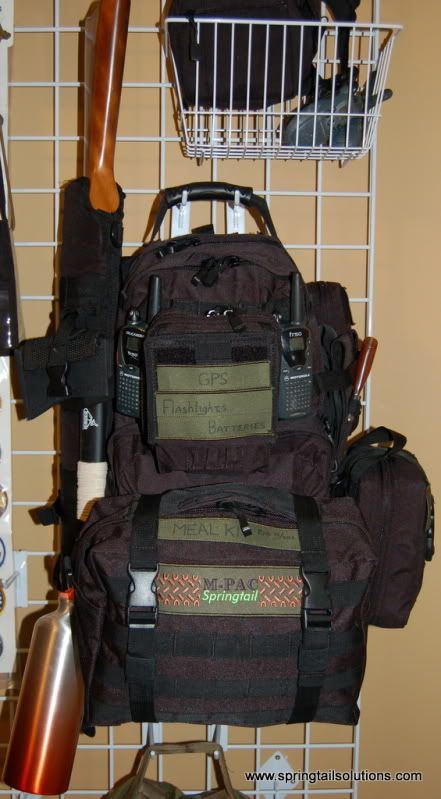 Backpack and Pouches
3 Day style MOLLE Back Pack
MOLLE style Rifle Scabbard
Springtail/MPAC Large STAT Bag (Rip away Molle)
Springtail/MPAC Map Molle pouch
Springtail/MPAC 1st Aid MOLLE Pouch (Rip away Molle)
GPS Style MOLLE pouch
1st Aid kit
Gerber Shears
(1) 3 inch ACE Wrap
(1) Small Bar Soap
(1) Fibrous Tape
(1) Trauma Shears
2 pairs of Latex free rubber gloves
(1) Ice Bag
(1) Skin Stapler
Assortment of Band-Aids
(4) Pairs of q-tips
(2) #11 blade scalpels
(4) 18 gauge needle tips (for removal of slivers)
(1) Derma bond Adhesive
(4) Small packets KY jelly
(8) Small packets Bacitracin
(8) Alcohol wipes
(5) Tongue depressors (can be fashioned into nasal clamp for nose bleeds)
(1) Penrose drain
(1) Surgicel absorbable hemostat
(3) Non adherent telfa pads
(2) 3x18 inch Vaseline impregnated gauze
(4) 8x10 "trauma" pads
Clothes
T-shirt
Heavy socks (2 Pair)
Poncho
Water resistant pullover
Hat (Jeep)
Underwear x 2
Sunglasses/Prescription glasses
Mesh bag
Tools
Gerber Hatchet
Small multi tool
Survival Knife
General use knife
Small knives on neck tether x2
Lights
Mini maglight
Surefire G2
Glow sticks x 6
CR123 batteries x 2
AA batteries
Food/Water
Datrex survival bars x15
Mountain house entrees x11
Mountain house vegetables x2
MREs x2
Tea bags/ Crystal light packets
Plastic spoons
H2O Tx Tablets
Steel pot
Aluminum H20 Bottle
Navigation
Garmin Etrex GPS
Compass
Detailed Iowa map
Fire
Windproof matches
2 boxes matches
2 emergency candles
Lighter
Fire striker
Defense/Hunting
Ruger .22 Rifle
300 .22 LR rounds
Gun oil/q-tips
Entertainment/Reference
Edible wild plants
Tom Sawyer
Mythology
Balloons (for the kids)
Misc
Duct Tape
Toilet paper
Clear siphon tubing
Fluorescent marking tape
Cotton string
Magnifying glass
Paper/pencil/sharpie/paper
Motorola FRS radios x2
Bug spray/Sunscreen
Garbage bags x 3
Fishing line/hooks/needles