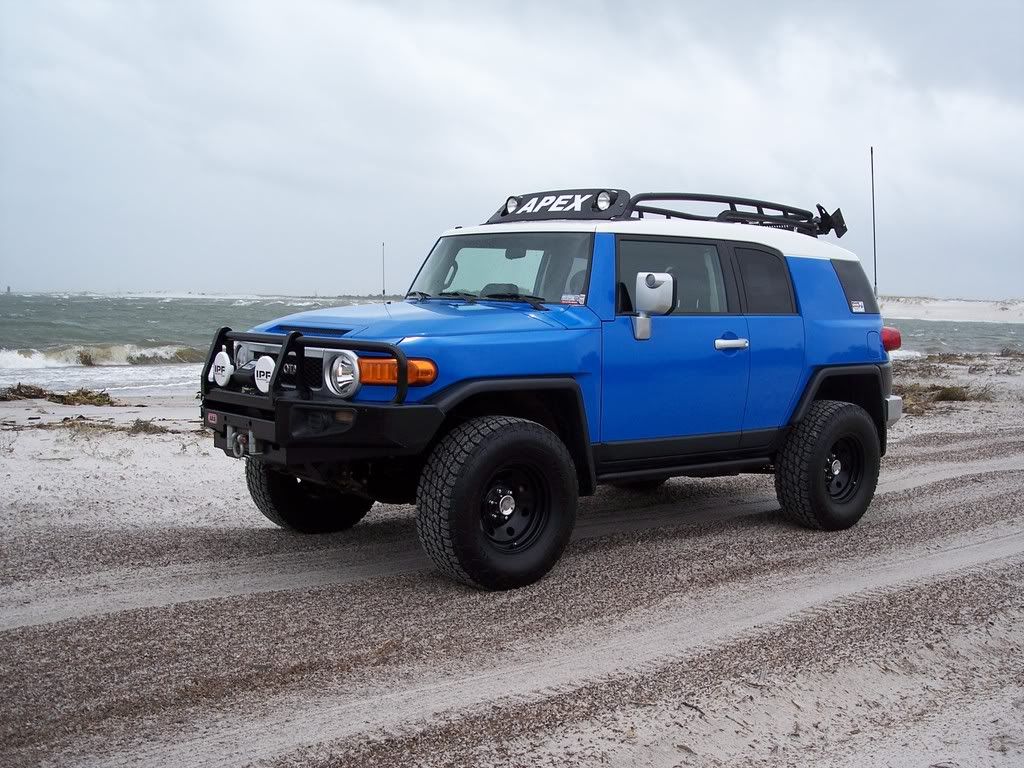 The basic story here is that I got hooked on Geocaching a couple of years ago when I purchased my first vehicle with a Navigation system. The VW Touareg was a cool vehicle for me since I was a former Audi guy. But the Treg could go off-road. This was new to me.
When it became apparent that the Treg was going to bury me beneath upkeep bills I new it was time to buy a new ride. The FJ was on my list of possibilities and I fell in love when I finally got around to trying one on for size. I wanted something that I could do some light modifications to and be able to go for overnight/weekend trips into the wild in search of the more remote Geocaches out there. I bought the FJ on December 31st 2006 in an effort to get a good price.
Here' is how Bessie started life.
Description: 4x4 Automatic Transmission
Year/Model: 2007 / 4704C
Build Date: September 2006
Port of Entry: Jacksonville, FL
Options: CQ (Convenience Package), FE (50 State Emissions), UP (Upgrade Package #1), CR1 (Roof Rack), FP4 (Southeast Toyota Quality Insp.), PW5 (All Weather Floor/ Cargo Mats), XY7 (Toyoguard Plus Protection Group), Trailor Hitch.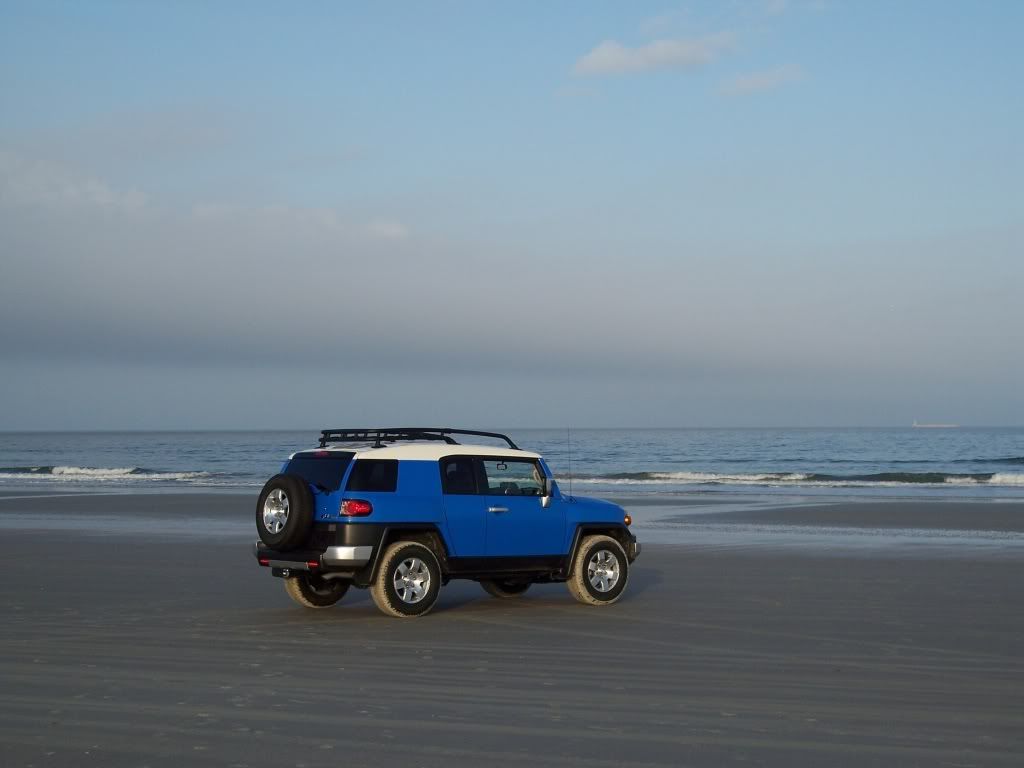 "What do you mean it didn't come with….?"
-Wife​
Having been spoiled by my previous three vehicles my list of mods started with little things that Toyota overlooked, at least in my book. First off, why Toyota would put that impossibly large FJammer in the dash and not offer an optional in-dash Nav system is just beyond me. So I got a crazy deal on an Eclipse AVN-5500 and mounted it myself.
I did choose the Eclipse for price, but mainly because you can set a destination using just Latitude and Longitude. Very important for use during Geocaching.
http://www.fjcruiserforums.com/foru...tep-step-install-eclipse-5435-nav-system.html
Thank you, granger.
Yes, that says "MATT'S CRIB". Ain't technology grand?
Next came this whole no map-lights thing. I mean, what's up with that? SOOooooo, I scored the Chevy Suburban dome/map light on Ebay and added a switch so the dome light can be turned off manually when I want the interior dark with the doors open while camping (Radio Shack $3.99).
http://www.fjcruiserforums.com/foru...head-map-light-install-lots-pics-details.html
Thank you, SwissArmySuv.
I also missed my HomeLink. So I checked out the different solutions posted by our esteemed membership here and decided to use the Kia Sedona unit. I once again scored on Ebay and did the install described here:
http://www.fjcruiserforums.com/forums/stereo-electronics/20260-custom-homelink-install.html
Than you, bpaetznick.
And what's with those funky lights in the mirrors? What are they for? They are REAL close to being too high for legal use in nearly every state. So I made turn signals out of them SwissArmySuv style (Thanks, again). Probably the best bang-for-the-buck mod done to this truck.
http://www.fjcruiserforums.com/foru...turn-signal-lights-basic-overview-w-pics.html
Passenger arm rest was a concession to the wifey. If Mama ain't happy, ain't NOBODY happy!
"Hmmm, you sure are spending a lot of time with that truck…"
-Wife​
Next came the necessities for keeping myself out of trouble and home on-time. Especially considering the $300+ tow truck recovery the DAY AFTER purchase. So I got a 48" HiLift jack and the LiftMate hooks for utilizing each of the wheels as a lifting point since the FJ basically has none. I got a set of the Demello mounts for the jack as well. I also slapped on a receiver shackle since the dealership I purchased my FJ from did not see fit to reinstall the rear recovery hookup when they installed my hitch.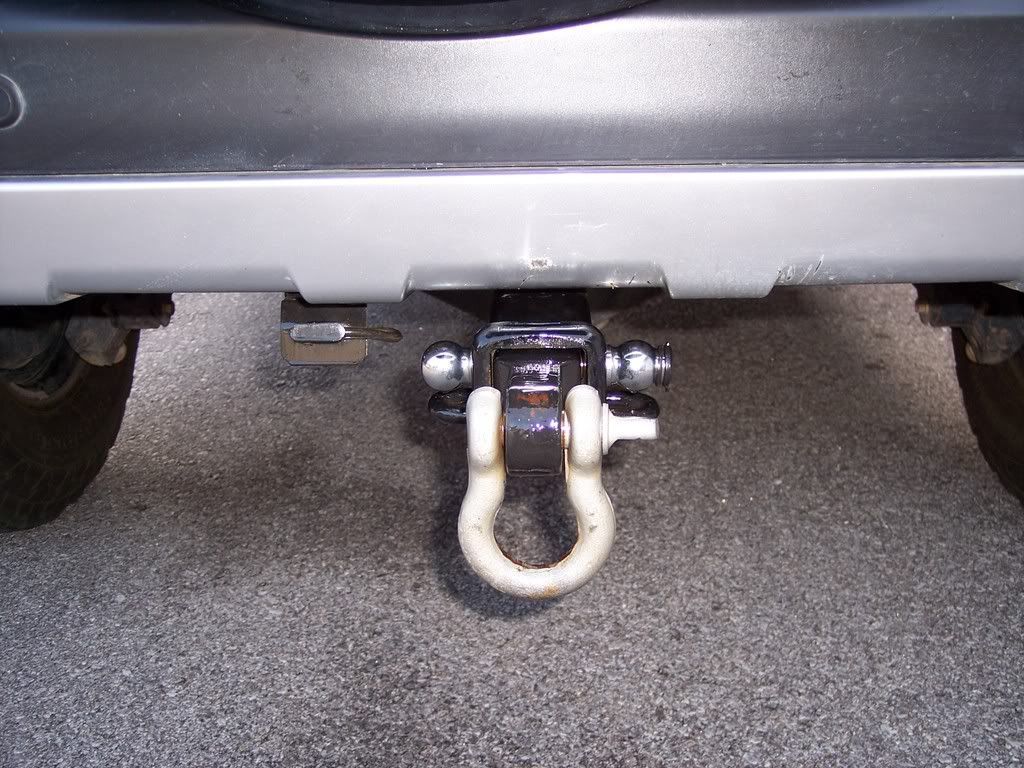 I realized that "Bessie", as I have by now started calling her, has been seeing a bit of deep water and will likely see a lot more. So it was time to get that SCUBA Mod everyone had been speaking of.
http://www.fjcruiserforums.com/foru...-rear-differential-e-locker-breather-mod.html
Thank you, Shadow-Warrior
And with all these neato gadgets installed it was time to work the theft deterrent device angle. Getting low on dough, I had to improvise.
So I'm over in Jacksonville and decide to drop by the local 4WheelParts to see what they have. Most of the truck/4x4 shops I see are big on bling and shiney bed boxes. So I was pleased to find this place. While I'm there the guy behind the counter asks of I owned the FJ out front. I answered affirmatively and he tells me that they have an ARB front bumper in the back that a guy had ordered but changed his mind about. He says he has to ship it back to the warehouse or sell it because it's just takes up too much space.
A set of IPF driving lights came for free from ARB and I paid $900 out the door for the bumper.
http://www.fjcruiserforums.com/foru...er-warn-m8000-installation-lots-pictures.html
Then it was just a matter of getting a decent winch at a decent price. I picked up the Tabor 9K and mounted it all up. DANG that thing's heavy!!
Thank you, sbechtold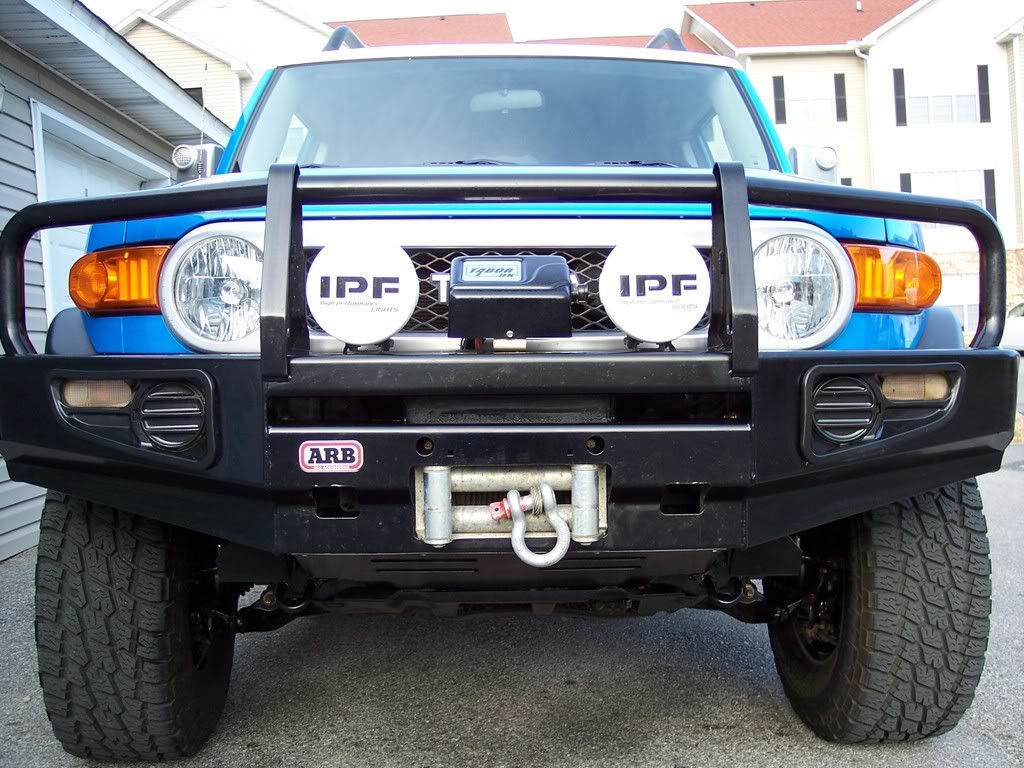 And I had to add a switch for the lights. I went with the three lead fog light switch from TRD Source and placed it behind the light selector lever.
Recovery/Safety items carried:
Tabor 9K Winch w/ 100ft 5/16" Cable
4.75 Ton Shackles (5)
ARB Snatch Block
30' Recovery Strap
10' Ratchet Straps (4)
48" HiLift Jack
LiftMate Wheel Strap
Shovel
Hand Axe
Leather Gloves
First Aid Bag
Reflective Vest
Fire Extinguisher
Flashlight (head mounted)
"Wow. Looks like the rear wheels may come off the ground." (shakes head and walks away)
-Wife​
Yes that ARB and winch definitely put more weight on the front end than intended. SOOOoooooooo, time to look at lifts. I eventually figured that the ToyTec 3" with spacer and OME 885 springs would do the trick.
Why 885 and not the 886? I spoke to the good folks at ARB and they said that the idea of having to use 886 springs with the bullbar was a throw back to the 4Runner setup thinking. The FJ, they said, would be fine with 885s.
http://www.fjcruiserforums.com/foru...oytec-lift-install-full-writeup-pictures.html
At the same time I started looking at tires and wheels. Turns out 4WheelParts came through again and I was able to pick up a set of five 305/70-16 Nitto Terra Grappler for a steal and mounted them on a set of Pro-Comp Series 87 steelies from Wheeler's. And, yes, a body mount chop was in order. I did retain the stock alloys and tires for use during long road trips since gas mileage has dropped significantly with my new tire/wheel combo.
Then a set of Toyota rock rails found there way into my garage from a guy that had pulled them off the day before he totaled his FJ on the way home from work. He gets a shiney new Acura, and I get a set of rails for $75.
"What's THIS new charge on PayPal? Aren't you done yet?"
-Wife​
Nope. Not yet.
Went back to Ebay and picked up a Uniden PC68XL CB for $15 and installed it LandCruiserSteve style with a 4' Firestick and Bandi Mount.
http://www.fjcruiserforums.com/forums/stereo-electronics/27864-uniden-cb-install-pics.html
Thank you, LandCruiserSteve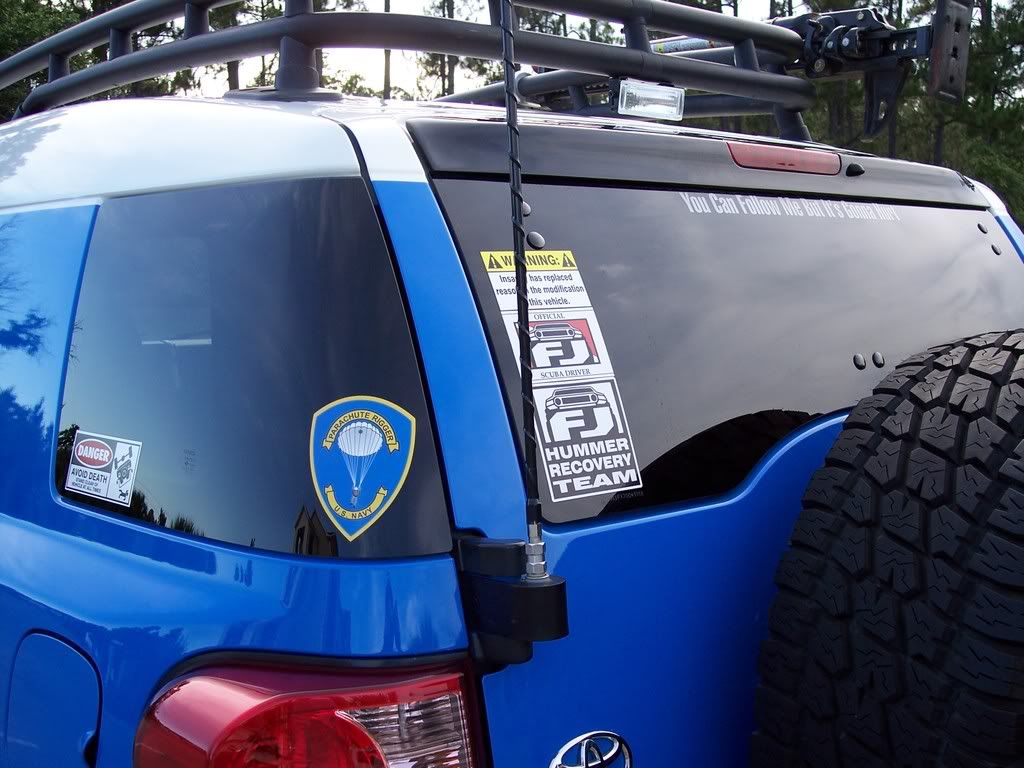 I added two lights to the roof rack for camp use. One going to the right and one going to the rear. These are the two likely places for me since I usually have the rear door open for use as a work space, and the passenger side usually faces the camp site so I can have those doors open for music. Switches are the rocker style from the Tacoma.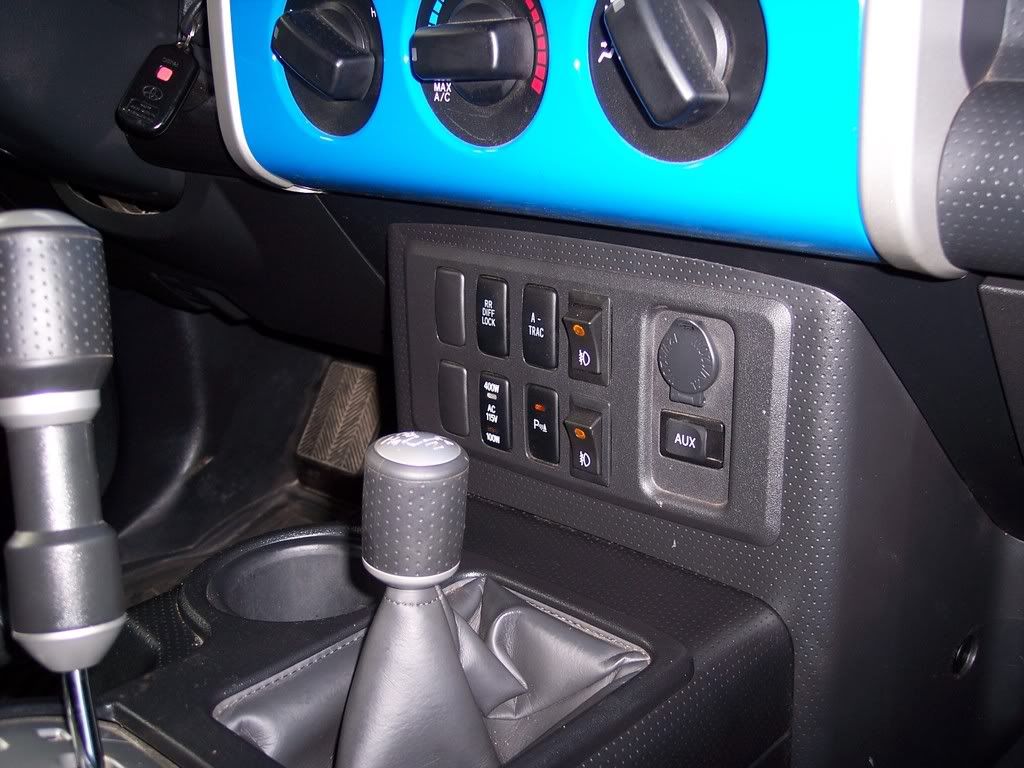 And because I tend to have that radio going for long stretches of time, as well as other items charging/running (i.e. DVD, laptop, phone, flashlight, fridge, camera, GPS, etc.) I figured I should probably go ahead and do a dual battery setup. I went with the Painless system done by sbechtold, with a few small changes. The switch got located in the same pull off panel as the HomeLink.
http://www.fjcruiserforums.com/foru...-dual-battery-installation-write-up-pics.html
Thanks, again, sbechtold.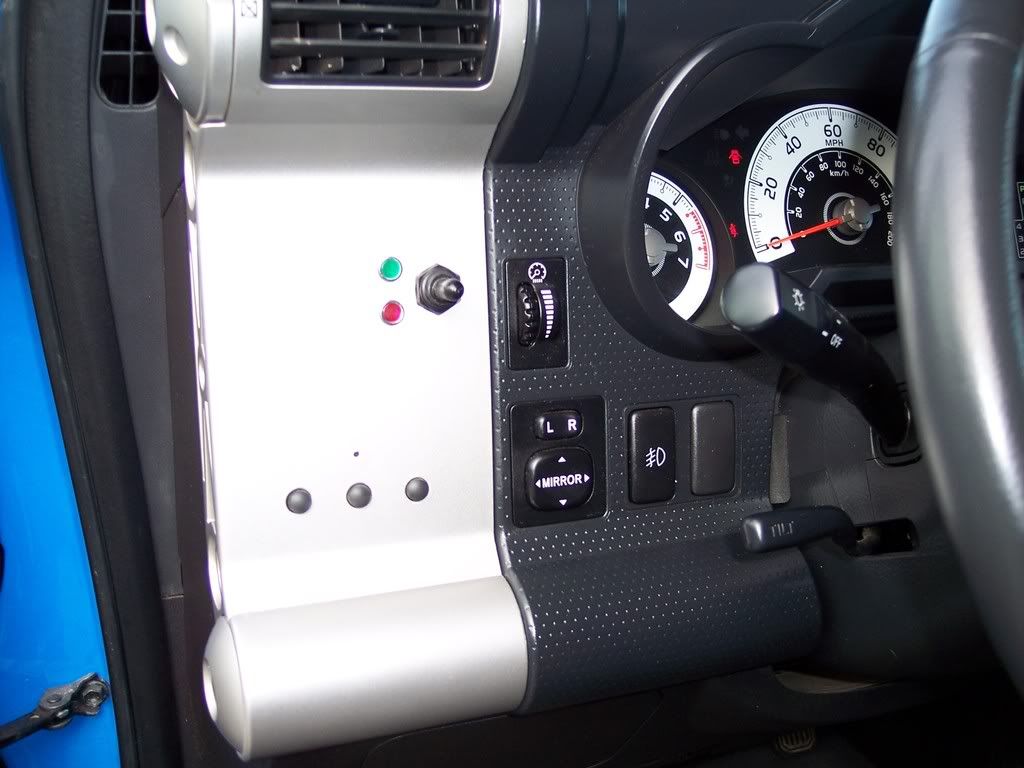 In an effort to see better on the trail at night, especially in areas where the rig is pitching up and down a bit (and look super cool while doing it) I manage to wrestle Jeshua's old All-Pro dual light Air Dam off him for a good price and free delivery to the 2008 FJ Summit. Of course I had to do SOMETHING with all that negative space in between...
And I have finally gotten around to actually mounting my CO2 extinguisher in the back for easy access.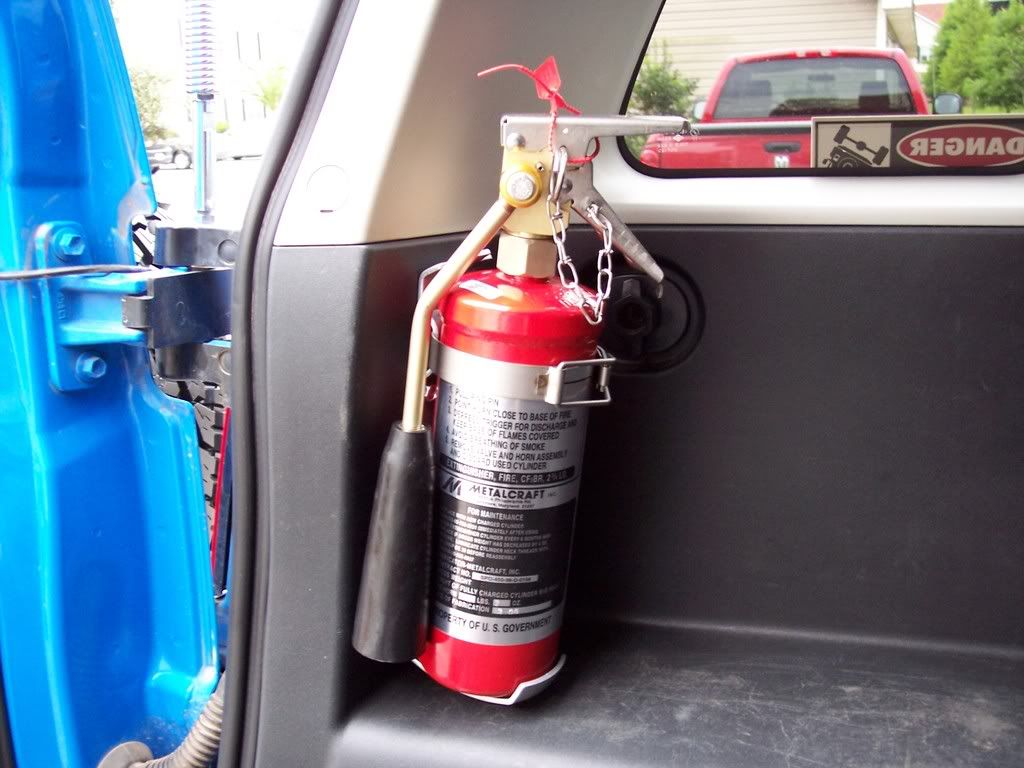 Future Mods?
M-Pac (or similar) storage
Skids
MK-19 40mm Launcher (just in case) Click here
http://www.fjcruiserforums.com/forums/off-topic-discussion/52440-so-whats-your-zombie-plan.html
"Matt, when you're done turn out the lights before coming to bed."
-Wife​
Here is what we have so far. Bessie does really well in all terrains, except mud. To misquote Arthur C. Clark's novel '2010',
"All these worlds are yours. Except Mud. Attempt no landings there."
That's okay. I've built, and am still building, a vehicle that can get me around anything I can't get through.