FYI, besides this and the cloned thread on three other forums I frequent, I recently made a camping gear review blog which goes into more detail on a few things.
It can be found here.
http://backcountry-camping-gear-reviews.blogspot.com/
I have been buying tons of new camping equipment this season as
seen by this thread
.
Most of the gear I have picked up from Cabela's.
Most of my old camping gear was from my tent trailer days, and simply to big to transport in the FJ Cruiser.
Here are the reviews:

Pett toilet system
I like it, well half way
The privacy tent deploys and sets up in a minute.
No poles to attach, they are already sleeved into the tent fabric.
However taking down the tent is a major PITA.
And it is to small to use as a shower tent.
I will be looking at a much bigger double duty crapper/shower tent for my next outing, and leave this one at home.
Now to the crapper.
Very stable, unless you lean to the side to wipe, as it has three legs, and not four.
Standard size seat, so it is fairly comfortable
The bag system that Pett uses are pretty cool.
When done, simply zip up the bag (two used) and toss it into your garbage bag you have in camp, or toss the bag in a trash receptacle if one is close by.
One bad thing about the tent, the guylines they give you for extra hold down in a wind (the four corners also stake down) are slippery, and they slide on the plastic rope things that are suppose to keep the rope taut with the stake.
In other words, the guylines are useless.
You can replace them though.
I give it two thumbs up, the toilet that is, and not the tent

Pros:
* The shelter is very easy to setup.
* The toilet is comfortable to sit on.
* The Wagg Bags make it easy to get rid of your waste.
Cons:
* The shelter is a PITA to take down and put away.
It should become easier over time I would think.
To small to really shower in, will be looking for a much bigger one.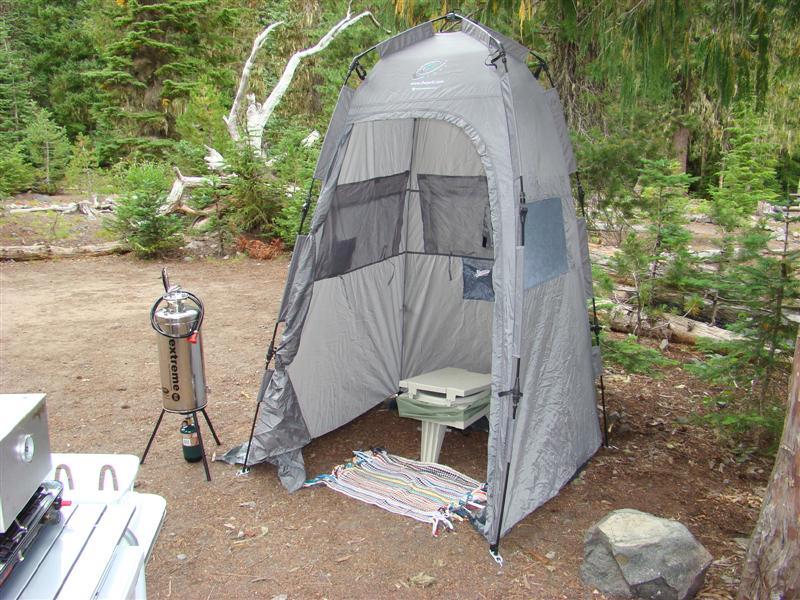 Cabela's Picnic Table
One person can set the whole table up in just a few minutes.
It deploys very fast, and is just as easy to take down for packing.
It is amazing that such a small package expands to a dining table big enough to seat four.
A little cramped with four, but it can be done.
It is very stable too.
I give it two thumbs up

Pros:
* The table is a lot more comfortable than I thought it would be.
* Takes up very little room in the rig when folded down.
Cons:
* Can not really think of any, as this little table rocks the woods.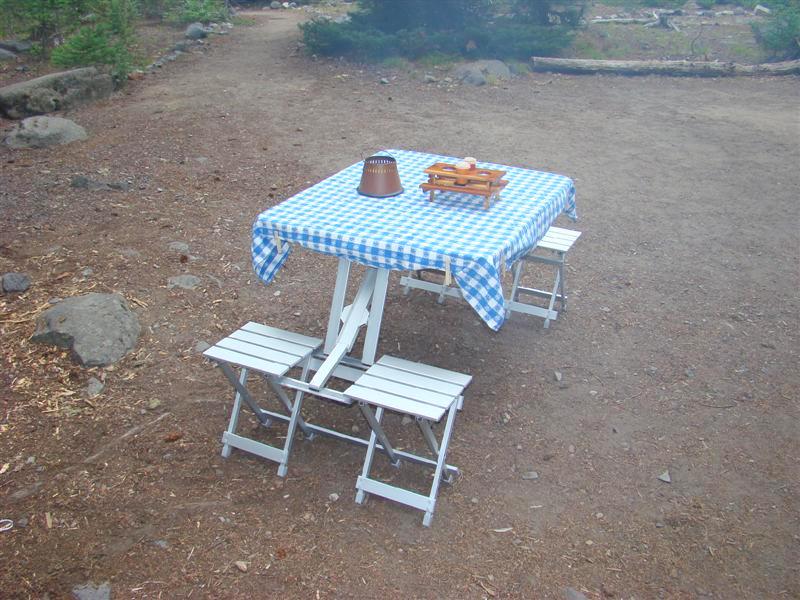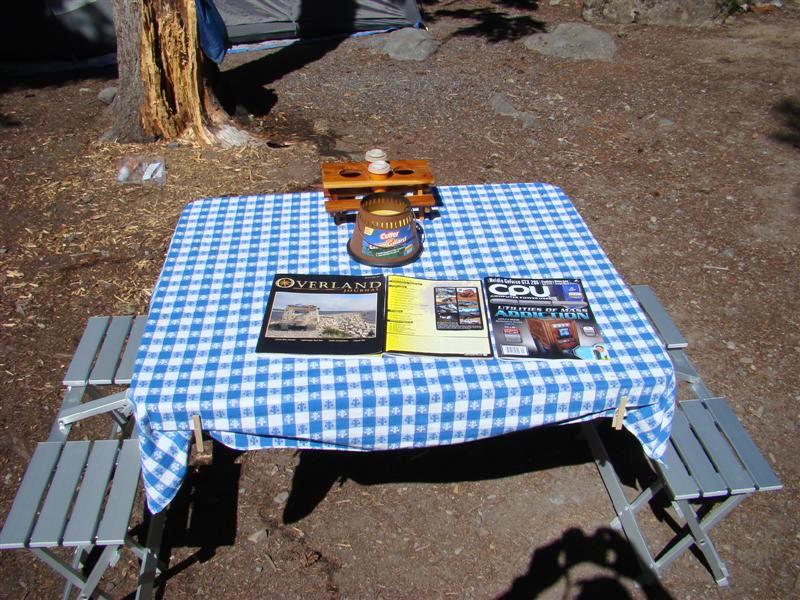 Cabela's Instant Cooking Station
Once setup you have three surfaces to use.
I used the middle one for the propane stove.
I am using one of the other sides for the wash basin, and the other side for the disk drying rack.
Below the middle shelf I have two of the Sterilite drawers stacked together.
The upper one holds my silverware and cooking utensils, and the bottom one holds the pots and pans and other miscellaneous stuff.
I give it two thumbs up

Pros:
* Kitchen takes up little space in the rig.
* Sets up extremely fast/
Cons:
* Can not think of anything.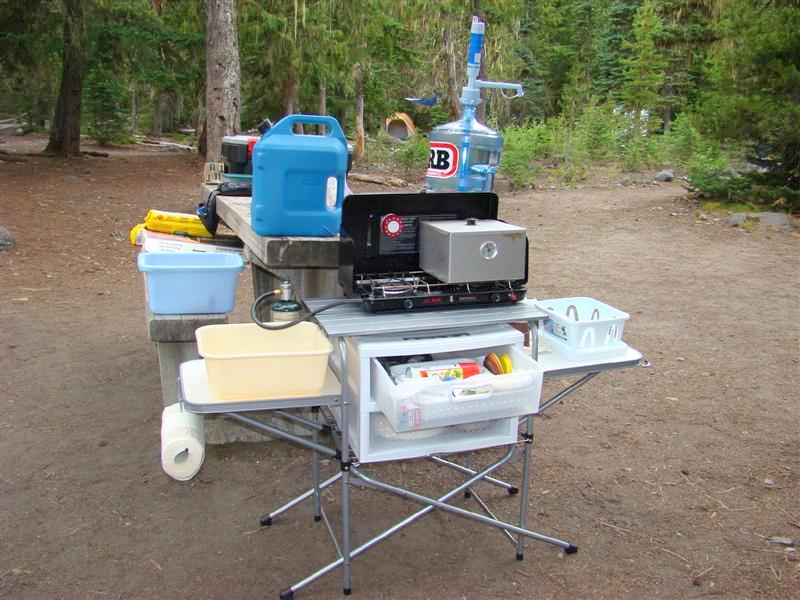 Tech tip:
The paper towels were unraveling from the wind.
Take your last sheet and poke a hole in it, and stick it through the rod to keep it from doing that.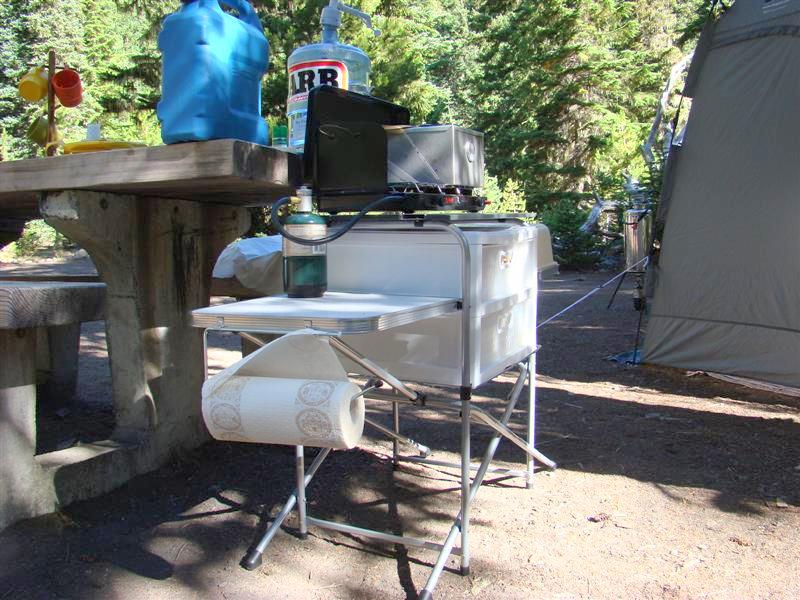 Sterilite 2101 Drawers for Cabela's Kitchen
See above statements.
I give it two thumbs up

Pros:
* Stackable drawers does not get any easier than this.
They do the job, and are inexpensive.
Cons:
* Can not think of any.

Cutter Advanced Sport Insect Repellent
Mosquitoes and black flies love to dine on me when out in the woods.
I use to use 100% DEET, but that stuff is nasty for plastics and nylon.
Never again will I use that stuff.
I used it a lot in the 80s and 90s.
I read up on Cutter Advanced stuff, as they use no DEET in it, they use another ingredient called Picaridin.
The ARMY is even experimenting with the stuff as an alternative to DEET.
Once applied, it kept the mosquitoes away from me 100%.
however a few small black flies would still land on me, but not for to long.
Overall I was impressed with the stuff very much.
And it does not leave your skin greasy like DEET products do.
I give it two thumbs up

Pros:
* Very effective in keeping the nasty bugs at bay.
* Does not leave your skin greasy like DEET does, and will not harm plastics, nylon clothing, sleeping bags.
Cons:
* A few black flies landed on me and circled me for dinner, wish it would keep them away completely.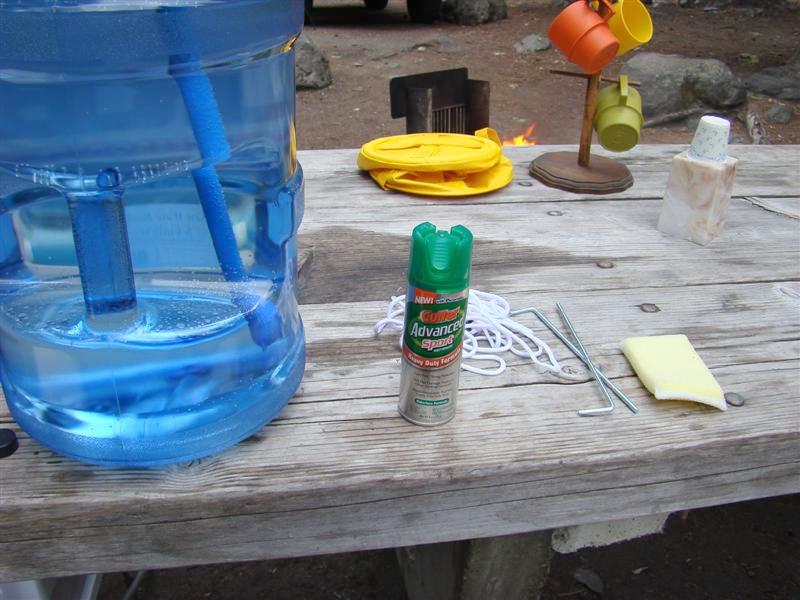 Coleman Lantern Stand
Another cool item.
I have owned a Firefly lantern stand (Google that item) since the early '90s.
It is a pain to setup.
The Coleman lantern stand however sets up very fast like a camera tripod.
It is adjustable up to around seven feet high, and has a flip out holder to hold your lantern.
It also comes with stakes to help hold it steady.
I give it two thumbs up

Pros:
* Sets up in seconds, much faster than my old Firefly stand.
* It looks cool, very cool.
Cons:
* Can not think of anything to report.