Hi All!
So I have been busy at work, and posting NONE of it! Ha! Well, anyways, I added some things to my rig, which include lift, tires, rails, and some other stuff. Now, since this is the electronics forum, I thought I would give you all a rundown of my carputer install! First, here is a pic of my rig NOW! With LIFT and TIRES! Finally!
Now, AFAIK, I am the first to do an actual car pc. Others have added laptops, GPS units, in dash units, etc. but this is an actual computer in the car, completely dependent on the vehicle electronics, and not removable for use outside the vehicle. If other have done a carpc, POST UP! I'd like to see other installs also. I'm not trying to take credit, but I have not seen other posts I can remember.
Now, just a little...little....background about me. I am a computer builder by trade, but I work in a little different field. I build driving simulators, very large cab systems with full driving simulation for teen drivers, elderly, refresher courses, and various corporate clients that want additional training for their employees. Take a look at our site if you like:
Virtual Driver Interactive
Now, this will start as a teaser thread, so CHILL, I'll get more pics VERY SOON! :lol: Tomorrow, or maybe a day later. Right now the pc is fully installed and I run media on each commute daily, as well as GPS, so I just have to get outside and snap some pics tomorrow so you all can see the install.
We'll start with the computer itself. I'm sure there will be questions, and I am fully capable of answering them, and certified also
Ask away if you have questions, but I will reserve the next few posts for future pics and info.
Here is the new PC: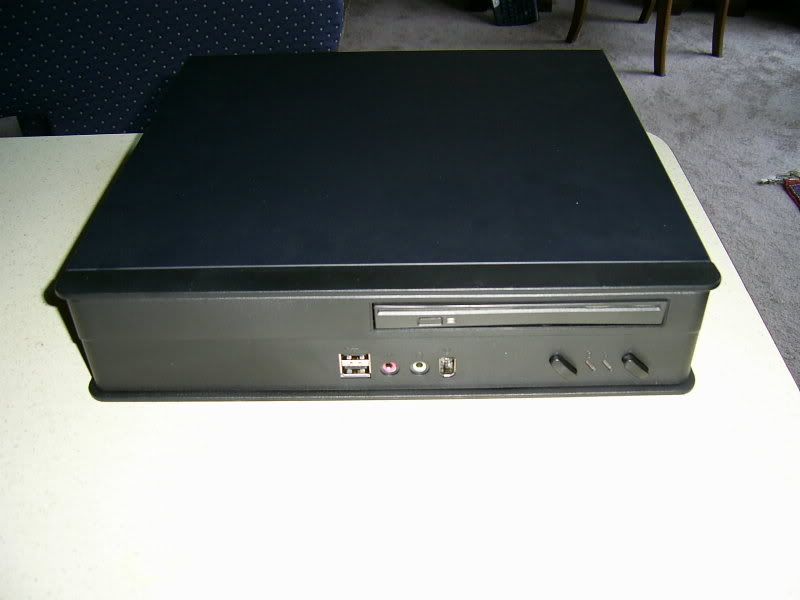 Now, this is a Micro-itx form factor case and MB. I actually had this pc in another car over a year ago, so the parts are a 'little' outdated (not much, but there is much better stuff available now). I'm using a Jetaway board, and when I did this all they had was Via C3 and C7 chips (No AMD or Intel CPU's, on Via), but now they have MB's that will run quad core Intel chips! That's some serious small power! Here is a link to the board:
Logic Supply - Leaders in Mini-ITX & Small Form Factor Solutions
I am using 1 GB of ram, a 160 gig laptop SATA HDD, A slim laptop DVD-RW drive, and an M2-ATX power supply.
About power: This is not a normal PC power supply. This is a power supply made specifically for the automotive environment, with built in startup and shutdown controllers, deep discharge protection, cranking amp survival, and MORE! You can checkout some of the power supplies on the market here:
Mp3Car Custom Car Computers!
I can cover this MUCH more for those interested, but it's much better if you just get friendly with the mecca of ALL carpc sites in existance:
MP3Car.com - Your source for mobile computing solutions! - Home
! Go there. You will LEARN!
Now, more pics of the install. Let's take a look inside the case: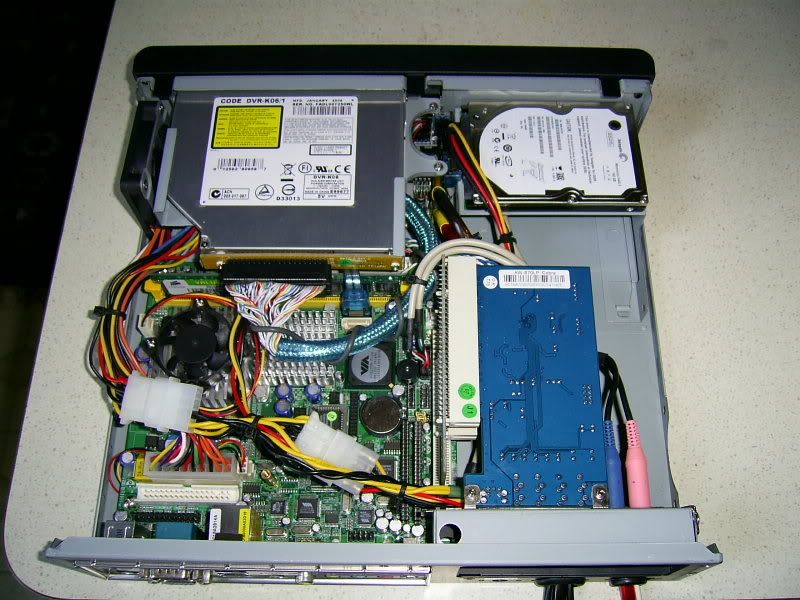 You can see I have a sound card in there in the pics, but it turns out the MB I use cannot run the sound card well, so I am running sound off of the MB sound ports now, and I will for a while. The idea of a PC in the car is to run 5.1 sound, and you can do that through the front, rear, etc channels on the MB or sound card, and then run each channel to an amp, and amp each speaker. Sound like alot, but it's really relative to the install of the PC. It's easier than one thinks.
The case is a tight fit, to say the least. This case is nice in that the M2-ATX actually fits in it and bolts to the same spot that the case power supply originally bolts to. When you go up alot in power supply, you go up alot in size. However, I was also able to get some measurements and I can fit an Opus or DSATX in this case as well, but mounting it will be different. (see the power supply link above for info on these two power supplies)
The case measures 11.6 x 11.6 x 2.5! That's less than 1 foot square and it fits under the front driver's seat. There is actually more room under the driver seat than the passenger, but where it's mounted is very convenient! I can just reach under the seat to pop in a DVD or the like.
Here is a pic of the OLD wiring that I used parts of for the new install. The power supply gets hooked up just like any other auto component...positive, negative, and switched.
Now, one thing of note is that I not only power the PC with the power supply (it's regulated, remember, not just a random computer power supply), but I also power the monitor with the PC PS. The monitor will come on and off with the PC, and I never worry about turning anything off. I just walk away.
Here are some of the wiring pics of the 1/0 cable I use for the amp, with the PC power connection included.
Switched power is taken right from the deck, just like the amp. Blue wire.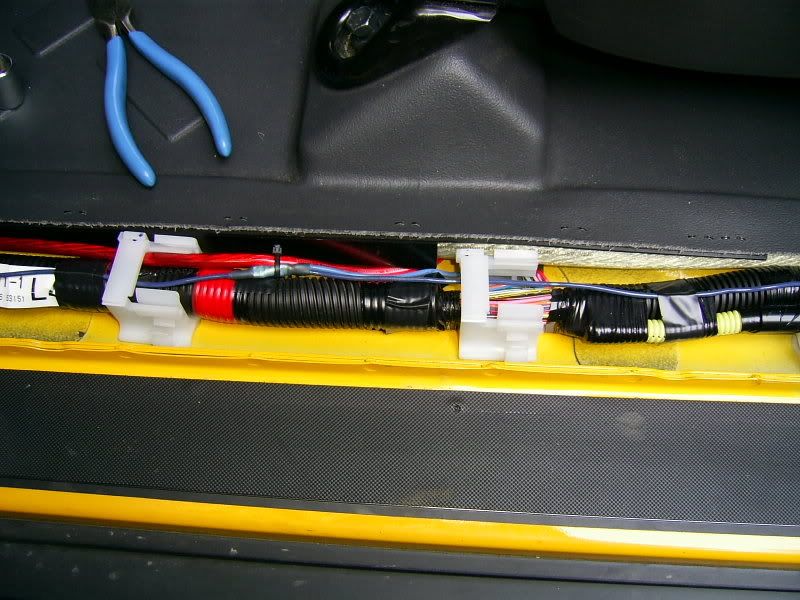 So far, so good....
Ok, a little more in this post. I ran the wiring up through the firewall in the large cluster on the driver's side. You know how hard it is to run a 1/0 cable through that rubber grommet ALONE! Arg! But it came out ok, with no air leaking that I can tell.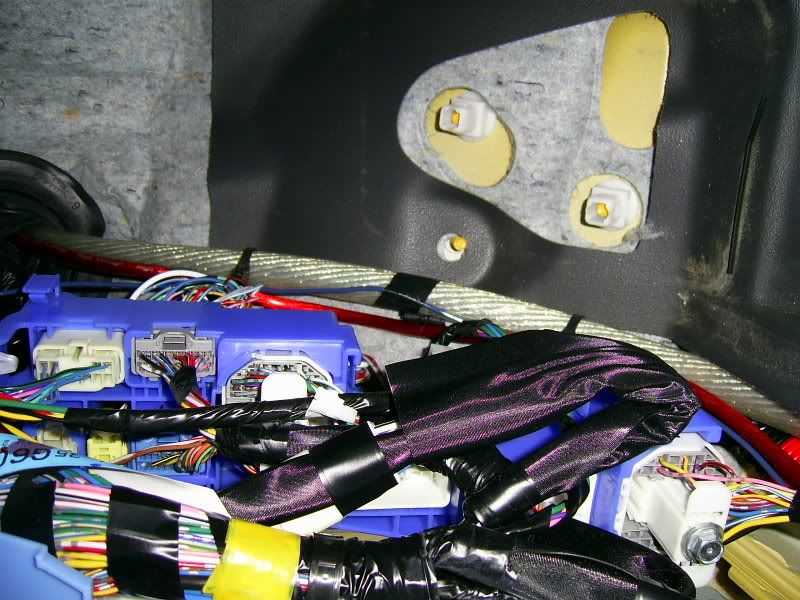 And the battery connection (I have it disconnected right now while installing. It's always fun to get everything wired then go to the battery thinking: 'Ok, Here we go, Watch for smoke....watch for smoke....)
Grounded to the Ebrake bracket bolts, zipped down to keep it out of moving parts. Not a single issue yet with this setup. And I also double checked, and so will you, in future pics! it's been in the car for about 3 weeks so far.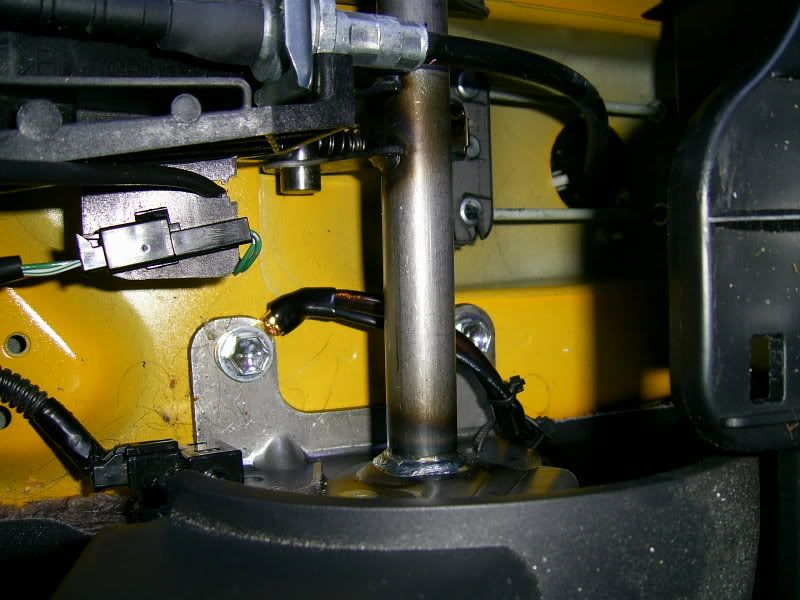 I love how it turned out as far as the wiring went, it could have been alot harder, but the great thing about an FJ is the ROOOOOOOOM! LOL! It's great to have so much space to work with! The last install was in an 88 MR2, which is just a little small.
So here is what the case looks like under the seat. I used no velcro, no bolts, nothing. It fits PERFECT! I was able to run the wiring up and under the plastic trim at the front of the seat (where all the airbag wiring runs through the floor), and then feed up to the battery/deck (for power). The rest of the wiring went up through the center console....there is a large bundle under there now, which you all will see soon. What I really like was how clean the wires went through the door sill and firewall. That was a bear, to say the least, and I did modify the plastic parts on the FJ a little to get it installed, but you would never know. I pride myself on installs that you can't see (NOTE: I AM NOT, NOR CLAIM TO BE A PROFESSIONAL. I AM HAVING F-U-N. I AM NOT COMPARING MY INSTALLS TO COMPETITION CRAP.) Another note: I never removed the seat to install this pc! lol! it just fits that well.
So these are the last pics you get so far! What is looks like under the seat, placed for install.
Here is the seat all the way forward and tilted forward to expose all I could while working on it: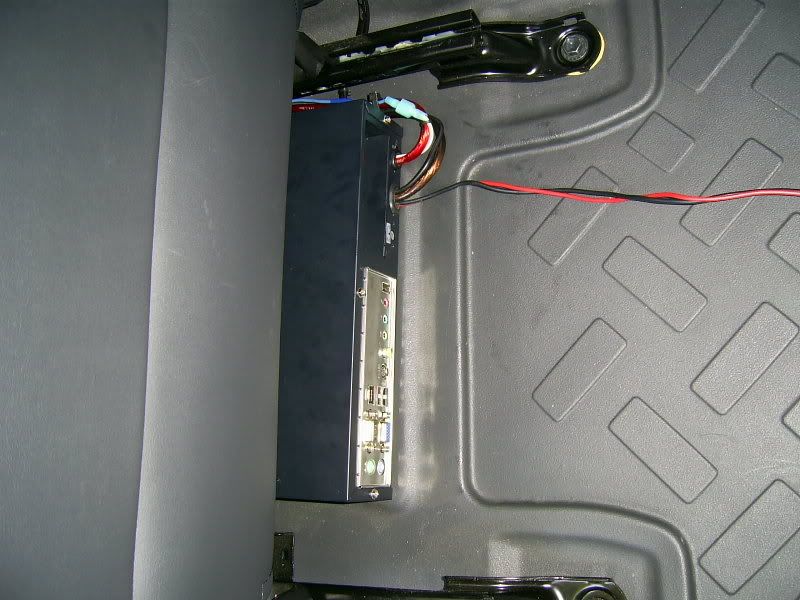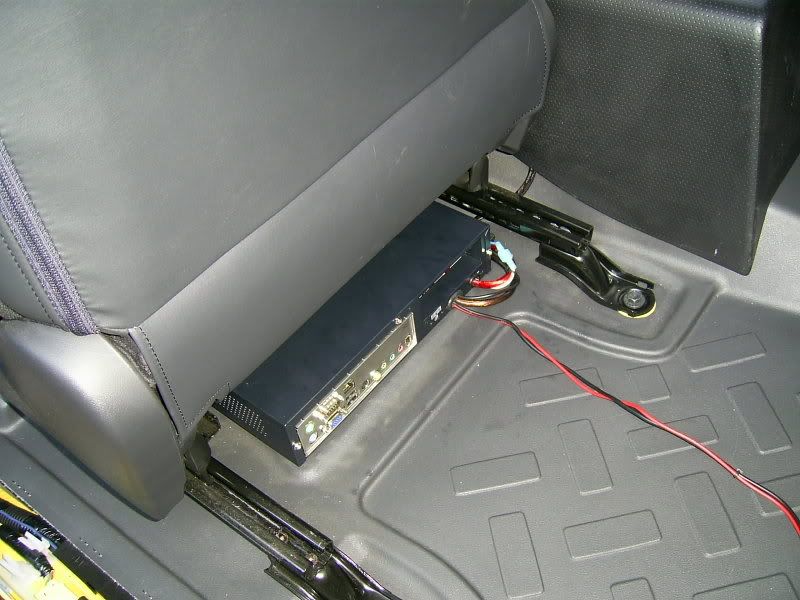 And cooling is VERY important! Think about it...where did I place this thing? RIGHT over the AC vent! this is the coolest running pc I have ever installed, simply because it's in the ideal location, the air flow is perfect (note the exhaust fan location in the next pic), and the bottom of the PC is like an icebox, super cooling the CPU! It really worked out well, and if it starts to heat up, I just run some AC and it's fine. (in winter, you wouldn't need to run the AC. it doesn't get that hot. you might actually want to run the heater to keep it warm. PC's like room temps)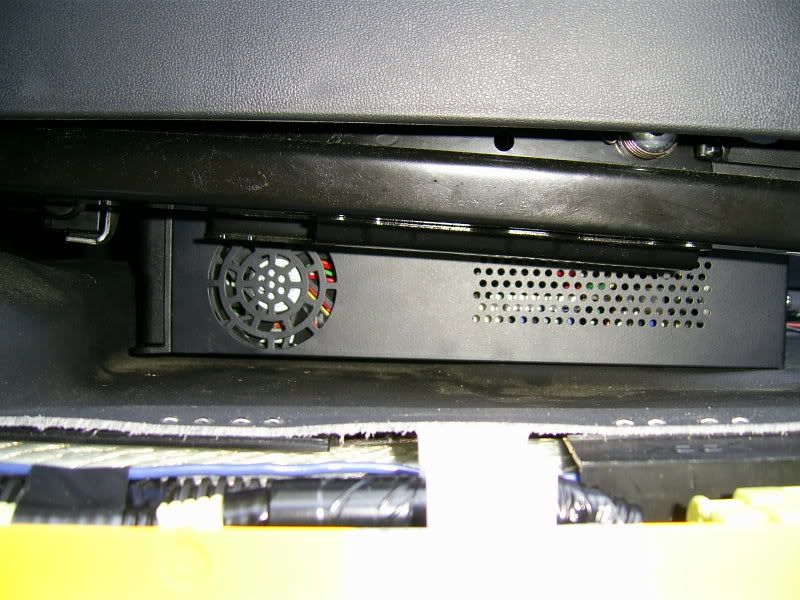 More to come soon!