I have been wanting an FJ since I had seen it posted on the Toyota website in 2006. At the time I had an 2003 2wd Tundra. I loved my tundra, but I wanted another 4wd. My previous truck before the Tundra was a very troubled Dodge Dakota 4wd. Well, I finally found a used 2007 Sunfusion 4x4 in Dec of 2007 with just under 9000 miles on it. And for $26,000 out the door, it was mine. Since then, I have enjoyed this vehicle more so than any other vehicle I have owned.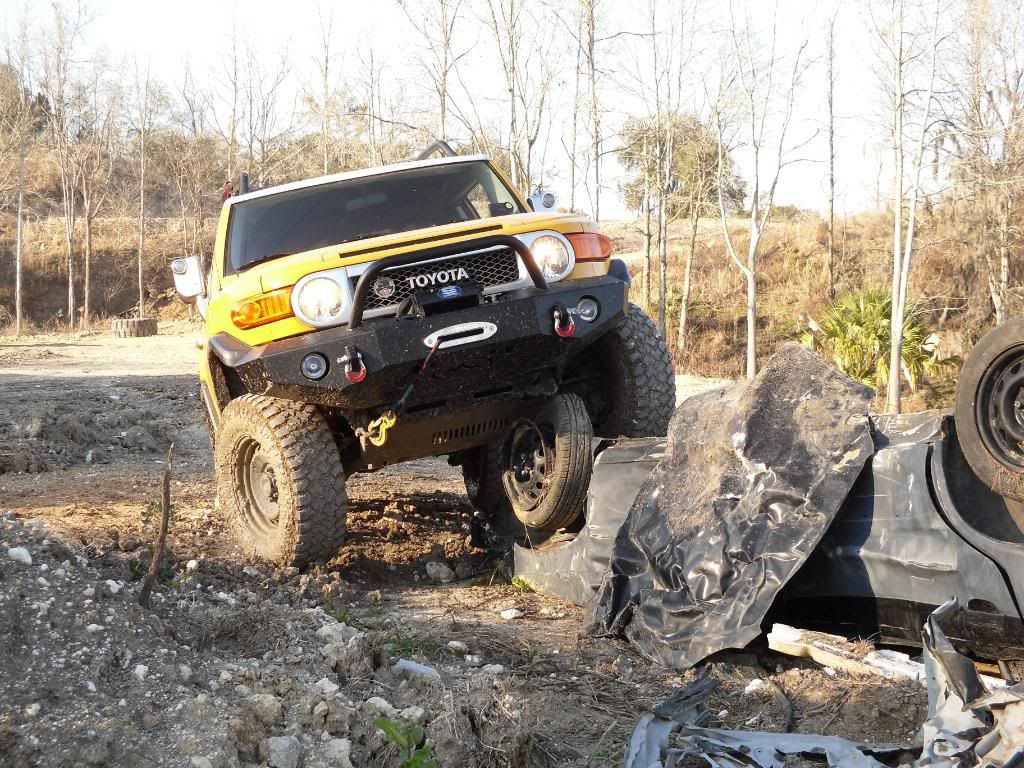 Mod's:
Expedition one front bumper
superwinch EPi9s (Expedition one style w/ synthetic line from viking offroad)
Light Racing UCA's
Toytec adjustable coilovers
OME 895's
Swapped out 17' Alloys for Stock Steelies
Hankook 285/70R'17 RT03's
Bandi Mount
Cobra 75wxst
3' Firestick tuneable antenna
Highlift mounts off Ebay
Added OEM tow hitch
Scuba Driver mod
Trail Gear Sliders
And the FJ Cruiser Forums sticker
Fjcruiserforums badge​
The Lift:
Origianally I went with OME mediums all the way around. It took a buddy and myself about 4 hours mostly driven by anticipation. I think it turned out pretty well and the install wasn't all that hard to do considering I never installed a lift before. I used some of the install directions on this forum that were very well put together. I then added 285/70R17 Hankook Dynapro RT03's. I was greatly pleased with the results!! I was not going to add any mods like bumpers or anything, but after a while, I just had to have one. So I went with the Expedition-One. To handle the extra weight of a bumper, winch, and Budbuilt skids, I went with Toytec for their adjustable coilovers. While I was in there, I replaced my UCA's with Light Racing UCA's. The Toytec C/O's are great for me because I don't intend on racing my FJ through the desert any time soon. When I do I will get Icons. For now though the Toytec C/O's do the trick well. And they did it for $480 less than what I could get Icons for. Trust me I flip flopped between the Toytec and Icons for a while until I realized what kind of wheeling I was going to do and how practical they were going to be to me. Here are some before and after shots with the evolution of my lift.
Stock: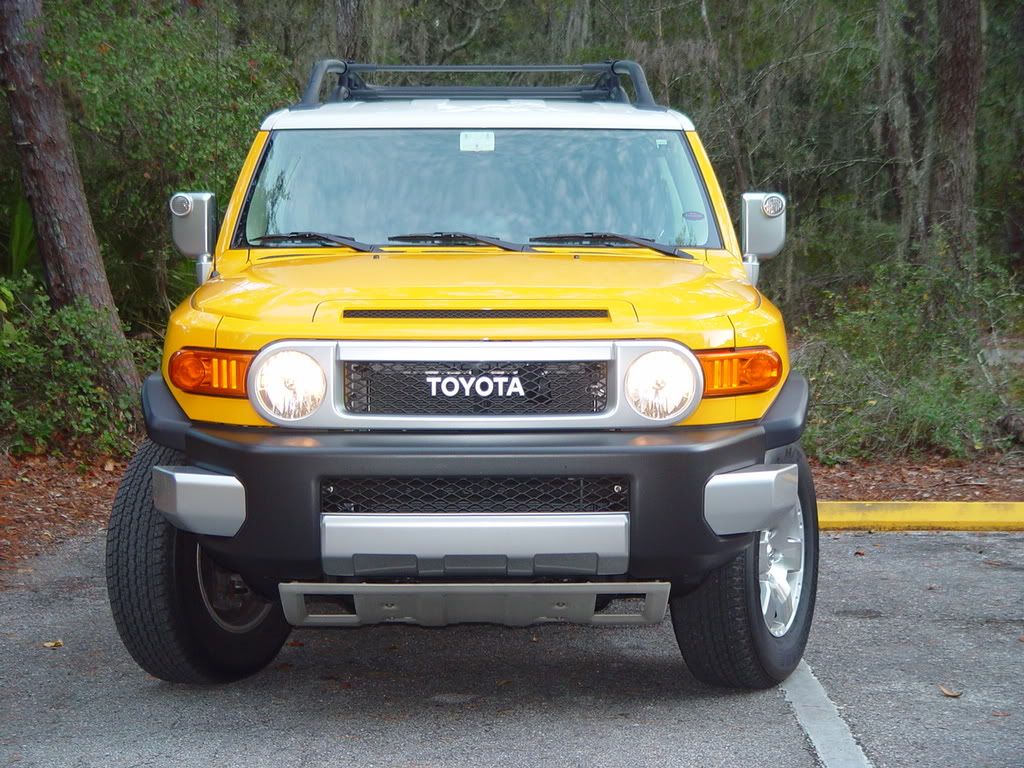 OME mediums front and back installed Feb 2008: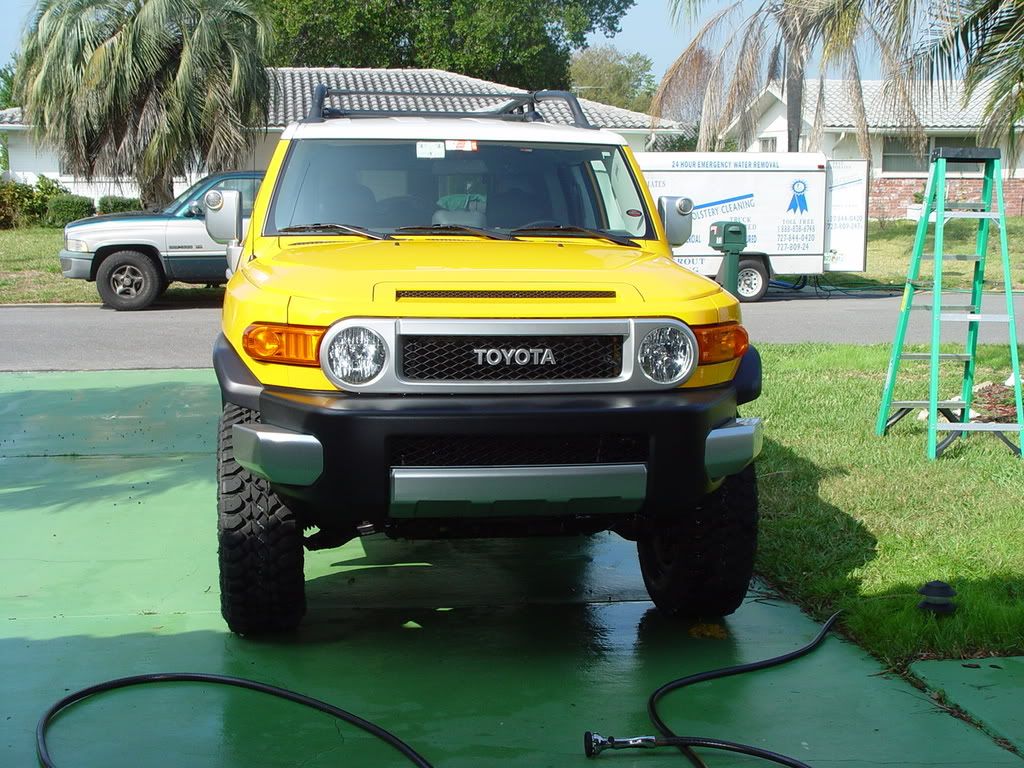 Toytec adjustable C/O's and OME rear installed Nov 2009: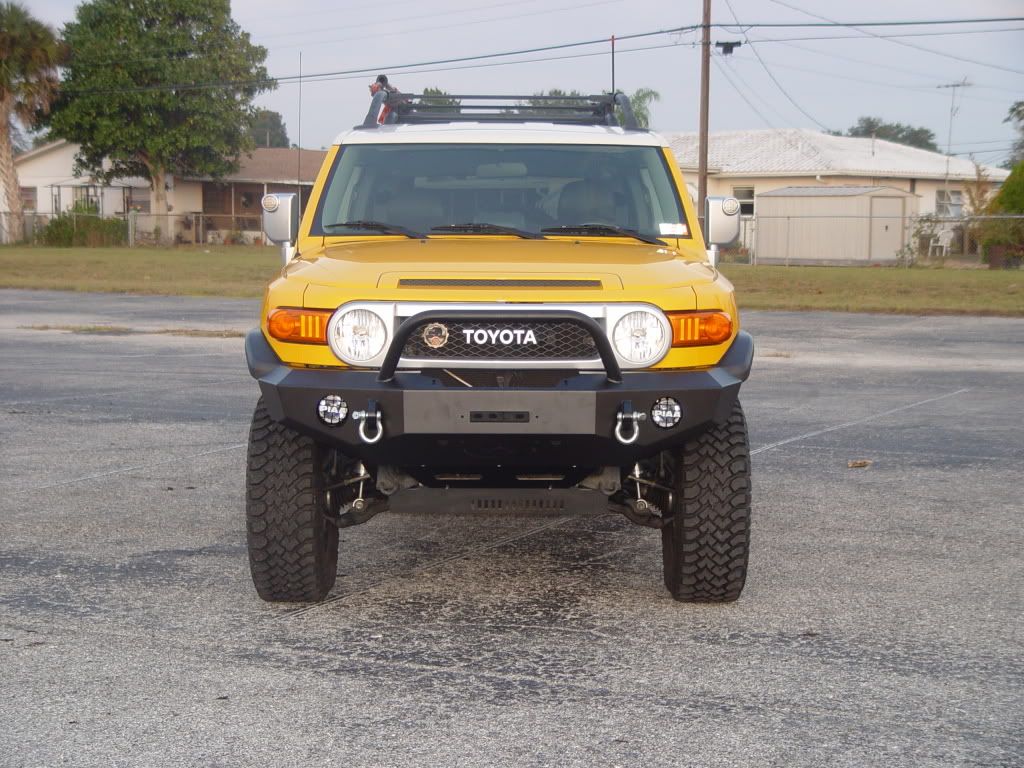 Stock: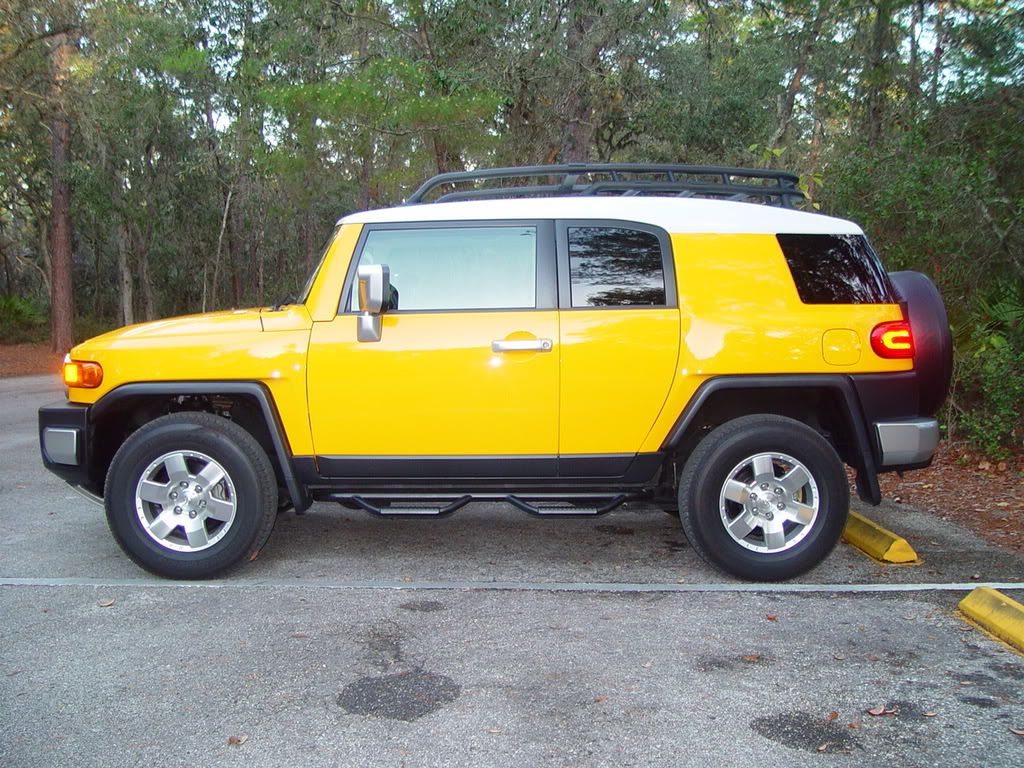 OME mediums front and back installed Feb 2008: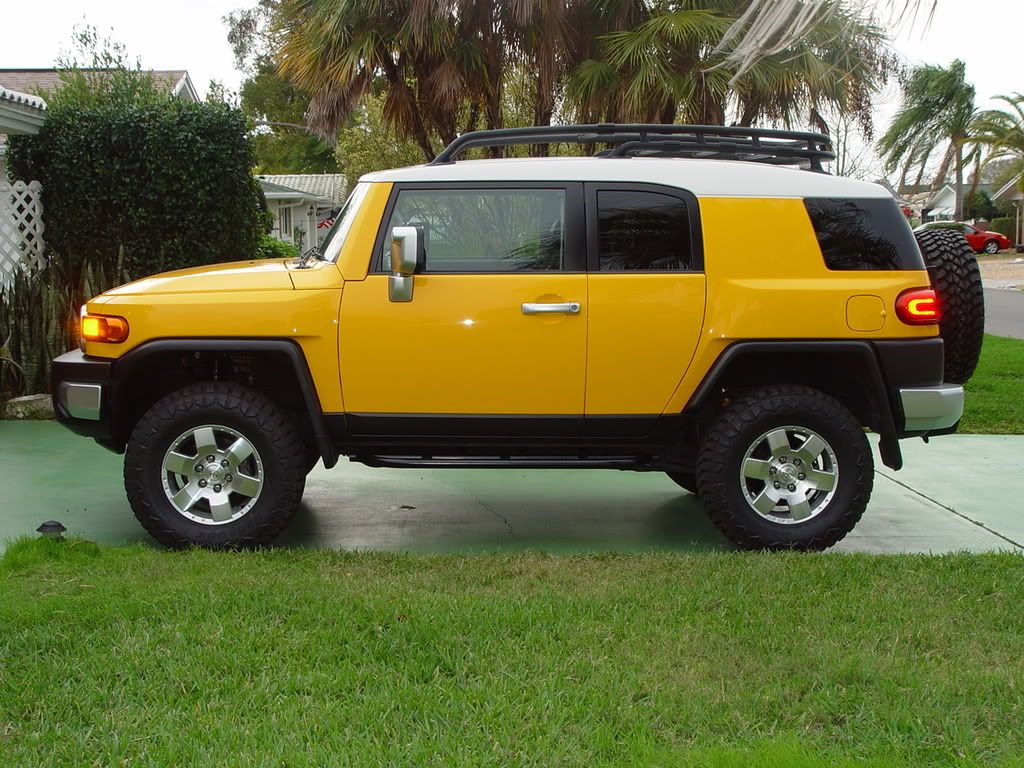 Toytec adjustable C/O's and OME rear installed Nov 2009:
Skids added Jan 2009:
Before I added my bumper, I had put together a homemade radiator protector. Just a little security from hidden debris. I used it in conjunction with my Budbuilt skids.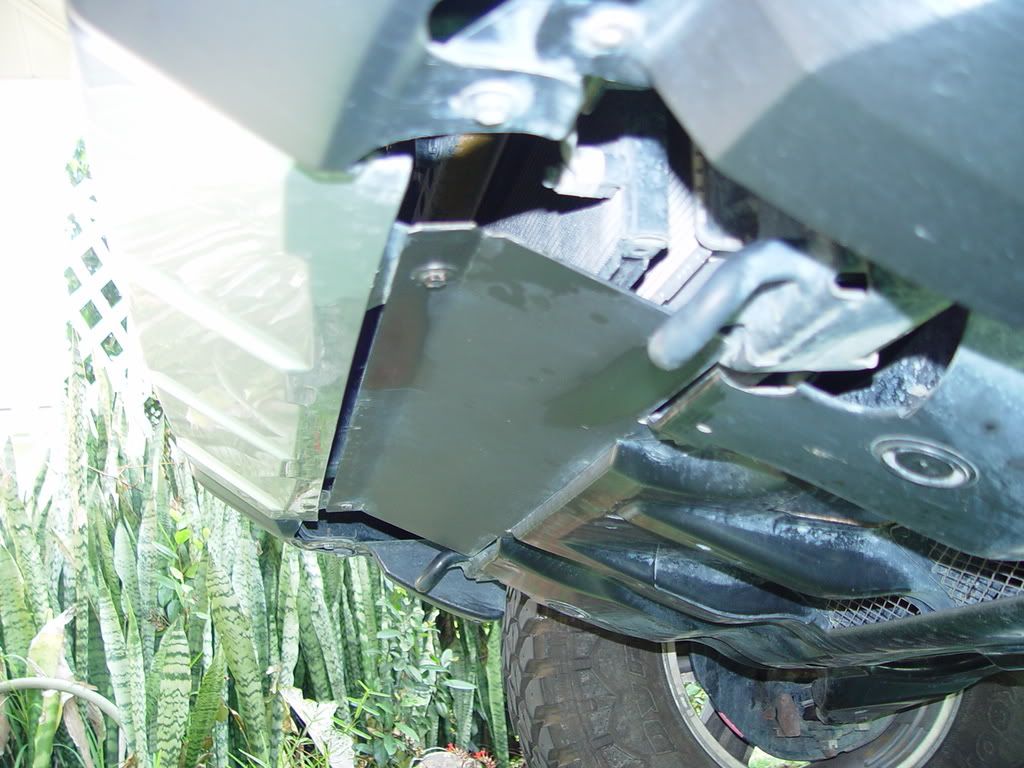 Budbuilt skids with my radiator protector
My Scuba Driver mod:
I followed Shadow-Warriors write up for this here
http://www.fjcruiserforums.com/foru...-rear-differential-e-locker-breather-mod.html
. I placed mine on the passenger side and fabricated a bracket to accommodate three spectre filters. This will be moved when I most likely install my dual battery set up I want.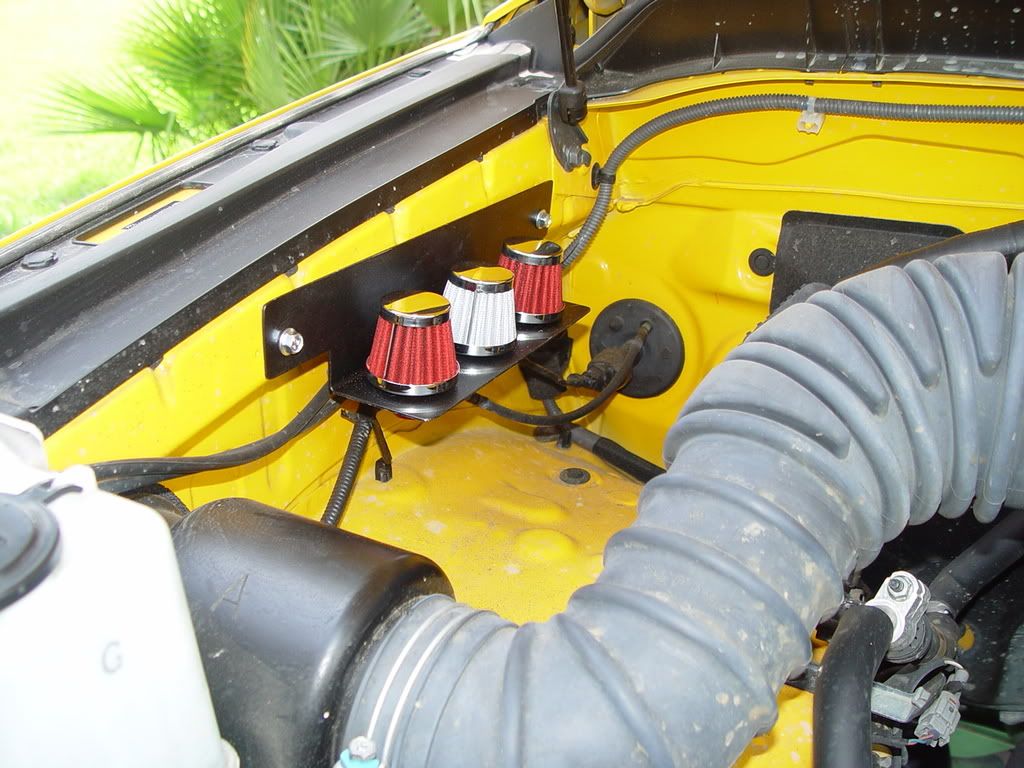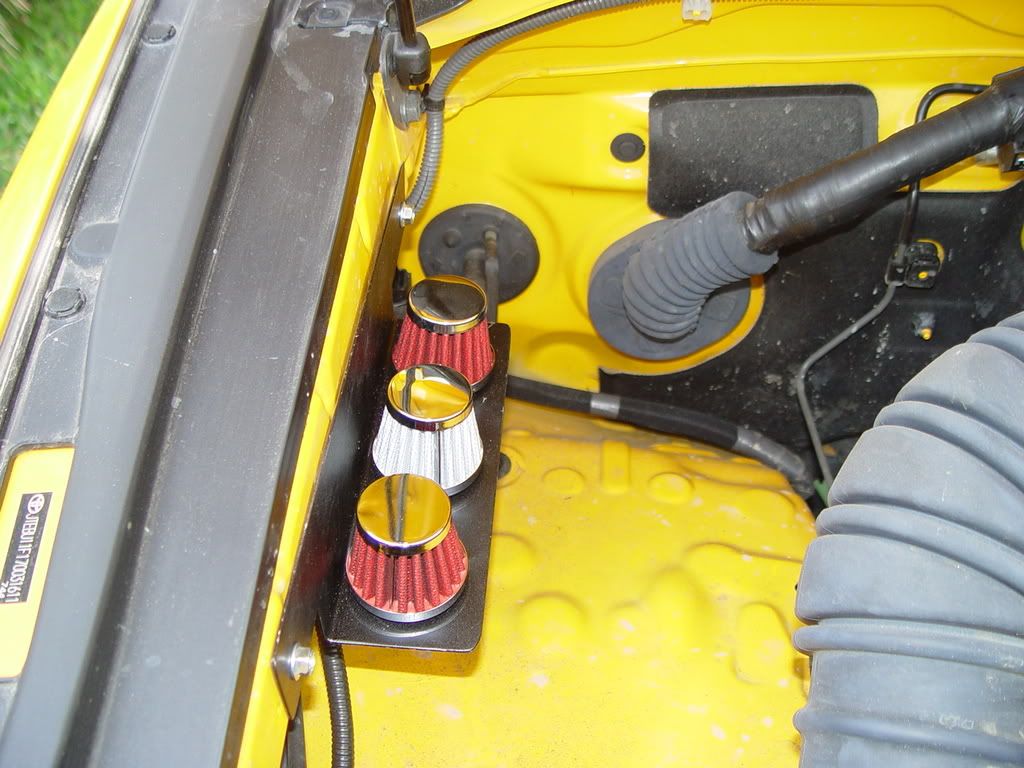 Updated 10/27/2008:
Picked up some steelies for 150 bucks with the stock Bridgestones on Craigslist. I mounted my Hanny's on them. I gave my stock alloys to my Dad for his Taco.
My Dads Taco with FJ alloys on it:
My Steelies:​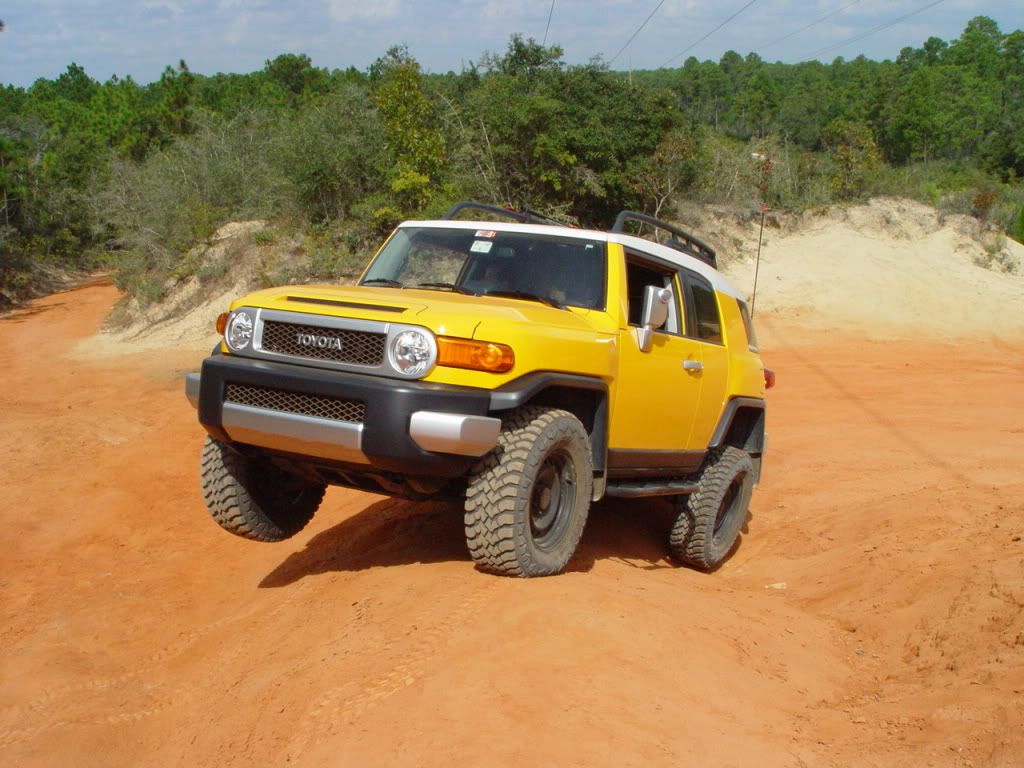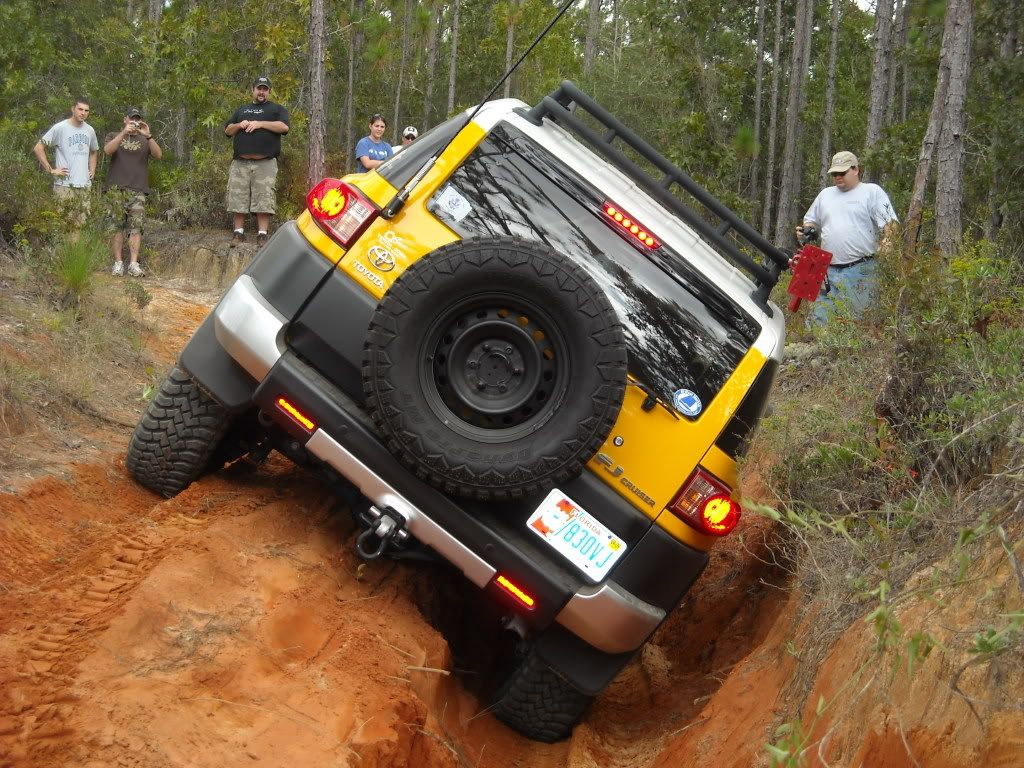 Bandi mount and CB installed Oct 2008:
I bought the Bandi mount because, well, it goes on the FJ. The cobra 75wxst was installed because of the compact design and it's easy to remove and install. This unit is great, the only issue I have had with it is the speaker went out within the first week. No big deal since I was planning on installing an external speaker. another thing I like is this unit installed in the vehicle is virtually invisible looking through the windows.
Bandi mount, 3' firestick, and Cobra 75wxst
Expedition-One front bumper added 11/20/2009:
First bumper I really liked was the All-pro. This bumper dominates in the approach angle department. Well unforunately after many reviews and problems when winching with the All-pro, I let go of wnating this bumper. Next was ARB. I liked the versatility of the ARB. Alittle on the heavy side, but it's strong and offers hi-lift points in the bumper. After watching one being jacked on a trail in AL, I decided this is what I want. Still not impressed with the approach angle, but gotta give a little to get a little right. Wrong! Expedition-one is a happy medium for what
I
was looking for. After hearing they started manufacturing bumpers with hi-lift points I decided this is the bumper I want. Approach angle is good and winch options are great. SO, I finally got around to getting my hands on an Expedition One front bumper.
Expedition-One bumper with PIAA 510's
Painted Bezels and added PIAA 520 ATP's