Discussion Starter
·
#1
·
Congratulations to Makayla Knight/LilMissTennesseeSquire our March Member of the Month!​
*Author's note: due to a family illness, the March Member of the Month feature was delayed. That is why I've chosen to make Makayla the M.o.M. for both March and April. So she isn't cheated out of her 15 minutes!!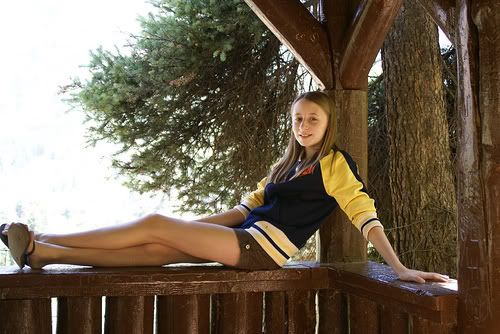 MuddyGrrl:
What are your future plans for the FJ?
Makayla:
To take it to Bend, Oregon and visit Muddygrrl.
MG:
What will your FJ look like years from now?
MK:
Most likely it will have more stuff added to it. Mom and Dad want to do more expedition type trips with it, and I suspect it may even be a different color by then.
MG:
What will you look back on and remember most?
MK:
The 2008 Summit. I got to help with the kids raffle and I meet a lot of other kids that were my age this time.
MG:
What has the forum done for you and what can the forum learn from you?
MK:
The forum has given me the opportunity to become with friends with people all across the US, several even helped me out with my Italy project. What can others learn from me? I would say just be yourself, participate and remember to always treat others the way you would want to be treated.
MG:
What is the most unusual thing about you?
MK:
I am so random! And I like to walk backwards while talking to my friends.
MG:
Where or what is your most desired adventure/excursion?
MK:
Since I have been studying about Italy all year, I would love to go there and see the Leaning Tower of Pisa, and the other amazing sites. I have a pen pal from there and it would be great to finally meet her in person.
MG:
What is your favorite trail/trip?
MK:
Favorite trail would have to be Top of The World. Favorite trip would have to be to Destin, Florida. I love the beach!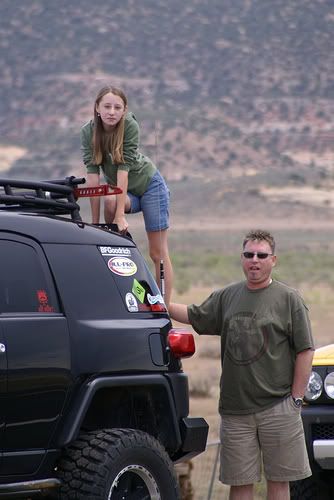 MG:
What is your favorite modification to date?
MK:
The Gobi ladder and our ARB Fridge.
MG:
What mod would you not do again?
MK:
Not sure, I like the way the FJ looks.
MG:
How do you expect your mods to benefit you?
MK:
They will have all been paid for by mom and dad.
MG:
What does your FJ do for you? How has it affected your life?
MK:
I help puts me to sleep when we are on some really long trails, like the ones in Ouray. It's allowed me to go visit places that I have never been before.
MG:
What other recreation do you enjoy?
MK:
I like playing soccer and bad mitton. Since we don't live far from the Smoky Mountain National Park, we often drive up and do some day hikes.
MG:
Who are you in real life?
MK:
A typical almost 13 year old, who gets very boared and hates sitting still. I like to read, text and IM to keep up with my friends.
MG:
Why did you buy your FJ?
MK:
I didn't buy it...my dad did! LOL...I would rather spend my money on other things. Besides he didn't get VooDoo Blue and that's what I really wanted.
MG:
What is your favorite music? What CD's are in your player right now?
MK:
I would have to say probably rock and country. CD players are old school, but I have tons of stuff on my Ipod. Most recently you will find me listening to Taylor Swift, Jonas Brothers, Hillary Duff, Katy Perry, Rhianna, and Gwen Steffani.
MG:
What is your favorite food?
MK:
Pasta
MG:
Did you have a previous vehicle that was as fun as your FJ?
MK:
My dad had a 2002 Trans Am Ram Air that would fly on the interstate, that was pretty cool.
MG:
How & why do you participate on the Forum?
MK:
I participate by welcoming the new owners and I check in to see what my forum friends are up to.
MG:
I realize that you won't be driving for at least a few more years. If you could pick out any vehicle to drive once you turn 16 what would it be and why?
MK:
My mom's red 91 Mustang GT, because it was her's when she turned 16, it's red, fast and I think I would look good driving it. And the plate on it reads LIL BOSS, which fits me perfectly.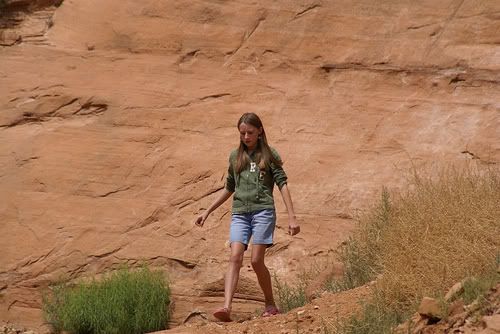 MG:
What do you want to do for a career when you enter the workplace?
MK:
Not sure. I enjoy writing stories with my friends, it would be cool to see something that I wrote turn into a published book or a movie.
MG:
Do you do any volunteer work? Are you recognized in your community for contributing in a special way?
MK:
We live in a small community, so there is not that much going on. But I help collect items for the local nursing home and make cards for the residents around the holidays. Many have family that live away from here and they don't get to see them often. I also collect items for the Vanderbilt Children's Hospital. I donate books, toys, activity kits, and candy for them. I have been recognized by both for my service.
MG:
What do you hope your life will be like when you're 30 years old? What do you envision yourself doing?
MK:
I hope I am living somewhere nice and scenic like the beach or mountains. I would like to be self employed so I could set my own hours and work when I wanted to.
I, Makayla Knight promise to spread peace, love and randomness to everyone!