February Members of the Month are the gentlemen who brought you the FJ Cruiser Forum grill badges.
They are Pete/Slither, Steve/ScubaSteve, and Vince/Volhoo.
​
Muddygrrl:
What are your future plans for the FJ?
PETE:
SAS, I've already tossed the idea out there I just need to find I fab guy with the knowledge to work on my rig and the cash to pull it off right!
STEVE:
My future plans for the FJ include a lift, rims and tires . . . once my boy is a little older I plan on taking him on a family "wheeling" vacation.
VINCE:
An auxiliary gas tank, rear differential protection, dual batteries, in dash nav, sand boards/ladders, front/rear camera, CO2 tank and heavier springs in back.
Pete & Family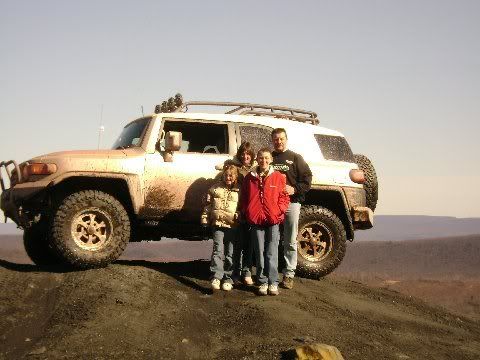 Steve
Vince
Muddygrrl:
What will your FJ look like years from now?
PETE:
Probably like Sols (Sbechtold) minus the tube doors.
STEVE:
I've been bitten hard by the mod bug, so it will have a lift, rims and BFG's. At some point I'd like to add an aftermarket rack- perhaps Gobi. Once its no longer my primary means of transportation, I'm probably going to "pinstripe" it by use of tree branches.
VINCE:
Hopefully very similar but with more character (mileage, scratches, memories).
Muddygrrl:
What will you look back on and remember most?
PETE:
How much I screwed up the first 34 year of my life and came back fighting. The FJ was one of the first rewards of getting myself on track!
STEVE:
Certainly the Forum Badge Project and the fun I have had seeing it happen. I have had so many people PM me and thank me for helping make this happen, it's truly incredible.
VINCE:
How this community comes together for knowledge, support and adventure.
Muddygrrl:
What has the forum done for you and what can the forum learn from you?
PETE:
The forum has led to my involvement with the FJNortheasters first as a member and then a leader. Learn from me? Make sure when you order 400 grill badges that you first inspect each one before it goes out!
STEVE:
The forum has taught me so much about the FJ Cruiser. It's like it's a community for people that share the same interest. I have learned mods that work and mods that don't. I have learned a lot about off-roading; seems as though there are people on this forum that know more about the FJ Cruiser than the people that built them or sell them. I try to offer advice relating to police related topics and I hope people can take the advice from a police officer and apply it to their specific concerns.
VINCE:
The forum has given me advice, friendship and confidence. I'm not sure what the forum can learn from me.
Pete out enjoying friends and his FJ Cruiser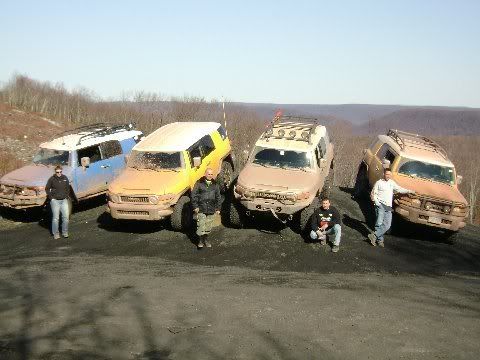 Steve poses with his very own grill badge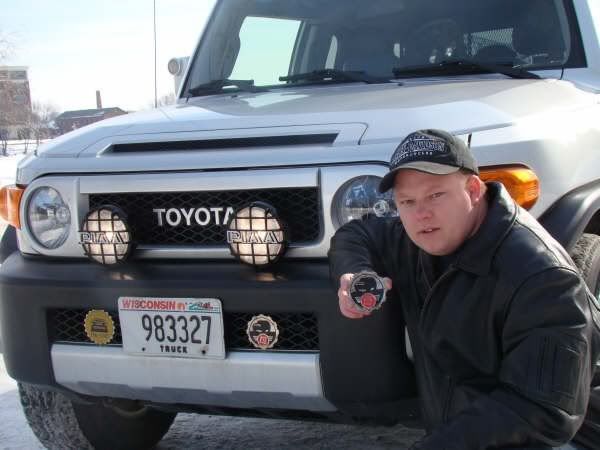 Vince
Muddygrrl:
What is the most unusual thing about you?
PETE:
One of my ears sits higher than the other and my eyes are fired up from getting hit with a beer bottle in a brawl! That would have been in the first 34 years I spoke of previously!
STEVE:
Wow . . . that's a tough one. There are so many! I'm a true animal lover. My wife and I have two dogs, three cats and a rabbit. It's kinda like having a farm in our small house in the middle of the city.
VINCE:
That I had never been off roading before I bought the FJ.
MuddyGrrl:
What was the best day of your life?
PETE:
Without a doubt the births of my two children Austen(14) and Amanda(11). Meeting my fiancé Kris follows. She's the one that helped get me straightened out!
STEVE:
Without a doubt, it was June 26th, 2008. The day my baby boy as born!
VINCE:
When I graduated from the Art Center College of Design (Pasadena, California).
MuddyGrrl:
Where or what is your most desired adventure/excursion?
PETE:
As with anyone else, getting out to Ouray for the Summit. I'm sure the pictures don't do it justice and I love the raw wilderness like there is out in Colorado.
STEVE:
I'm still new to this FJ Cruiser passion / slight addiction, so I'm still looking forward to my first Trail Teams event. I'm waiting for the 09 Schedule and keeping my fingers crossed. Beyond that, I've got my sights set on the Summit . . . just have to wait until my boy gets a little older.
VINCE:
I would love to do the Australian Outback.
MuddyGrrl
What is your favorite trail/trip?
PETE:
We're very limited in CT. We wheel Rausch 4-5 times a year. It's a great park with a little of everything.
STEVE:
Sad to say but I'm still a mall crawler. LOL. That's only until I get some real tires on it though. I've got my sights set on McCaslin Mountain Off road park here in Wisconsin, so I'm hoping to make that trip this summer/fall.
VINCE:
I guess it would be the Mojave Road (East to West).
MuddyGrrl
What is your favorite modification to date?
PETE:
My Donahoe(ICON) suspension was the best by far. I have not experienced a single problem in over two years. The billet UCA's were really sticky in the beginning but as soon as they wore in we were good to go!
STEVE:
Toss up- favorite practical modification would be the PIAA 520's and Taco Switch. Favorite "fun" mod would certainly go to the Forum Badge simply because it was something I was able to be a part of to make the forum a better place.
VINCE:
The Star on my door.
MuddyGrrl:
What mod would you not do again?
PETE:
Polished wheels! Trying to keep up with them is a job in itself. After the New England winter it's a 4 hour ordeal to get them back.
STEVE:
My Predator Style step bars. Living in the north, they have already started to rust due to the salty roads. The snow builds up on them so I find myself at my destination getting out of my truck in the winter and walking around the entire truck kicking snow off them . . . I think its made me a little obsessive compulsive. lol
VINCE:
I should have gone with an in-dash nave system instead of the hand held unit I am currently using.
MuddyGrrl:
How do you expect your mods to benefit you?
PETE
They have already. They definitely have made an already trail ready vehicle into a vehicle capable of things I never would have thought I could/would do. I've gone over some stuff I never would have thought about.
STEVE:
My first off road excursion (if you want to call it that) left me high centered on a small snow bank . . . my recovery gear consisted of only 1 glove and an ice scrapper. I vowed to keep it on the road until I get a lift and tires on it. Once those are on, it will be a whole new game. . . I plan on getting it off road a lot more.
VINCE:
I expect them to take me where I want to go (within reason) and return me home safely.
MuddyGrrl:
What does your FJ do for you? How has it affected your life?
PETE:
My FJ has given me an outlet. I can always tinker with something or something to it. It keeps me busy. As far as affecting my life. It's brought my kids a little closer to me. They love the off roading trips and all of the great folks we've met. I've become very active in the FJ community by taking over the FJNortheasters and helping out with the grill badges here. I like the feeling you get when your putting a smile on someone else's face!
STEVE:
First and foremost, at the present time, its my primary means of transportation. I like having "special vehicles". By special, I mean something that has a following, more than just going from point A to point B. I enjoy spending time looking at different mods and being able to plan out what my truck will look like in the future. It has affected my life like no other vehicle . . . I was rarely on the computer until I bought my FJ, now I find myself checking out the forum several times per day just to see what new topics come up.
VINCE:
It has given me more confidence and has brought my family closer together.
MuddyGrrl:
What other recreation do you enjoy?
PETE:
I like Waterfowl hunting and fishing both fresh and saltwater. My first avatar on here was a picture of me with a 6-1/2 foot Hammerhead shark in Ft Lauderdale. It now hangs over my bed on the wall!
STEVE:
About 40 miles north of me are over a hundred miles of ATV trails; my wife and I spend a lot of time in the summer and fall ATV'ing. I also spend a lot of time at the local root beer stand on cruise nights talking with other Corvette owners.
VINCE:
Parties with friends and family.
MuddyGrrl:
Who are you in real life?
PETE:
Pretty much the same guy you experience on here minus the tool apron and sawdust. A successful self employed contractor with a love for the outdoors and my family.
STEVE:
I am a police officer in a community of about 50,000 people between the Mississippi River and a scenic bluff. I work second shift and spend most of my mornings hanging out with my boy Harrison. I take my dogs to the local county park nearly every morning for exercise, and spend my weekends and evenings after work with my wife, Jeanne. I'll do just about anything to make people laugh, after all laughter is the best medicine.
VINCE:
A commercial artist.
MuddyGrrl:
Why did you buy your FJ?
PETE:
My son and I were going to a NASCAR race in May of 2006. As we drove by the Toyota dealership on the Dupont HWY in Dover, Delaware there was a Voodoo FJ in the front. At that point I hadn't seen one. I said to Austen "I'm getting one of those!" 3 months later on August 2, 2006 I took delivery of it. Probably just on sheer looks and that was before I found out what I could do to it.
STEVE:
I had a Toyota Tacoma Prerunner that I bought from my brother. It was a great vehicle, but driving around with two 80lb black labs and a baby in a car seat was not exactly practical, considering they were all in the cab. I saw an FJ Cruiser at the local dealership while on patrol and had to have it. Then when I started researching the FJ, I realized the wonderful following it had and the unlimited number of potential modifications, I knew it was the vehicle for me.
VINCE:
For the adventure it promised.