Hey there (first post). Just got a 2007 4wd FJ from a friend. It was in an accident causing;
-the
aprons
to
crack
(or possibly crack more than before),
-
fender
to
sag
and interfere with drivers door,
-
headlight support dented
in near battery,
-the
bumper
became
racked
.
Wondering where I can find detailed dimensions, to put them back into shape.
My main concern right now is repairing the drivers side apron
, I have already removed the fender and plastic guards. I'm thinking of pulling out dents, welding the cracks and reinforcing with a tube frame (I've found some pictures showing this). I'd love to hear from someone who has done this. I have read many of the threads, but thought I would make my own due to the high number of posts on some of them and being outdated.

I would appreciate input and alternative routes, or if it would be worth it just to buy some salvaged apron and headlight support from a later year model.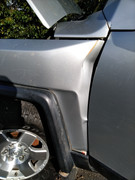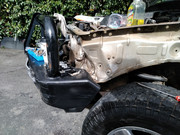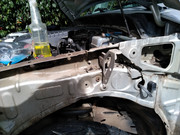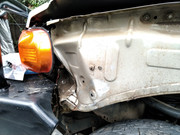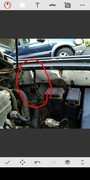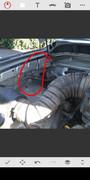 I FOUND THESE REINFORCEMENT SOLUTIONS ON OTHER THREADS