2007 TRD, 3" Icon, ExpeditionOne, BFG-KM2, Gobi Stealth, Hella's, +more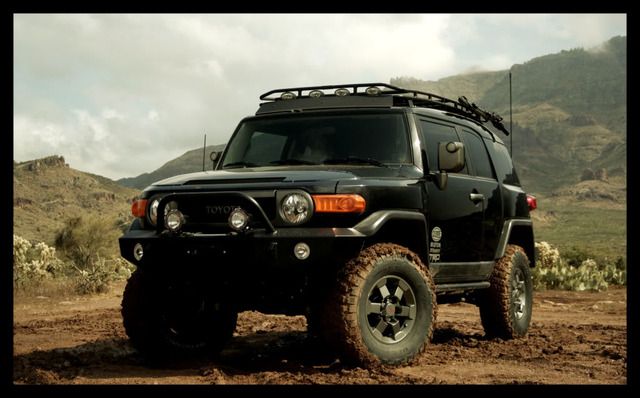 She has bolt ons. I built nothing.
----------------------------------------------------------------------------------​
1. Inspiration and Motivation​
Working for a natural resource agency, I lead a life geared to the outdoors. My weekends consist of heading out to even more remote places than I work in. This "off-road"/"leave no trace" cultures are the life style I am in. Heck, I drive a $300K heavily modified International truck off-road everyday for a living.
I have bolted this truck together to meet my needs (I can't say 'build' because I have only fabricated a few pieces on my own). There have been growing pains, mistakes, and the willingness to learn along the way. I am honest. I do not have the most popular products, the most expensive products, or the most efficient. What I have works for me.
As far as the look of Betty, well she gets dirty. Every once in awhile I give her a bath, spray some fre-breeze, and armor-all her shoes.
As far as functionality, it's my daily driver. It's my weekend get away. It's what has taken me half way across the west. Starting in the sage brush covered plains and lodge pole roofed mountains of northern Wyoming; and landing me currently in a desert filled with saguaro cactus and 5 million people of the Phoenix valley. I have traveled the along Mexico border, above 10,000 feet in the Rockies, and crawled rocks and crossed flooded washes in the Arizona desert. Where I go next depends on lightening and the next president.
My knowledge is limited in the off road environ, mechanics, and components compared to many out there, but I want to learn. The forums have been a great tool to see what and how others are doing things. Some warriors seem to throw money at every sponsored part, while other cowboys have built every piece on their own. I wish I were the latter of the two. Some have become so innovative that they are no longer driving an FJ. Some are still bone stock and trying to figure out why the check engine light comes on every 5K miles. I'm somewhere in between it all. I am not at the end, as I now have the means to go somewhere great. That is my purpose. I promise to take only pictures and bring back humble stories.
----------------------------------------------------------------------------------
My dream would be to drive the Dakar Rally at half pace,
because sometimes I have to pee.
2. Suspension
​
1st suspension was the stock TRD package with Bilstein shocks all the way around. Honestly an amazing ride and country washboard roads where a lot of fun, but stock height sucks when it comes to trails that have obstacles.
2nd suspension was replacing coils and adding a longer rear shock. It worked. It leveled the truck out, and kept the ride quality. It was just more top heavy and also the stock UCA's would tap the coils on full extension. So I waited...and contemplated options and tried to learn geometry of IFS. The entire time thinking long travel, but I work for the gov..... so that was not happening.
3rd suspension was a 2" diameter coilovers with highly adjustable UCA's on the front, and moderately stiff coils and extended length shocks on the rear. An amazing ride! It rides like a caddy on the highway. Quality and practicality of these parts are amazing. No bling, just function! My only dislikes are the rear socks use an adapter to mount to the frame. No issue with it yet, in fact the flex on the rear end is incredible.
Current suspension is a remote reservoir front and rear 2.5" shock. The shafts are huge. The ride is crazy!
I also upgraded the sway bar bushings on the front as well as added new collars to keep the sway bar from shifting. The rear has HD 4+ high angle lower links since stock ones were weak and bent.
Extending the brake lines will happen soon.
----------------------------------------------------------------------------------

The thoughts of rolling over and winching myself back on 4 wheels is cool,
but not going to happen!
3. Protection
​
Toyota sliders are awesome. They hug the body and are solid so they stayed on.
I put an IFS skid plate on because stock sucks. Made of 3/16" steel and already well scrapped, despite my careful driving habits.
Somehow after many trail runs in AZ I have managed to not bend my lower rear link mounts, but seeing just one bent up was enough for me. So, the lower link skids were put on, and I now have a piece of mind in that department.
Stock sucks, especially in the bumper realm. The FJ40's had the best bumpers ever made, and I really wish Toyota would have followed that design and fork lifting function with this new generation of cruiser. I dropped the plastic in the recycling bin and picked up a new front bumper. I love the lines and the mounting system. The new Bumper installed that is much tougher. It actually feels like a bumper should! The mounts to the frame tell me it's going nowhere! The new weight is not much greater. Heck I installed it by myself.
----------------------------------------------------------------------------------
I am only fast if my passengers are screaming;
otherwise I am just in a hurry.
4. Engine Performance
​
Yeah, it's a manual. Yeah, it's tough to drive in rocky situations. Yeah, I love the short throw shifter. YES, YES, YES.
A TRD intake was tossed there to help with dust control. I really think that any after market oiled filter is the way to go!
I changed out the spark plugs after 30k for a higher performance set, but I really didn't notice any difference.
The TRD exhaust was stock and is mean sounding! However it hangs too low, so when the rear bumper gets put on the exhaust will see a nip and tuck done as well.
----------------------------------------------------------------------------------
My dream is sitting on the southern tip of South America with a hammock tied off to the roof rack.
5. Roof Rack
​
What can I say Betty has a nice rack! In honesty it is very functional. It's streamlined for the day to day use when it's not maxed out in gear. I have the mounts for the shovel/pulaski and the Hilift up there. Is the rack strong? I have had two people on there out watching meteor showers. Carrying a couple nights of wood, 10 gallons of fuel, tent, sleeping bags, and clothes allows for use and utilization of the interior space very practical on the long trips.
The ladder is not the greatest ladder, but it get's you up there. It does not allow me to use the rear window opening any more, but I never used it any way.
----------------------------------------------------------------------------------
Seeing the road in front of you is only important if you want to stay on the road.
6. Lights
​
First, I wired the lights through the roof rack and then down the back of the rig. I then ran the wiring inside all the plastic on the interior. There are only a few inches of exposed wire to the elements, and it can all be monitored easily. I made some switches using the stock plugs; these are being updated to a more solid switch and will probably be located in the center console.
I used some small driving lights on the roof. They are rated at 55 watts and do surprising well for their size. There is a small amount of glare off the hood, but as long as the hood stays dirty it's not too bad.
Utilizing fog lights on the rear of the rack are pretty practical when wanting to light up a camp site. I found a really low profile light that fit right into the space on the roof rack.
I had some nice 4" HID's to the bumper. They put out good light and the cooler color of the bulb helps in conjunction with the headlights. Their distance and quality of light is amazing!
The bumper has integrated 4" lights that have a halo to add some European styling. The fog light is very useful. The halo not so much.
----------------------------------------------------------------------------------​
7. Recovery Gear​
I got the 48" Hi-lift cause everyone said it's a must have tool when out on the trail. I have used it 9 times now, each time because I had a nail in a tire. Yes, 9 nails in one set of tires. I think Seldom Seen Smith is still alive roaming around in his jeep.
There is an 8000 lb winch tucked up nicely in the bumper for those times when others need a pull. I am honestly not a big fan of winching, but having it there is a good insurance policy to me making it on time to some hot date later on that night. Of course with the bumper mounting concerns I don't see me pulling a Hayduke and rappelling off the edge of a cliff.
I knew when I put the winch on I wanted a synthetic line for safety reasons. It never fails that when someone gets stuck, that 4x4's come from every direction to check it out. With so many folks standing around laughing and not paying attention, I knew I had to have a safe fool proof tool that was not going to hurt someone. The practicality of synthetic and steel lines is argued everywhere, but I wanted safe first.
There is a host of other recovery tools, straps, shackles, air compressors, fire extinguishers, headlamps, and what not in the rig as well and it all gets used. Shovel and Pulaski, the 2 tools I use at work and the 2 tools I have to carry in the FJ. I have found that when stuck is the word; the shovel is usually the answer.
----------------------------------------------------------------------------------
Some go white, some go black, some go blue, and I chose a different route.
8. Aesthetics
​
Because every thing has to look good, I went ahead and painted the bezel, mirrors, and door handles to match the TRD rims. I removed all the badging and tinted the windows just a little bit, also. Simple touches can separate a rig from the rest of the pack.
----------------------------------------------------------------------------------
I took the wrong interstate, but I found a fun dirt road that got me there.
9. Navigation/Communication/Electronics
​
Moving electronic components mixed with dust and washboards at 80 mph just don't mix. I have a nice stereo with satellite radio (a must in the mountains as country music and 80's butt rock can only go so far) and navigation (another must when you move to a city after living your entire life in small towns). The mechanics and moving parts have taken a beating and are now very finicky. I don't know if I will ever be able to get married, as the temperament of just my stereo makes me pull my hair out.
I mounted my laptop in the passenger seat area and now I have complete photo editing, repair manuals, internet, and gps/mapping software at the touch of a finger. Word to the wise: A manual transmissions, a CB, a steering wheel, locking differentials, and a laptop combined make for a very distracting driving experience. Limit yourself or get a passenger.
My CB is a big trucker style one that seems to get the job done. I mounted it on the backside of the center console. The antenna is mounted on the rear tailgate.
----------------------------------------------------------------------------------

My final words on builds or bolt-ons are to stop relying on forums for all your knowledge. Get out and do trail runs. Sit by the campfire and talk suspension. Chatter on the CB. Drive someone else's FJ and feel their suspension. Go to car shows and look at other vanity mods. Get winched out of a place you found not possible to go. If you have doubts about a part on your rig....go and try to break it. If it breaks, up grade! When you upgrade do the install yourself!!!! You don't have to do trails with other FJs, some of the best days on the trails are with H3's and Rubicon's.
Accept your mistakes on your build, or love the additions you have made! It's the name of the game....and every girl wants bolt ons!
Leave a note if you like the build or if you want better pictures of anything or if you want rep points returned!