2007 FJ Cruiser, 2021 4Runner, 2002 Lexus SC420
To read the original full thread and post questions/comments on this topic, please go to
http://www.fjcruiserforums.com/foru...-door-panels-removal-instructions-w-pics.html
Many of our modifications require the removal of various dashboard and console panels and/or trim pieces. So, here's a how-to for accessing the "behind the scenes" components of the FJ's interior, including:
A-pillar cover (interior)
Sun visors
Glove box (passenger side)
Side vent covers
Center dash trim pieces
Center dash / radio module face plate
Center console (upper)
Center console (lower)
Shift lever cover plate (AT)
Switch panel module
Front door panels
Driver side dash-top storage box
A-pillar cover (interior):
Remove plastic tabs from grab handle.
A 10mm socket removes the grab handle.
Sensitive content, not recommended for those under 18
Show Content
Peel the cover out and down from the top (it snaps off).
Pull the cover up and away from the A-pillar.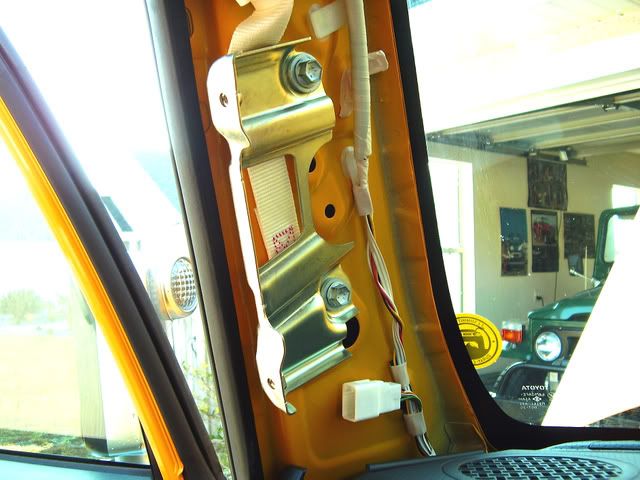 Sun visors:
Two Phillips screws secure the sun visor to the interior roof.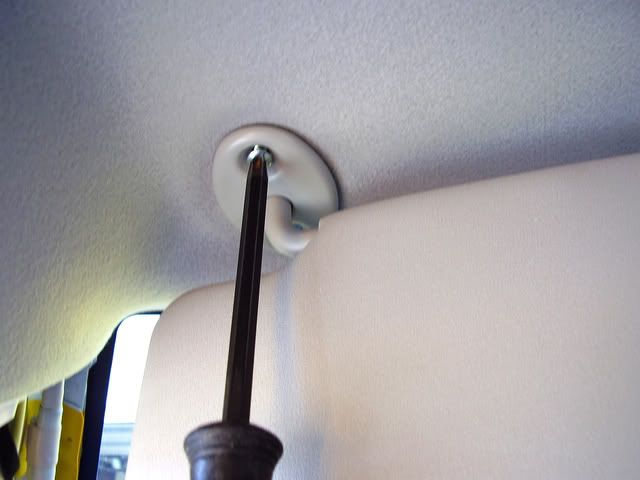 The hold-up clip is removed by pushing it in and twisting it 90 degrees counterclockwise.
Glove box (passenger side):
Open glove box.
Push in on upper rear plastic wings to allow glove box to fall forward.
Unsnap retaining rod (to the right).
Lift glove box up and out of its lower snap-on hinge.
Side vent covers:
Lift and unsnap vent cover from the bottom.
Pull the top of the vent cover up and out.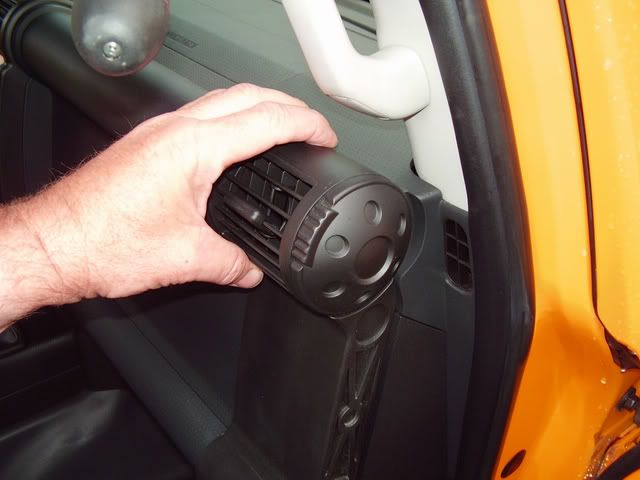 NOTE FOR 2008 and later FJ Owners:
The silver-colored vent cover on the passenger side of the '08 FJ does not pull out until you remove a 10mm bolt that is accessible through one of the round plugs on the side of the vent cover. You remove the plug, and then you need a socket with an extension to reach in there. The driver's side vent cover does not have this bolt, it is removable by hand.
(Photos courtesy of Antarctican. Thanks, Pete.
)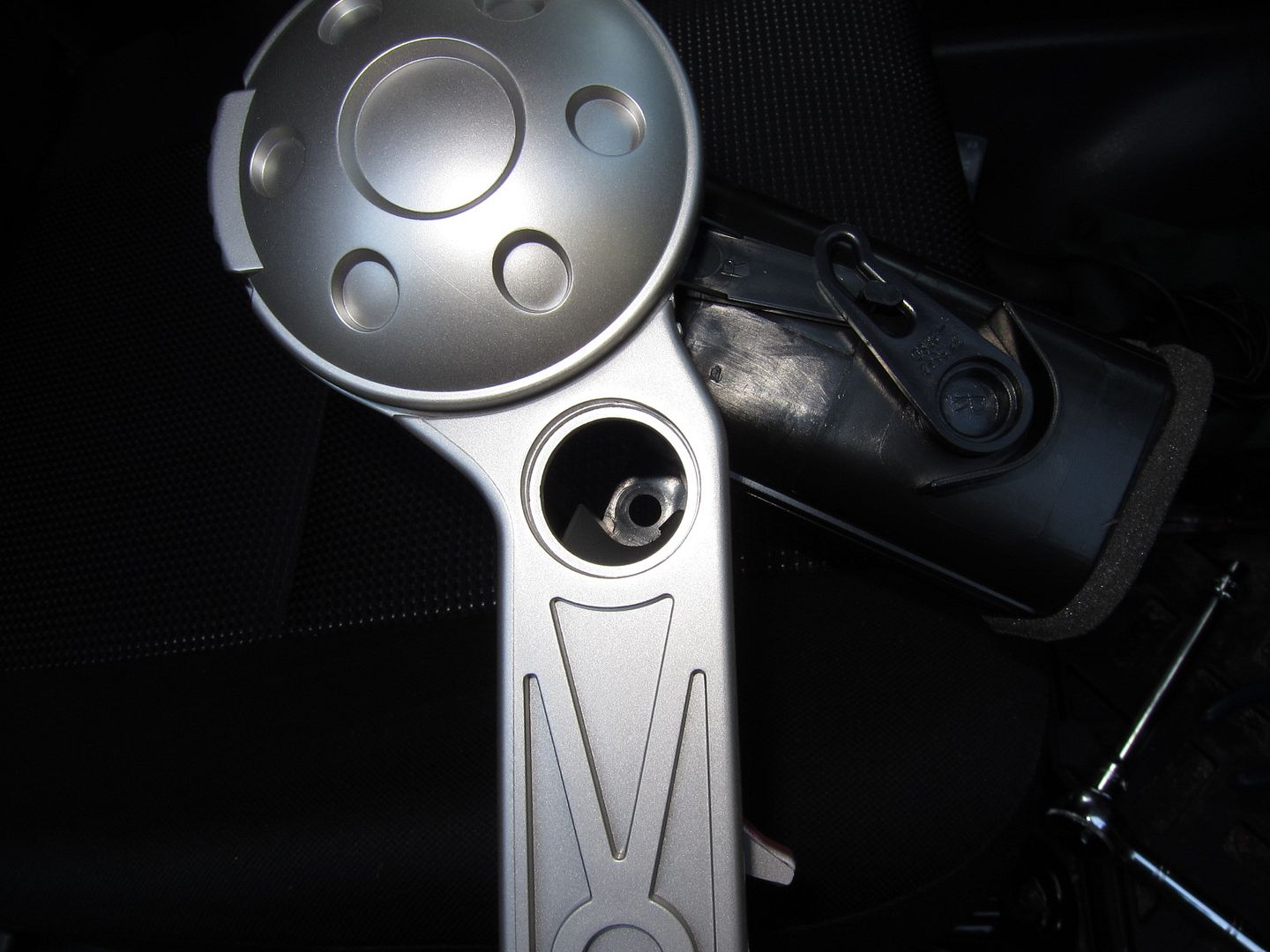 Center dash side trim pieces:
Remove Phillips screw at the base of the trim piece.
Pull up and out (unsnap) the trim piece from the bottom,
Center dash / radio module face:
Remove Phillips screw on each side.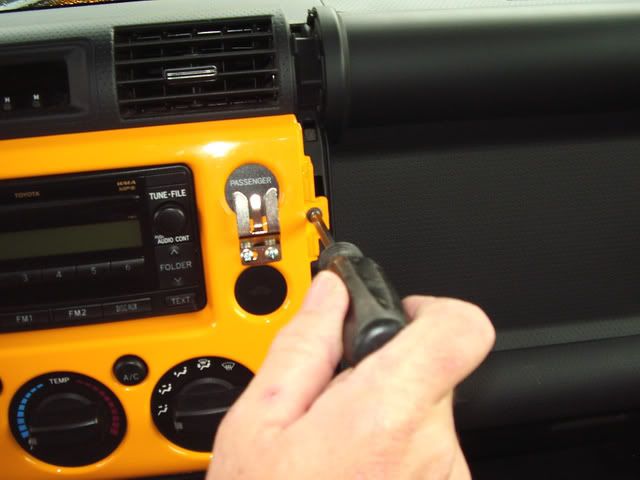 Pull (unsnap) face plate from the bottom.
Then pull straight out from the top.
Unplug the three multi-pin plugs from the lower section of the face plate.
Continued in next post . . .