·
can i become 1/2mil90 for a little while
Discussion Starter
·
#1
·
Well, as some of you know, I sold a 1986 SAS'd 4RNR in October. I have thought about it and regretted it every minute since. I tried to trade my Rat Rod, but nothing ever came thru. Over the past few weeks, I've been in a position to purchase another one with out selling something.
I don't have a lot of time to build one so I needed it to be wheel ready. I searched high and low, test drove several 4RNRs/Trucks/even an 80 and thought I'd finally found the one Friday. BigTurtle and I went and drove it. Made an offer of $500 less than the askin price and the guy didn't accept.
So Saturday I contacted a guy about another one that was unfortunately 2x as expensive but was built a lot better. The guys add said "make an offer" so I made an offer and told him I'd pick it up site unseen the next day. After a couple phone calls and a little deliberation, he accepted my offer.
SOOOO here she is, "
Black Betty
". She needs a little love, and there are already somethings I plan to change. For now it'll do just fine.
91 Toyota Truck
-wheelbase is 125" and the width is 90" outside of tire to outside of tire.
-Fully Tig welded Exo Cage
Drive Train
-350 motor
-350 trans
-Lokar shifter
-203/205 doubler twin sticked
-Brand new GOTPROPANE system
Front
-Dana 60
-5.13 gears
-Detroit
-Yukon 4340 35 spline inners & outers
-RPM 35 spline drive flanges
-coil springs
-rancho shocks
-3 link with track bar
Rear
-14 bolt
-5.13 gears
-detroit
-disc brakes
-coil springs
-ranch shocks
-grader ball suspension
Misc.
-LED rock lights
-Mastercraft Harnesses. lap belts installed, need to get a brace welded in for the shoulder straps.
-Mastercraft Seats
-custom tube doors
-9500# winch
- 5 - 42" Iroks on 15" black steel wheels
-Crawlfab weld on beadlocks on 4
- Full Hydro steering
- Spare brand new PSC SE ram
-CD player
-Cobra CB
That's the important stuff, but now what everyone wants... PICS
These pics are from one of the previous owners adventures.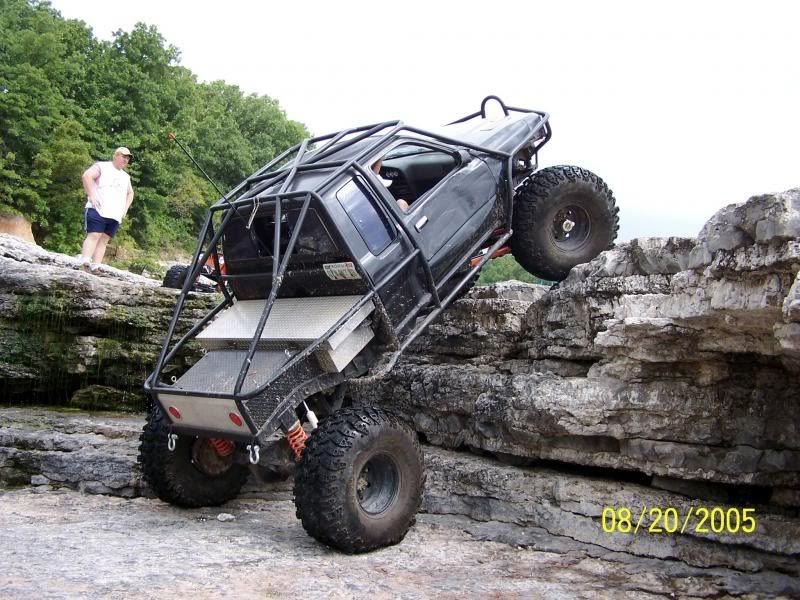 The first thing I need to do is get the gauges figured out. The dash is pulled apart right now, but I'm thinking this will be fairly easy. I'll cut a new piece and just run aftermarket gauges if need be.
Second step will be adding structure to the rear to protect the propane tanks. The guy installed this system on the 22nd. So while its brand new, if it rolls its completely unprotected.