Here is my takeover and continued build of what is now
:ninja:"THE EVIL SMURF":ninja:​
"THE EVIL SMURF" is a 2007 FJ that I purchased used in late Feb 2013. I have always liked the FJ's, but had stayed away from buying one because I had always been told they were not available in a manual transmission. One day, while being nosey at a dealership, I happened to peak into a new FJ and low and behold I see a stick in the console. Hark! It just so happened at the time my Jeep WJ was in need of major upgrades or replacement.
I chose replacement.:rocker:
A quick search on the net found a manual trans FJ at a dealership just down the road from my house. I told my wife that I just wanted to go for a test drive and check it out. 4 hours and 1 down payment check later we left with this: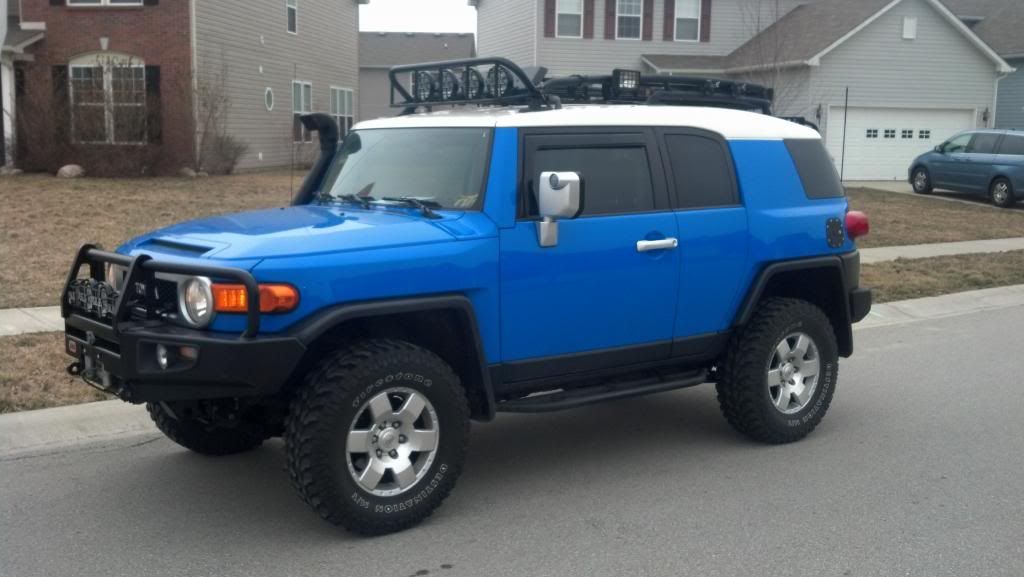 Now, I must be fair and give a major thanks to Paul (Scavenger) for starting me off with a great truck. He even met up with me after I bought the truck and walked me through all of the mods he had made. I was also able to purchase the rock rails and the travel fridge/freezer he had.
Starter Mods:
URD Short Throw Shifter, Safari Snorkel, Garvin Wilderness Roof Rack, GOBI Ladder, Switchable Daytime Running Lights, Mile Marker 12,000 lb Winch, ARB Front Bumper w Bull Bar, ARB Fog Light Kit, Towing Hitch, Trailer Braking Kit, Bumper Mounted Trailer Harness, Everblades Heated Wiper Blades, 3" OME Lift, Air Lift 1000 Leveling System, Dirty Parts Dual Battery Kit, 2 Pair PIAA Lights Bumper Mounted, 2 Pair PIAA Lights Roof Mounted, Trail Lights Both Side and Rear, CB Mounted above rearview mirror, Custom Bumper Mounted Jerry Can Rack, Custom Cargo Storage Box, Fire Extinguisher,
With this start I was headed for the trails...:rocker:
I have since added a few more mods to the list:
Springtail rear door rack, Light Racing UCA's, Trail Grappler 295/70's, Spidertrax 1.25" wheel spacers, Custom switch/dash panels, Hula Girl, Custom Tablet mount, HiLift, Bandi mount & 4' Firestik, Seat warmers, Synthetic Winch line, Black out treatment w/ painted hood panel, Aggressive BMC, Mud Flapectemy, Removed the Flares, Warrior Roof Rack, Rigid LED's, Black Roof
Here is the most current setup: