Discussion Starter
·
#1
·
Okay. I need some help. I have a 2007 FJ, no lift, regular Toyo Tires, nothing really special besides a hand-painted pinstripe and 'FJ Extreme' decal on the side. Here's a picture: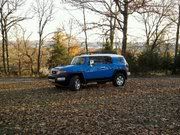 Sorry if it's not too big. Anyway, I'm going to college in a couple months, and I want to do a bit more off-roading in my FJ besides the occasional half-muddy open field and dirt path, so I've decided to do some work to it.
The problem is, I don't know what to do first. I have about 2500 to spend, and I know I want a lift kit and better tires, and a CB radio, but besides that I'm lost on what to get first, basically the essentials. Any help at all would be greatly appreciated.