Camel Evolution (FJCamel's Build Up)
** Work In Progress **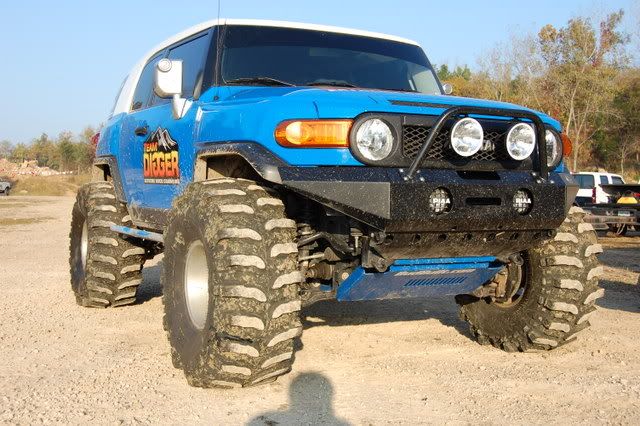 Table of Contents
Post #1:
- Intro
- The Name
- The Base
- The Mods
- Future Mods
- The Tally
- The Camel in Action
**Post #2: The Mods Continued...
**Post #26 & #: Pictures & Media Posts
**Post #27: Purpose of Build & Choice of equipment
**Post #28: Interesting & DIYs & Goodies
Hi Everyone,
My name is Abdul and i am an international student studying up here in WI. As the rest of you i have been infected with the ' FJ ' disease. This FJ is the second car i owned but first to fall in love with, and i have no intention on selling it, so once i leave all the nice people i met here, its going with me.
I also want to thank everyone who helped in making this possible:
First of all, i would like to thank all of the forum members and moderators for this amazing research library. You guys :rocker:
Chris and Charity @ CTR Automotive
Ben @ Rough Country
Terry @ All Pro
David (Forum Name: dbbd1)
and many more...



The Name

When i joined the forum, i had absolutely no idea what my theme is, until i looked where i come from. Being from the Middle East and a desert person i guess it sounded right. But please don't ask me how in hell are camels Voodoo Blue??


The Base

I decided to purchase the car in August of 2007 and i have heard that the '08's are coming. So i ordered a 2008 Black MT and with the lowest packages to make it easier to mod. August 27th came and i arrived here in the states with no car. :worried: So i drop my bags home, head to the dealer and see what going on down there ?!?! After talking and negotiating for 3 hours, I drove off the lot with a 2007 Voodoo Blue AT. Not even close to what i wanted :0Luckily, the sticker price was $31,999 and i managed to get it down to $27,500 using the angry customer and cash payment chips. :thefinger:
Believe it or not, i still do NOT have the dealer terminology of packages, but i know that i got everything except a roof rack (useless to me and parking lot problems) and rock rails.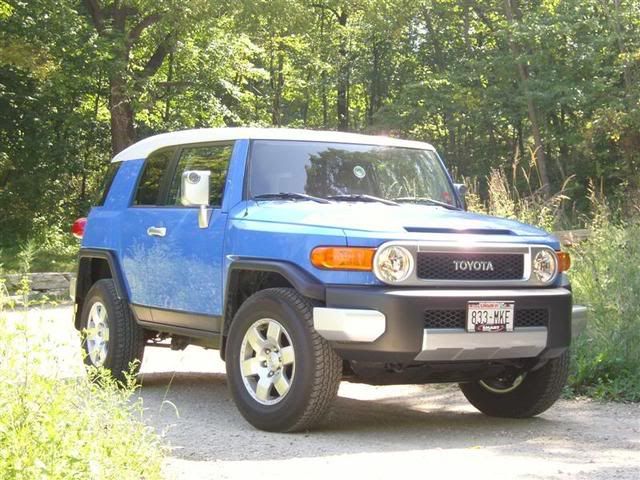 The Mods

Ok, let me see if i can get everything down, chronologically:

1. Tint the windows with 5% all around.
2. Bring Down the Roof paint, and Paint Front Pillars Black
3. VSC Cancel Switch, and Turn off DRLs
4. TRD Cat-back and CAI
5. Place spare tire inside(for a while,then back out)
6. Decal here and there
7. Rough Country 6''
8. All Pro Rock Sliders
9. 315x75x16 Maxxis Bighorns
10. 16x8 AR Chamber teflons
11. 2'' JT Differential Wheel Spacers
The rest of these mods are in post #2
12. Tundra Black Door Handles
13. Doug Thorley Long Tubes Headers w/ O2 Simulator
14. URD Y-Pipe
15. URD MAF Sensor Calibrator
16. All Pro 3 pc. Front Bumper w/ small hoop
17. All Pro Rear Bumper
18. 2 PIAA 510 Driving Lights
19. 2 IPF 968 Lights
20. Voodoo Bud Built Skids
21. 4.56 Thick Gears by JT (second set)

The tinted windows
-I really think that tinting makes the car sexier :smokin:
Bring Down the Roof paint, and Paint Front Pillars Black
-All the credit goes to Air2air for inspiring me with this idea before i even buy the car. :cheers: Air





VSC Cancel Switch, and Turn off DRLs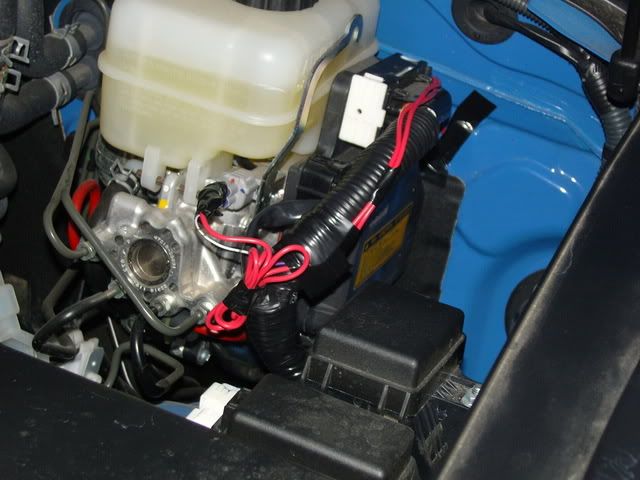 TRD Cat-back and CAI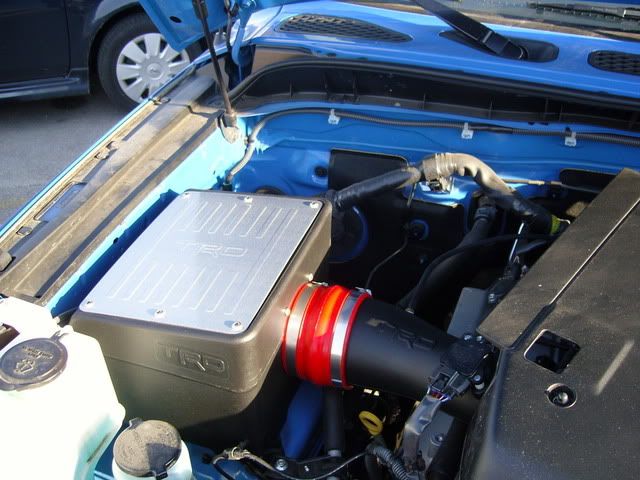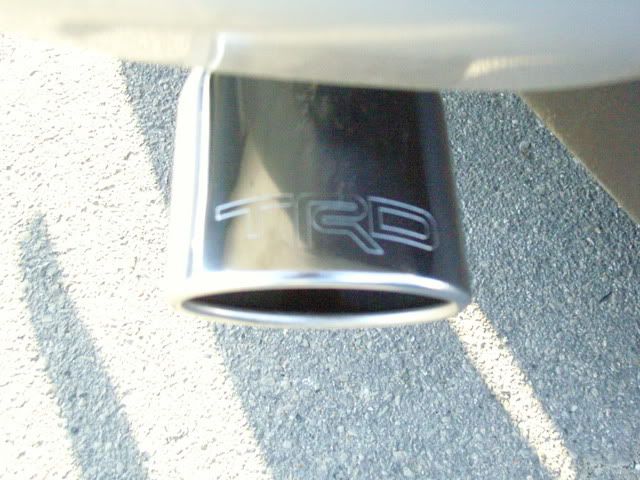 Spare tire inside
-I don't know if anyone realized but the car's rear looks too long , in other words ugly with a spare tire and a stock FRONT bumper.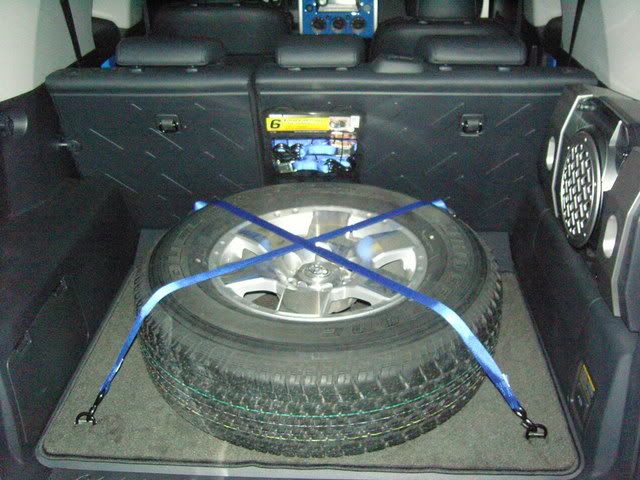 Decals



I had to fill up that empty space




Rough Country 6'', All Pro Rock Sliders, 315x75x16 Maxxis Bighorns, 16x8 AR Chamber teflons, 2'' JT Differential Wheel Spacers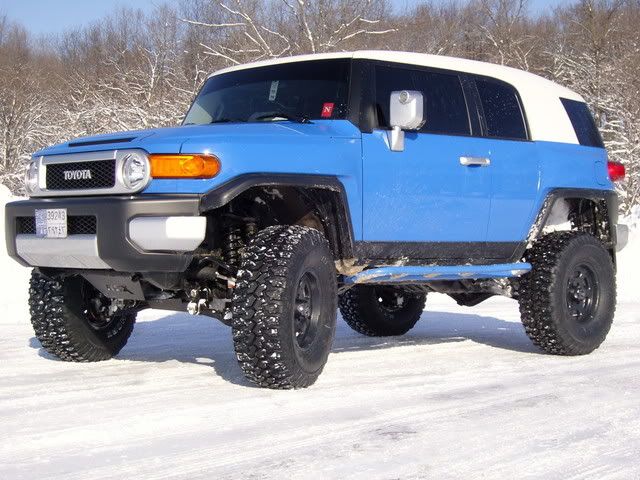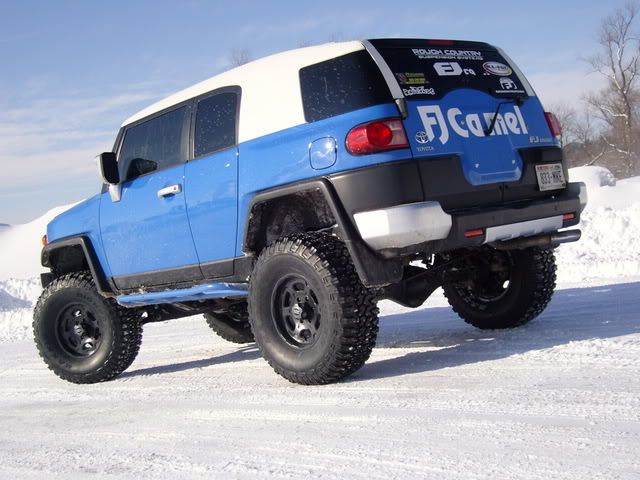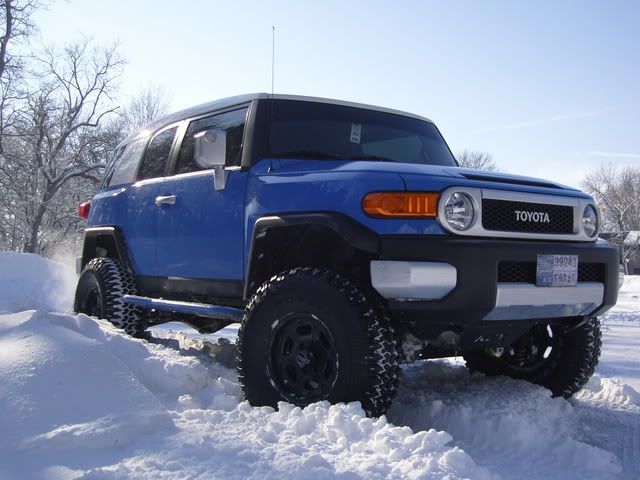 Future Mods
As i said earlier, this build should not stop anytime soon. Plus, i find it exciting to do the mods in stages so i can enjoy them.
1. Black out side Mirror. Just lazy :disgust:
2. CB Radio (Bill's Combo)
3. The Camel Mod
4.Hollandia Panoramic Sunroof. Hopefully before summit to enjoy the scenery.
5. TRD Supercharger. I will go with TRD unless URD and the pioneers in CA find a solution to overheating, could you imagine what would happen in the middle east ??




The Tally ** Most people think about the cost because that's all what it comes down to with our disease. And i am sure that there are much more people who spent their dollar more wisely
** This is numbered to match the listed MODS.**
1. Tint: $285
2. Paint: $600
3. VSC & DRL: $10 (Thanks David-dbbd1 the switch)
4. TRD: $1200 w/ labor
5. Spare: $0
6. Decals: $50
7. RC 6": $1249 w/ shipping, Thanks Ben.
8. AP Rock Sliders: $500 (expedited shipment)
9. 5 Maxxis Tires: $875 thanks Chris(not-his-fj)
10. AR Chambers: : $750
11. 2" Wheel Spacer: $220
12. Tundra Handles: $45
13. DT Long Tubes w/ O2 Rear Sim: $544
14. URD Y-Pipe: $369
15. URD MAF Sensor: $228
16. AP Front Bumper: $818 (during sale)
17. AP Rear Bumper: $799
18. PIAA 510 Driving Lights: $250
19. IPF 968s: $189
20. Bud Skids: $1100
21. 4.56 Gears: $1400

Mods Grand Total: $13,500 with labor


The Camel in Action
YouTube - FJ Cruiser Snow Spray
YouTube - FJCamel Fun
This is with the RC 6" and 35"s.
YouTube - FJ Camel Drifts and Donuts RC 6"

Thanks for stopping by and hope i did not bore you did I ?? :wave: