Stock FJ cruiser wheel sizes
16x7.5 Alloy TRD 29lbs
17x7.5 '07-'10 Alloy 26lbs
17x7.5 '10-'13 Alloy 29lbs
17x7.5 Steel 31lbs
6x5.5 (6x139.7 metric) bolt pattern
15mm offset or 4.84" backspace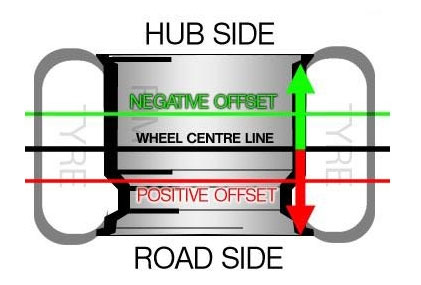 Browse through some pics of all kinds of tire/wheel Combos from FJcruiserforums members here
fj cruiser wheels tires | Wix.com
I'm going to suggest a 3" lift.
Get out there and at least buy a Rough Country/OME/ProComp/Revtek/Icon/Toytec 3" lift or something similar, it will be the biggest benefit for offroading you can purchase.
Owners with 6" lift can use lots of this but have a bit more play on how wide they can go because of their higher front end.
So take a tape measure to a 16x8 wheel and you'll notice from outside to outside it will actually measure around 17x9. Inside lip to inside lip is 16x8.
The reason I'm pointing this out first is because of how the 2 methods of backspacing and offest are measured.
Backspacing can always be measured by putting a straight edge against the inside of the wheel and measuring from the inside of the hub.
How to measure backspace(Borrowed from TCao) pretty sure he's measuring a stock wheel 4.84"
To measure Offset you need a metric tape measure. So run the straight-edge along the inside of the wheel just like measuring backspace. Then take that number and subtract half the wheel width. You're answer can be a negative number of course.
You can always figure out one # if you have the other. For example:
16x8 wheel has 4" backspace. The wheel is actually 9 inches wide outside to outside so that means 4.5" would be center or 0mm offset. So you're 1/2" inside of wheel = -13mm offset
16x8 4"backspace -13mm offset
16x8 4.5"backspace 0mm offset
16x8 5"backspace +13mm offset
So the more negative the offset the more the wheel will stick out of the wheel well.
If your tires are rubbing under normal driving situation then you can be sure that damage is a possibility on the trail. Thats why figuring out your wheel offset and true tire size are important.
Rubbing spots to watch for:
- Body mount
- Front wheel wells above body mounts
- Upper control arms
- Front sway bar/frame
- Rear wheel wells at the back and top
Body Mount Chop
If you're looking for good body mount chop threads here ya go... Honestly anyone that can type fjcruiserforums.com can do a body mount chop. Get some safety glasses, a grinder with a cutting disc, and some black spaypaint for afterwards. Most people do a little weld line after, but quite a few on here just cut the thing off and leave it open.
http://www.fjcruiserforums.com/forums/4x4-off-road-tech/137777-different-kind-body-mount-chop.html
http://www.fjcruiserforums.com/forums/how-technical-articles/43459-body-mount-chop.html
Load Range Lettering
Load range letters on tires. I've seen C, D, and E tires on this forum. If you drive your truck at all you probably want a D. This letter is on every single tire on the sidewall and you can ask your retailer before you buy tires to confirm you are getting D load range tires. Some people might disagree on this point but C is too soft for the weight of the FJ. The tread will wear down rapidly plus rock rash and chunking offroading can be accelerated. Now a C load range winter tire would be a fine thing if you have a dedicated set of winter tires. The rubbers softness helps it from getting really hard in cold temperatures and maximizes traction. E is a little different. Usually E rated tires are for full size 3/4 ton trucks and up. However some of the rigs on this forum are getting pretty fat with all the armor and such on them. You're going to be hard pressed to wreck that hard E rubber on rocky trails and you're going to get a lot of miles outta them because the tread is not going to wear fast. You'll also have trouble airing them down for the trails though.
16" wheels
16 inch wheels are hit or miss with clearing the brakes on the FJ. The reason why some fit and some don't usually has to do with the design of the wheel spokes and if they are curved enough or set out far enough to clear the caliper. This is not included in wheel manufacturers measurements so it is always an unknown factor.
Here's the 16" wheels that fit without spacer thread - super cool read...
http://www.fjcruiserforums.com/forums/wheels-tires/110002-post-all-16-rims-fit-without-spacers.html
If you find a 16" wheel that fits without spacers please add it to that thread.
Basically if you're looking for a 16" wheel, you need a
16x8,
6x5.5 (6x139) bolt pattern,
and 4" - 4.5" backspace (-15mm to 0mm offset)
or 3.5" backspace ( -30mm offset) could be used for pizza cutters
the research on whether or not they clear the calipers is up to you.
17" wheels
So 17 inch wheels will definitely clear the brakes. Now 17inchers commonly come in different widths. 17x7.5(stock fj size) 17x8 and 17x9 are the most common sizes.
17x8 you want around 4 - 4.5" backspacing ( -15mm to 0mm offset)
17x9 you want around 4.5 - 5" backspacing (-15mm to 0mm offset )
Fitting common tire sizes onto your wheels...
So stock FJ Cruisers come with 17x7.5 wheels with 265/70R17 Dunlops. (32x11)
So you actually have a wheel that measures 8.5" wide. And the dunlops measure 10.8" section width. 2.3" difference.
So your tires is bulging out 1.15" on each side of the wheel. Rocking the stock tire size is a popular option.
"Pizza Cutters" - 255/80R17 or 255/85R16 (33x10.5)
When you like pizza cutters then you want a wheels with less backspacing or else wheelspacers. So for a 16x8 or 17x8 wheel you want around 3.5" backspace. Or run wheelspacers with any stock FJ wheels. The good thing about this size is they are usually a 33.3" tire, nice and tall.

Now lets look at 285/70R17 or 285/75R16 (33x11.5)
Stock wheel again 17x7.5
This particular 285 measures out to 33" x 11.6"section width.
So your tire will bulge out 1.55" on each side of your wheel.
Not too outrageous at all. This a great wheel size for FJ's with a 3" lift and almost guaranteed no rubbing while offroading. If you get a set of wheel spacers or buy wheels with a very negative offset compared to stock then you might rub the body mount.
Now I want to look at the 295/70R17 Nitto Trail Grappler
which has become famous on this forum because of it's seemingly stock fitting ability.
It's a great tire that measures 33.54" diameter x11.97" section width.
1.735" bulge on each side of your wheel.
And it's still short enough that it doesn't come into contact when the steering wheel is fully turned in right where the arrow's pointed at with the UCA (thanks willaim99740).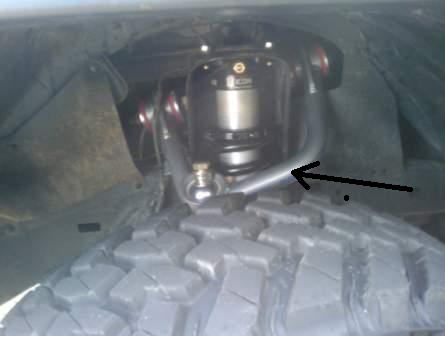 305/65R17 or 305/70R16 (33x12.5)
These tires are a little wider than the 285's. Usually people have rubbing problems on the factory UCA and at the body mount more than anything. So you find lots of people with this size tire that use wheel spacers and can get away with it because the tire is still not too tall. Recommended to have a wider wheel than stock FJ wheels because of the width.
285/75R17 (34x11.5)
Only nitto and toyo make this size (found BFG AT does too) I think and only in an E compound.
It's a nice, tall, skinny size though and if you have a lot off weight added to your rig (bumpers, skids, roofracks, sliders) you could almost probably run a E range tire. Won't air down for the trails very well though because it's so stiff.
305/70R17 (34x12.5)
This is basically what it says for size, take a look at 35's below to see what you should do to make these fit as they are only really about 1/2 less diameter.
315/70R17 or 315/75R16 (35x12.5)
Basic rule: If you want to fit big tires keep them as close to the UCA without rubbing as you can. Fitting 35" tires on the FJ is difficult for a few reasons. Body mount chop is 100% neccesary. And aftermarket upper control arms are not 100% neccesary but make life alot easier.
So first off I am running 315/70R17 mickey thompson MTZ's on stock wheels with wheel spacers and I do not rub but have chopped the body mount and folded the body seam in the back of the front wheel well.
So these tires measure 34.6 x 11.9
WheelSpacers
Sure you can run wheel spacers and the most popular type is 1.25" Spidertrax wheel spacers here on blue forum. So let's say you get stock wheels again, basically you're changing your backspace from 4.84" to 3.59".
So you're going to have tons of clearance at the UCA.
Your also going to have a wider stance and better center of gravity.
And if you're only wanting to run 33" or 285's then those are great benifits.
But you're moving the rubbing problem extremely to the body mount, so this will limit how big of a tire you can run.
There will still be questions on fitting tires regardless of how good a fitment guide someone writes or a forum puts together. Anything you don't agree with or if you want me to change something you think of, let me know.
:cheers:
Chris