Discussion Starter
•
#1
•
A couple months back I decided that I wanted to regear to 4.56 as well as add an ARB locker. I came across a complete front and rear nitro gear setup along with an ARB locker that another member was selling so I jumped on it. I had never set up gears before, but I figured how hard can it be? Well, it turned out to actually be fairly difficult to get right. There was also very little information available on setting up the 8" IFS clamshell, so I figured I would share what I learned in the hopes that it will make it that much easier on anyone else wishing to do this themselves. This is by no means a complete tutorial or guide, just a collection of pictures and information from my installation.
First up, tools! I ended up buying as well as making a number of tools to accomplish this installation. I am kind of anal, so many of the specialized tools could likely be substituted or improvised.
In terms of precision tools, I used the following:
Accurate beam or dial style inlb torque wrench with a range of 0-30 inlbs at least
Micrometer
Dial Indicator with magnetic base and long extension arm
100 ftlb and 250+ftlb torque wrenches
Feeler gauges
As far as heavy tools and fixtures:
Heavy bearing splitter
2 jaw puller
12T Press
Press blocks to get bearings in and out
Brass drift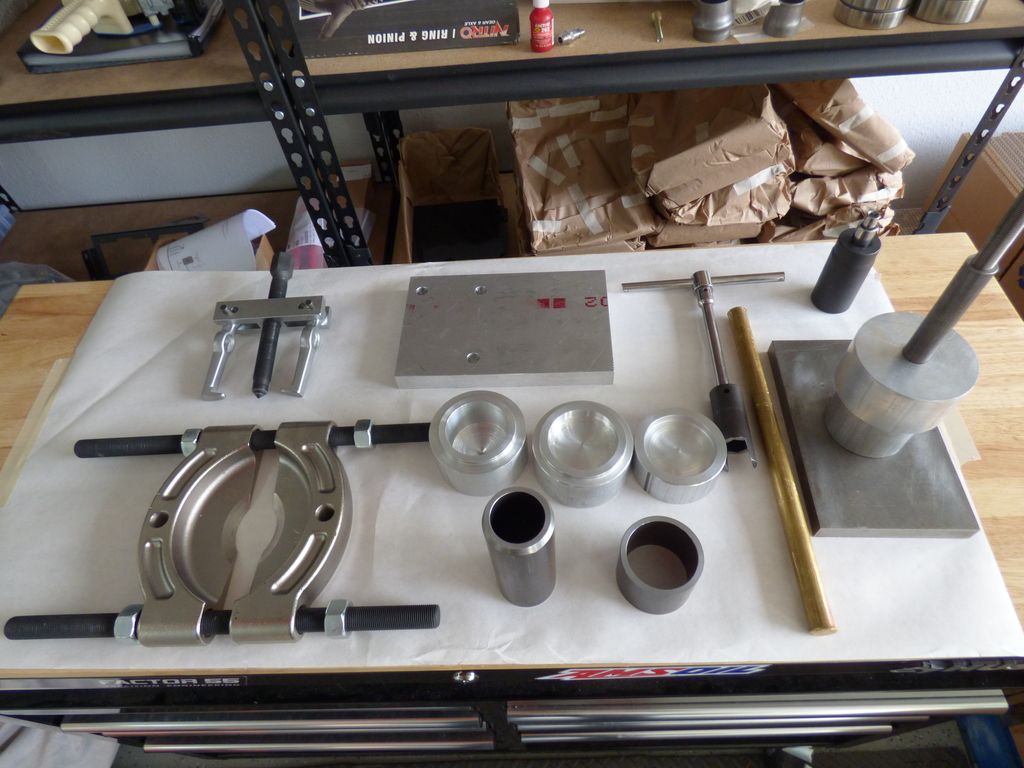 I wanted to take my time in setting this all up, which meant I needed to get another housing that I could just swap when done, minimizing downtime. The bare Toyota housing complicated things since there were no existing shims to use a starting point for the various preloads, pattern and backlash. More on that later though.
I started off by mounting the ring gear and pressing the bearings onto the ARB housing. The ring gear and ARB carrier housing mounting surfaces were first lightly stoned to ensure that there were no dings or irregularities that would prevent the ring gear from sitting flat. The ring gear was heated to about 200 degrees in the oven to help it go on the carrier. It was a very tight fit. BE SURE THAT THE BOLT HOLES ARE LINED UP BEFORE YOU ATTEMPT TO DRIVE THE RING GEAR DOWN. Seems obvious but I nearly missed that myself. You will not be able to rotate the ring gear once it is seated. Also, it is important to not use the bolts to draw the ring gear down as that will likely distort the flange.
A little red loctite and 70 ftlbs or so of torque in a star pattern and you are done. You will not be able to hold the ring gear and carrier by hand to torque the bolts, so either pop it in the press and apply moderate pressure to the carrier to hold it, or use wood blocks in a vice to grab the ring gear during torquing.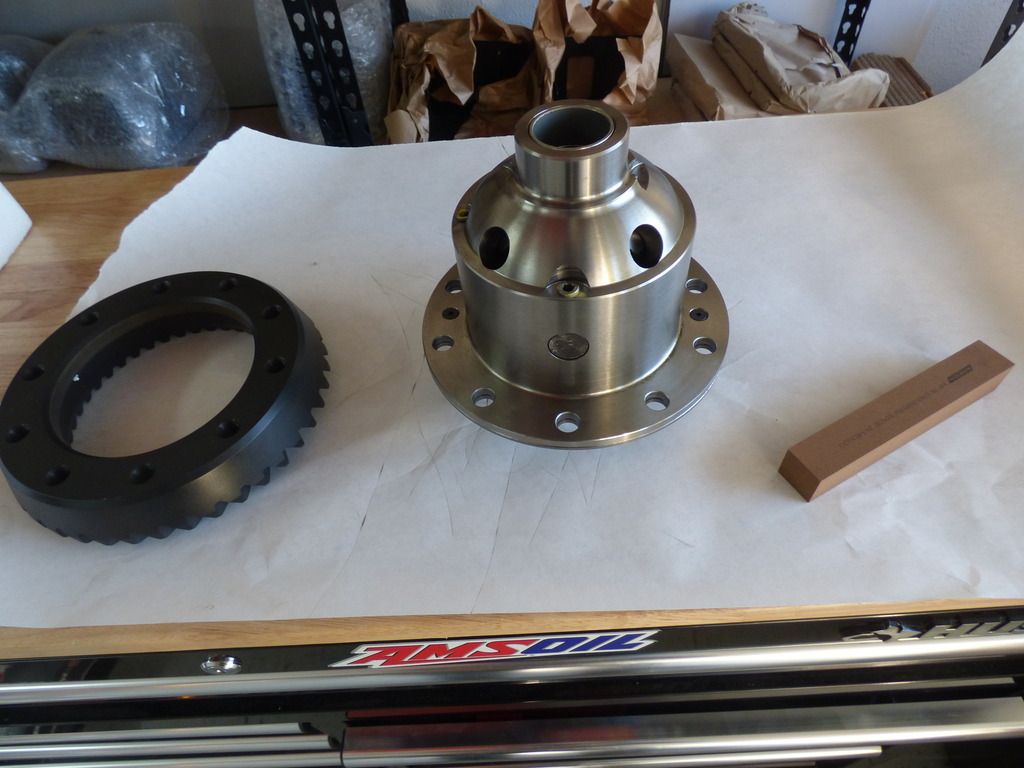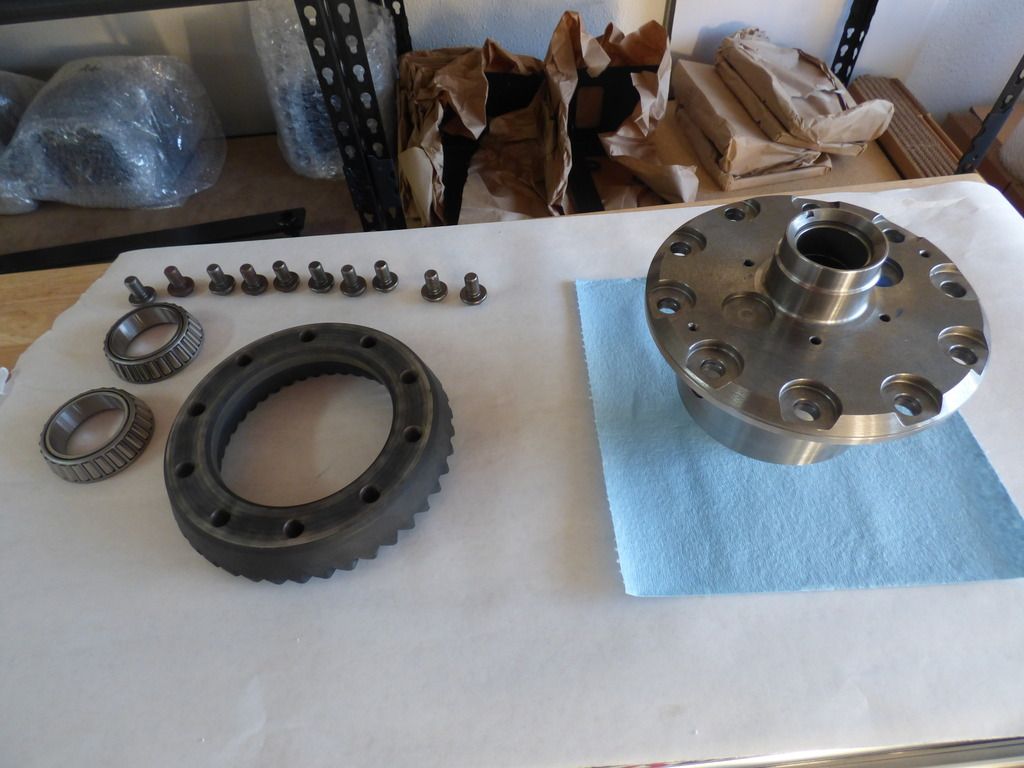 Next up I installed the carrier bearings. I actually used setup bearings initially, which are just new bearings with the ID and OD increased and reduced so that they can be mounted and unmounted by hand. Since I had a bare housing with no shims, I needed to do many iterations on the shims. That process would have been very difficult if the bearings had to be pressed in and out constantly. Below is a shot of the actual bearings being pressed on:
Now that the carrier is complete, it is time to move on to the housing. I used a solid pinion spacer vs. a crush sleeve, so rather than remove the oil retainer ring as the spacer instructions called for, I decided to bore it out to maintain the same clearance as the crush sleeve. I figured that Toyota put it there for a reason.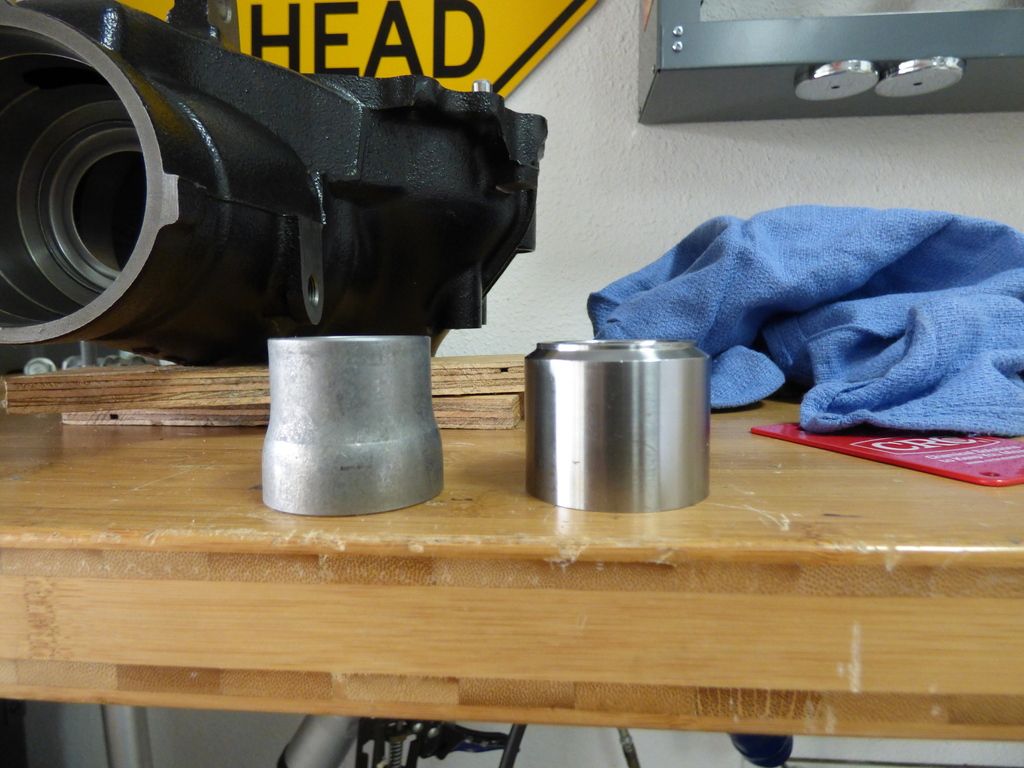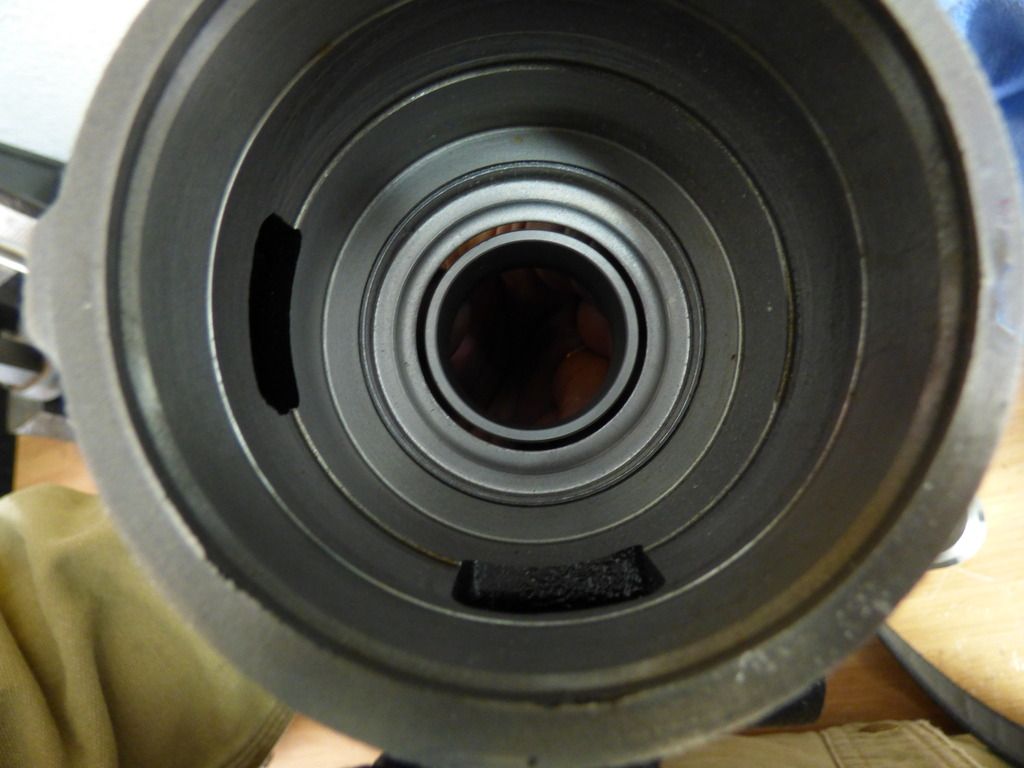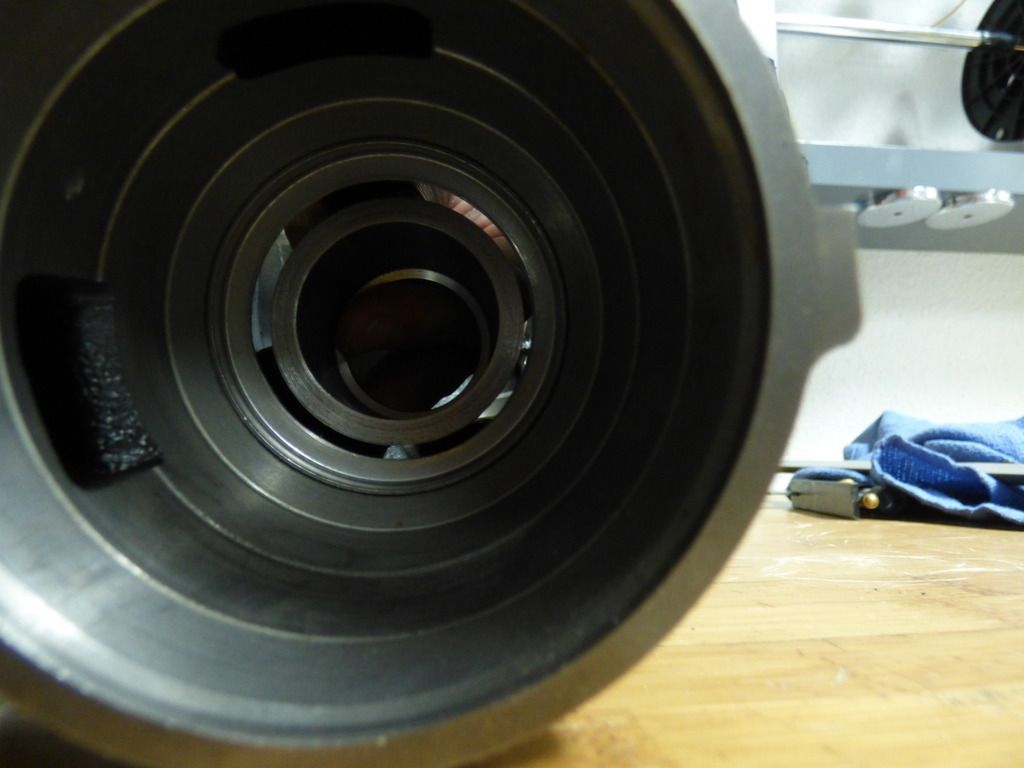 Next up was drilling and tapping the airline bulkhead hole. I decided to make a fixture for this so that the fitting would be straight, true and tapped properly: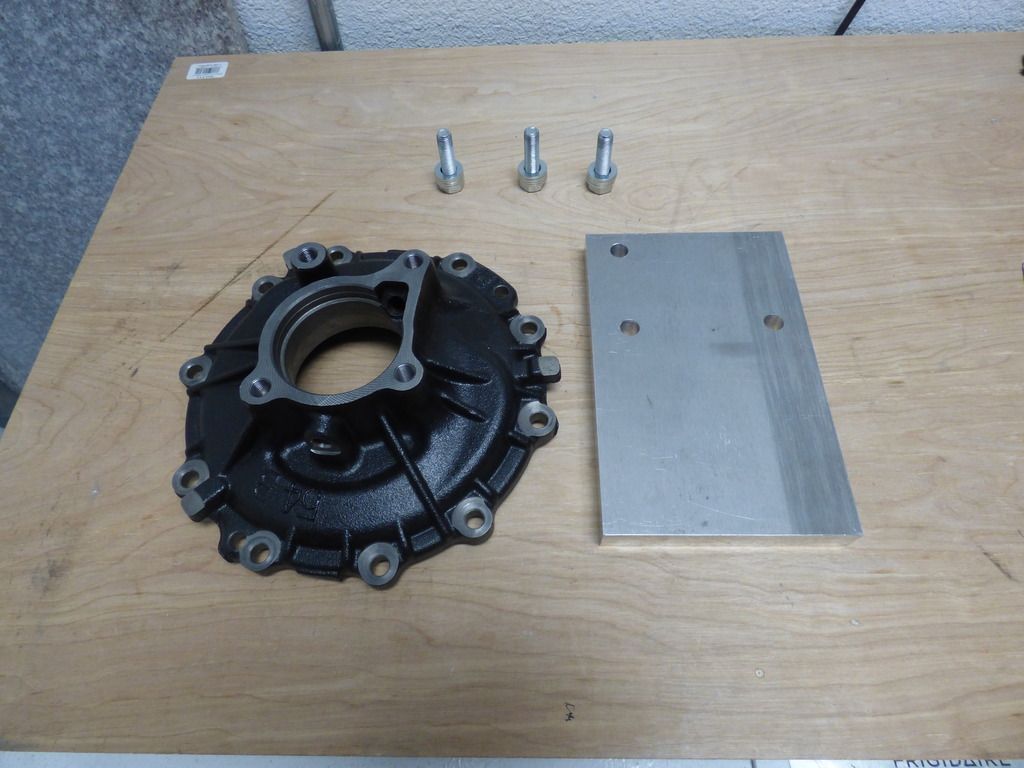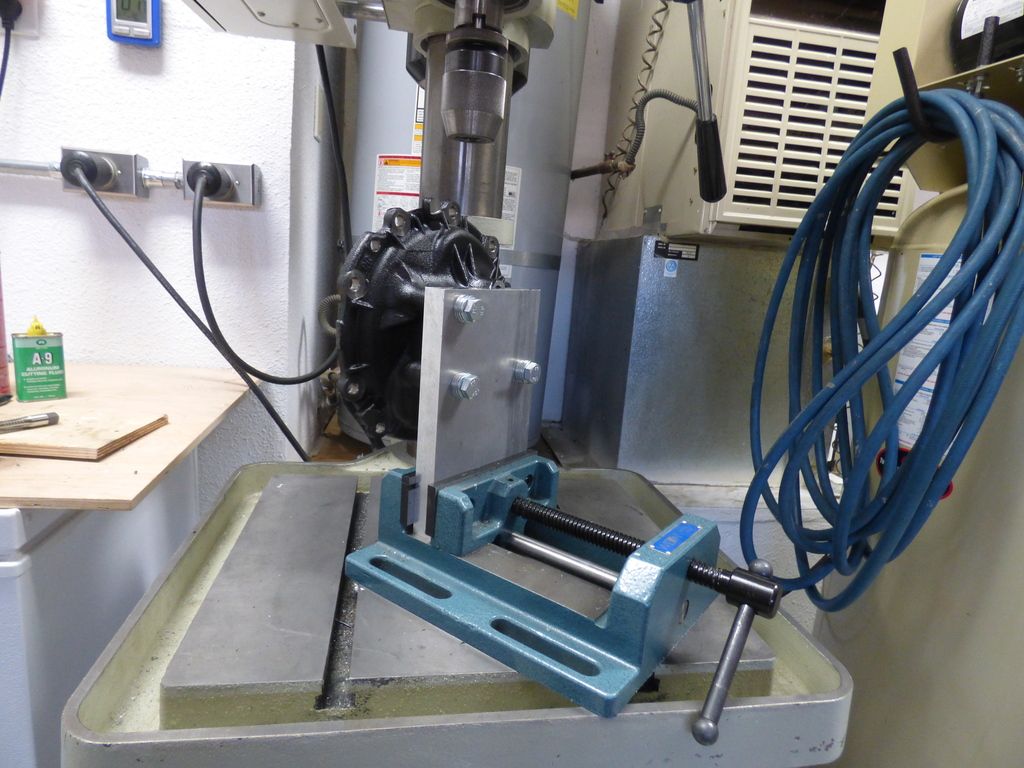 Once the housings were finished, I gave them a good wash with brake cleaner and moved on to installing the bearing shells. The pinion bearing cups do not have shims behind them, so they can go right in. Again, I used setup bearings initially, but here are shots of the real bearings going in. It is CRITICAL that the front pinion bearing cup be perfectly concentric when it is pressed into the housing. I tried to do this by tapping initially and it was clear that it was not going to happen. I fabricated a tool to align the cup as well as press it into the bore: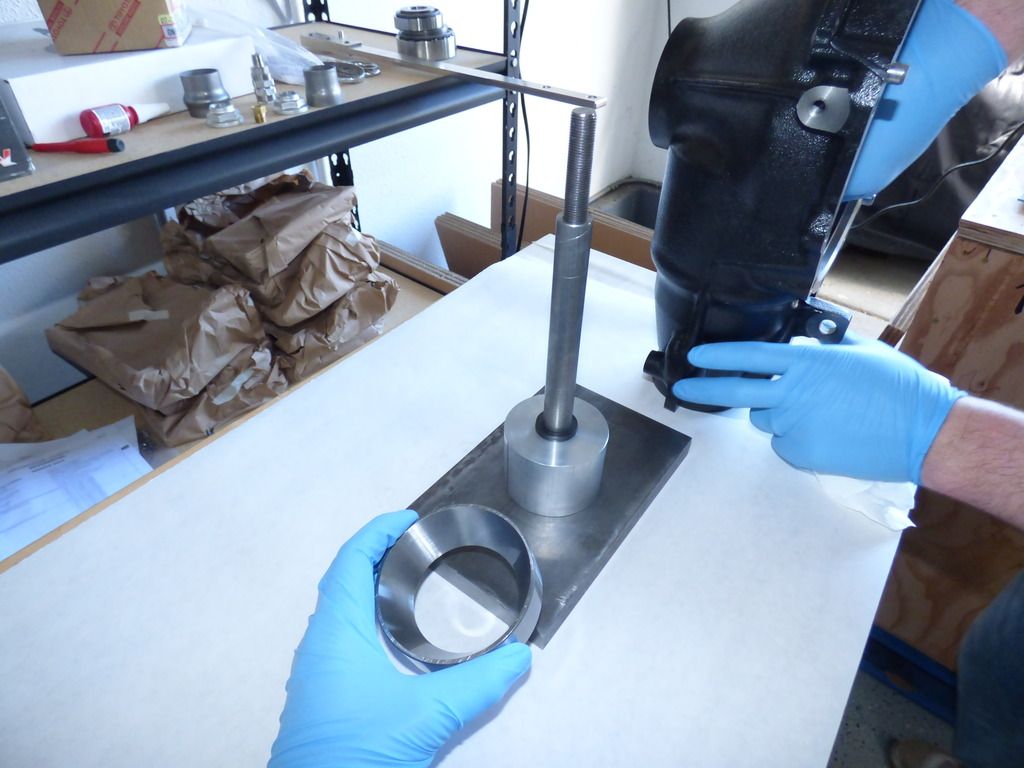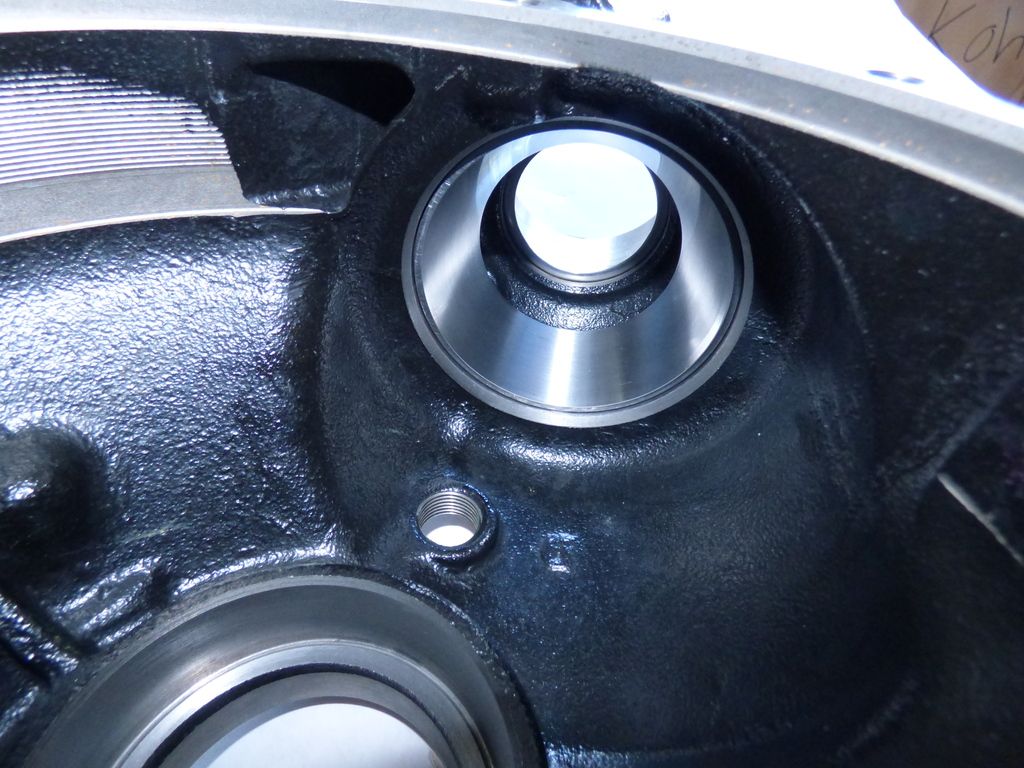 The rear cup can be tapped into place. I used the same tool to put it in nice and straight:
Next up its time to press in the carrier bearing cups. These have shims behind them that are responsible for setting bearing preload as well as backlash. Since I had a new housing, I needed to establish the total shim thickness to achieve the correct bearing preload. After a number of iterations that number turned out to be 0.100, split between the shallow and deep carrier halves. This value is the total amount needed to preload the carrier bearings to an approximate 6inlbs starting torque as measured at the pinion. The end float or gap between the clamshell halves to achieve this preload was around 0.008". I initially started with 0.0895" on the deep side and 0.0105" on the shallow side under the ARB seal housing. Here is a shot of the bearing being pressed in. The deep side was the same: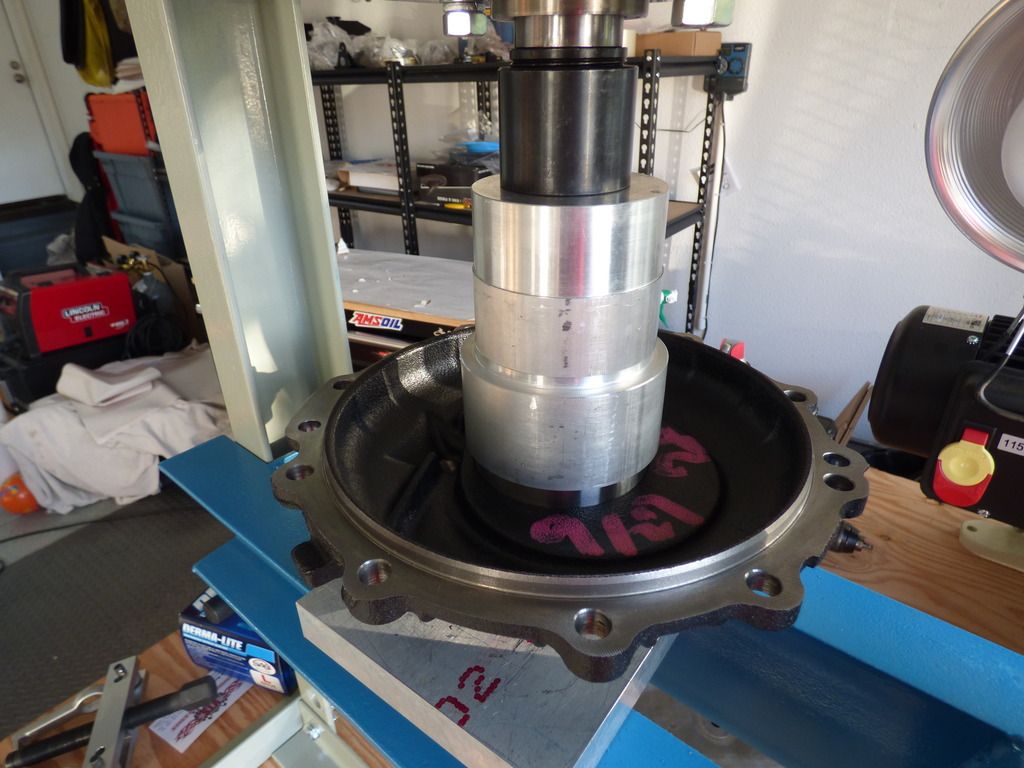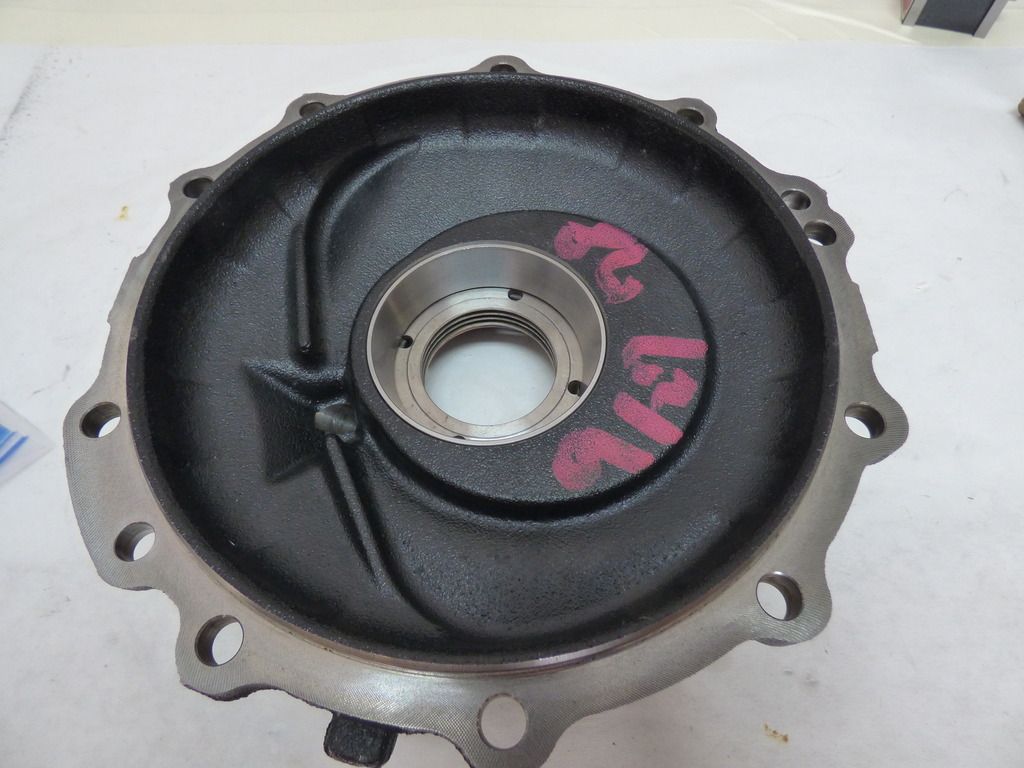 For the pinion, I started with 0.078" of shim since it was in the middle of the shims available from Toyota. Shim pack gets pressed in behind the front bearing: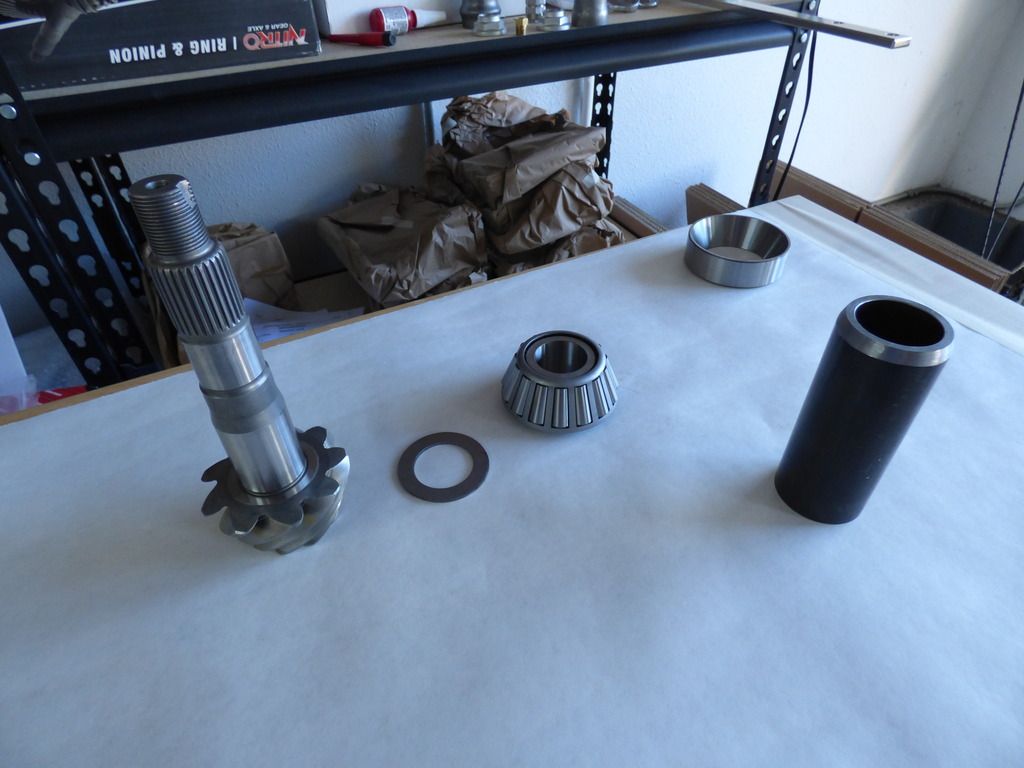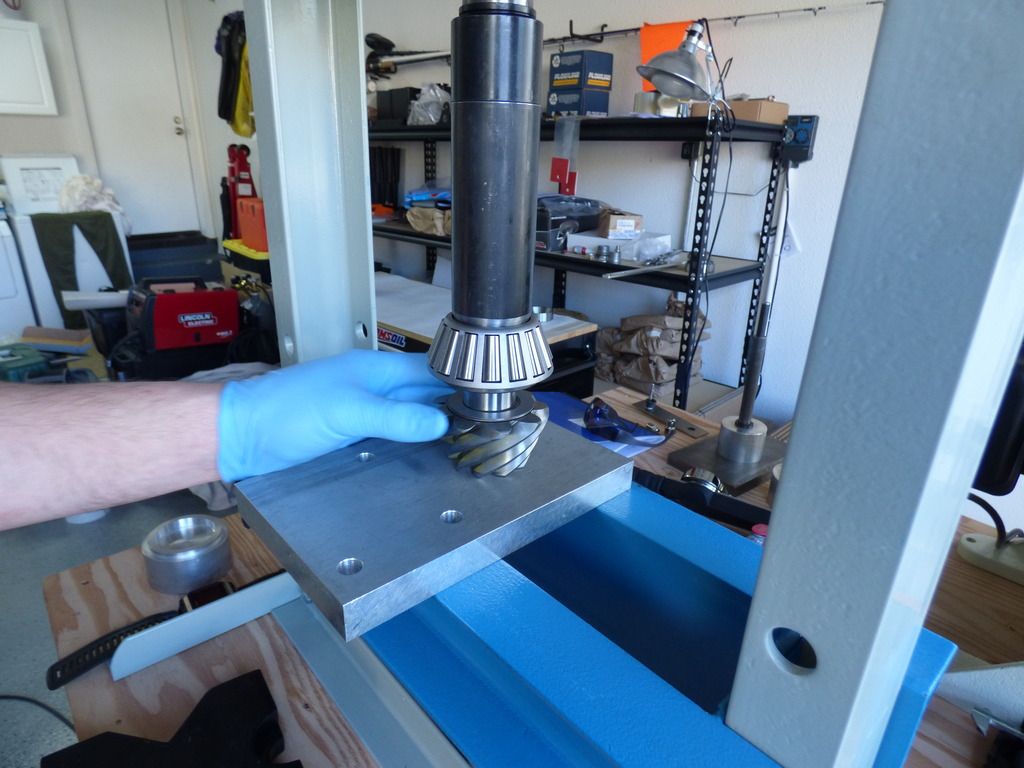 Next, the pinion is assembled into the carrier and the flange tightened until approximately 10 inlbs pinion preload is measured: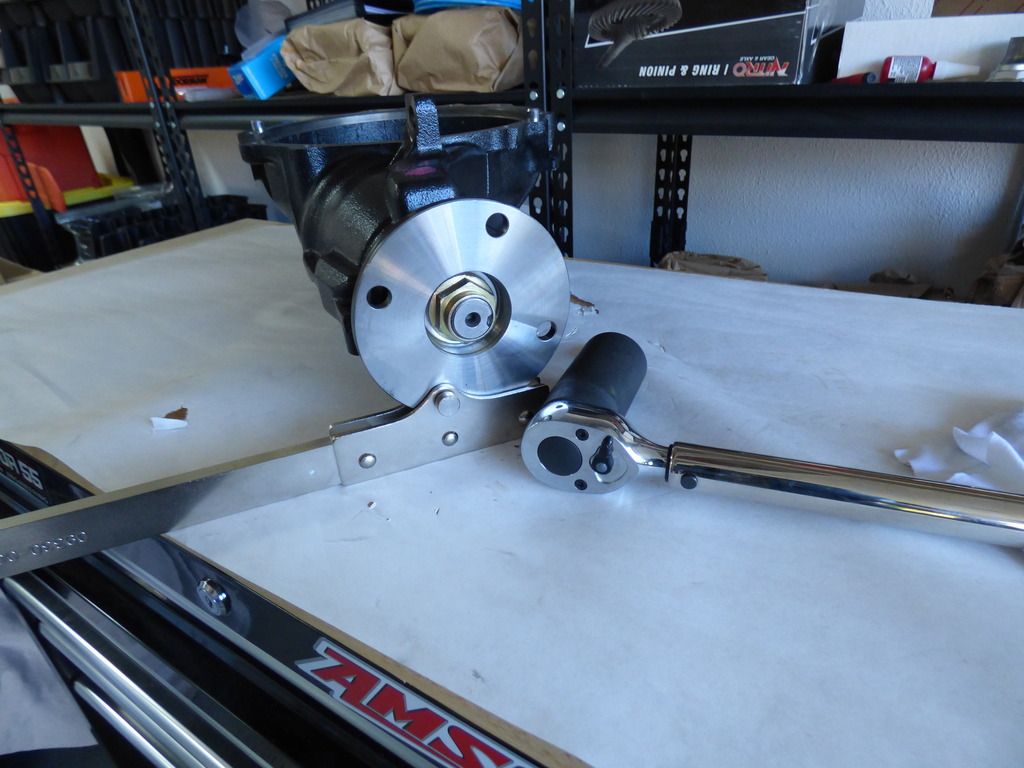 Now the carrier can be assembled: