Discussion Starter
•
#1
•
I have completely removed the rear seat, including the seat backs in preparation to build a platform to sleep on and to support a durable divider to keep my pups safely in the rear of the FJ.
This removal took about 1 hour due to one of the seatbelt bolts being very difficult to remove. It is important to have a six sided 14 mm socket for this!
The removal began by removing the bolts below the front edge of the rear seat bottom. This is pretty straightforward.
Then I removed the plastic "hump" behind the seat backs. Remove the two bolts and pop up the center plastic keeper. I just gently pulled and it popped out.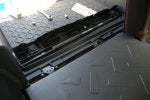 Next I removed the two bolts holding the bracket between the two seat back sections.
Then with an open end wrench I removed the bolts on both ends of the seats that are attached to the sides of the passenger compartment. This can be a slow process because it is tough to get much rotation with the wrench. A closed end ratchet metric wrench wold be the thing to use (I didn't have one)
You must at some point remove the bolts holding the seatbelts in place. After doing this last, my suggestion is to do it first to be sure they can be removed. The passenger side belt is in the way during removal of other parts, so get it out of the way first.
Pics of the platform and divider to come.