Just for a little background…….
My wife and I purchased this truck back in 07 after we made the decision to start a family. We were both driving 2 seater sports cars at the time and we needed something more family friendly and a bit more durable considering how hard we both are on vehicles. We ordered the FJC after test driving one at a local dealer. My wife liked the truck but hated most of the colors available. She wanted a silver AT and I wanted four wheel drive, those were our only requirements. We checked all of the lots in New Orleans and nobody had that combo at the time, so we ordered one and it arrived the following week. It was pretty basic, a four speaker stereo, no a-trac, no towing package, no roof rack or any bolt ons whatsoever. It was exactly what we were looking for back then and with a sticker of 26K it was in our price range.
It became my wife's daily driver for the next two years during which she quickly learned that maybe this wasn't the best option for a family vehicle. All of the common complaints came up about the suicide doors, blind spots, cave like back seat, and limited storage. I saw the writing on the wall and shortly after discovered the FJC forum. Knowing that this vehicle was going to get passed on to me I started making some small cosmetic modifications here and there like a spacer lift, fender flares, and tires. Needless to say this definitely sped up my wife's dislike of the vehicle. I finally quit lurking and joined the forum in 09. Shortly thereafter we learned that we were having twins. After the first 8 months of my wife carting around two infants with rear facing car seats she had had enough. We traded in my car & pick up and purchased a Honda Pilot. At this point the FJC was now officially mine.
Like so many others on the forum I learned a lot of lessons about modifications the hard expensive way. A local group of Toyota guys that I made contact with through the forum gave me tons of valuable advice and also plenty of great recommendations. This group ended up becoming what is now the Louisiana Land Krewesers. As luck would have it I also grew up with a Toyota Guru who was working for TRDparts4u. Jacque was another great source of knowledge that helped me with all of the basics. If not for this group of people I would still be running my truck through mud puddles at the spillway every weekend and would never have been exposed to what I now consider to be a huge part of my life. The trips, the wrenching sessions, and the group conversations about tech knowledge and usable equipment has helped me to get a better sense of what kind of vehicle I want for my needs.
Living in NOLA means that I am looking at a 6 hour drive minimum to get to any decent park and most parks are 8+ hours away. Overlanding if you will. I didn't have the money for a trail rig/tow rig set up so I had to build something that would work well on moderate trails, haul all of my camping gear, and still function as a well behaved daily driver. I finally feel like I have come very close to achieving that goal. My wife and kids don't share my enthusiasm for this lifestyle so even though the FJC might not be great for a family overlanding/trail vehicle, it has worked out quite well for me as a solo traveler.
You are not going to see anything new here or anything to radical. It probably looks like the other 8000 silver FJCs on the forum but it's what I got.
Enough with all of the blathering, time for what we are all here for….the pictures.
When it became my daily driver
Current - 4/13/16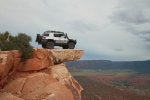 2007 Toyota FJ Cruiser AT 4x4
122,000 Miles 7/24/15
Suspension/Drivetrain
Front-Icon Extended Travel Coilovers w/ 700 lb. Springs
Icon Tubular UCAs
AllPro Spindle Gussets
Wheeler's Super Bumps
ARB Locker
Rear-Icon 3" Overland Series Coils
Icon 2.5 Piggybacks
ToyOutfitters Lower Links
Metal Tech Extended Rear Brake Lines
Swaybar Delete
8.2" Rear End Upgrade
Armor
Ricochet HD Bash/Engine Skid
Ricochet ARB Filler Skid, Tranny Skid, T-Case Skid, LCA Skids, & Gas Tank Skid
Demello Sliders
ARB Front Bumper
Red Eye Rear Bumper w/ can holders & large utility basket
Boztec Diff Skid
Rocktek Link & Shock Armor
SSO Front Rub Rails
Warrior Products Rear Tube Flares
Warrior Products Rear Body Panels
Wheels
Toyota Steelies
All Pro 1.5" Spacers
Tires
285 75 r17 (34" x 11.50) Nitto Trail Grapplers
Power
Dirty Parts Dual Battery Kit w/Platinum Die Hard Marine 34M Aux Battery
Blue Sea Fuse Block
Communications
Midland Handheld CB w/ Firestick
Audio/Visual
Gopro HERO+LCD Windshield Mounted Camera
Kenwood ddx672bh Head Unit
Kenwood KSC SW11 Underseat Powered Mid/Sub
6x9" Rockford Fosgate Prime R169X2 Door Speakers
3.5" Rockford Fosgate Punch P132 Dash Speakers
3.5" Infinity Rear Speakers
Performance
PRG Snorkel w/ Mushroom Cap
All Pro Hi-Clearance Exhaust
Lighting
9" Ironman Supernova HIDs (2)
2" x 2" Rigid Duallys (7) Spots & Floods/Roof Rack & Bumper
40" LED Lightbar
Lifetime LED Headlights
ARB LED Signal/Marker Lights
Diode Dynamics LED Replacement Bulbs for Mirrors(Amber)
OTRATTW Light Switches (8)
Recovery/Repair
Superwinch 9500S
Factor 55 Flatlink
Maxtrax Traction Pads
Hi-Lift XTreme 48"
Hi-Lift Slider Adapter
10 LB PowerTank (package B)
ARB Deflater
ARB Recovery Straps
ARB Tree Saver
ARB HD Compressor
ARB Tire Inflation Kit For HD Compressor
ARB Tire Repair Kit
Sogfari Machete
Gerber Axe
Shovel, Snatchblock, D-rings. etc....
Field Repair Kit Complete With Replacement Parts & Tools.
Storage
ExtremePara Cargo Storage Drawer System
Bajarack
Springtail M-PAC Basket
Springtail M-PAC Side Rack
Springtail M-PX Seat Panel
Springtail Cargo Barrier
Tuffy Center Console Lock Box
Vi-Store Above Visor Storage Shelf
10 lb Worthington Propane Tank w/ Powertank Mount
Frontrunner 5 Gallon Water Can w/ Pressurized Camp Shower Attachment
ARB 50qt Fridge w/ Frontrunner slider
Trasharoo
Frontrunner Large Water Proof Roof Rack Bag For Chairs & Cots.
Emergency
Cintas Full First Aid Kit
Fire Extinguisher
Extra Stuff
ExtremePara Rear Door Grab Handles
ExtremePara Rear Window Latch
Maglights 2 Cell LED Flashlights (2) glass tap on one
Ellis Precision Shift Knobs
Body Mount Modification
Front Bumper Bottle Opener
Daytime Running Lights Delete
Proclip Mobile Mount
Ram Mount iPad Air2 Mount
Black Bezel, mirrors, and door handles
Amaesing Hood Decal
Maxpedition Frame Lock Titanium Knife
Blue Sea Extra Power Outlets (2)
Camping
Foxwing Awning
OZTent RV-3 w/ Front and Side Panels
OZTent Goanna Stretcher (2)
OZTent Goanna Chair (2)
OZTent Rivergum Sleeping Bag
OZTent Aluminum BiFold Table
Frontrunner Utensils
Frontrunner Wolf Boxes (4)
Frontrunner Flatpack Kitchenware
Pelican Storm Case
Partner folding 9" 2 Burner Stove
Privacy Pop Up
Reliance Hassock
Current Projects
HAM shopping
Future Projects
HAM install
Aux. Fuel Tank - THIS!!!!!!!!!