Discussion Starter
•
#1
•
Good day, eh ;-) Hope you're all well. I've been lurking on this forum for about 5 months now, and figured it was time to sign up. I traded my FX45 for a Black Diamond '07 FJ about 3 months ago, and haven't looked back. I thought I would miss my FX, I was wrong. I've been confined to pavement with my last 2 vehicles for 10 years, when prior to that I owned 4x4s and enjoyed going out wheeling. Living in small town Sask, there's not alot of pavement to pound so cars/XUTs get boring fast.
I can say that I'm absolutely in love with my FJ, unlike any other vehicle I've owned..it's here to stay. By nature, I'm a DIYer around my home and business but never had the facilities or the tools to wrench on vehicles. Now that we bought a home with a garage, that's slowly changing as I try and tool up so that I can wrench on my baby. It'll take some time and moolah to get setup, but I'm looking forward to it. This forum has been such a valuable resource to many of the questions I had, with great support from members who seem quite eager to help, very nice community! I'm looking forward to learning from all the great contributions here.
Here's some pics: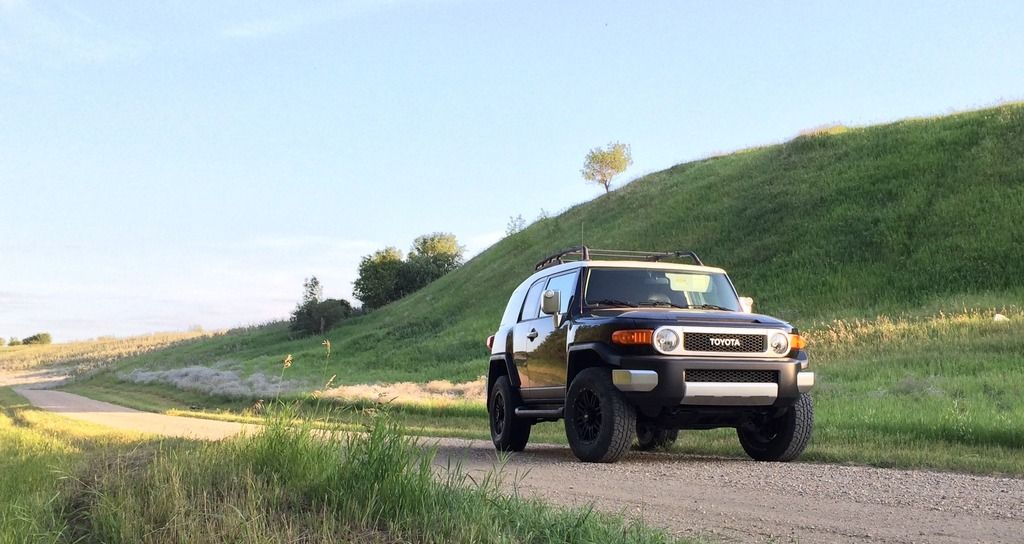 I haven't done very much to it. It came with a Magnaflow exhaust, air bags in the rear coils, Astro Start and a Volo Performance chip-not thrilled about that because I don't know much about them but it's been there since I've owned it and I haven't noticed any ill effects. I added a DeeZee rear ladder, and switched to LED bulbs for the interior, license plate, mirror and reverse lights. I also just pulled the diffuser out of the mirrors 2 days ago. Last week I did the alternate 'no-cut' version of the Alex ATRAC hack, it works like a charm and will come in handy in the deep snow that we see here. I thank the many gurus, geniuses and risk takers that had the knowledge and the eggs to do some of these mods and were kind enough to share them with the rest of the world.
..sorry for the long first post, I work crazy hours, and tend to post stories when I get around to posting lol!>