Well after over 2 years of ownership of my 2008 Trail Teams Special Edition FJ Cruiser, I will finally begin my build thread!
First off here is a shot from Day 1 of ownership - December 6, 2015:
And a photo of basically how she looks today!
If you want to see all the mods I have done to my FJ leading up to the present, then you're in the right place! But if you just want to see pictures of the adventures and trips I go on with my FJ Cruiser, check out this thread specifically for that:
FJX2000's Wheeling Trips & Adventures Thread
It all began with my last FJ. For that build thread look here:
Storm Damage - FJX2000 TRD Build
. I ended up selling my first FJ before I went and served a 2 year mission for The Church of Jesus Christ of Latter-day Saints with the intention of purchasing a new FJ when I got home. Upon my return, the search began. I searched far and wide for the "perfect" FJ for me which would ideally have these specifications: be a reasonable price, be in good condition, be newer than my last FJ, be a special edition, have less miles than my last one had when I sold it, and hopefully already have decent mods so I can save money on making it more off-road capable. I eventually found the perfect FJ on Craigslist and it turned out to be everything I had been looking for (except for the mileage which really wasn't a big deal at 83,000 miles). It turns out the previous owner was actually a member on here too. I ended up flying out to California to pick it up and became the 3rd owner of this awesome TTSE FJ! Drove it all the way back to Colorado and here is where it was mod-wise when I bought it.
Beginning Mods:
Baja Rack Standard Basket Roof Rack
ARB Front Bull Bar Bumper with Warn M8000 Winch, Fog Lights, and OEM FJ Aux Lights
ARB Rear Bumper with High Clearance Hitch
Icon 2.5" Front Coilovers - Standard Travel
Total Chaos Upper Control Arms
OME Rear shocks and coils
Metal Tech Aluminum Rear Bump Stop Extensions
Bushwacker Pocket-Style Fender Flares
ARB Safari Snorkel
TRD Cold Air Intake and TRD Cat-back Exhaust System
TRD 16" Alloy Wheels in Matte Black Finish
All-Pro Rock Sliders with Kickout
Baja Rack Rear Door Ladder
285/75R16 General Grabber Tires
Spidertrax 1.25" Wheel Spacers
Springtail Backpack Hooks
Springtail Rear door folding MOLLE rack, Cargo Side rack, and Straddle Racks with M-PAC Bags
Rough Country front UCA bump stops, rear sway bar links, and panhard bar from a previously installed 6" lift
OEM Rear Skid Plate
Silver Aluminum Shifter Knob
Trail Teams Badges and Floor Mats
Toyota Bug Deflector
Needless to say, she was fitted for adventure! In her past interestingly enough, she had once sported a Rough Country 6" lift! But because the first owner didn't really enjoy the look, it was brought back down to the 3" lift it currently sported. Off-the-bat it drove nice, felt good, and the only things I really noticed were that the rear wiper motor was toast and I wanted to change the nose-down stance it had. With it having adjustable Icon coilovers, that could be fixed!
Upon getting home I removed the stickers and the first mod I did was one of my favorite mods from my last FJ, center console lights! I love these! It makes it sooooo nice for seeing the center buttons under the radio and other center console stuff, including my iPod. Check this thread out for more details:
Center Console Under-Radio Flex LEDs Install
Next I replaced my old rear wiper motor since it was making a not-so-fun grinding noise. Check this thread out for details on that:
Rear Window Wiper Motor Replacement/Install - How To
Around the same time as the rear wiper motor replacement, I also added another unique mod from my last FJ, a 3rd brake flight flasher. I just like how it looks and if it helps keep me from being rear ended, then sign me up! I did a write up for this one too:
Third Brake Light Flashing Module Install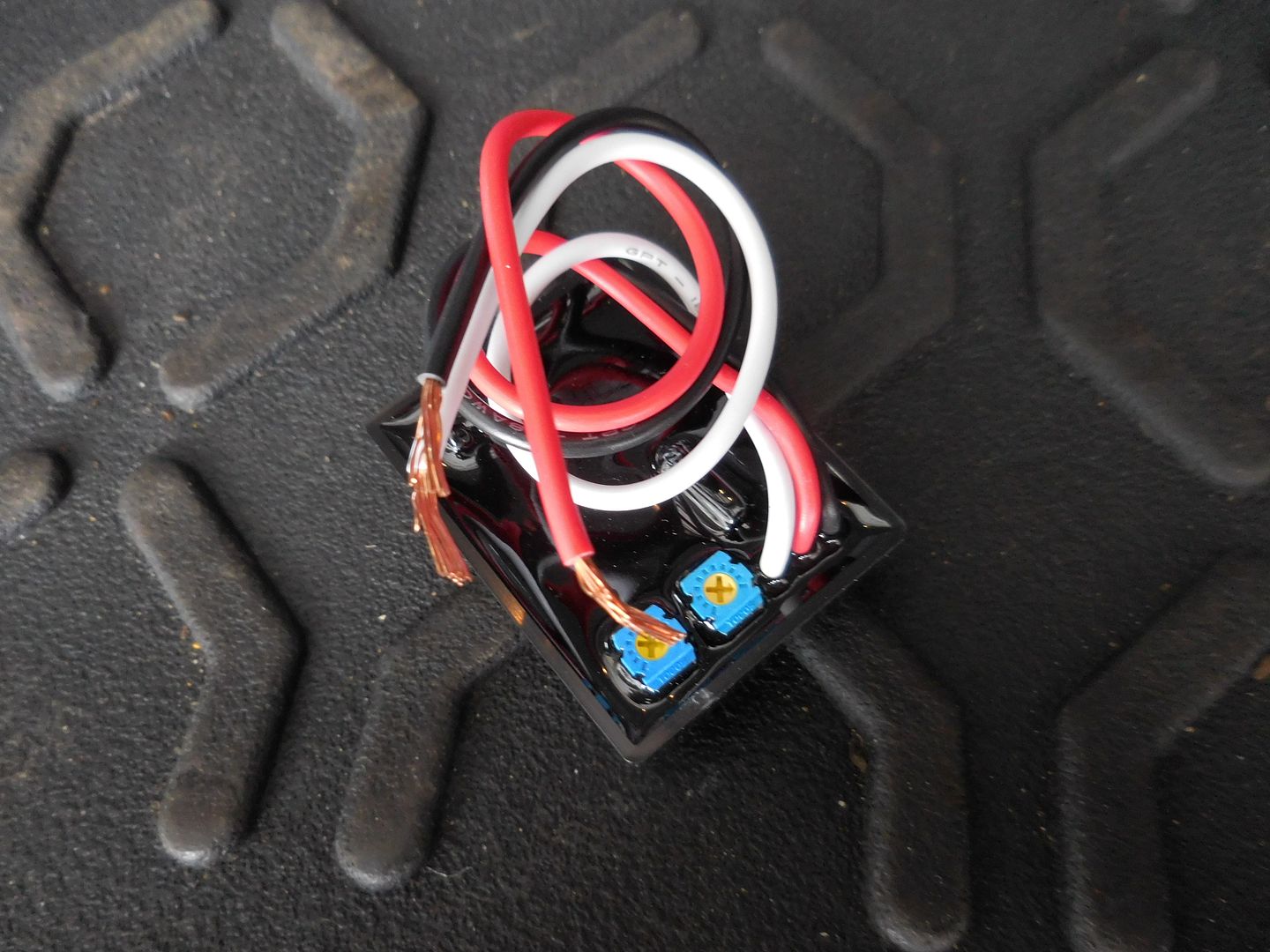 Over time the IPF fog lights in the ARB bumper kept burning out so I tried replacing them with high end Sylvania halogen bulbs. Those new bulbs unfortunately didn't last long either so I tried adding LED bulbs. But because of the nature of the housing the various LEDs I tried using kept hitting the reflector in the housing and the light thrown out was never the same as a halogen bulb, regardless of bulb LED pattern or brightness. So I eventually added Rigid Industries Duallys mounted sideways on one of the normal fog mounts. These were way bright and amazing but because they were mounted on a plastic tab they did shake a bit when going over rough surfaces like dirt roads.
As Christmas of 2015 came along, I got quite a few goodies to add to the FJ including the visually appealing and functional aluminum hause fairlead from OK Offroad and a Factor 55 ProLink! It really cleaned up the look of the bumper so I didn't have the old, nasty, rusty rollers on the front and the winch hook just hooking to the front recovery loops. I also added some new cheap LED bars from Amazon to replace the OEM driving lights. Not sure what they are really but they were advertised as using Osram LEDs and they were a HUGE improvement from the factory bumper-mounted driving lights. (A big reason I replaced them when I did is because a rock cracked one of the driving lights when I had removed the FJ cover.)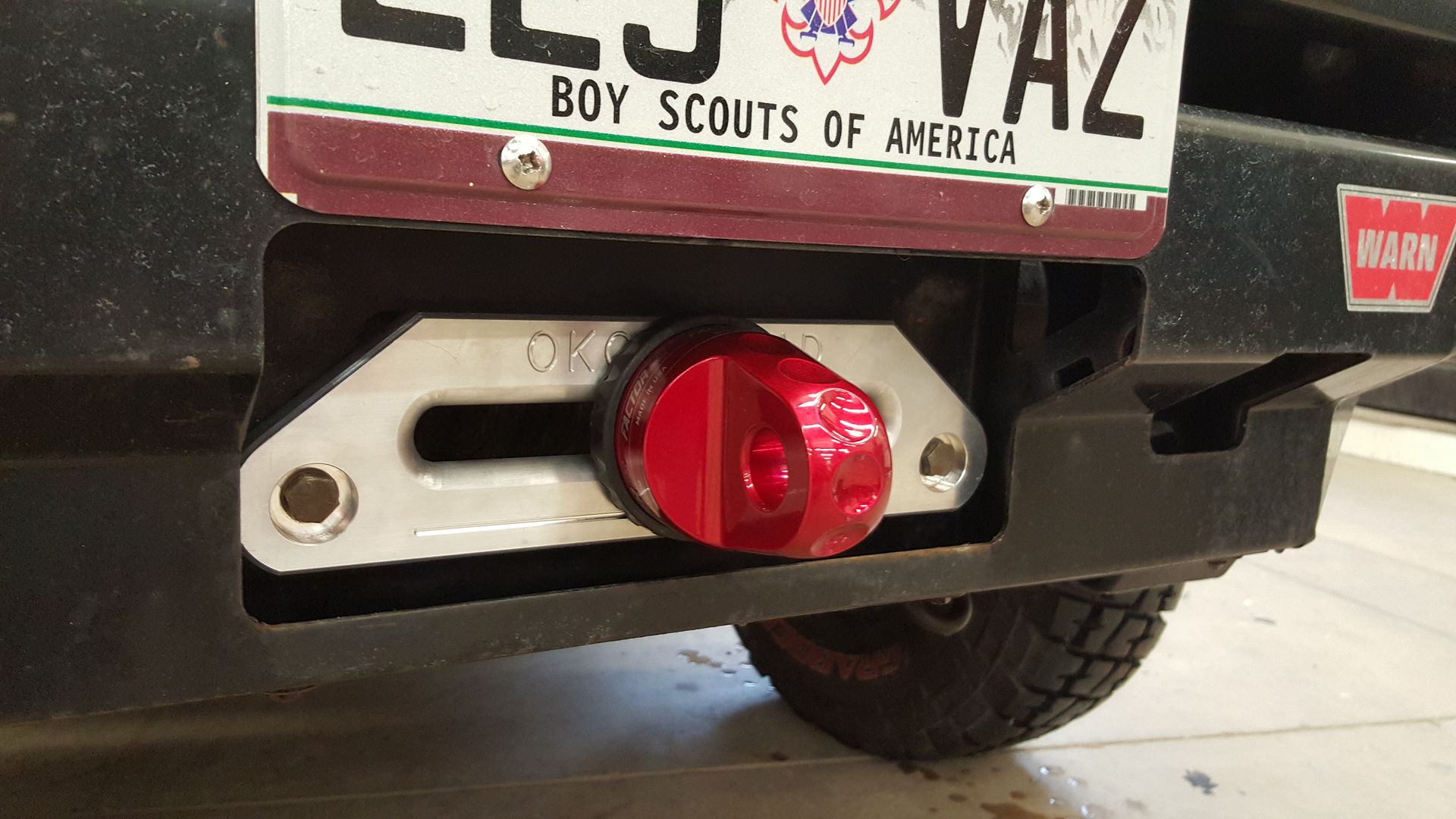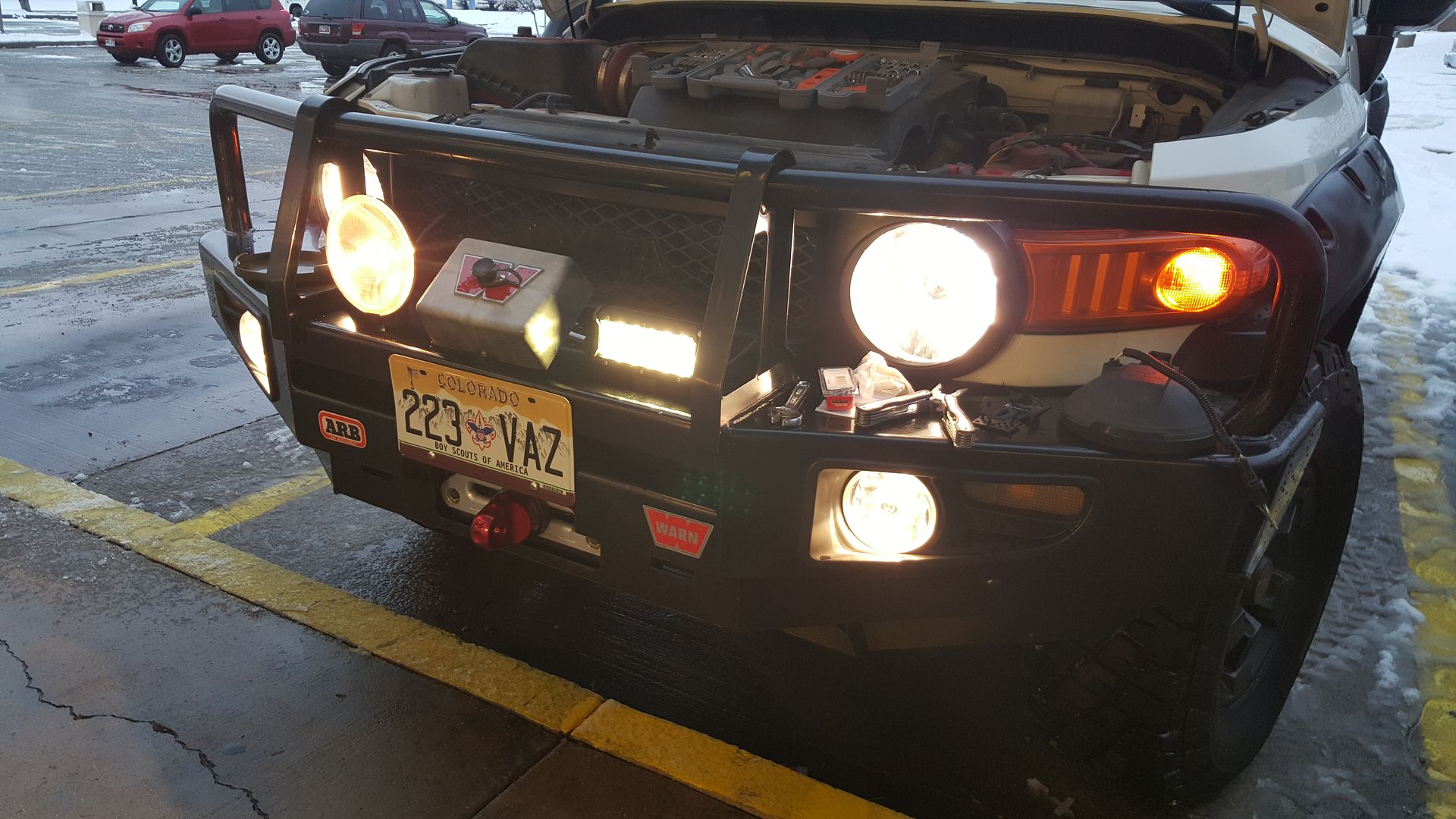 Seeing as my FJ is a Trail Teams Special Edition, for Christmas I also got the rare Trail Teams billet door sill protectors and they are awesome! Getting all the old residue off from the OEM protectors was a pain but with these on it looks so good and of course matched the Trail Teams badging on the dash and floor mats! More details here:
Trail Teams Billet Door Sill Protectors Installed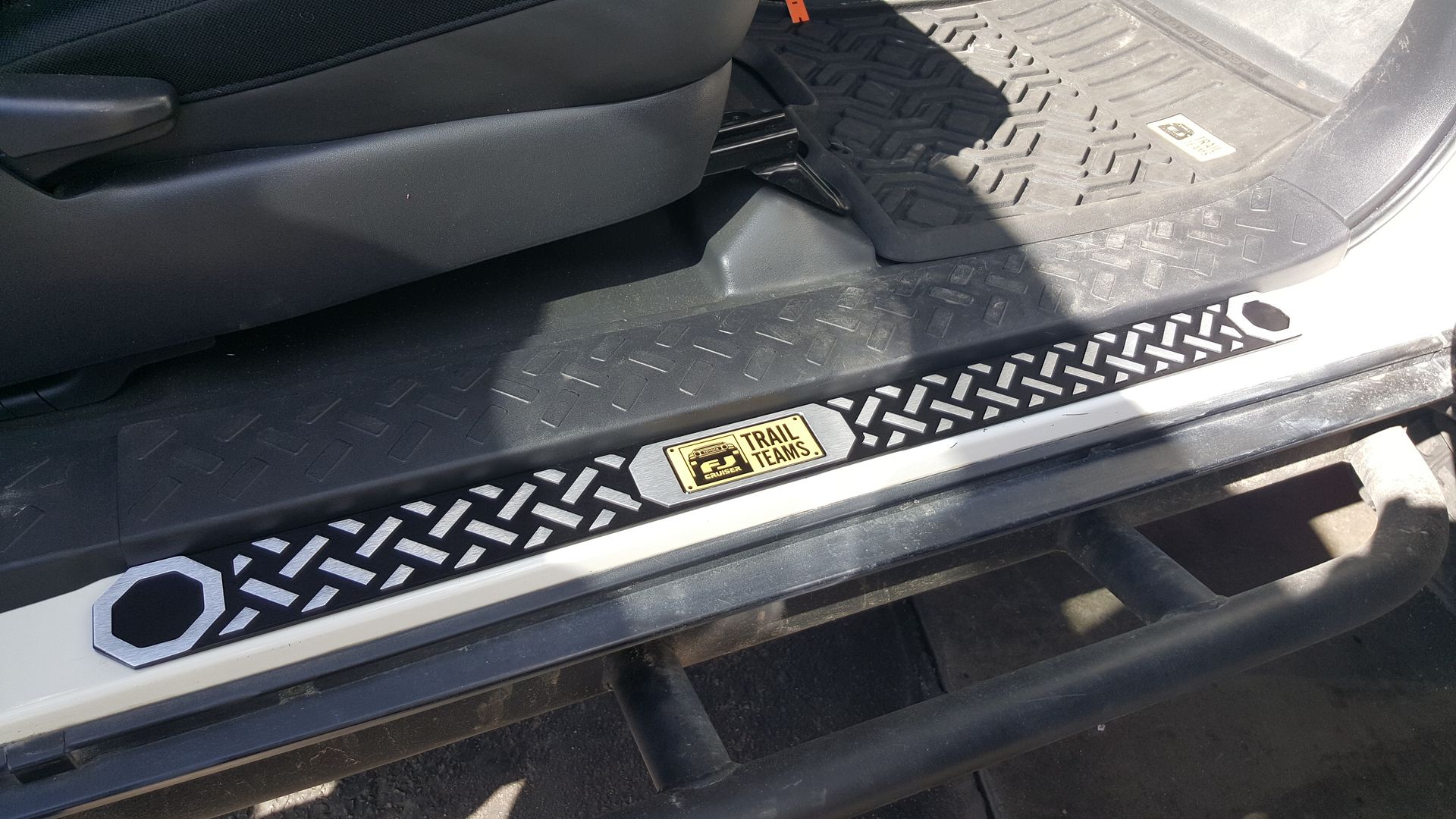 As mentioned earlier, I always felt the FJ had almost a "nose down" look to it so I finally got the Icon coilovers cranked up a bit to level the ride and boy did it look good! Another item from Christmas I installed were some front sway bar relocation brackets, since the sway bar was sitting SUPER close to the Icon coilovers.