Due to the type of terrain near me, typical slow trails or crawling is what I mostly do. I had always wanted to get more flex out of the IFS to make it more balance with rear (reduce leaning, 3 wheeling, tipping on diagnoal wheels).
I did lots of research and asked people with LT to determined if the additional travel worth the high price. I heard good and bad things about LT in general and specific products so I wasn't totally sure what I should get. Now after messing with it for about 4 months I want to share some of my findings, in the hope of helping some people who are desparately doing research on this topic. So here we go:
I. Total Chaos +2" actual travel number?
TC claims to have 11.5" metal to metal travel. That is UCA uniball bind at droop to bumpstop (with 3/4" bumpstop spacer). I read the actual travel number is less than this and things will hit at full compression.
My finding:
Suspension cycles 11.5~12" metal to metal.
Things hit (kind of).
Alignment will alter max droop noticeably.
Realistic travel with limit strap is 10.75~11" (measured uniball ~1/8" from cup, instead of 0.25" as TC recomended because I don't jump my FJ)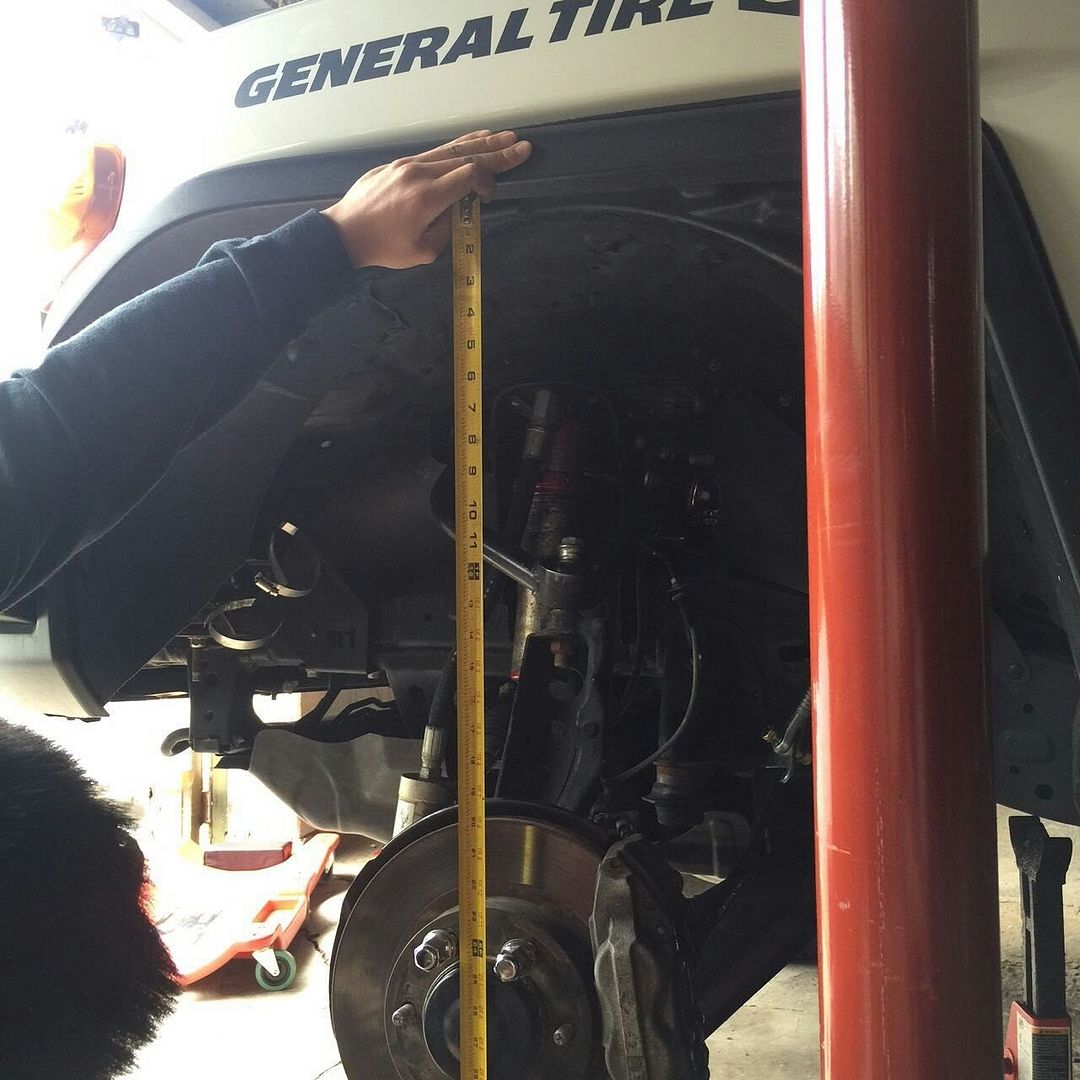 Full droop fender to hub: 26.75"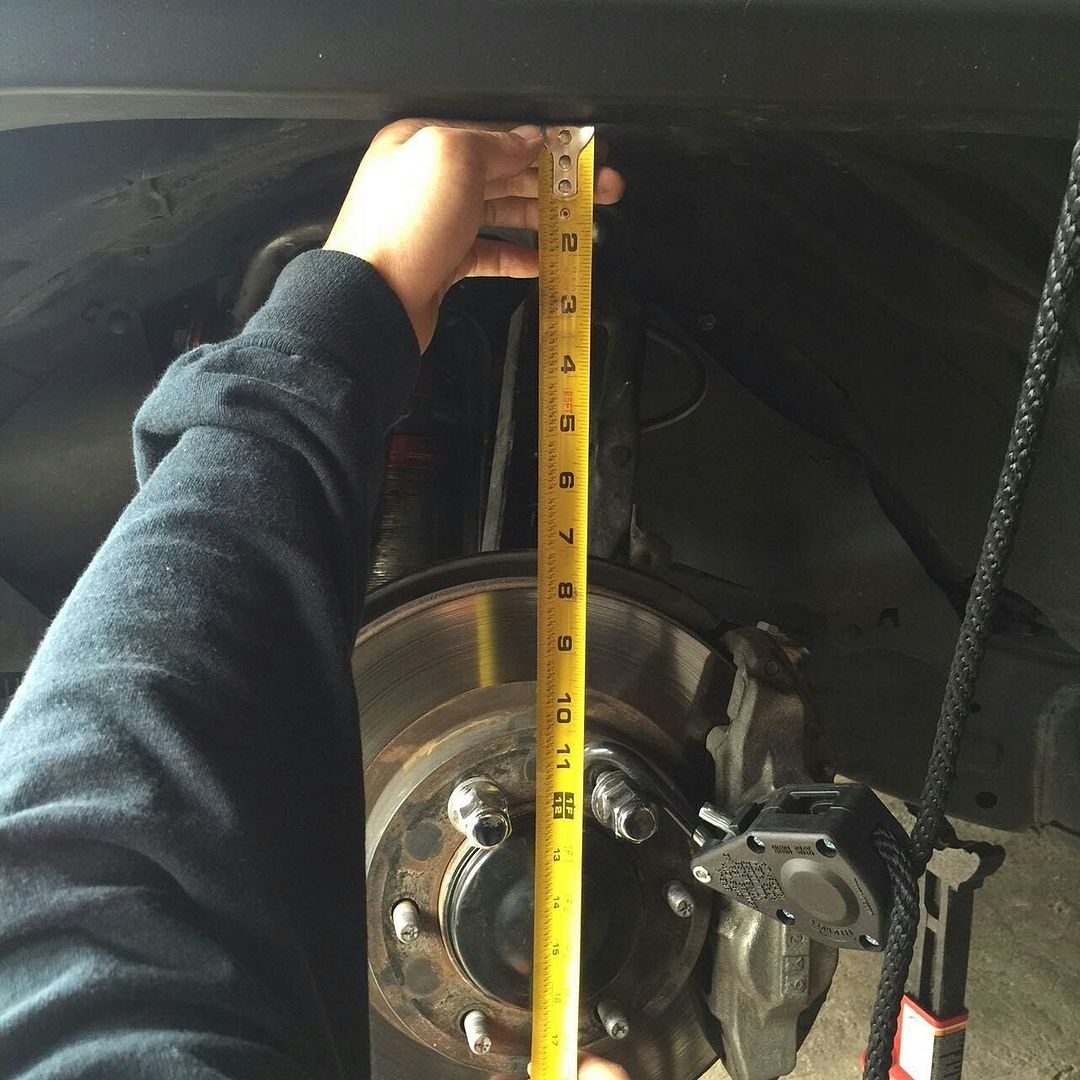 Full bump fender to hub: 14.5"
Total travel metal to metal: 12.25"
Things' position at full bump: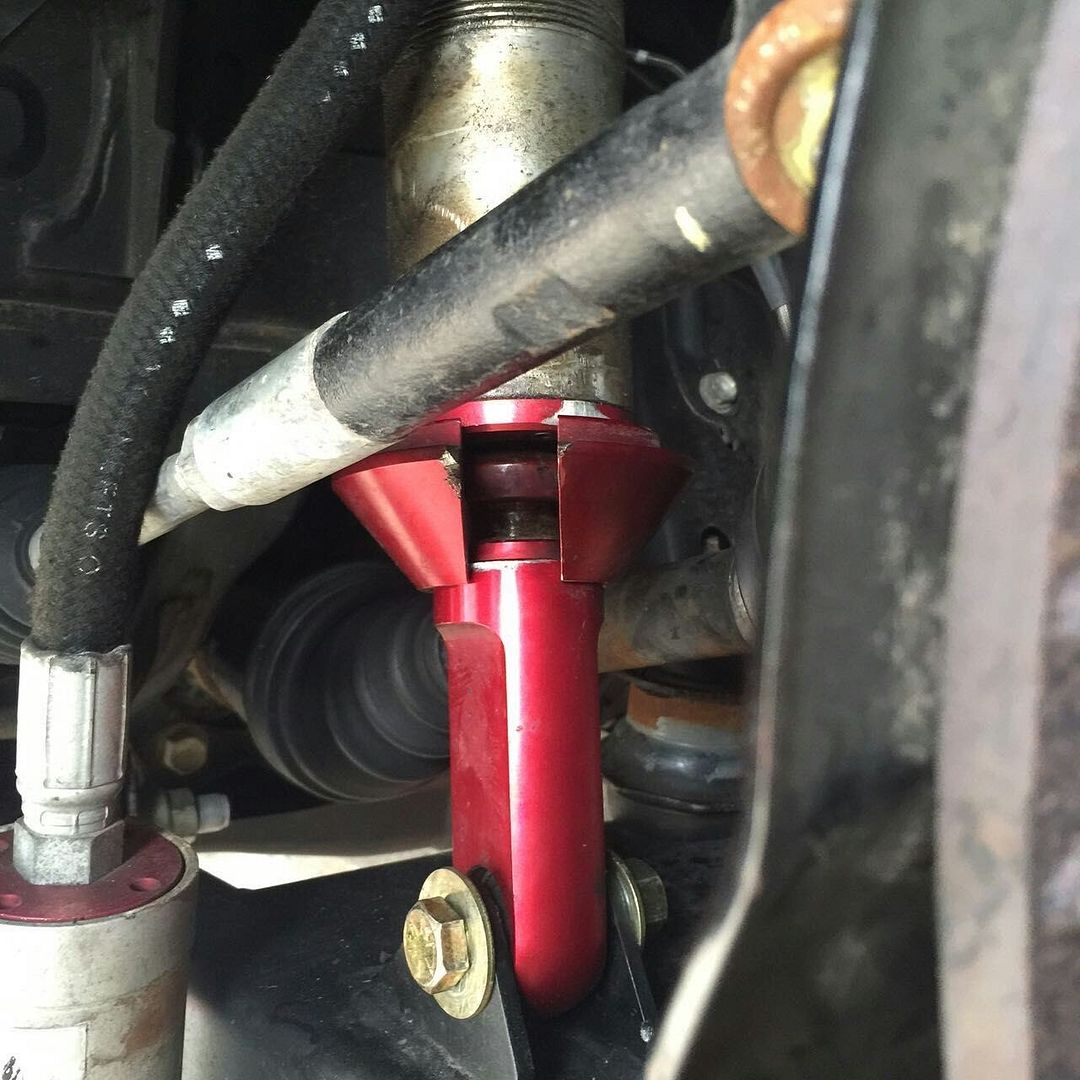 Shock is almost kissing its own bumpstop. LCA is touching the spaced down bumpstop (not sure if bumpstop is fully compressed).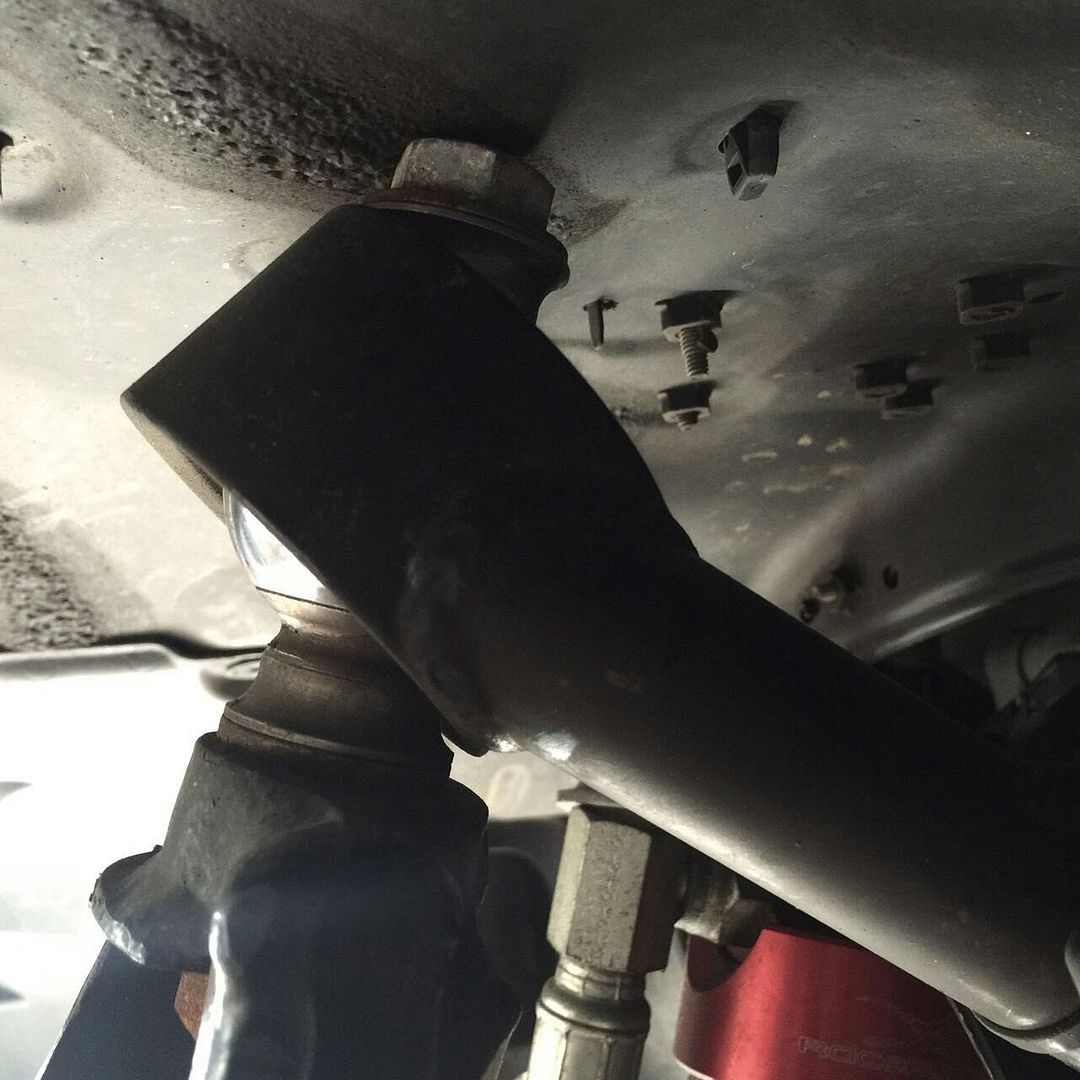 UCA uniball bolt is touching fender top. Uniball is close to bind as well.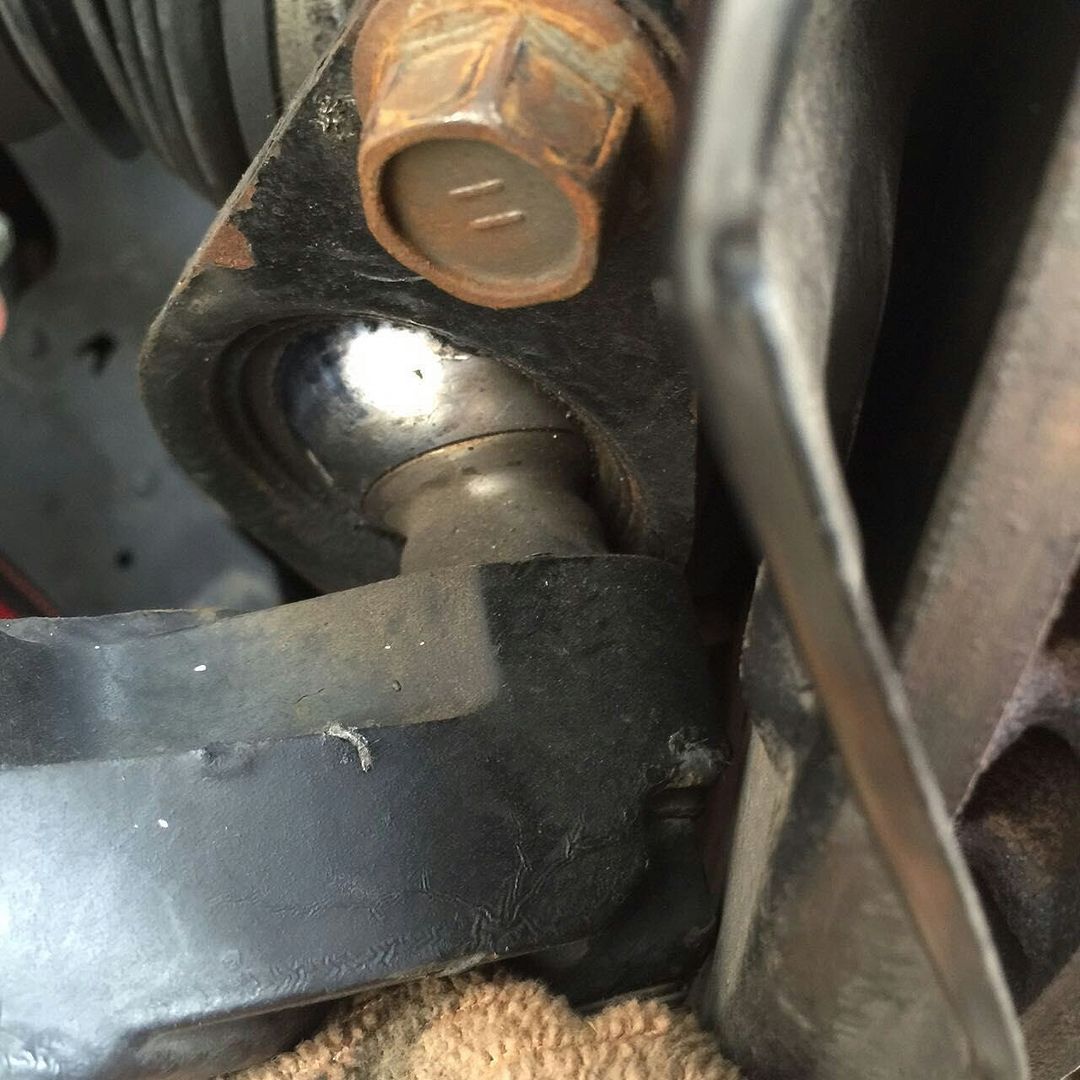 LCA uniball adaptor bolt is touching brake dust shield. Dust shield is bent. Forgot to see if it is touching the rotor. LCA uniball is also close to bind.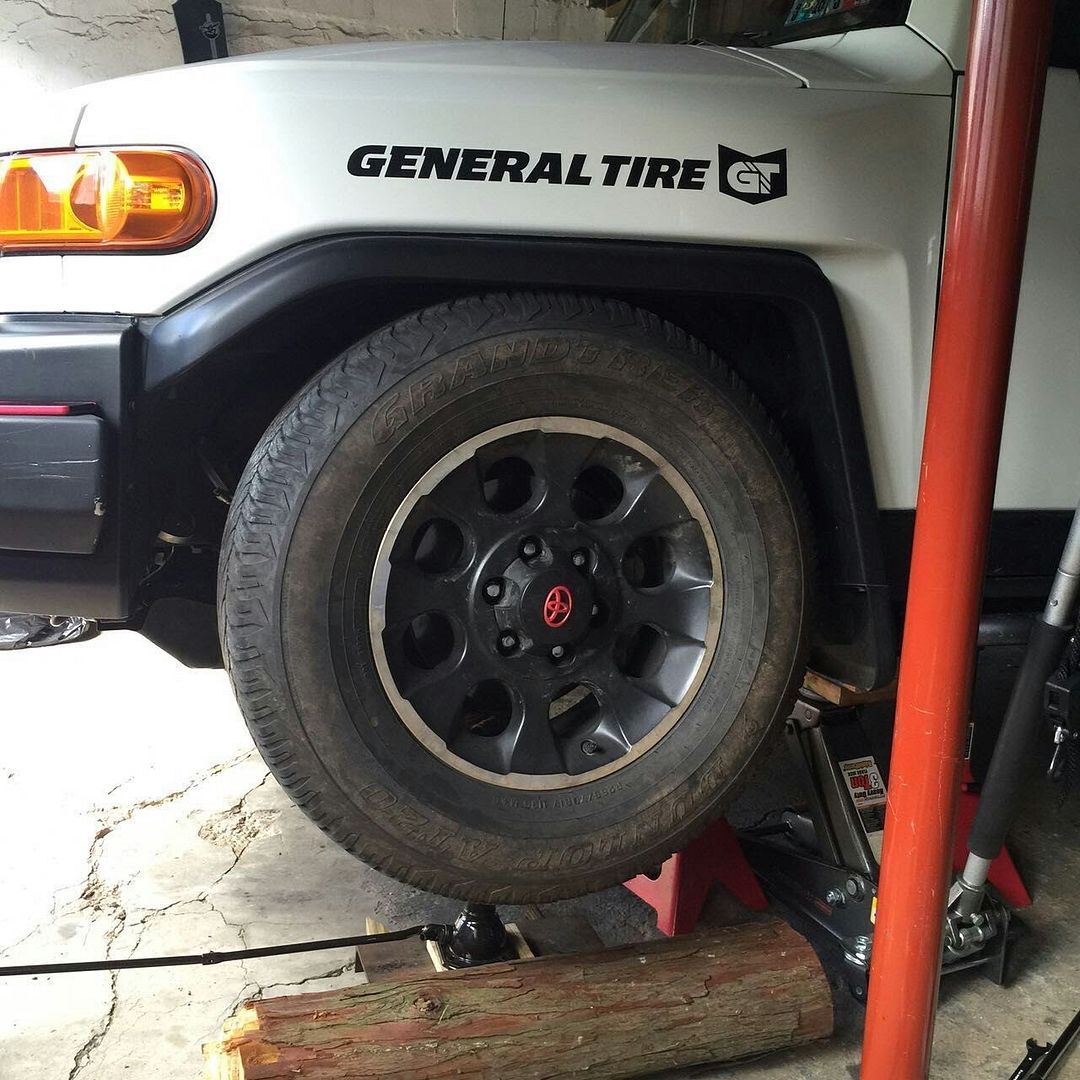 Here is bumpstop not touching. Stock 265/70/17 tire is touching fender flare. Lots of people go for bushwhackers or flareless anyway, but I personally like the look of stock flare.
Comments:
Bumpstop need to be lowered a little more.
My swayaway shocks are 1" longer than max droop can get (I had to disconnect LCA from knuckle to get the shock out). They are also close to bottom out at full bump. So a slightly shorter shock might be better.
When I first installed this setup, I set the LCA cam bolts such that LCA is farthest out (widest). I got barely 11" metal to metal travel. After alignment, my cam bolts are set to about middle, and I got what I have now.
It makes sense because droop is limited by UCA uniball angle, when LCA is pushed outwards, it make the UCA uniball angle worse and maxed out sooner.
Tie-rod is at a very ugly angle at full droo. It concerns my trustful mechanic.
II. Total Chaos vs All-pro LT?
Here I have only half hands-on observation. All-pro is purely based on internet research. But I have a few observation that I haven't seen people mentioned so I would like to discuss.
1. 1" vs 1.25" uniball and UCA design.
1" uniball comes in high grade fully stainless version. 1.25" only comes in commercial grade and the ball is chrome plated. So the 1" uniball will last longer.
However, paired with the right high misalignment spacers, 1.25" uniball can get about 11 degree more angle. Which I think is needed because as you can see my 1" uniball is close to max out bump and droop.
The 1.25" uniball also uses the recessed 12 point bolt top misalignment spacer, so it will have more clearance with the wheel well.
Hence, I do believe Allpro setup have slightly more travel than Total Chaos (but you are likely need their HD steering with offset tie road end). Allpro claim 12". And it should be realistic, usable travel because Allpro is shock limited droop.
2. Coilover setup.
This one need further verification. Allpro told me they use a shorter size coilover than TC. Which means the lower shock mount is further in towards the differential. Which in turns mean the road force on tire has more leverage. I call it "the geometry is softer" if it make sense... So it should be easier to compress with the same spring rate.
Allpro pair their Fox/Walker with 700 lbf-in springs (some 650 lbf-in before). My Swayaway comes with 625 lbf-in springs and I have never been able to touch my bumpstop during offroading. Even I hang myself on the bumper to simulate an additional 140 lbs weight. But I know people with Allpro setup can fully compressed easily. In order to use all my up travel, I plan to switch to some 550 lbf-in springs. Since I only do crawling, I don't worry about bottoming out after a hard jump.
III. Does it worth the price for just crawling?
Yes it does. Although it only adds about 3~4" of travel in number, it really keeps the front end more balanced with the rear and keeps the truck leveled. Last time at Rausch Creek I was looking to flex out the suspension, so I always picked a line that droops two diagonal wheels. But I never lose traction. The only one time I lifted a tire, I lifted one rear tire and it came right back down. While my friend with regular 3" lift will lift a front tire first, then tip over and the diagonal rear lift off. Might be just happen to be the lines we picked though.
Notice with 285/75/16, I wasn't touching the fender flare. So there is still an inch or two of uptravel I wasn't able to use. It will be interesting to see how 550 lbf-in spring will change things.
Side comment: I once removed the rear swaybar in hope of getting more articulation. By loosening up the rear, the rear became way softer than the front. The rear will flex a lot, and the front do much less. The whole truck will lean alot during articulation although all four wheels are on the ground. I ordered some Skyjacker extended swaybar links for the rear and it is much more balanced and leveled.