I made the cover of 4Wheel & Off-Road mag!
We were at the end of our Mojave Road trip and met the Editor-in-Chief, Rick Péwé in Afton Canyon. He introduced himself then proceeded to takes photos and videos of us and our rigs. It was quite a surprise when I saw the cover posted on their facebook page.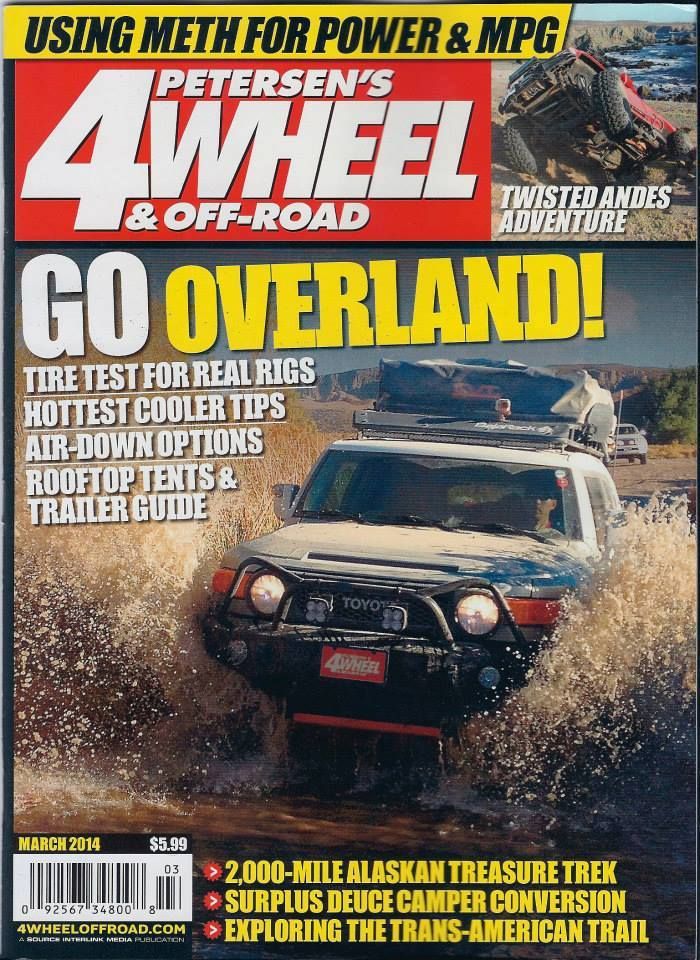 The first time I had seen an FJ was back in the winter of 2006 while in Mammoth, CA during a ski trip. We had stopped at a snowboard/ski shop to get me some board shorts for the jacuzzi, because I had forgotten mine. While coming out of the store, I was looking down a row of parked cars in the lot when I saw a very uniquely shaped bright blue SUV. What the hell is that!? My best friend Dave and I investigated. It was damn cool for sure. Nothing like it. We pressed our noses against the windows to look in. Wow, check out that dash! It was my kind of style. The modern details were nice. I did notice how small the rear windows were and said the visibility must suck in this thing. We gawked and talked about it for awhile then left. I never had the urge to pursue it any further until years later and this is where it all begins.
I was thinking about a more capable off road vehicle one day while driving back on South Main Divide Rd. in Southern California from a photo shoot at the Tanaja Waterfalls in the San Mateo Wilderness. I was driving a Honda Element 4x4. It's a great little SUV with lots of room inside. When I got home I started the search. My first choice was a Xterra 4x4. I had always liked the design, but it was small and the wife told me you won't be happy with that. She knows me too well. She always liked Jeep Wranglers and especially the newer 4 door models. I started to research the FJ online and found two enthusiastic forums. I dug in and read these forums day and night. Then I started my search for my FJ through various online dealers, ebay, craigslist, etc. I found several through local dealerships and went for test drives. I test drove several for about two weeks and then a clean 2010 Silver Fresco popped up at a nearby dealer. It only had 35k miles on it and looked like it was never driven off road. I drove to the dealer then took it home on March 28, 2012.
I haven't been this crazy over a car since my younger days in the early 90's and my first car, a black Nissan Hardbody truck, the "Black Celebration" (I was a huge Depeche Mode fan). I lowered it, put on some low pros and rims, topped it off with a Pathfinder style shell, dropped in a carpet kit in the truck bed and installed a new audio system. That truck was one hell of a fun truck. I used to cruise that thing with a set of Cerwin Vega house speakers with 15 inch woofers in the back. It got a lot of use since I DJ'd back in the day.
I feel like a kid again having my FJ. I wasn't sure when to start this build thread so I waited until I had a few mods under my belt. I've been on the FJ and SoCal FJ forums a lot lately. I mean day and late night a lot. It's true, I've read it many times in the forums. It's addicting.
Stock & Bald
Into The Build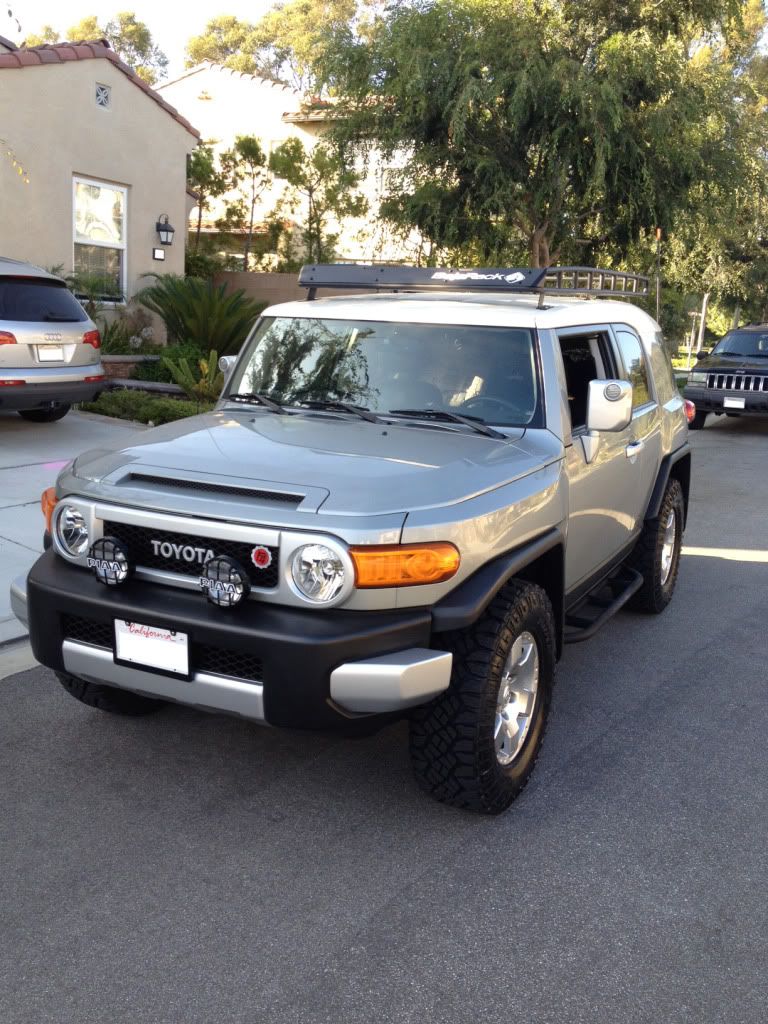 "Into The Wild"
My first encounter with the nature was back in the early 70s living with my grandparents in a rural part of Alabama in a small town named Weaver. It had one stop light. My Dad and I had moved there from South Korea, where he was stationed during and after the Korean War. The house was situated on property facing two lakes with four neighbors including the Sheriffs recreation hall and firing range. It was a great place to explore as a kid. This is where I learned to love nature. Fishing, hunting, and just getting into trouble in the wild with my Beagle and Husky at my side. We moved away to California in the mid 70s and I sought out nature in the suburbs of LA after high school. I started to mountain bike and that quenched my wild side and up until recently I began to backpack. I summited Whitney in 2011 and won't ever forget that five day epic journey into the backcountry of the Eastern Sierras. So naturally, my FJ is dubbed, "Into The Wild" (the title of a good book and movie too).
My goal for the FJ is making it a more capable off road rig for running desert and mountain trails. Maybe like an expedition style FJ. I like the idea of making it a base camp for further exploration on foot.
FJ Mods

Audio
Pioneer AVIX-8100NEX
Polk DB 6.5" Componenst (front doors and dash)
Polk DB 6.5" Coax (rear seat)
Polk DB 4" Coax (rear pillars)
MTX Audio 10" subwoofer (rear cargo shelf)
Alpine PDX 4 channel
Alpine PDX 5 channel
Metra Axxess Steering Wheel control module
Metra 70-8114 Steering Wheel Control Harness (factory AUX works with new head unit)
Scosche head unit install kit
Stinger power and audio cables
Monster speaker cables
Subthump subwoofer box (rear cargo shelf)
Armor
Expedition One Diamond Trail Series Bumper
Expedition One Swing Out Rear Bumper
Trail Gear Sliders
Ricochet HD Skid Plate
Ricochet Front Lower Control Arm Skids
Roktek Rear Control Arm Skids
FJToyman Rear Shock Skids
Electrical
IBS-DBS Dual Battery System
Sears Die Hard 31m Battery
Odyssey Group 34 Battery
sPOD Switch Controller
sPOD Remote Switch Module
sPOD Bluetooth Remote Control with iOS App
AC Vent Panel Switch Mod - 6 OTRATTW LED Switches (lights)
Blue Sea Fuse Box
Blue Sea Power Outlet
Blue Sea USB Outlet
Relocated Superwinch Solenoid in Project Box
Blue Sea SafetyHub
Lights
40" Baja Designs LED Stealth Light Bar (roof)
(2) Baja Designs XL Pro LEDs (front bumper)
(2) Baja Designs XL Pro LEDs (cowl)
(2) Baja Designs SII LED lights (blind corners)
(2) Baja Designs SII LED lights (rear roof)
(2) Acrolights LED Driving Lights (front bumper)
(2) Acrolights LED Reverse Lights (rear bumper)
LED dome/map/mirror lights
Suspension
Icon Stage 1
Icon Tubular UCAs
OME Rear Heavy Springs
Icon Rear Control Arms (lower and upper)
Icon Panhard Bar
Tires & Wheels
Goodyear Wrangler Duratracs
17" Method Mesh Wheels
Communications
Yaesu FTM-400DR dual band ham radio
Comet dual band antenna
Comet lip mount
Midland 75-822
3' Firestik
Bandi CB Mount
Storage
Bajarack Low Profile Rack
Fourtreks Hi-Lift Mount
Fourtreks Shovel/Axe Mount
Springtail MPAC Rear Door + Molle Bags (First Aid, Survival, Misc)
Springtail MPAC Saddle + Molle Bags (CB, Knife, Leatherman, Flashlight)
Industrial Forming Panamint Rolltop Console Cover
Custom Built Drawers (Recovery Gear and Tools)
Tie-downs mounted on top of drawer
Pelican cases
Front Runner Wolf Packs
Recovery
Superwinch Talon 9500 with Synthetic Rope
Factor 55 Thimble
Hi-Lift 48" Xtreme Jack
Hi-Lift Lift Mate
Hi-Lift Tube Adaptor
Hi-Lift Jack ORB Base
Fiskars Chopping Axe
Fiskars Digging Shovel
ARB Snatch Strap
ARB Tree Saver Strap
ARB EZ-Deflator
Smittybuilt Black Shackles
Powertank 10# CO2 with X-Flo Regulator
Powertank Tire Gauge
Powertank Tire Plug Kit
HalGaurd Fire Extinguisher
Other
UltraGuage
Ellis Precision AT Stealth Black Shifters
Ellis Precision Stealth Black Ebrake
Ram Mount for iPhone
Ram Mount for UltraGuage
Ram Mount for iPad 2
Airaid Cold Air Intake
Borla Dirt Sport Exhaust
BD Customz Cowl Light Mounts
Shrockworks Washer Bottle
Shrockworks 2nd Battery Tray