My 2011 as she is right now.
She is my second FJ.
Current Mods
DO single hoop front bumper
DO 3 stage sliders - No longer in production
Expedition One rear bumper
Expedition One Washer Fluid Reservoir
Sway-A-Way front coilovers
ICON Tubular UCAs
Ricochet HD, transmission, transfer case, and control arm skids plus rock blocks
Bandi Mount
Cobra 75WXST CB
Scuba Mod
Nitro 4.56 gears
ARB air locker
ARB air locker compressor
Cooper S/T Maxx 285/70r17
on stock rims / Federal Couragia MT for beadlocks - I swop depending on terrain
Blacked out
Pioneer TS-A878 3.5" speakers in dash
Kenwood KFC-G6930 6x9 speakers for the doors
Superwinch Talon 9.5 SR
Factor 55 ProLink
48" Hi-Lift jack
DO jack mounts
DYI shovel mount
Spidertrax 1.25" spacers
Pathfinder Recovery Gear Snorkel
Cragar Black Soft 8
17x8 rims converted to beadlocks
Pioneer AVH-X5500BHS
Body Mount Chop
Bones Off-Road Dead Pedal
Ellis Precision Black Billet Shift Knobs - Stealth
Metal-Tech Rear Long Travel Stage 4 Kit
(Aug 8, 2014)
Rocktek Shock Armor
Redline Lower Link Armor
Viair Constant Air Onboard Air System
Resz Fab Light Bar Mounts
Opt7 C2 Series 50" LED Light Bar
on front
STV Curved 40" LED Light Bar
on rear
Wish list
All Pro Rear AntiRock Sway Bar
BudBuilt Tummy Tuck
Inchworm
/
TG Verso
or similar
Gobi Stealth Rack
Had in the Past:
Light Racing UCA
Ricochet bash and engine
Redline rear lower links
Outrider rear link skids - front only
Forward facing camera
Items on my first FJ
ICON stage 1 lift
DO 3 hoop front bumper
DO Hybrid sliders
Smittybilt XRC8 winch
Ricochet bash and engine skids
My first FJ....
Bought on February 29th, 2008. Here she is stock.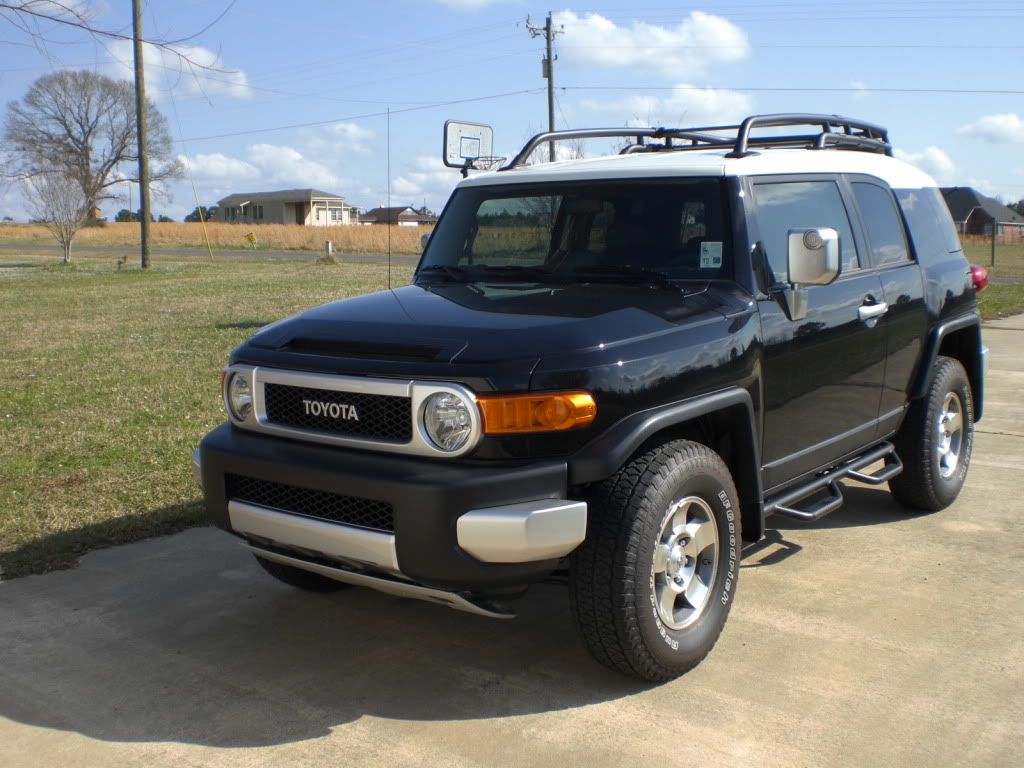 My first mod was to get rid of the BFG Rugged Trails and put Yokohoma's on. They aren't the best for offroading, but I still wasn't doing much.
January 2010 all changed! A coworker was teasing me about owning the FJ yet never taking it off road and told me about Barnwell Mt, in Gilmer, Tx. This was just before the
Texas Lone Star Toyota Jamboree
. You can read my thread at
Barnwell Mountain Review Jan 9, 2010
.
A few days later, I decided to go to the Jamboree as a spectator just to see what people had done to their FJ's. My primary purpose was to see the ARB bumper because I was thinking about getting it. But I wanted to see other bumpers as well. This is where I met Jason DeMello and decided his was the bumper I wanted. It was also here that I realized that I needed a lift kit.
Finally in May, I started my build!
First sliders - DeMello hybrid's I bought on the tail end of his GB - bare metal that I primed, painted and installed.
Next was a simple scuba mod then window tint.