Mad's "Dark Angel"
The Creation of a DARK ANGEL​
Before we get started I want to say this was built to wheel, play in mud and use as a daily driver.. It is NO MALL CRAWLER and has the Scars, dents n repair list to prove it.. and yes Even pictures to back it up!
Now, How the FJ came to be;
WHile i was deployed to Iraq With My unit in 2006-07 my wife did this to my Ford F-150........

After My Military deployment with Special Forces & back home decided to go back to Iraq on contract. SO, Just prior to going back over seas, I traded MY truck in for the wife a new 07 Dodge Nitro, leaving me with No vehicle,and no toys for the first time in 25 yrs!
SO WHile working now On contract as a Field Engineer For SF.... I managed to get my hand crushed n had to be Medivac out back to the States for Recovery.... SO what do Guys do when completely bored n have no vehicles or toys to get introuble with?? HMM??
YUP!!! Traded the wife's brand new Nitro.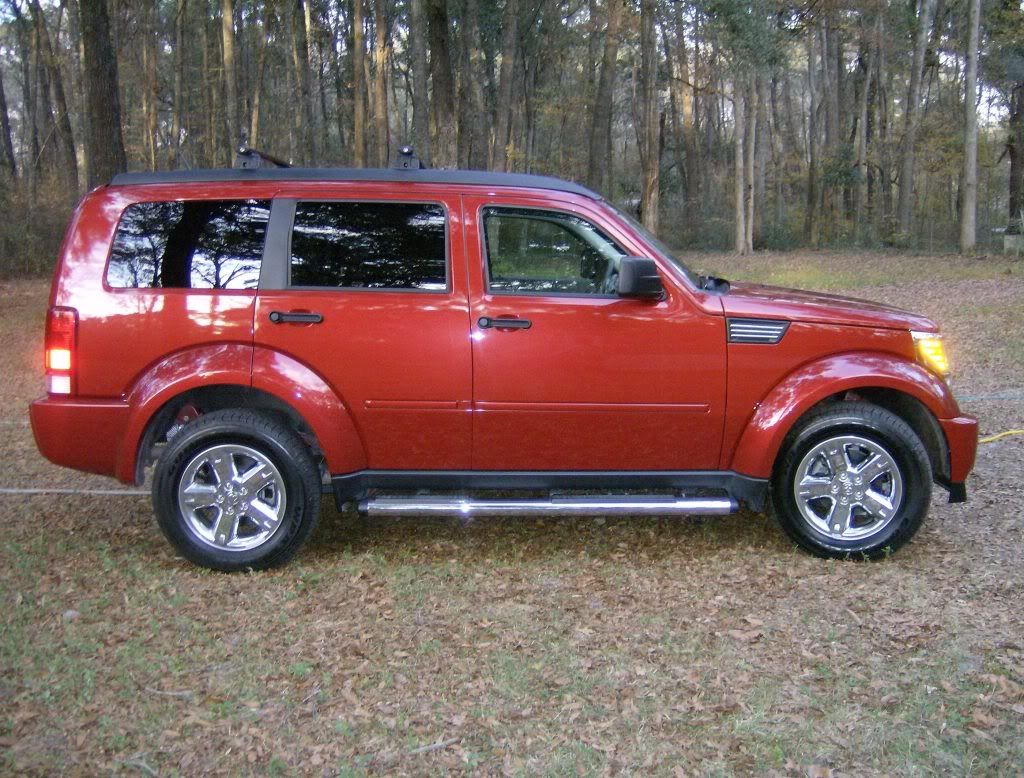 FOr This ....:clap:
Purchased Oct 31, 2008 Complete with Factory warrenty intact as the lift was Dealer installed Prior to signing final sale.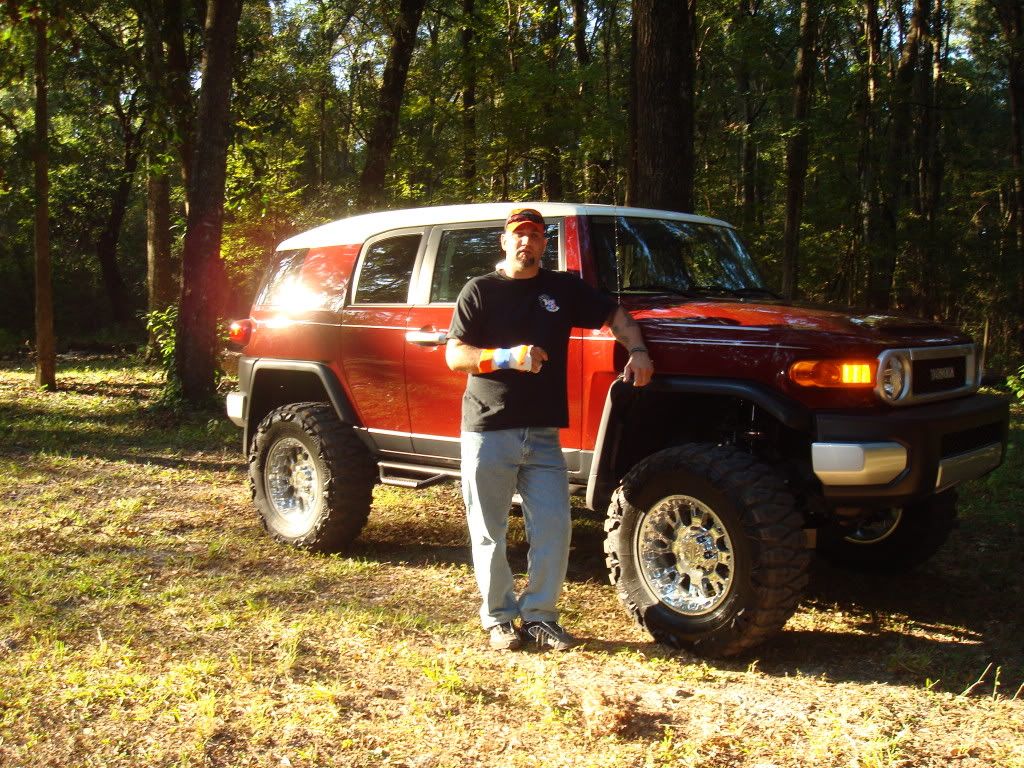 2 days later, I went back and got the OEM Roof Rack, and Hitch, installed.
The Road to ModVille
As I have never owned a truck that wasnt modded. I had thousands of ideas. Mods are slow & stretched out do to My working overseas. I am only home 4 weeks out of the yr and its hard to spend time with family, Go wheeling and Modify in 33 days!
See it transform​
Ok, Here is what has been done to date!The Stuff that been added or done to get it to look and perform the way it does
AS it was @ purchase, Dealer Equipped
08' Brick, w/ Automatic
Convenience Package
Rear Differential Locker
OEM roof rack
Hitch
Dealer Added Equip (Installed By Earnies Southern off Road)
Pro-Comp 6" Stage One Lift
18" 956 MotoMetal Wheels (chrome)
35" Nitto Mud Grappler tires.
Nerf Bars
Performace
Safari Snorkle
K&N AIR Filter
Scuba Mod (Own Design)
Wheels and tires
Matching Spare
1.25" Wheel Spacers front and rear (ALL-Pro)
Lighting
Light Bar
2x) All-Pro 8" 130w Lights
2x)All-Pro 6" 100w Lights
AeroFlow tinted headlight covers
Comms
Cobra 29LTB BT CB Radio
6' Fire stick Antenna
Hand Held CB(For when your out of the FJ)
Electronic stuff
Garmin GPS
A-Trac Switch
VSC Hack
6 Position Fuse Panel for Accessories.
Armor
One off Custom Front Bumper.
Recovery Gear
Smittybilt 10k Winch
Extreme High lift Jack 48"
Shovel & Axe
ARP Tree saver
ARP Tow Strap (30ft)
Rease tow strap w/ hook ends (30ft)
Bubba rope (30ft)
Snatch Block
Gear bag
15lb Power Tank
Snap-on 25ft Jumper cables
D-rings Front and rear. Reciver Mounted D-ring
Safety
Military Spec First aid Kit
Fire extingusher
Interior
added a dash mount for camera or camcorders
Tinted windows
SpringField Solutions mPac Side Rack and Center console rack
Built in Permanent mount for Power tank
Exterior
Four Treks shovel and axe mount
Fourtreks High lift Mount
Custom Ameasing Hood Decal (installed, but SHop screwed it up! Gettiin WHole hood blackout)
Complete Black Out
Later Removed all exterior Plastic.
Body
1.25" Toytec Body lift (Ernies Southern 4x4)
Body mount Mod
BiG Dent in Pass Door (curtisy of Eldest Daughter)
Various Scratches(pin strips) from Trails
Dreamers Ideas... got wait for the wallet to catch up.
rear Bumber with swing out
One of a kind Rock rails (Building myself)
Black out center of wheels
Modify and install custom floor section on roof rack
Belly armor
Exo Skeleton Roll Cage
One of a kind full Custom Complete Fiberglass headliner
Dual Battery set up
Bushwacker Fender flares
And many many more
As I mod the FJ, I will Continue to mod this thread.......:rocker: