I'm still trying to find a name for my FJ but here is my buildup so far
Most Recent:
Now on to the build..
When i got my 2007 Black Diamond FJ Cruiser Upgrade Package 2 i think.. it was the summer of '07 and i was a 15 year old and was given this machine as a gift from my grandfather (yea lucky i know) and i knew nothing of the off road community.
Bone Stock (with 'upgraded tires' i couldn't find and O.G. pics):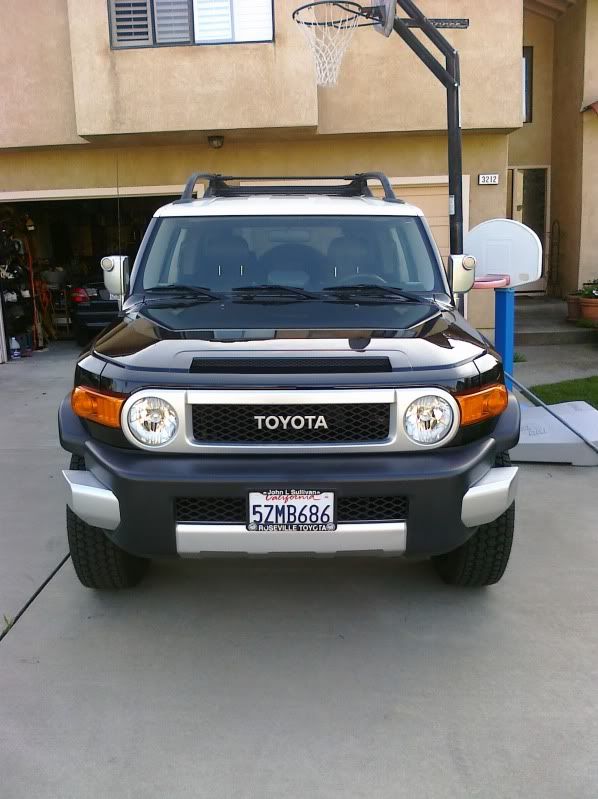 My Sound System of choice
JL Audio Stealthbox with an Eclipse amp and Custom Bass Tuner: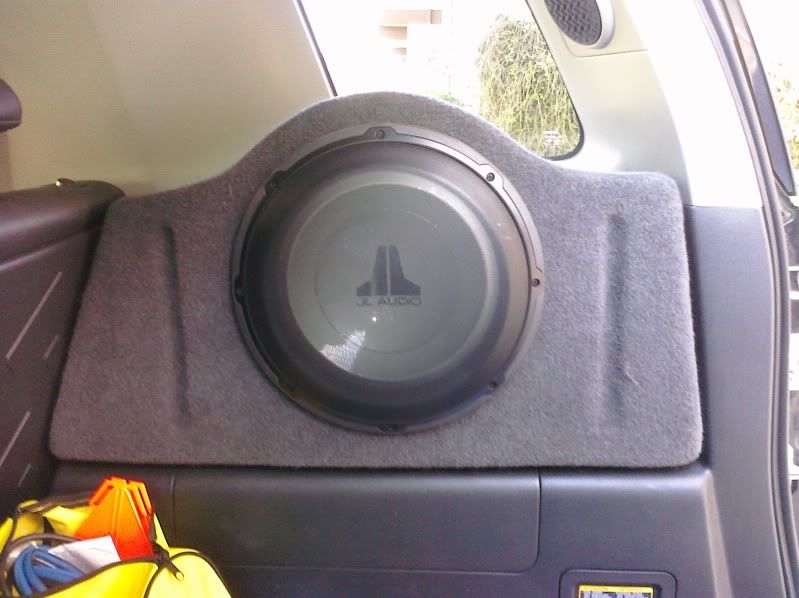 I ran over a motorcycle kick stand on the freeway blowing out my rear passenger tire and forced me to replace the 'Dunflops' with something a little more aggressive on my mom's dime! :big thumb:
I, knowing nothing of the aftermarket world at this point listened to the America's tire sales man like he was a god of tires and agreed to the GoodYear Wrangler AT/S in a 275/70/17 size
Thinking i was super badass in these aggressive all terrain tires i decided to do some puddle jumping in the flooded areas at my high school, which i think was where the road to off-roading began!
And some weak mud behind my buddies house: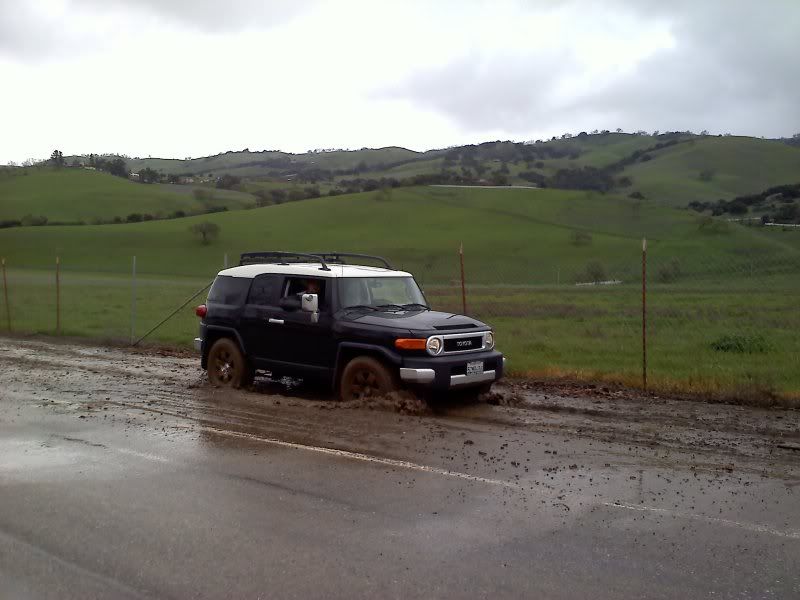 One day after hearing my buddy roll up in his lifted chevy i had to make my FJ sound mean! So i took it to a shop in San Jose and they did me right with a custom dual exhaust set up with a Flowmaster 40 Series muffler!
Before:
CIMG0016.mp4 video by LumbaJak - Photobucket
weeaaakkkk
AFTER:
CIMG0017.mp4 video by LumbaJak - Photobucket
:rocker:
haha i'm in love with the exhaust, makes it sound like a v8!
The summer after i got the exhaust done i figured it was time for me to get into serious off-road stuff! so i bought a brush guard off ebay lol we all need to learn the hard way sometimes: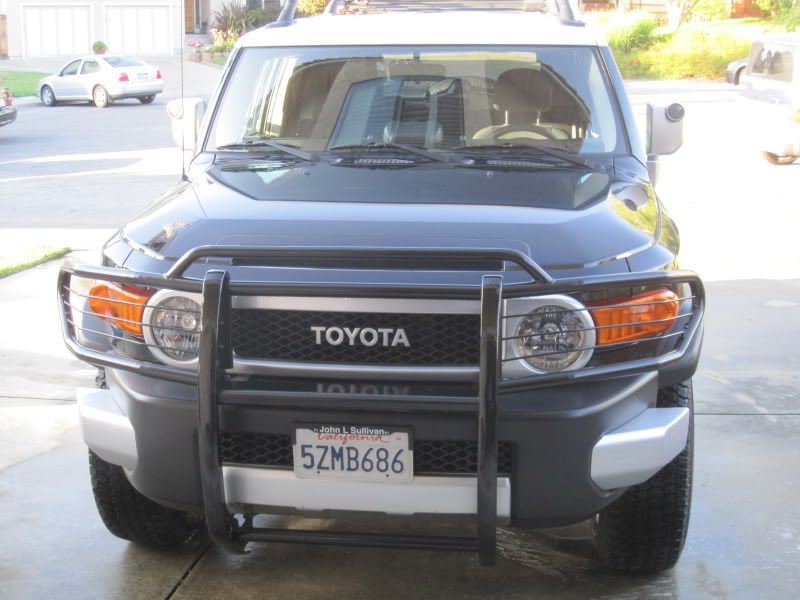 After getting back in touch with a buddy from high school who has a 100 series (built to be off-roader not street queen like mine was at first) taught me the no-nos of a brush guard and said i needed real armor!
Then came the GB for the All-Pro Sliders and i had to have them!
rattle canned them myself with rustoleum: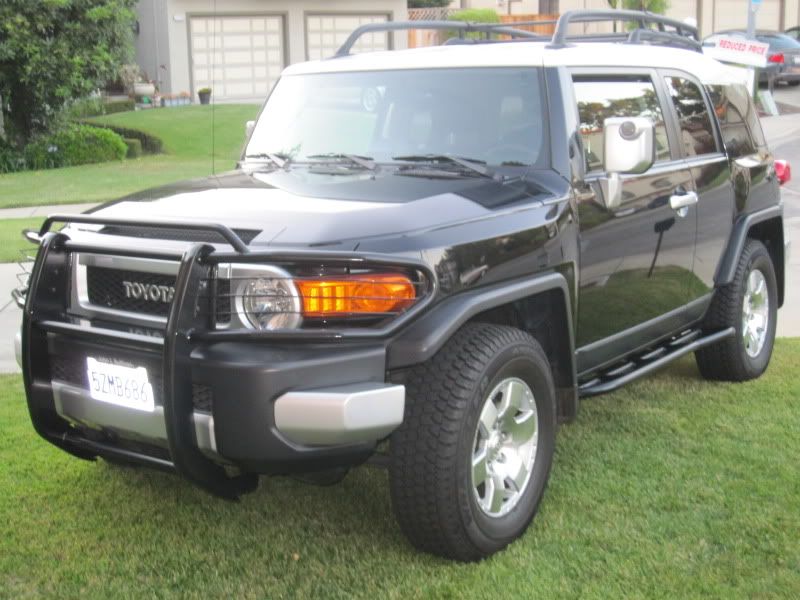 Now i'm starting to look legit haha
My Buddy with the 100 Series recently installed an ARB on his rig and highly recommended one for the FJ. With some research on this forum and norcalfjs.com i picked up a used one from a local FJ member for dirt cheap!
she hit a cow going 55mph and only a slight dent and her insurance paid for a new one, her gain = my gain haha: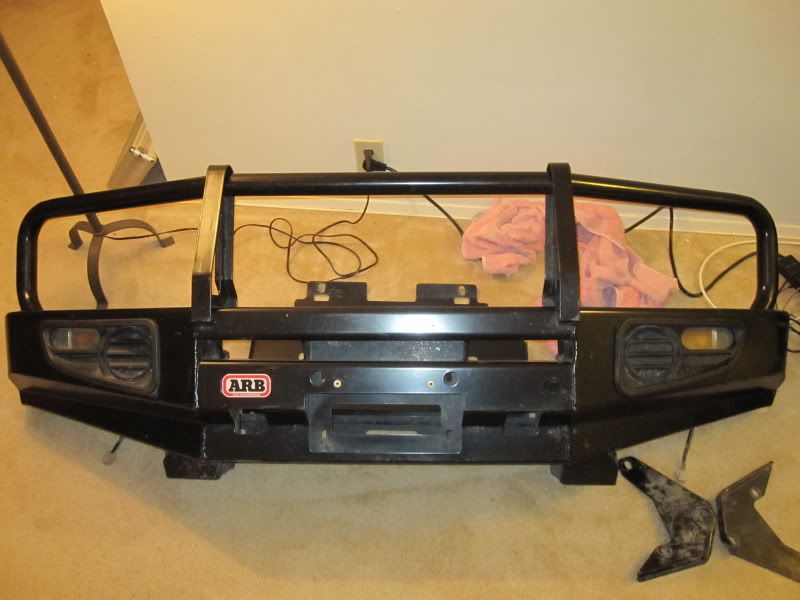 After thinking about not wanting the front end to sag with the added weight of the ARB next on the list was a lift. there are so many options so i decided to go with a good lift for a decent price but nothing over the top. And i ended up with what i think is kind of a chopped and screwed lift with Bilstein 5125 rear shocks with Toytec Springs: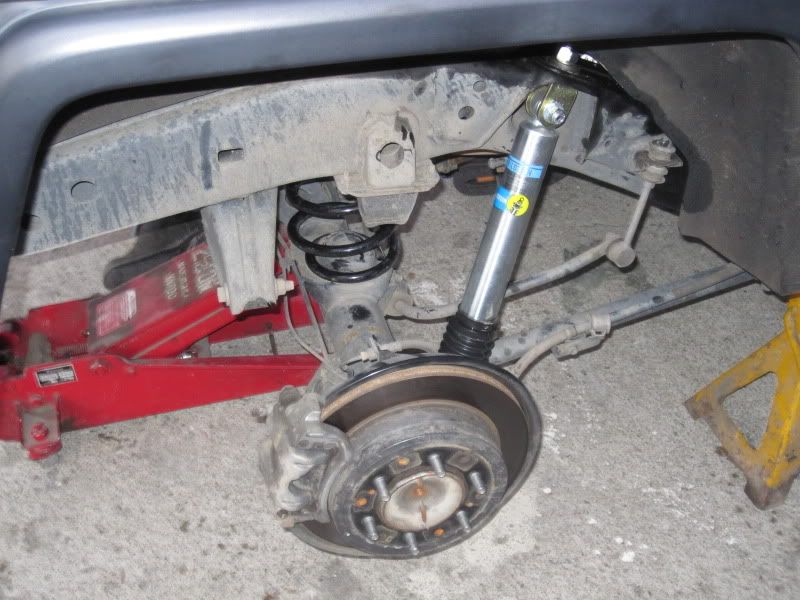 and Bilstein 5100 front shocks with OME 885 Medium springs: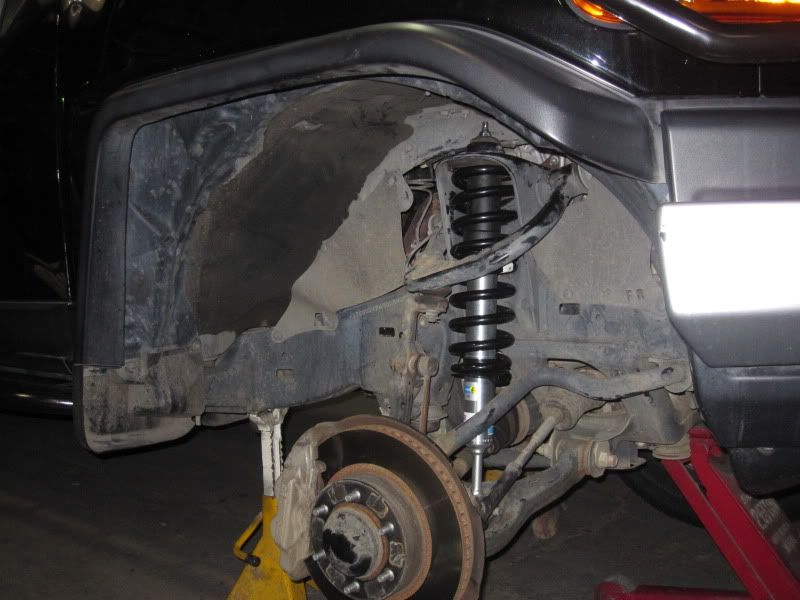 After many months of procrastinating on buying the bolts for the ARB i finally installed a week ago and I LOVE IT I also plasti-dipped the grill and rear bumper but didn't take any pics of them by themselves during painting: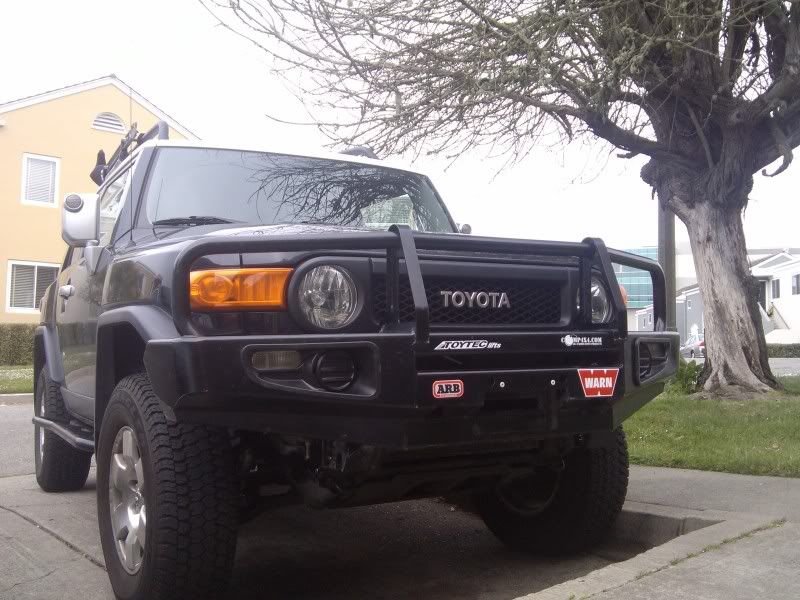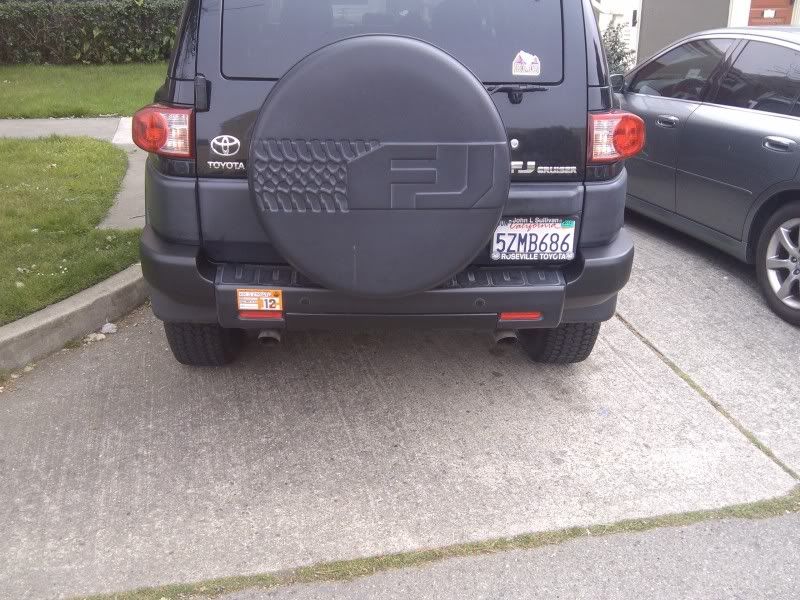 Better safe then sorry so i pulled the trigger on some Ricochet skids (just ARB filler and engine):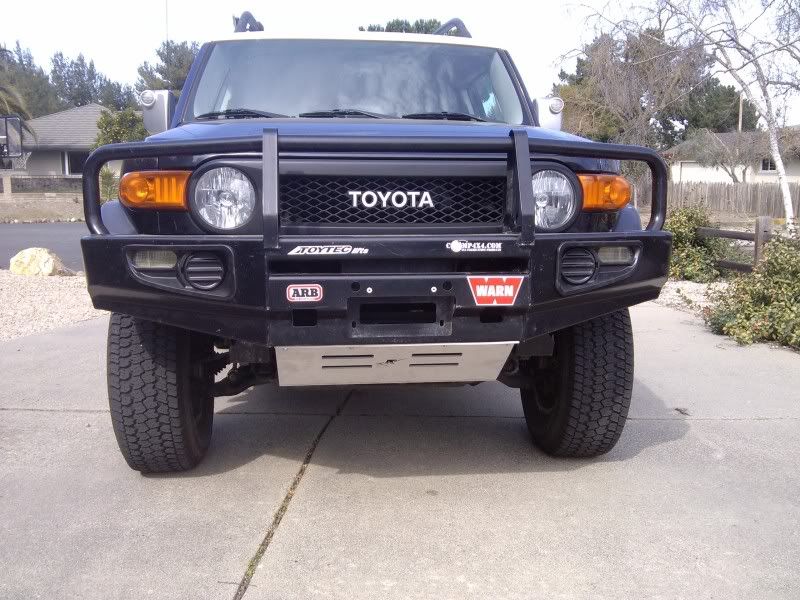 Finally popped my off-road cherry and ended up with some trail damage, knew the dual exit was too good to be true! :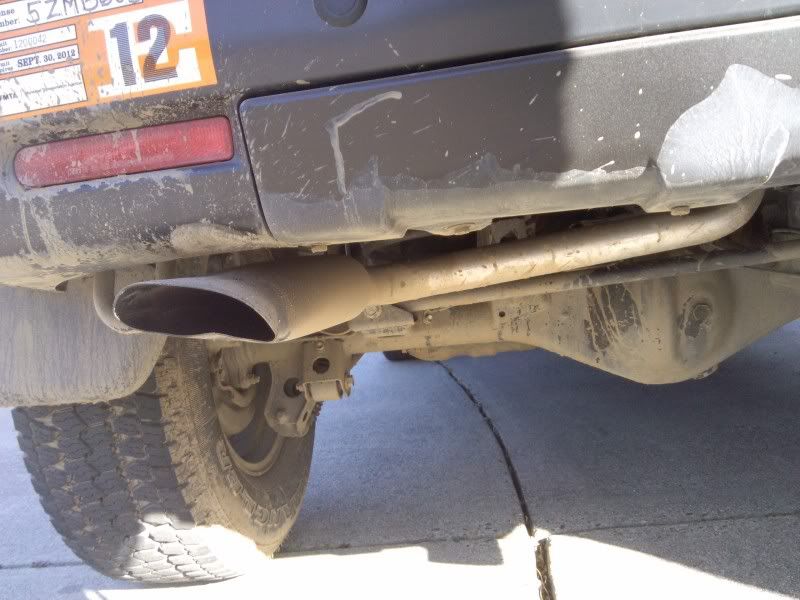 And thats about it!..... For now!
The Mod Bug is always lurking...