·
can i become 1/2mil90 for a little while
Hello.
I wouldn't really call this much of a build up but rather build to date. I started looking at FJs when my brother purchased one new in 2008. After seeing how capable his was off road I decided I had to have one.
I purchased my FJ in May 2010. It is a 2007 model, equipped from the dealership with the Convenience, Upgrade, and Off Road Packages, as well as the TRD exhaust. 14k miles when I pulled into my driveway.
Pic Update:
Mods:
ARB -
front bumper with IPF fog lights
rear bumper
full rack
fridge/freezer
IPF -
2 - 968 driving lights on bumper
4 - 868 lights on rack
1 - 4x6 reverse light on rack
Springtail Solutions -
Pet barrier
Rear door
Vent rack
Body mount chop
3" lift
18" XD wheels with Goodyear Silent Armor tires.
Rechargeable StreamLight "Stinger", mounted to pet barrier.
Blacked out handles, grille, mirrors, and park lights.
Old: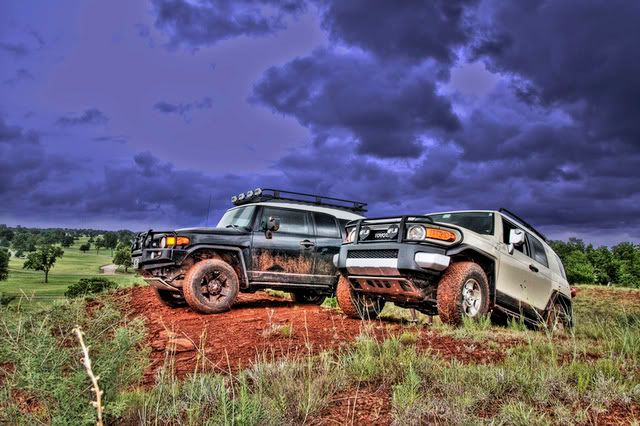 Thats about it for now. I need to start putting money away for another project.
Thanks for looking. :cheers: