2008 Toyota FJ Cruiser Trail Teams Special Edition
Discussion Starter
·
#1
·
December 2016 Member of the Month: mikey




We'd like to congratulate mikey - Rob for being selected as the December 2016 Member of the Month.
Hayden
: Tell us a bit about yourself (age, family, school/job, hobbies, where are you from, how long you've lived where, etc.)?
Rob
: My name is Rob and I hail from Edmonton Alberta Canada, currently residing in Houston Texas. My age is a secret, I am my own family, I have a niece and nephew I spoil rotten. I have worked in the Oil Patch for the last 22 years. Currently in sales which right now is a tough gig. When things are good… they are good, when it is bad…… it is tough. Before I started working in the patch I was a cake decorator. Yep, me….. cake decorator. Had the white outfit, pipping bag… the whole shebang.
Hobbies – I enjoy wood working and working on anything mechanical. Music has also been a big part of my life growing up and still is – hence some regular contributions to the
guitar thread
. I have been a student, a teacher, a pro. There have been some talented individuals who even let me share the big stage with them. Very typically Canadian, grew up playing hockey, coached hockey and recently ended hanging 'em up. Never even came close to making it to the bigs but I still love the game. It's not the age it's the miles.
Hayden:
Is the FJ Cruiser your first off-road vehicle? If so what led you to owning an FJC? If not, what was your/the first vehicle you took wheeling?
Rob:
My first off road vehicle was the oldest of all – a horse. Eventually as I grew older it moved to dirt bikes, argos and snowmobiles. When I turned 13 I graduated to a 1973 Ford F250 Camper Special with a 390….. which had zero business being off road but hey…. I was young. After my Eurocar phase I picked up a K5 Blazer which I beat the crap out of off road. Also where I learned most of my creative wrenching… fixing stuff I broke.
What led me to the FJ? Right as the FJ was being released in 2006 I was driving a Z71 and saw this odd but cool looking blue thing on a car carrier on the freeway. All I saw was the Toyota logo, when I got home I proceeded to look it up on the internet. After spending majority of the next work day (Friday) reading, looking, and researching, I decided to head over to the dealership and have a look at one in person and take a test drive. After about 2 minutes into the test drive… I had to have one. When we returned to the dealership I put down a deposit on the only FJ they had left on the lot that was unsold – Base model 6MT Sun Fusion. Picked it up Monday after work – longest day ever - and on the drive home promptly picked up my first chip in the windshield. The FJ was my biggest impulse buy ever.
Hayden:
What modification has been your favorite or has been the most worth the money/time/effort that you'd recommend it to someone else?
Rob:
My favorite mod….. it's a tossup between two.
1) Clazzio seat covers. IMO they add just a touch of polish that the interior needs. They are comfortable on long drives and are straight forward to install,
2) Coil over covers. Probably starting to sound like a broken record but for how little they cost and the insane protection they provide they are the best bang for the buck.
Hayden:
What upgrade has been your least favorite, or what modification would you do differently if you had to do it over again?
Rob:
I would have to say the Snorkel. I love the look of them on other FJ's but somehow I am already tired of looking at it on mine. Maybe a roof rack or curved light bar will balance it out….who knows.
Hayden:
What future modifications do you have planned for your FJ Cruiser?
Rob:
Future plans…… good question. Right now it depends on the day you ask me. All kidding aside the next item on the list would be to get a set of matching KING coilovers for the front so I'm running a matched set. I will probably upgrade any of the major items as they need to be replaced, right now a strong candidate for replacement are my front lower A arms. Planning to go with TC as a replacement, probably overkill… oh well. What I am looking at right now for smaller projects is lighting. Additional interior lighting and external lighting. The hard part is finding exactly what I need and balancing it with what I want.
Rip Free!
Hayden:
You've been a member of the forum since 2006 and have even served as a moderator for us on the forums, how has the forum evolved over the years?
Rob:
The evolution of the Forum has been an amazing journey. At the beginning it was like a group of kids with a new toy. Everyone excited and posting new FJ pics, first off-road adventures, witnessed the birth of Summit in the chat room, the hot chicks thread, Leghumpers, forum wars and more. During the growing years the focus was heavy on modding – first lift, first SA, first long travel, HID, LED's the forum became an absolute breeding ground for ideas, products and thankfully detailed "How To" threads. During this time the forum developed into a strong community with the sharing of knowledge, helping each other out (wrench days), Organizing runs and local FJ communities started grow. In the later years there has been a greater focus on tech, repair and maintenance. The forums current feel….I would liken it to a couple old timers sitting around on a porch and complaining about whipper snappers but willing to share and teach when asked. The Forum has also seen relationships form & break, friendships forged, proposals and marriages. It has also rallied around those in need. Sadly, we have also seen the passing of Forum family.
Being a moderator – is tough, no doubt about it. Every generation of moderators has faced their own challenges. It is no easier now than when the first moderators were around. You really do spend a lot of time reading and keeping an eye on things and I enjoyed every minute of it. I'm glad I stepped down when I did as I needed the break. I am happy to step into the role again if ever asked again.
Hayden:
Where all have you been with your FJC? What trail/park/location is your favorite?
Rob:
I have been to:
Canada - British Columbia, Alberta, Saskatchewan, Manitoba and the Yukon.
US – Texas, Oklahoma, Louisiana, Arkansas, Mississippi, Montana, Washington
My favorite places... hmmm…. there would be two.
Canadian Rockies and area – if you have ever been or seen pictures you understand. And Louisiana – Met some locals in New Iberia who I followed out on a day trip. No idea where we went but man did we have a good time.
Hayden:
What trail/park/location that you have not been to yet would you like take your FJ to?
Rob:
The Eastern Seaboard and The Summit. It seems like every year something is getting in the way of my attending. I'm not even concerned about making a run I just want to meet the people.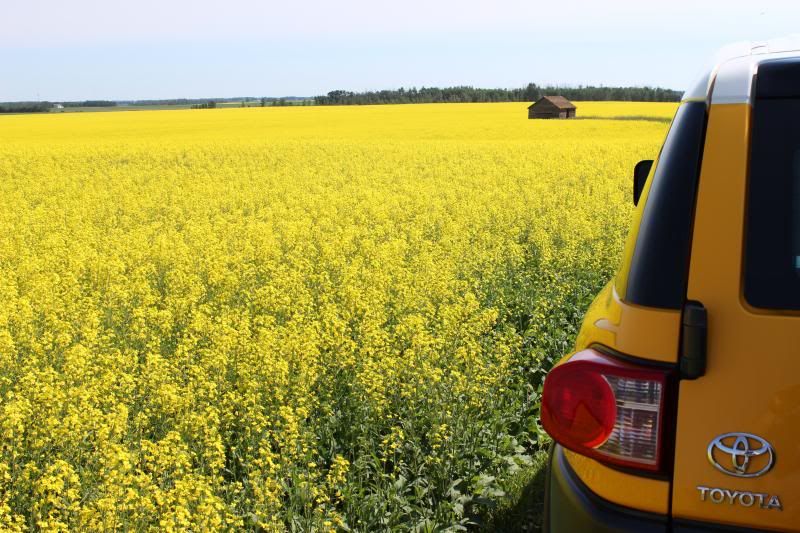 Hayden:
You've been a forum member and have been located in both Canada and the U.S. (Texas) at different times, what has the FJC community been like in those different places? Have you had the opportunity to meet up or go off-roading with fellow forum members in your travels? If so, who?
Rob:
I have been fortunate to have been in Canada and Texas (2x) and each day I am grateful. There is a difference for sure. In Edmonton when the FJ was first introduced there were a few locals who attempted to get something going, quite a few of the local members were on here and active. All we ended up doing was meet at a park, stand around and BS about the FJ and then go for a cruise. It didn't last very long. The FJ in Canada was more of a means of travel than a lifestyle.
When I got to Texas the first time it was a complete 180 deg from Canada. There was the HHH, members on the forum were active in the local scene, and wrench help was always available, organized runs, and get togethers. Definite community feeling. As with all things, over time member's priorities change, FJ's are sold and the community has drifted off. Just the evolution of things.
Me and Old Cruiser
Hayden:
What has the FJCruiserForums done for you and what can the forum learn from you?
Rob:
The Forum has become a place of learning, a resource and refuge from the daily grind.
Learn from me - Hopefully from my shared experiences and mistakes.
Hayden:
Has anyone on the forum inspired your build or been a go-to resource for you?
Rob:
There have been so many great builds over the years it is hard to identify one in particular that has been a sole inspiration or resource. Past and present the forum has had a great number of talented members on board which we are lucky enough to glean information and inspiration from. There are some "lost" builds in the annals of the forum historical archives that really should be bumped for reading.
Hayden:
What has been the most memorable experience with your FJ Cruiser?
Rob:
It would have to be the first time I took my niece and nephew off-road. It was a dirt road connecting farm fields and then into an area with big ol' dirt mounds. Hearing them laugh and squeal and shouting "Uncle, you're crazy!" Followed by, "Whoa," on some slight off camber stuff and when it was all over with, how excited they were to tell Grandma and Grandpa about the adventure. Mom was not too thrilled with me…….
Hayden:
What advice do you have for someone new to the FJ Cruiser or the forum?
Rob:
Spend your first few forum sessions reading everything you can, the forum is a huge resource. Don't be offended by anything. Keep your wallet out of reach for the first while when reading the Forum. Buy coil over covers dang it!
​