Discussion Starter
•
#1
•
December 2018 Member of the Month: FJ BRUZER
We'd like to congratulate FJ BRUZER – Gary for being selected as the December 2018 Member of the Month!
Hayden:
Tell us a bit about yourself (Family/pets, work/school, hobbies/interests, location, etc.)
Gary
: I'm 59 years young, born in Munich, Germany (Army Brat), married to a saint of a women (she puts up with me) – Home base is Cincinnati area, but I travel a ton for work (back to the married to a saint thing) as a Piping/Mechanical Field Engineer , have two dogs that we got from Rescues (always have and always will) – interests are travel, meeting new people, BBQ, Bacon, and just starting to appreciate fine bourbons.
Hayden:
How did you come to own an FJ Cruiser? Is the FJ Cruiser your first off-road vehicle? If not, what was the first vehicle you took wheeling?
Gary
: We were out @ Costco one day and drove by the Toyota dealer, wife actually saw it and said that looks like something you'd like – so I contacted their internet dept and worked a deal before ever setting foot inside the dealership. I have owned a 1998 TJ previously that was also modified and my 1st "wheeling" vehicle was a Full size Chevy blazer with 40 inch monster Mudders, got it stuck first time out.
Hayden:
How/when were you first introduced to the forum and what made you decide to join?
Gary
: I had previously been on the Honda Element Forum as a member and also the Nissan Cube Forum. I looked for a Forum and came across this one and the 1st weekend I owned mine, the Cincinnati group was having a meet-up, so I went – the rest is history.
Hayden:
What modification is your favorite or is the most worth the money/time/effort that you'd recommend it to someone else?
Gary
: SLIDERS of any kind – 1st time out I didn't have them and ending up smacking the side of a tree on a hill climb – just damage the passenger mirror, but the next day, sliders were on order.
Hayden:
What upgrade is your least favorite, or what modification would you do differently if you had to do it over again?
Gary
: My least favorite is the rear door storage net – I'd rethink and do the MOLLE panel.
Hayden:
What has been your favorite thing about owning an FJ Cruiser?
Gary
: Being incognito……….actually being able to go wherever I want, the FJ has proven itself well.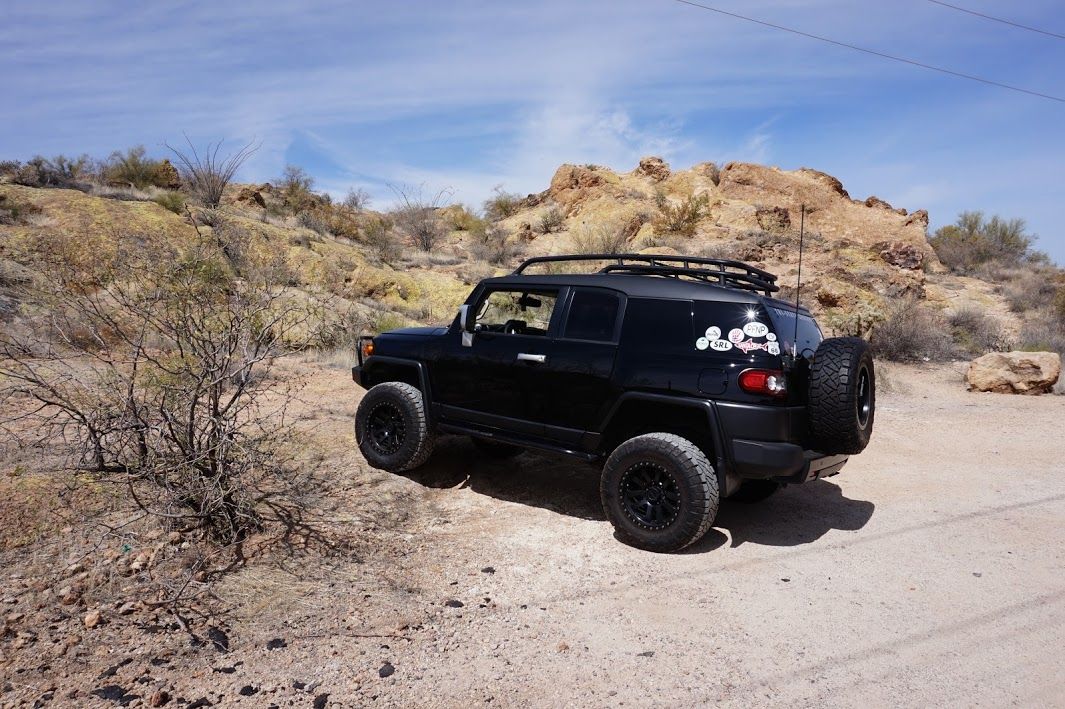 Hayden:
Has anyone on the forum inspired your build or been a go-to resource for you?
Gary
: Can't say any ONE person, the community as a whole is a great resource, I did follow Old Cruiser, Weavin FJ, Mad Mike and still follow Iconic and debFJVT among others.
Hayden:
Where all have you been with your FJC? What trail/park/location is your favorite?
Gary
: I have to say on a whole, the state of Arizona was my favorite, I made the smart choice of driving it out there for an assignment I had this year. Badlands in Indiana is good, and The old Superlift offroad park in Arkansas was also very nice.
Hayden:
Is there a trail/park/location you haven't visited yet that you would like to take your FJ to someday?
Gary
: I keep hoping to get out to Summit, but work always gets in the way, also the Appalachian Round-up. Getting back out to Arizona
Hayden:
Ever brush shoulders with any FJ owners from overseas?[/ COLOR]
Gary
: I did run into an FJ owner on my Switzerland assignment, he stated it was expensive to get it licensed and imported, but was proud he was only one of a few in the country
Hayden:
What has been the most memorable experience with your FJ Cruiser?
Gary
: Sedona………………simply spectacular.
Hayden:
What do you enjoy the most about the FJCrusierForums?
Gary
: one stop source for information about the FJ – the friendliness of the members make the forum a welcoming place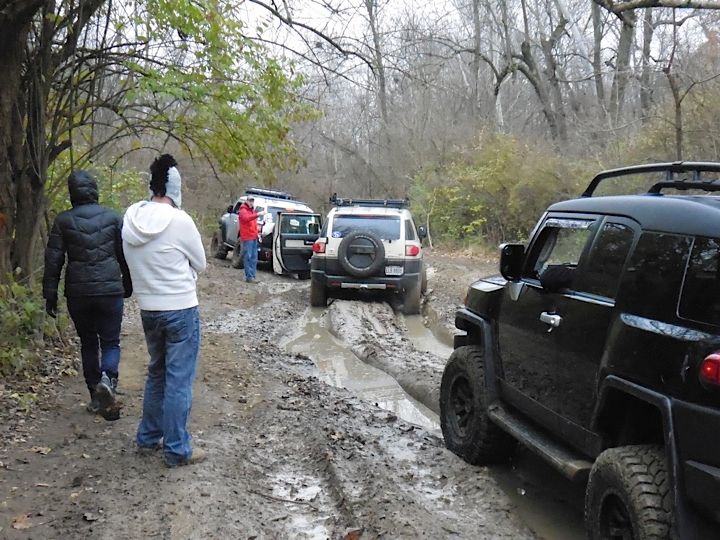 Hayden:
What has the FJCruiserForums done for you and what do you feel you contribute to the forum the most?
Gary
: It has made me more willing to try different mods – honestly, I take way more from the forum than I give.
Hayden:
In a world without new FJ Cruisers being built, do you plan on keeping yours forever or upgrading to a newer model ever?
Gary
: That is a trick question – I have no plans to get rid of her, but someone somewhere someday may build something else I'd want to drive.
Hayden:
What do you expect to be in your FJs future build-wise/travel-wise/etc?
Gary
: Upgrade suspension components as the original is getting to the 75K mark, led interior lighting
Hayden: What final advice do you have for someone new to the FJ Cruiser or the Forum?

Gary : Don't be afraid to ask questions


​
https://photos.google.com/share/AF1QipMFWN5uvnAQIh_qVHmI7zJpOT8SjP4y-qGutGerHEEQrsZRLBivzhM28-NlgphRgw?key=blg5ajdMT3YzZnp4aVdPTU1oQlRXLXE5ZDZOX3p3
https://photos.google.com/share/AF1QipO9JoEyixZ3Wvnu9vQwXA7bxqJPQXfcxA2iKMxvIkiTrQLCkjD7f5T0WbsOhdOBFw?key=YnBPM1l0TmJsMWtOS2JFU29ST0pyZHNZUDNPVW9n