February 2019 Member of the Month: rotorhead1
We'd like to congratulate rotorhead1 – Brian for being selected as the February 2019 Member of the Month!
Hayden:
Tell us a bit about yourself (Family/pets, work/school, hobbies/interests, location, etc.)
Brian
: Thank you for this honor. I "grew up" near Battle Ground WA. After I got out of high school I joined the Army. My job was Aircraft Structure Repairer. I was stationed at Ft Hood TX for a while working on Hueys, then to Germany. I really enjoyed my time there. I traveled a lot and saw some awesome things. I worked on Chinook helicopters that transported nuclear warheads around Europe.
After my enlistment was up I got out. Then I answered an ad in the paper. 2 weeks later I was back on a plane. I was part of a team that went to Addis Ababa Ethiopia to train members of their Air Force and repair some crashed Hueys. This was during the big famine in the 80s and there was also a civil war going on. I spent a year there. What a time. I met Bob Geldof and Harry Belafonte there.
After I got back to the States I worked other aviation jobs from external load operations to component overhaul. Then I got into Air Medical. I did that for 23 years. I lived for many years in AZ, tried Wisconsin then moved to Farmington NM. But I left that job for a variety of reasons, I'll leave it at that.
Right now I am debating what I want to do next and where I want to live. I have seen and done many things in my life. What is going to be next? I have taken a few classes at the local college just for fun. I was an EMT-B for a bit too.
My hobbies are building things with metal, welding and drilling, etc. I built most of the brackets and mounts for lights and ham radio stuff. I also do a lot of shooting and reloading. I like to get up into the mountains camping when I can. In fact that's why I moved here, to be close to the Rockies.
I have a dog that goes everywhere with me. I got her from the local shelter 6 years ago. She is a Doberman Pinscher and a great dog. Some of you have met her in Ouray and Silverton CO. This is my second Doberman. Sadly the first died 2 days after I got my FJ. She just appeared one day, starving and bleeding. She made it very clear that I was going to be her person. I miss her.
Never married, thought about it a couple of times. No kids.
On top of Cabezon NW of Albuquerque, How I got my forum name.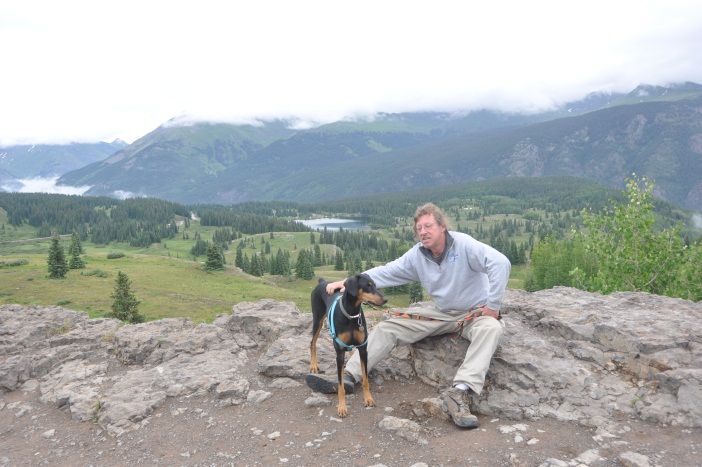 Near Silverton CO with my dog Phoenix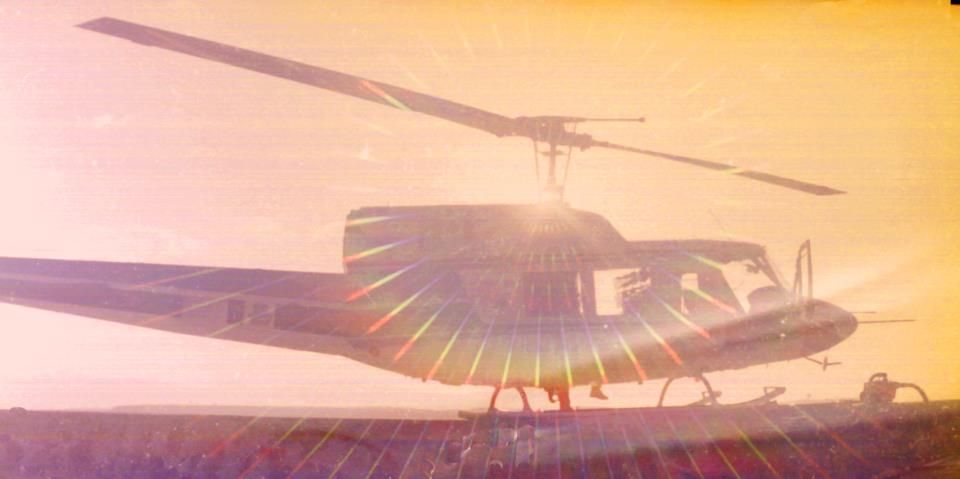 An artistic picture from Africa. Canadians doing relief work.
Hayden:
How did you come to own an FJ Cruiser? Is the FJ Cruiser your first off-road vehicle? If not, what was the first vehicle you took wheeling?
Brian
: My first real 4 wheeling was in Africa. We "borrowed" a Land Cruiser and 2 secretaries from the Canadian Embassy. Wheeled to the Blue Nile and Awash National Park in Ethiopia. We were playing Marlin Perkins, for those old enough, chasing Ostrich and Warthogs. Then later, back in the States, the company vehicle was a K5 Blazer, we explored around Cottonwood AZ. Later I bought a Nissan P/U with a 4 cylinder and went into the mountains for the first time. I did Imogene and several other trails and backroads in the area. I later transferred from Superior WI to where I live now, Farmington NM to be close to the mountains. I have owned a Ford Ranger that I ran Imogene with, then a 72 Chevy K20 P/U that I never wheeled and a Samurai that I drove in the Wisconsin winter.
I was really thinking about getting a Jeep. This was '06 so it was still the TJ. The new model was going to be coming soon, and also I had heard about the FJ coming. Well one day while having lunch at the local BBQ joint a Yellow FJ parked, it was a salesman from the dealership. The next day I went there and drove it, then the Jeep. Two days later I bought it. It was the second FJ in town, I didn't know much about them then, so I'm lucky that this one had most of the bells and whistles.
Hayden:
How/when were you first introduced to the forum and what made you decide to join?
Brian
: Shortly after I bought it I subscribed to a Toyota magazine and saw the printed ad. I joined mainly to see what others were doing, if there were any problems and such. The FJ was still very new back then. Heck even my insurance company didn't know what it was. They listed it as a 4Runner.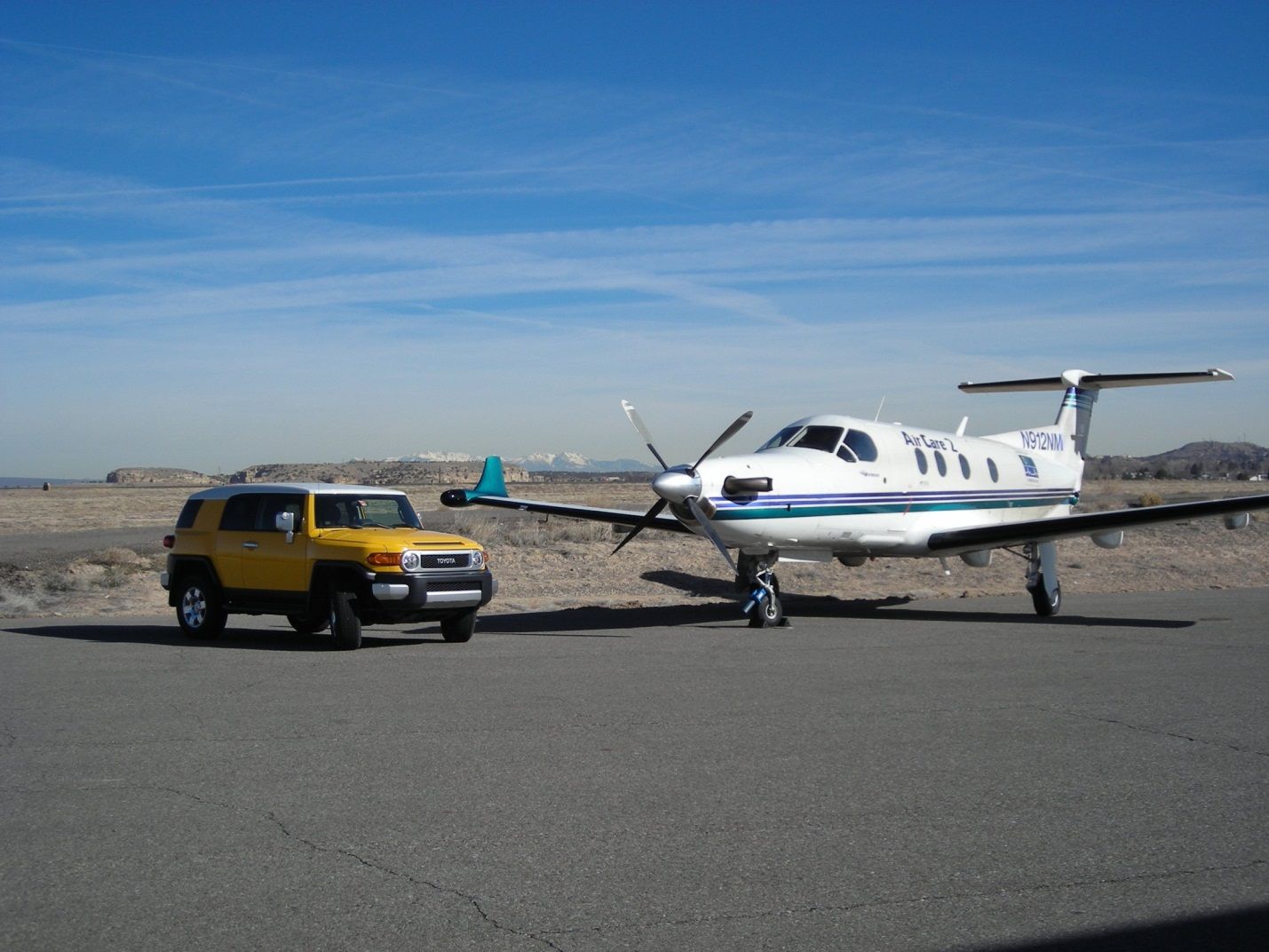 Stock, with the airplane that I worked on. The mountains in the background are in Colorado.
Hayden:
What modification is your favorite or is the most worth the money/time/effort that you'd recommend it to someone else?
Brian
: The lift and shocks. The front bumper would contact a lot before, so the extra clearance is nice. With the factory shocks it seemed to sway side to side a bit on curves. Better shocks dampen this out and the ride is so much better. Also the Demello front bumper. This added clearance and a place to mount lights.
I have many other mods but most of those would be unique for my usage and I would recommend for certain cases. Things like the rear door storage, ham radio with power folding antenna, 4 amber strobes on the roof rack, custom kayak carrier, and a second battery to run things when camping.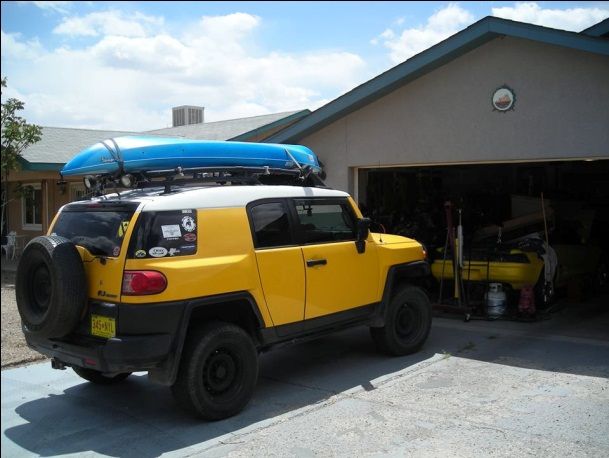 I mounted 1" square tubing to the roof rack. The L brackets slide in and are secured with the pin. The kayak sits in between and a strap goes over the top.
Hayden:
What upgrade is your least favorite, or what modification would you do differently if you had to do it over again?
Brian
: I tried a wireless backup camera. That didn't work so I hardwired one with front and rear cameras. I didn't like one set of tires that I had one it. I have since replaced with Cooper Discoverer AT3 which I like.
I am happy with all of the other things that I've done. I took my time in selecting parts, or designing and building something. It works well for how I use it. No regrets.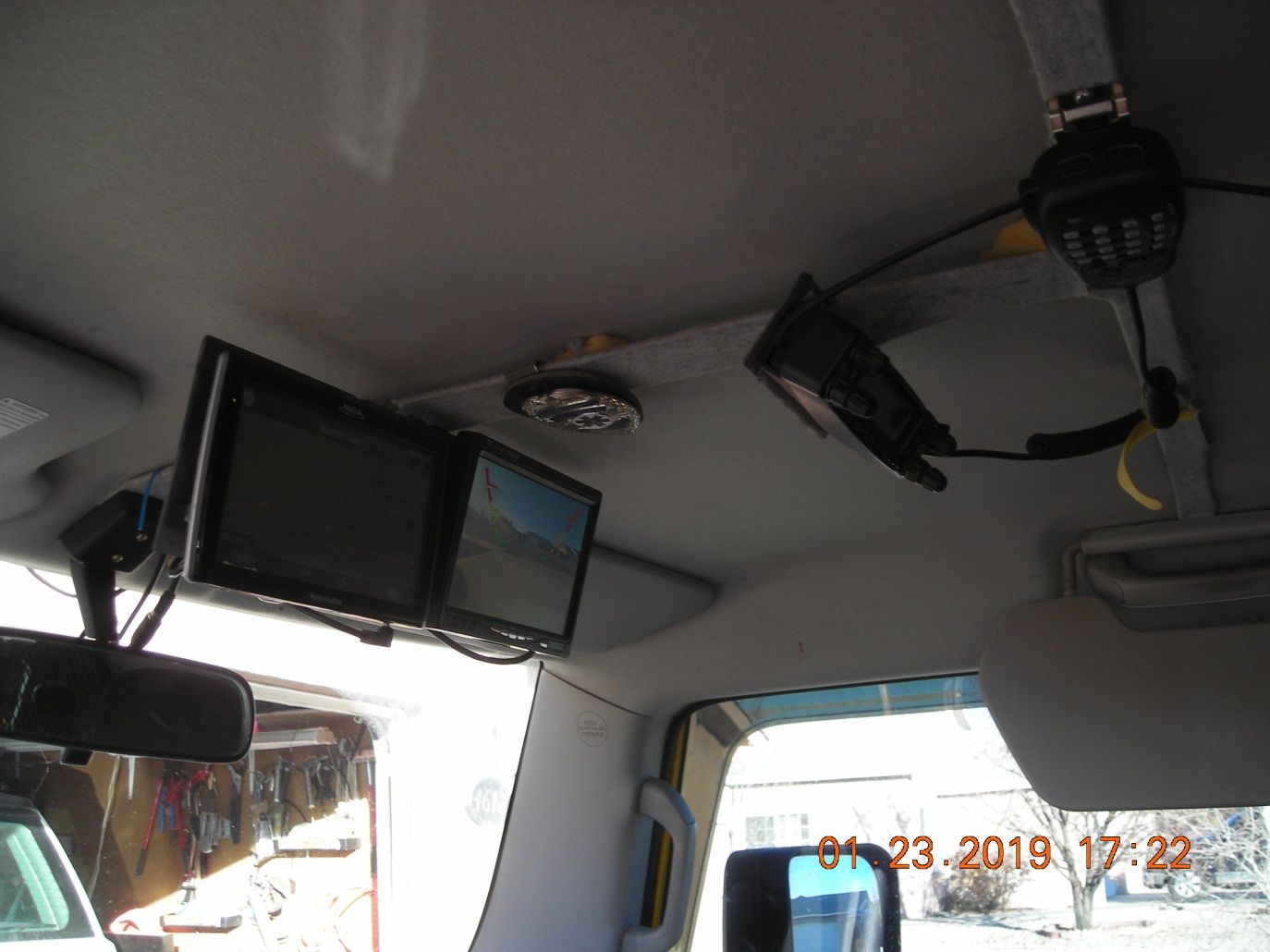 7" GPS ( left), 7" monitor (right) for front and rear cameras. Control head for Yaesu FT-8900 quad band ham radio, and my EMT shield.
Hayden:
What has been your favorite thing about owning an FJ Cruiser?
Brian
: Being able to get way up in the hills or desert away from it all. Knowing that I can go almost anywhere at any time.
Going camping. I have since sold the trailer.
Hayden:
Has anyone on the forum inspired your build or been a go-to resource for you?
Brian
: Many people early on inspired things. I don't recall their names, and they haven't been active in years.
There isn't one go-to on the forum. While there is a bit of a core group here, meaning those that have a lot of knowledge and post often, the inspiration can come from anyone.
Hayden:
Where all have you been with your FJC? What trail/park/location is your favorite?
Brian
: We've been to Arizona several times, for work and to visit friends. Up to Washington once and back via Coeur D'Alene. Then to CDA again. To Nebraska for the eclipse. Several times to Denver where the company was based. But 4 wheeling I've only done in Colorado and Moab. In Moab I've run Fins 'N Things, Poison Spider and Hells Revenge. And many trails around Durango- Ouray Colorado.
My favorites are some easy slick rock stuff in Moab and just enjoy the view. Imogene is great. Just the last part going into Telluride, it's always dusty. Engineer to California to Corkscrew is high on the grin factor too.
Moab. Hells Revenge I think.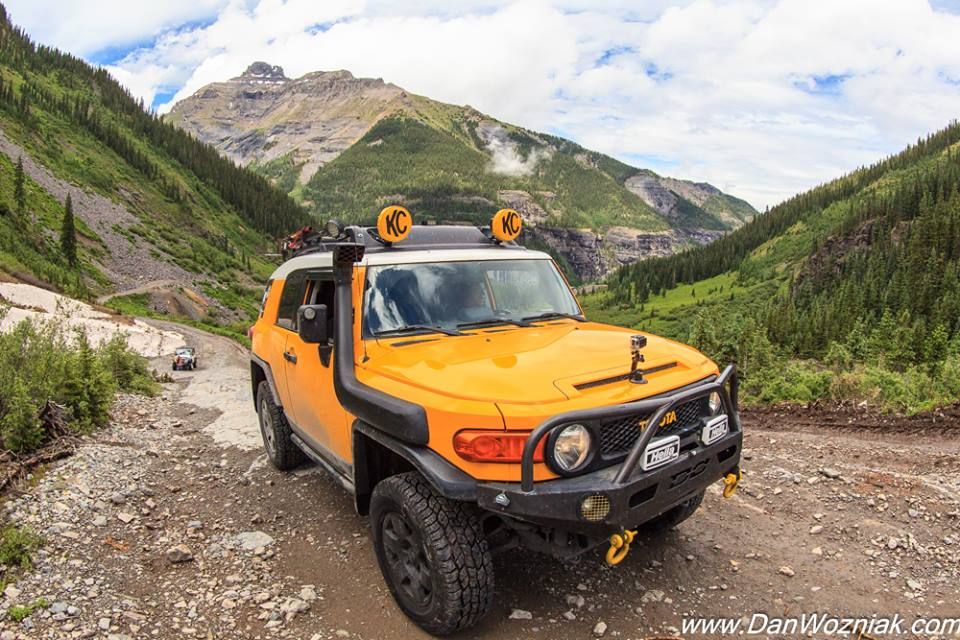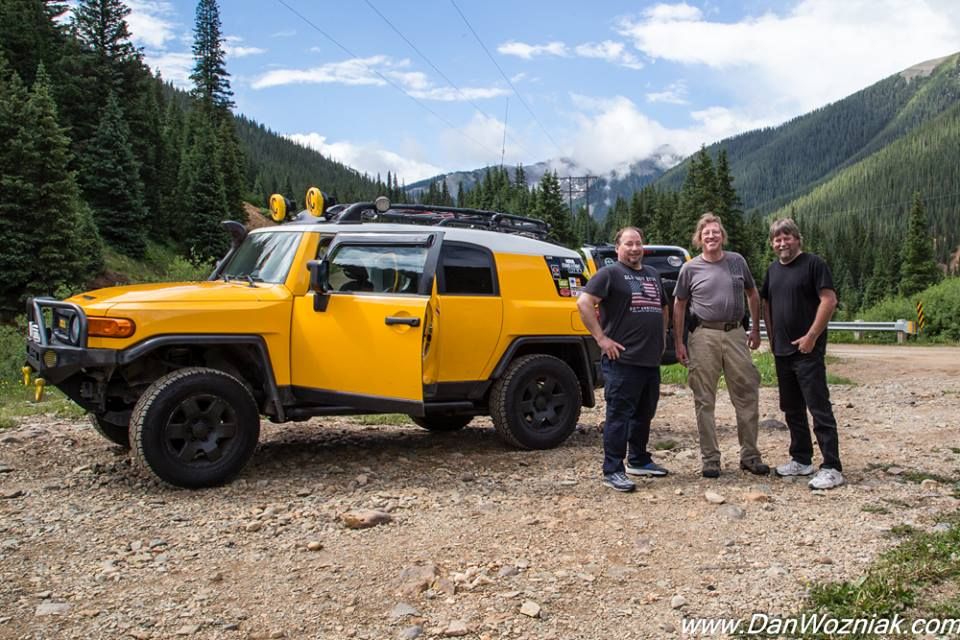 Imogene. With childhood friends, 30+ years since we'd seen each other. (I'm down 50 pounds since this pic)
Hayden:
Is there a trail/park/location you haven't visited yet that you would like to take your FJ to someday?
Brian
: Nothing in particular. If I ever go back to Arizona I would like to play in the washes near Parker, or a trail near Sedona.
Hayden:
What is your local FJ community like in New Mexico? Any meet ups, trail runs, wrenching days, etc?
Brian
: It has been a while since I did anything here with a group. I used to meet with some former forum members in a place here called The Glade. Who remembers TanaJ, Montana Tailgunner and CrazyHermit? Ace has been here a couple of times, and others.
There are also pro rock crawl events here that I go to watch.
Token Sun Fusion. Voodoo Blue was popular
Hayden:
What has been the most memorable experience with your FJ Cruiser?
Brian
: So many. The looks that I got early on. People running across parking lots to ask what it was, or if it was an H4. The first Summit or the first time that I took it over Black Bear. It has allowed me to drive cross country to visit friends. All are great memories.
Chinle AZ near Monument Valley
Getting close to home. Shiprock is the chunk of rock. The core of a volcano.
Hayden:
What do you enjoy the most about the FJCrusierForums?
Brian
: Seeing new ideas and products. Forum members have come up with some really great stuff, which I have done myself or based a project on. And the occasional joke or funny picture.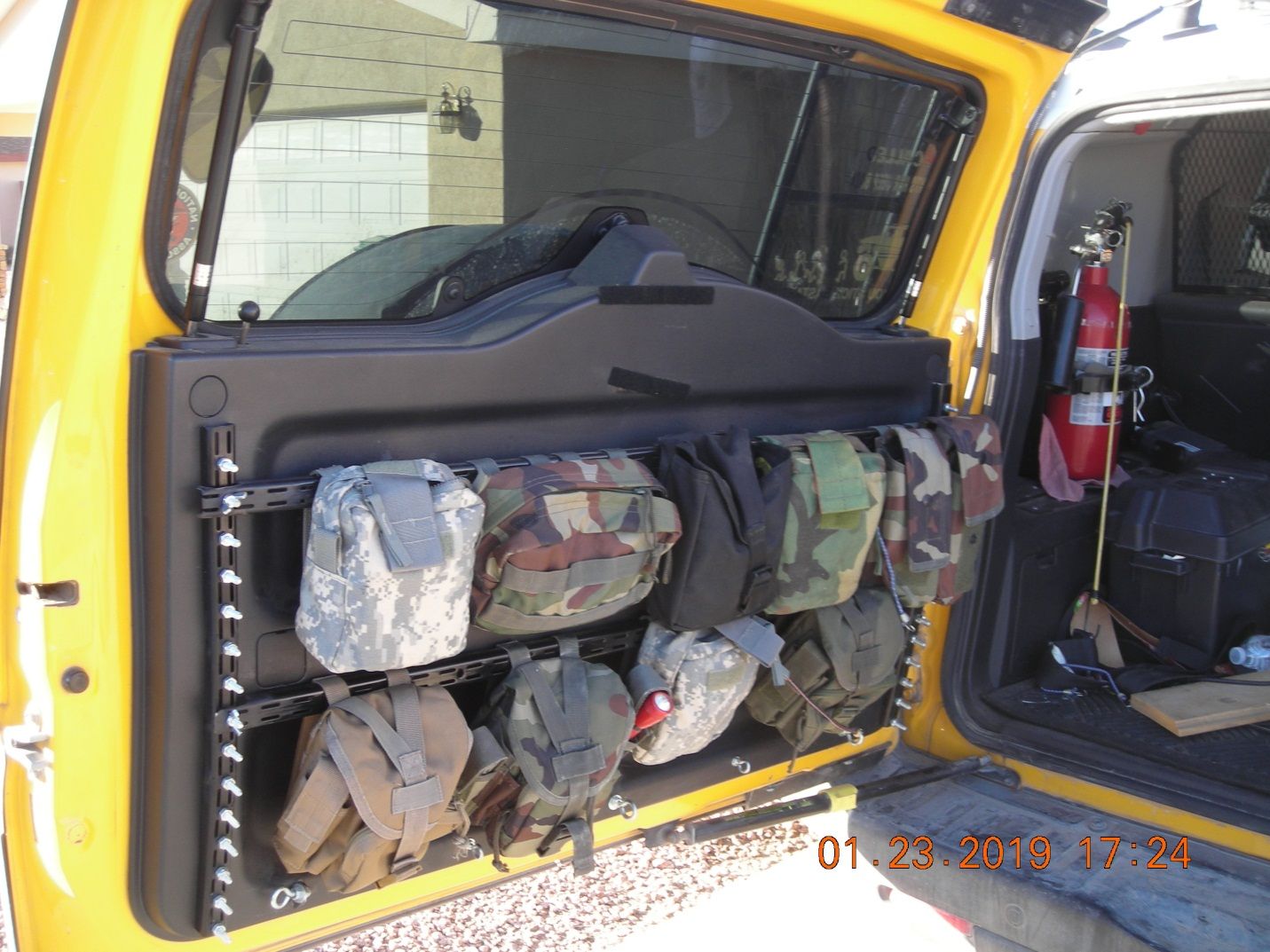 This was an idea someone had years ago. I copied it. Also there is the second battery that I use to run the ham radio and charge things when camping, the main part of my ham radio, and a large fire extinguisher.
Hayden:
What has the FJCruiserForums done for you and what do you feel you contribute to the forum the most?
Brian
: When I was installing my lift I had some questions. I asked and got the answer immediately. Now with the number of people on the forum it seems that most things already have a thread or just ask. Someone will likely have the answer.
What do I contribute the most? I think that would be just that I've had mine for almost 13 years. I may have some knowledge on a subject and have something to offer.
Hayden:
In a world without new FJ Cruisers being built, do you plan on keeping yours forever or upgrading to a newer model ever?
Brian
: I still get the same feeling walking to my FJ now as I did the first day. I really can't imagine not having it. It is a nearly perfect vehicle for me and I've put a lot of effort into making it mine.
However it does have 120k on it now and has developed a couple of minor problems that I am chasing. I would like to get a standard car that gets great mileage as a daily driver. Then use the FJ for recreation and foul weather.
If something were to happen to my FJ I would be looking at the 4Runner or a used FJ. Really no other option.
Morgan Lake where I kayak. It's used to cool a power plant and stays warm all year. That's not snow, it's mineral deposits. Also the snow topped mountains are in Arizona. And Shiprock
​