Discussion Starter
•
#1
•
June 2018 Member of the Month: lgrt
We'd like to congratulate lgrt – Paul for being selected as the June 2018 Member of the Month!
Hayden:
Tell us a bit about yourself.
Paul
: I have always loved spending time in the great outdoors, getting away from the hustle and bustle of crowds. Living in the Pacific Northwest, the opportunities to follow the road less traveled are seemingly endless. You never know when a bend in an old logging road will open up to a postcard view of Mount Hood, Rainier or a quiet little stream meandering through a meadow where you can sit for hours undisturbed.
I know it is cliché, but for me, adventure is about the journey, new experiences, the people you meet and self-reliance. My FJ Cruiser is the best way I know to explore and find these quiet little moments in life.
Hayden:
How did you come to own an FJ Cruiser? Is the FJ Cruiser your first off-road vehicle? If not, what was the first vehicle you took wheeling?
Paul
: My first vehicle that could go off-road was an old 65 Volkswagen that I turned into a Baja Bug. It was held together with gum and bailing wire, better at squeezing by things than going over or through them, but it got me where I wanted to go and forced me to learn how to fix what I broke.
When Toyota introduced the FJ Cruiser I knew it was the truck to replace my long since retired Baja Bug. The FJ Cruiser has personality, it's built for utility and screams take me out of the city. On a lark, with little time to kill, I swung by a Toyota dealership in Portland for a test drive. Seven hours later, I was parking my new FJ Cruiser in the driveway and haven't regretted it for a moment. Named the "Blue Bunny" as a result of my son, my FJ Cruiser has come a long way from its original out of the box configuraiton.
Hayden:
How/when were you first introduced to the forum and what made you decide to join?
Paul
: I purchased my FJ Cruiser in November of 2006 when they were new to the dealers and there was little how-to information about them. Since I was planning to drive my FJ Cruiser from Seattle, north to the Arctic Ocean I wanted to learn as much as I could about their maintenance and repair as well as see what modifications were available. I found the FJCrusierForums in May of 2007 and have been learning from others FJ Cruiser enthusiast ever since.
Hayden:
What modification is your favorite or is the most worth the money/time/effort that you'd recommend it to someone else?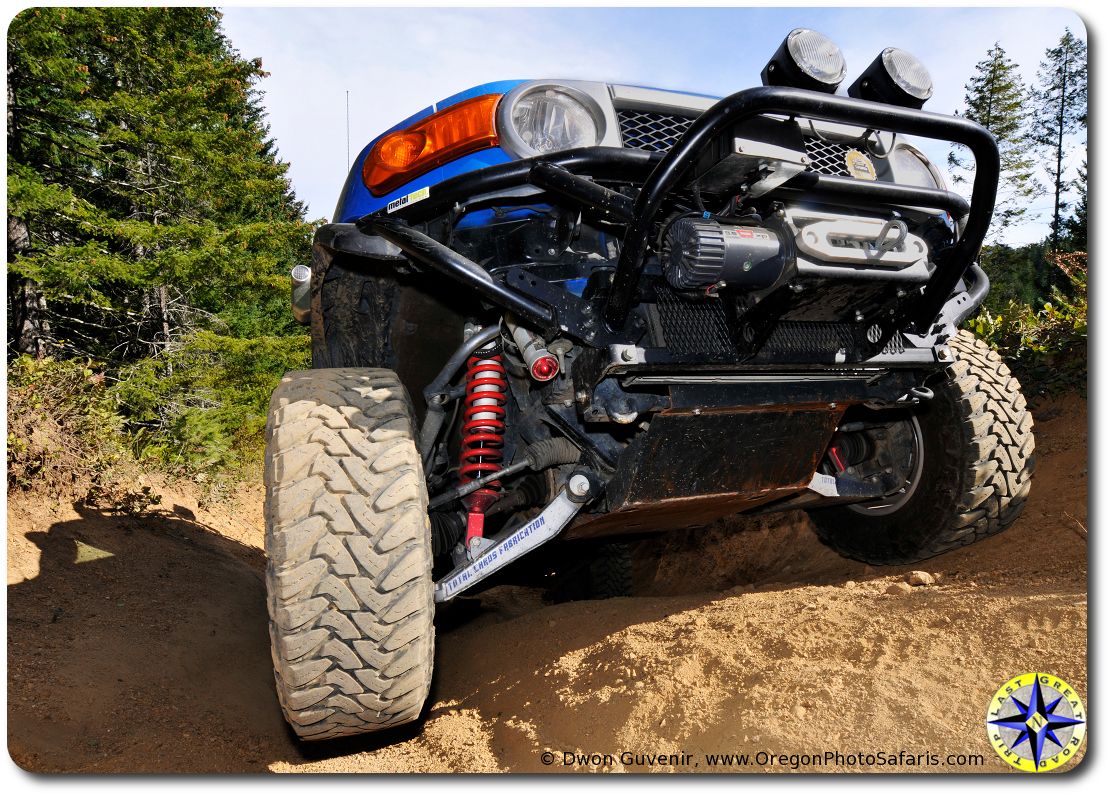 Paul
: My favorite modification is hard to say. As you can see in the photos, my truck has gone through a couple of iteration each with great mods for that time in my plan. But when pressed by friends or folks I meet on the trail I tell them the font long-travel is probably one of the best investments I made back in late 2008 when Total Chaos first introduce the 2" version. It has taken the bumps out of more washboard dirt road then I can remember and certainly helped keep traction on the more technical stuff of the Rubicon Trail. Even if my truck was only going to be a daily driver, I'd do it again. The handling isn't quit a sports car, but it is amazing what a couple extra inches of width can do for stability through the turns.
Hayden:
What upgrade is your least favorite, or what modification would you do differently if you had to do it over again?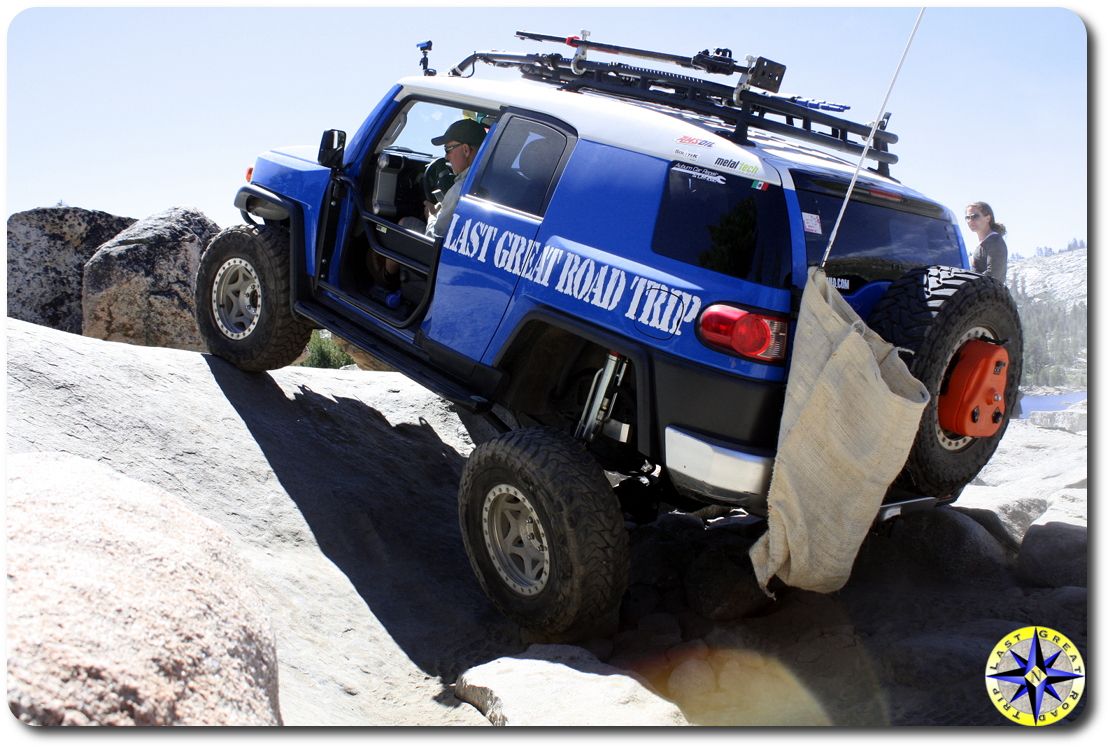 Paul
: I have a love hate relationship with my drivetrain modifications. With Metal Tech 4x4's help, I upgraded the transfer case to an Atlas 4 speed, added a custom Curie Ford 9" axel with 456 gears and ARB air lockers along with a custom rear long travel three link setup that provides approximately 20" of rear travel. It is amazing. The first time I went through the Rubicon Trail with stock gears and transfer case you could hear the sliders banging off rocks and smell my clutch coming a mile down the trail. The second trip down the Rubicon, after these mods, I oozed over the rocks under complete control, picking a line then easily rolling up to and over the obstacles.
That is the love. Now for the hate in this relationship. Only a few high-end off-road shops will work on my truck's drivetrain components these days. And some things they won't even touch. For example. I had a small leak that I was sure came from the main seal on the manual transmission. To replace the $10 part requires removing most of the center console to unwind the custom gear shifters and linkage to the transfer case. The 110-pound Atlas 4 speed transfer case requires four, level six blackbelt judo moves to maneuver out of the space it was never intended fit. Each component in the drivetrain and their supports has to come out in a secret order known only to myself and the last living member of the Illuminati thought to be inhabiting a cave above the Bavarian Alps, under a vow of silence. And while I enjoy wrenching on the truck, in this case where a shop with a lift and the secret decoder ring could finish up in a couple of days, I spent the better part of month on my back under the truck sneaking a couple of hours in here and there after work and on weekends.
You really need to be comfortable doing your own work once you start modifying the drivetrain. And there are things I am still getting comfortable with.
Hayden:
What has been your favorite thing about owning an FJ Cruiser?
Paul
: My favorite thing about the FJ Cruiser is that it has never let me down. I have been all over the west and my FJ Cruiser has gotten me there. It is not going to keep up with a Baja Trophy truck or follow the Truggys sporting 44-inch tires, but they don't have to get you to work on Monday. The FJ Cruiser never fails to start. It will work with me to maneuver through any place I want to go and at the trail's end, it will get me home again. That is a pretty good resume for any truck.
Hayden:
Has anyone on the forum inspired your build or been a go-to resource for you?
Paul
: helocat (aka Mark Hawley from Metal Tech 4x4) has been a driving force with my build, providing invaluable guidance and support every step of the way. Additionally, he took the time to share with me some of his vast Toyota Land Cruiser knowledge as well as his enthusiasm for the sport of off-road driving. Talking with others I know I am not along, Mark has helped truckloads of FJ Cruiser owners work through their build concerns.
But it goes beyond any one person, whenever I considered a mod or planned to do maintenance work for the first time I always looked to the forum for tips and a quick check of what to expect. Even on simple maintenance like gear oil change, it was great to see what experiences others had to share before I dug in for the first time. The forum is a wealth of information. The number of folks who share their knowledge is unbelievable. Regardless of experience, the forum is one of the best resources for anyone owning an FJ Cruiser.
Hayden:
Where all have you been with your FJC? What trail/park/location is your favorite?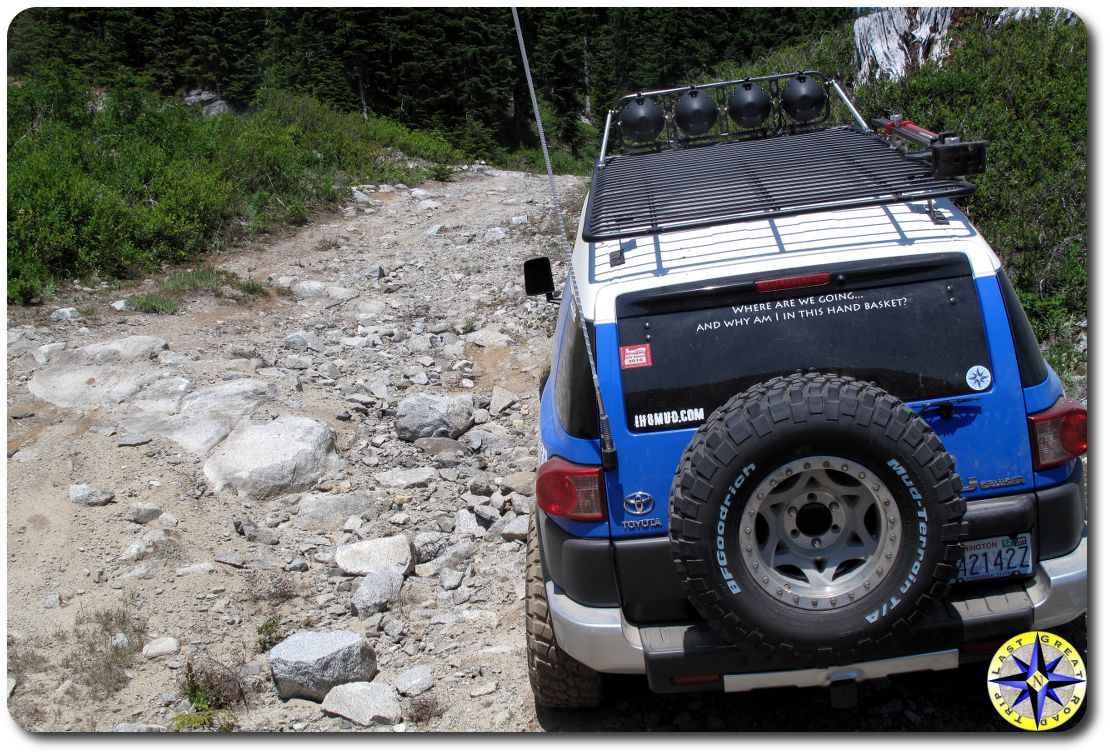 Paul
: I've driven my FJ Cruiser to the North Slope of Alaska with my father, the FJ Summit with my son, followed the Baja 1,000 race course to Cabo, crossed the Rubicon Trail, played in Moab, drove the Washington and Utah Backroad Discovery Routes and explored local OHV parks and 4x4 trails all over Oregon and Washington with close friends. Each have a special place in my heart filled with great memories.
One of my favorite recent trips was to the southeast corner of Oregon. The Steens Mountain area is an enormous expanse of isolated BLM land where you will come across more open range cattle and wild mustangs then people. Alone in the wild for a week, my FJ Cruiser managed to slug its way through three-foot snow drifts, allowing me to spend the night on the snow covered peak then brought me down crazy two tracks to the desert playa basin below. When you're alone with little hope of finding help, you really begin to appreciate the FJ Cruiser's reliability.
Hayden:
Is there a trail/park/location you haven't visited yet that you would like to take your FJ to someday?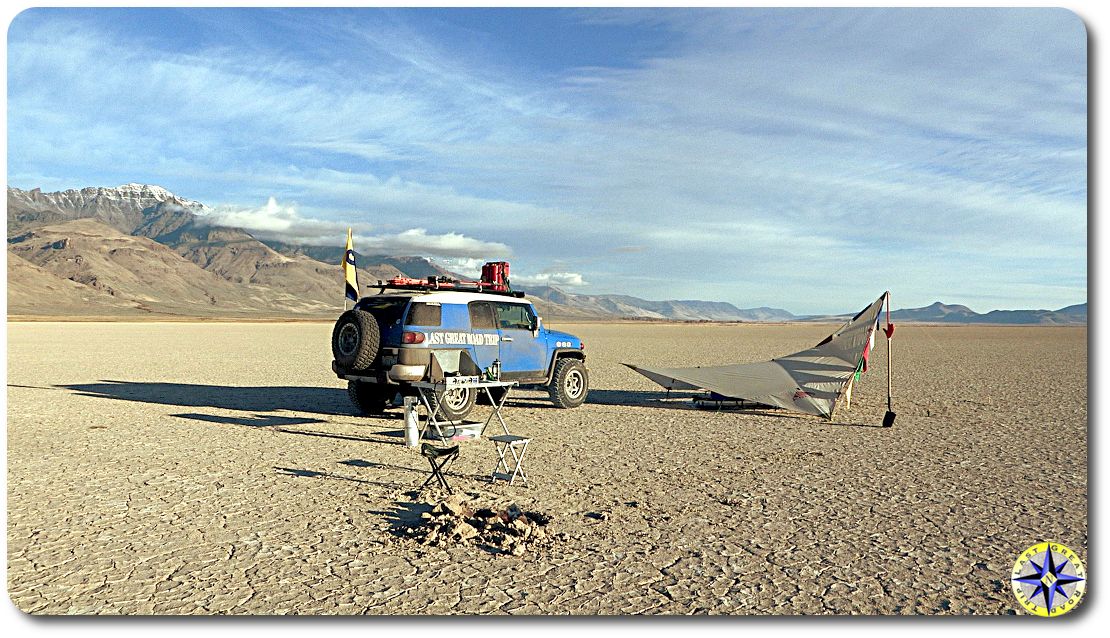 Paul
: Early in my career I spent significant time in India. But it was all work and very little play. One of my goals is to drive my FJ Cruiser across India from Mumbai to Khardung La (one of the highest drivable passes in the world).
One of the things I enjoy most about the adventures I have taken is the people I meet on my journey. Fueling up and grabbing supplies in little towns along the way, allows me to connect with folks. The site of my FJ Cruiser tends to generate conversations. I love being immersed into the local culture when I exchange stories with folks from small out of the way places. It is in these cultural oases that I get the best tips on where to explore and what to see that is not in any guide book. The idea of truly experiencing the Indian subcontinent in this way has been a lifelong goal.
While India is a ways off, there is still plenty to explore west of the Mississippi. My last solo trip to the Alvord desert in southeast Oregon has me looking to explore Death Valley, especially when the rains of the northwest are in full drizzle.
​