November 2016 Member of the Month: debFJVT
We'd like to congratulate debFJVT - Deb for being selected as the November 2016 Member of the Month.
Hayden
: Tell us a bit about yourself?
Deb
: I am both surprised and honored to be selected as Member of the Month for this wonderful forum because I credit it with so much of my growth and development as a relative newcomer to 4 wheeling. In turn this has opened up an entire world of new skills, interests, lasting friendships and unforgettable experiences.
I am a retired doctor and former NASA artist who grew up in Texas and ended up in Vermont to raise family and run our horse farm. But that was not to be the story of my life...
Over a decade ago I was busy with my practice, driving my Range Rover on a winding country road in VT when I was forced off the road into a cliff to avoid a head-on collision. I nearly died, and it took years of hard work to regain mobility, but determination and amazing medical technology brought both excellent health and wisdom. So I retired early...and bought an FJC
I wanted a large, strong, safe vehicle, like the RR that had saved my life, but that wouldn't always be in the shop. Test drove an FJ and fell in love with it before I even left the dealership lot. So in July 2014 my FJ found me, and changed my life forever
Right away I started driving it places I "shouldn't" but I felt a compulsion to crawl up steep rocky slopes...absolutely loved it, and felt little fear (inoculated lol). Everyone thought I had lost my mind. I didn't know anyone else who either wheeled or wrenched - didn't even know what those terms referred to!
I soon started online searches for information, and found this forum. Started reading and it was like lightning striking to realize there was an entire international community of people transforming their FJs into beautiful, powerful, protected vehicles that could go ANYWHERE...that lit me on fire which was the best thing that had happened since the wreck - I got my life back. Fortunately my husband recognized this and was supportive - he bought my first lift kit and skid plates for that Christmas!
I believe everyone has to have a passion, something they do that lifts them out of the ordinary and brings them joy. For me the combination of modifying/wheeling my FJ and interacting with people on the forum and at Summit about it is a passion, a lifestyle, and now an important part of my identity. Being asked to write an interview has made me realize this, and I simply want to say how grateful I am to everyone who contributes to making this forum work, because it really does make a difference in many people's lives.
Hayden
: Is the FJ Cruiser your first off-road vehicle? If so what led you to owning an FJC? If not what was you're the first vehicle you took wheeling?
Deb
: The FJC is the first off-road vehicle I've owned that I've actually used offroad. Never wheeled the Rover...broke down too easily, and I hadn't caught the bug yet
However, I only recently connected the past with my current obsession - my Dad used to take us offroad in the family station wagon on our vacations in the Colorado Rockies...I recall bouncing along in the way-back, wondering if we were going to slide off the mountain, but totally enthralled. When I got the FJ it enabled me to explore any road that "called", just like my Dad loved to do.
Hayden
: What upgrade has been your least favorite? Or what modification would you do differently if you had to do it over again?
Deb
: My least favorite mod has been the Toytec Boss coilovers which I wheeled the snot out of and broke...and just replaced with beefy Toytec Boss 2.5s and now that's my favorite mod
My current list of mods is up on My Garage.
Hayden
: What future modifications do you have planned for your FJC?
Deb
: Future desires are for front locker, regear, and bigger tires...there's a few hills I NEED to climb! Also fantasize about an offroad trailer with RTT for when my husband retires and we move to AZ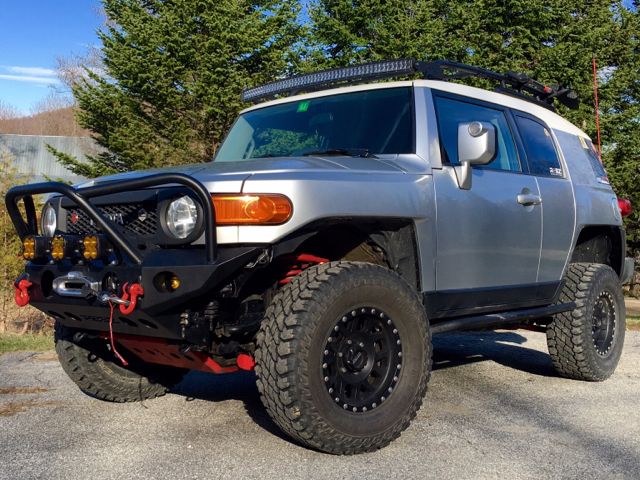 Hayden
: Living in the Notheastern part of the country you get to be in a part of the country many aren't too familiar with. Have you had the opportunity to off-roading with or meet fellow forum members up there?
Deb
: I've met with a handful of forum members out here, as well as a large number from the FJNortheasters forum. Wheeling in New England is quite different from the west - you'll run relatively short segments of dirt, then pavement, to reach your next trail. It's lovely when it takes you through quaint little towns, much in contrast to the gnarly boulders/mud/forest you just emerged from. The annual VT Overland Rally I attend capitalizes on this - it's a really fun event that "requires" participants to stop at local general stores and restaurants in between muddy segments of trail...we Vermonters are used to it, but out of state folks find it quite entertaining.
Hayden
: Where all have you been with your FJC? What trail/park/location is your favorite?
Deb
: The FJ triggered a cross-country travel binge - once I caught the disease, I immediately recognized I had to attend Summit and Moab before/after, FJNortheasters' annual events at Rausch Creek Offroad Park in PA, VT Overland Rally near Woodstock, and every meet, run, gathering I could get my hands on or set up in New England.
Hands down Moab is my favorite for technical wheeling - especially Kane Creek for its challenging obstacles and Lockhart Basin for the spectacular scenery plus a couple obstacles and sandy higher speed sections...but love wheeling slickrock anywhere!
For less technically challenging off-road driving Summit trails are most beautiful and I enjoy doing photography and art on trails around the red streaked mountains - very unique and inspiring.
Hayden
: What park/location that you have not been to yet would you like take your FJ too?
Deb
: For next year Utah - Moab trails: Poison Spider, the optional obstacles on Hells Revenge, White Rim, and explore the San Raffael Swell area further. Plan to bring my rig to AZ and re-do Cinder Hills, trails around Sedona and further explore Tonto National Forest for the future.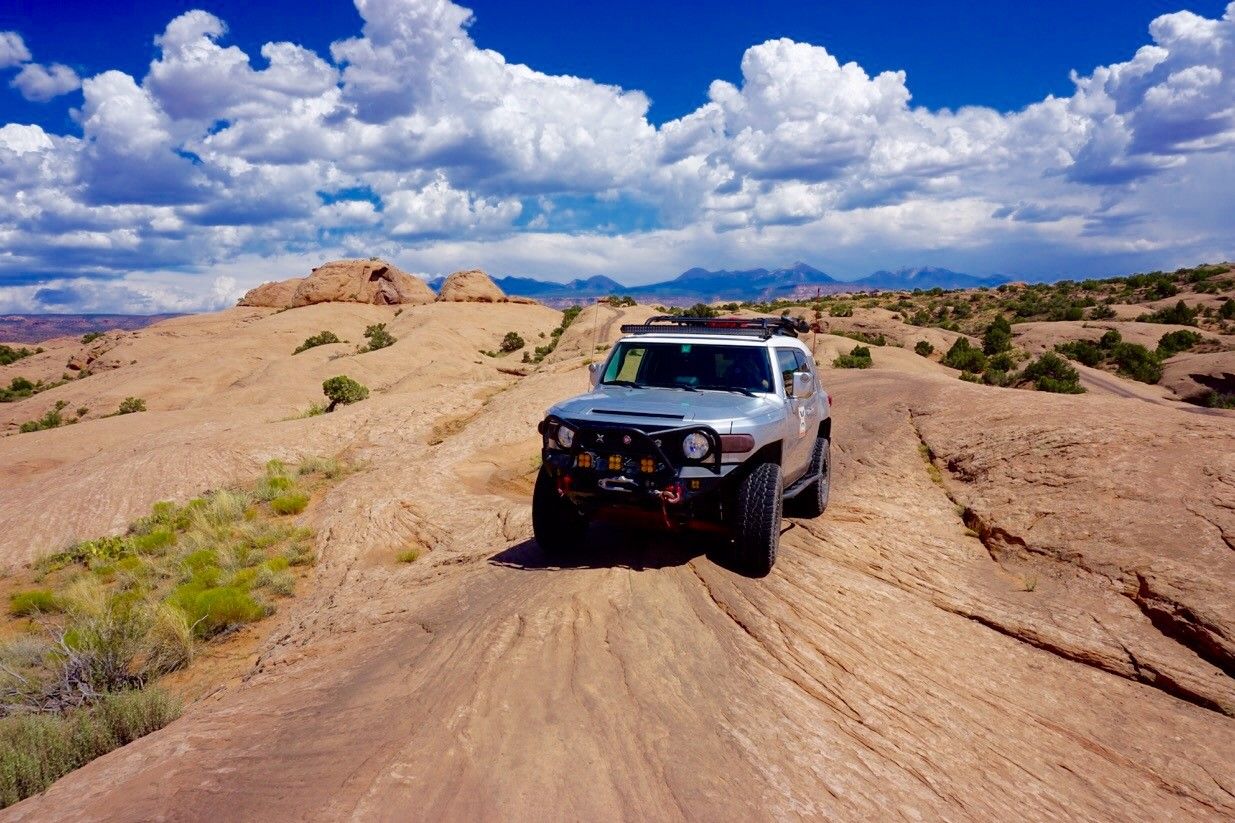 The Rubicon trail and Mojave Road, within the next few years/after we move out there. Someday, Kazakstan and Australia with their FJ groups would be amazing.
Hayden
: You've seemed to really just dive into the forum community and become an FJC addict like many of us, what led to this quick love of FJs and/or off-roading?
Deb
: I dove into this forum because, quite frankly, I needed it - was out there playing around with my new FJ and didn't know a thing about wheeling or auto mechanics and I didn't know another person who did...but I was compelled, from somewhere within to keep pushing the limits, exploring, trying new things. I learned to listen to those inner voices during my long healing, so this forum provided the missing link - to my dreams of getting waaaaay out on the trails in an entirely capable vehicle.
I only recently figured out why this happened to me - I'm not the usual profile of a wheelin/wrenchin/forum addict, and many friends and family members have asked "What happened to you??" or "What is this, a second adolescence?" I had entirely forgotten my early history of being driven offroad in the Rockies by my Dad when I first hopped in the seat of the FJ and felt an immediate connection. I thought it was a magical vehicle, capable of making me feel free, strong and safe again, after such a devastating accident. Hence I think my approach tends to be passionate because this hobby has returned so much of my life to me, and keeps expanding into new relationships and skills.
Hayden
: What has the FJCruiserForums done for you and what can the forum learn from you?
Deb
: The rich combination of engaging, experienced people and tons of accessible information was perfect for getting me started, so I said "Why not?", picked up my wrench and iPad, crawled under my rig and viola! Can't even begin to describe the elation I feel each time I accomplish something, and then post up about it and get feedback...it's both fun and empowering.
Learn from me? Hopefully, that you can do anything if you try...and find the right tools/support...the only real obstacle is in your mind. Also I hope this encourages other women to give it a try behind the wheel and under the hood - it's awesome - and you won't believe how much support you'll get from the guys!!
Hayden
: Has anyone on the forum inspired your build or been a go to resource for you?
Deb
: When I first joined the forum I was a total noob and intimidated to say much, so I have to thank FJess for being willing to coach me via PMs and email. Jess, you still inspire me!! When I finally started to gain enough confidence to post questions, Bazross offered an enormous amount of info and encouragement that made it possible to advance my build more rapidly and beautifully than I ever imagined possible...huge gratitude, Baz!! And the well-documented, beautifully thought out builds of ZerosFJ and Iconic, along with their helpful, fun communications have been invaluable. There's many others who have communicated with me and provided great suggestions, and I am so grateful.
Hayden
: What has been the most memorable experience with your FJ Cruiser?
Deb
: Easily the most memorable experience has been trail leading at Summit X. I took a group over Black Bear and Ophir Passes, and led the two night runs on Mineral Creek toward Engineer Pass. It was such an honor, and validation of how far we (my FJ and myself) had come. One of the most satisfying moments was after a run, hearing a young woman say "You are my hero!"...it just doesn't get much better than that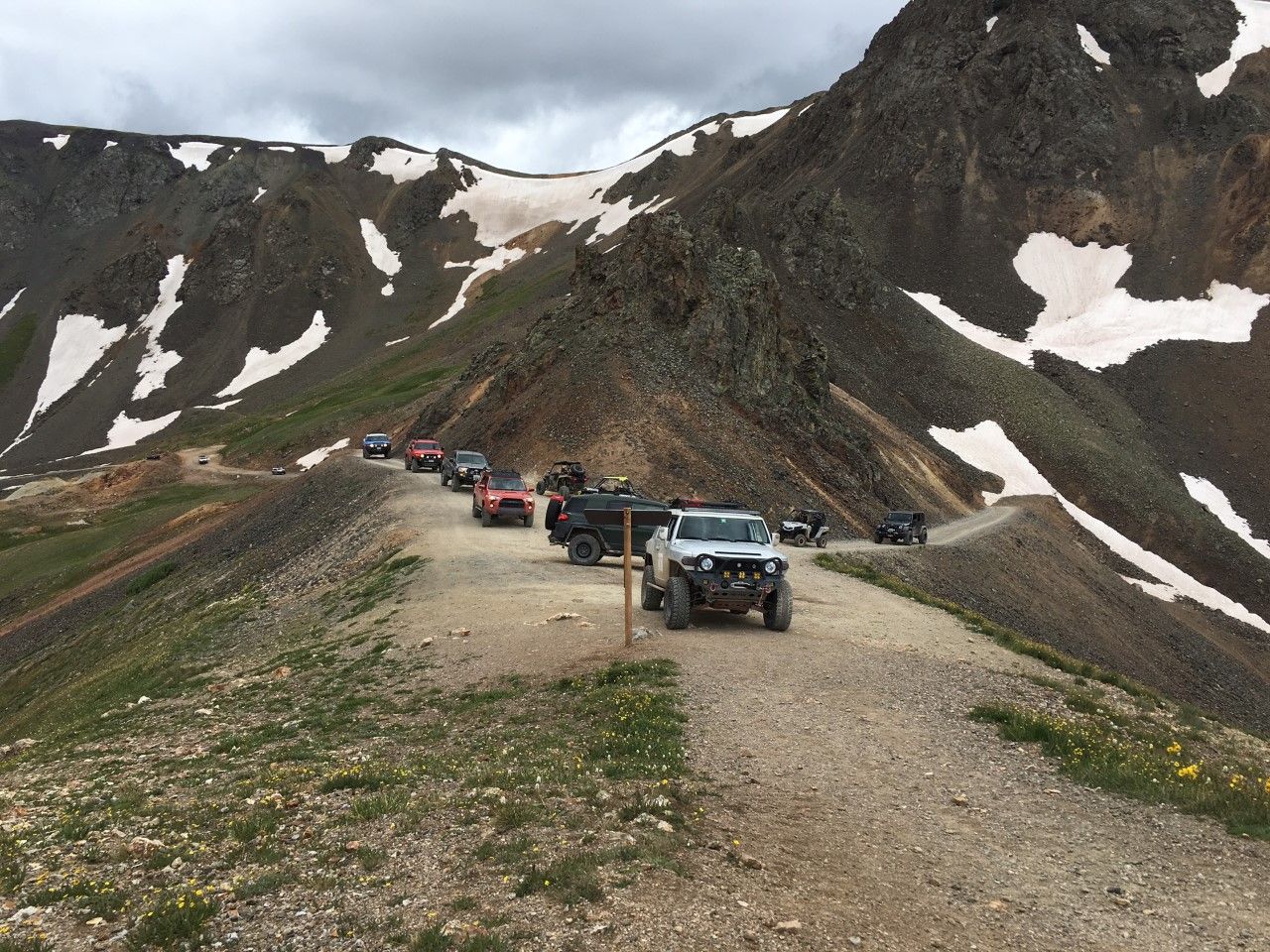 Hayden
: What advice do you have for someone new to the FJ Cruiser or the forum?
Deb
: If you are new to this forum, don't be shy! I wasted a lot of time holding back on questions and opinions because I didn't really know anyone, or how to interact on an online forum. I also missed out on a lot of fun - when the good jokes get rolling, there is no better entertainment, so jump in!
If you are new to FJs, then all I can say is you've come to the right place - thousands of passionate owners who want you to succeed...sounds good to me!
Thank you for the opportunity to tell my story, and reading through my long-winded interview...I welcome your questions or comments!
​