I got into town Friday afternoon/evening, got settled and made contact with everyone for a run on Sat morning. We met up at the City Market and a few of the West Coast TTT guys happened along to join us.
We decided to make a run up the Moab Rim Trail, something I hadn't done before. Knowing my wife's genuine fear of edges, I niew that this was going to be a challenging day no matter what.
The trail is spectacular and challenging. We had a great day to spend in Moab in the trails. I was treated to a new experience that I hadn't had before, having to use my winch on myself and getting strapped. For some reason, my SS TrXus just weren't hooking up on the slickrock. I think that I was running too much air (18 lbs) and dropped them down to 15 lbs which seemed to help. Its all about karma for me since I worked so hard the night before convincing my wife what a great driver I am and how well our rig was set up that we would have no trouble on the trail. Bragging how well we did on the Rubicon, escaping without damage or being winched/strapped put the bad "mojo" on us for today. So, of course, I had to use my winch on "Z-turn", there goes my "winched" virginity.
Anyway, on to the pics. As always, check out
my Photobucket site
(Moab Rim Trail 08 album) for more but here are some of the highlights...
The gathering of FJC's begins...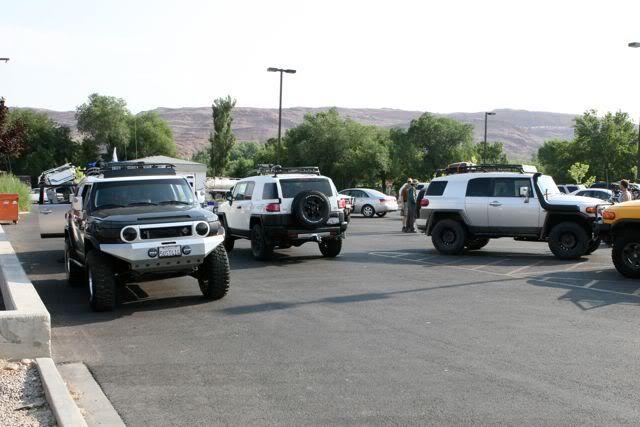 Mr. Cactus on the antenna...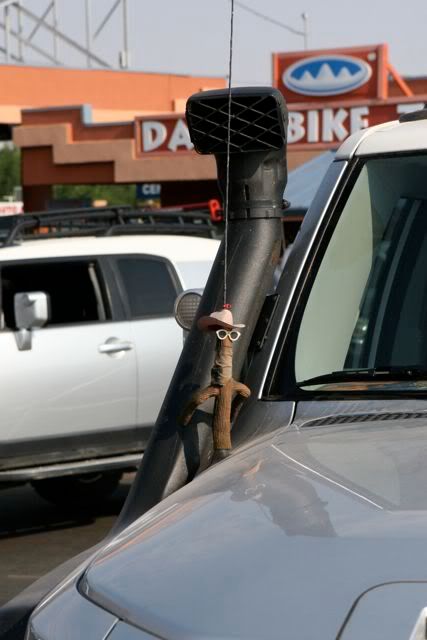 Hey, how did that TTT Taco get here...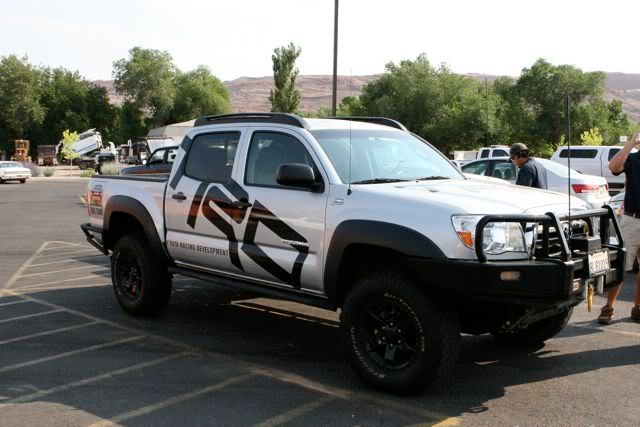 The trail starts right away with some fun, Bernd starting off...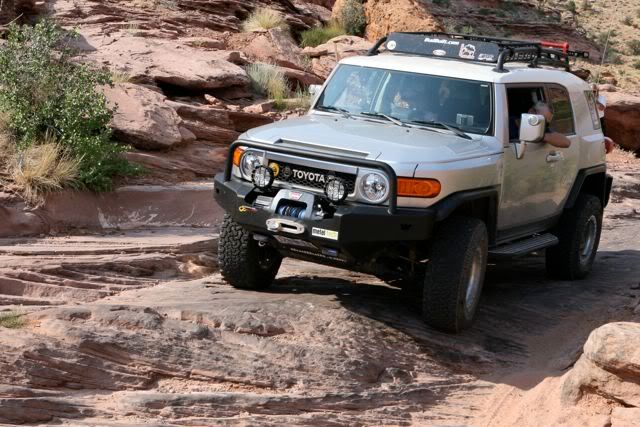 Followed by w5wi...
TTT truck sneaking up the crack...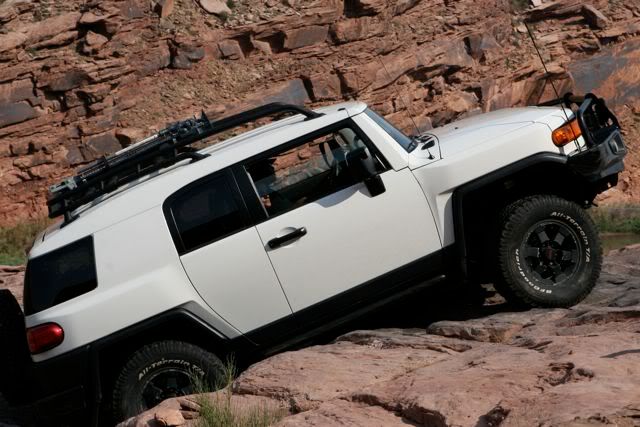 Another "surprise" guest in his FJ-80...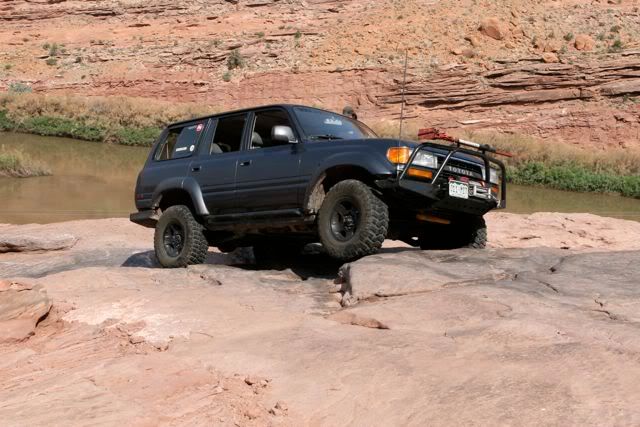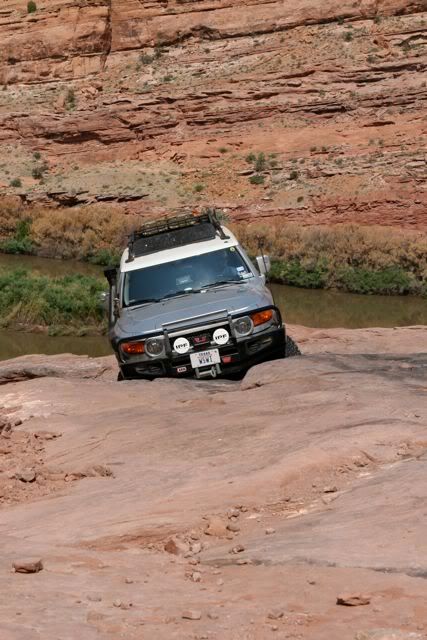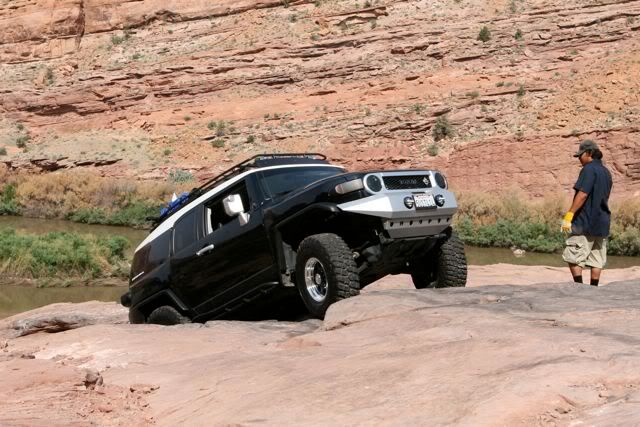 Cranking a bit of a "wheelie" by Victor up the climb...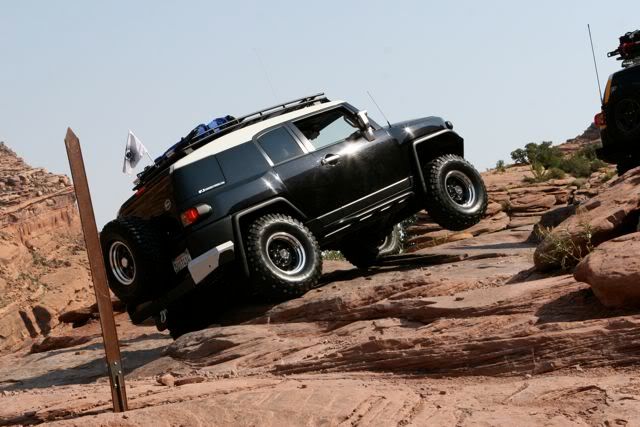 A little view of the scenery too...
TTT getting up the first part of the Z turn..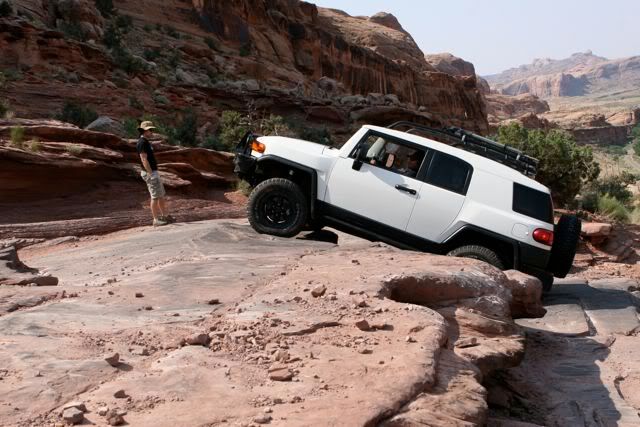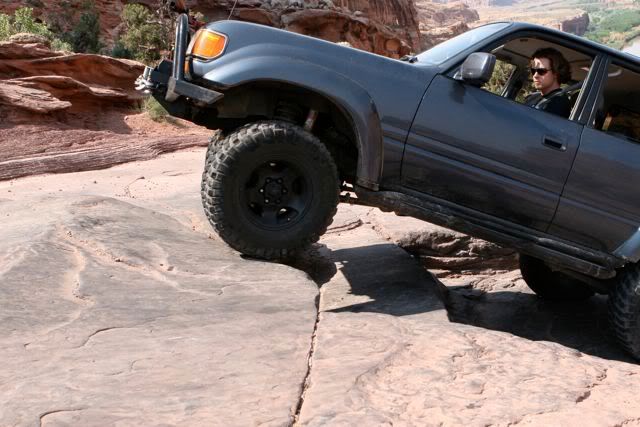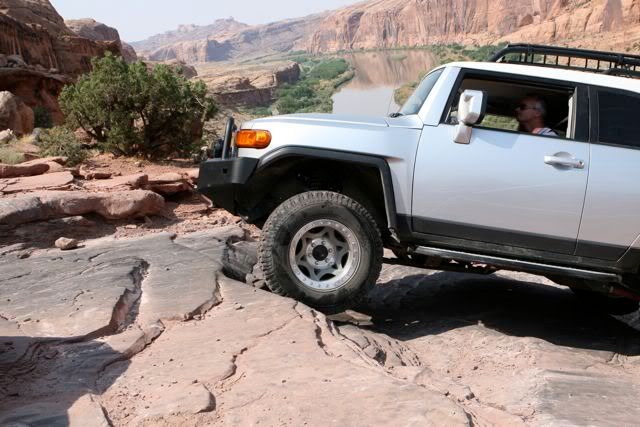 Another bit of wheelie by Bernd in the 2nd part of Z turn...
The beginning of my attempt on Z turn...
Got the right line...
Just not hooking up, throwing dirt off the front, spinning in the rear...
Oh, the humility of the winch...
Then, Victor makes me look like a tool, walking right up with his BFG KM2's...