Discussion Starter
•
#1
•
A few people have already mentioned to me that they are excited about doing this in 2014, so here is the official planning thread. :bigthumb: To be clear, this is not part of the FJ Summit. This is just a way get in a few more days of wheeling on your vacation, meet some new faces and get an introduction to Moab if you've never been there before. There are no registration fees and it is not an "organized event", just a bunch of friends getting together to wheel (if any rangers ask :lol: )
We'll be concentrating as much on great scenery and views as we are on great wheeling. Most of you are driving a long ways for this and the Summit and a major breakage would be a big killjoy. There are some good obstacles mixed in with rock crawling, sand washes etc but nothing a skilled driver couldn't do with a stock FJ. Bring your cameras !
We had some good times in 2012 with folks from all over enjoying Kane Creek Canyon, Top of the World, Metal Masher, Poison Spider and Shafer Trail . . . with a bit of the White Rim Road :lol: oops ! :shrug03: In 2013 we hit Long Canyon, Shafer Trail, Hells Revenge, Top of the World, and Elephant Hill.
Link to last years pictures here --->
http://www.fjcruiserforums.com/forums/2013-fjcruiser-summit/169825-moab-before-summit-pictures.html
Bringing the group up to SOB Hill on the Elephant Hill Trail.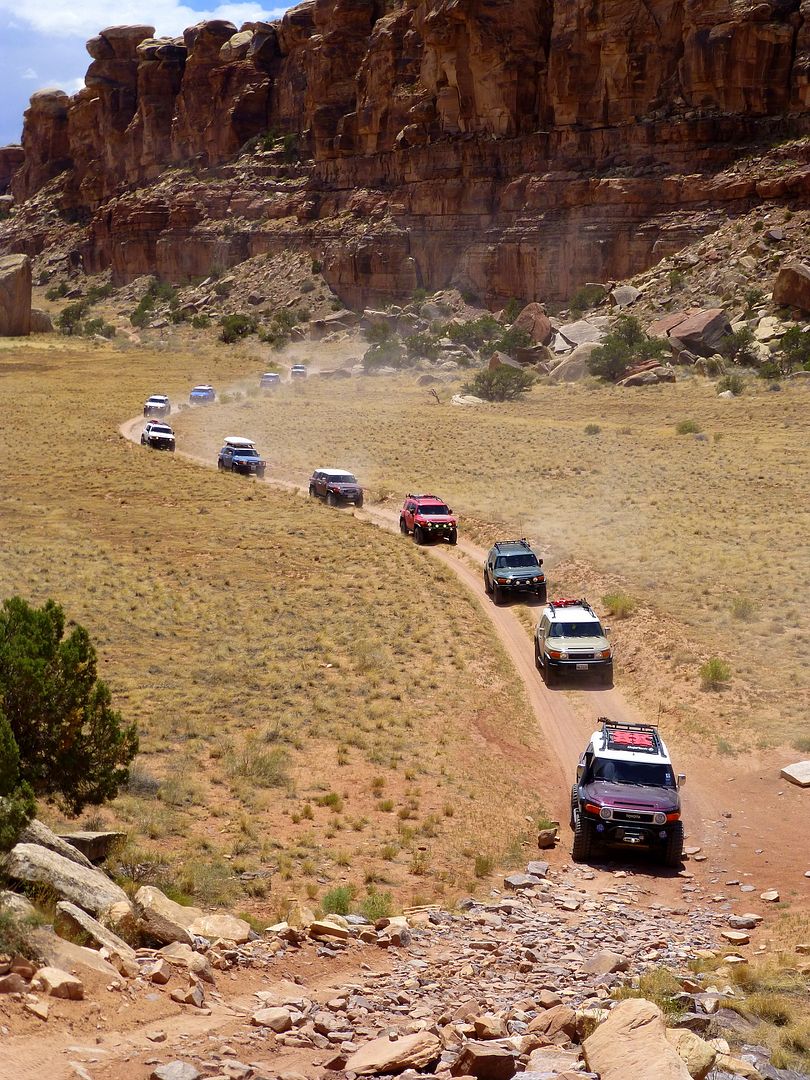 The weather in both 2012 and 2013 was good. However, past weather is no guarantee of future weather. Once we get close to trip time, the 15 day weather forecast should give us an idea of whether the Moab weather will be good again or more like Hell.
http://www.climate-charts.com/noaa-us2/UT425733.png
I plan to be there on Saturday, Sunday, Monday. I am uncertain of Tuesday due to Summit setup and all but, even if I head out, there may be someone in the group with Moab experience that can guide you around some trails. (FlyJester, Old Sarge?) In addition, depending on which day I have to head over to Ouray for Summit layout, I do have some mostly dirt routes over to Montrose/Ouray/Telluride.
Hope to see you there. :cheers:
It can be really slow getting groups moving in the morning, especially when folks roll in right at the planned departure time and still need to gas-up and run into the store for supplies. Let's plan to meet at 8:30 so we can be on the road to the trail heads at 9:00.
Meeting at City Market, 426 South Main Street (just a few blocks south of downtown and on the east side of hwy 191) - gather on north end of parking area (the left as you drive in) - you can gas up at their gas station and pickup snacks, drinks, ice etc but please get there early enough to allow for all of this so we aren't held up.
In the pic below, City Market is the big white roofed building with the red tag. We will meet on the north side of the parking lot just below the word Grand. Their gas station is just above the word Uranium. Again, make sure to be there early to gas up and buy food and beverages.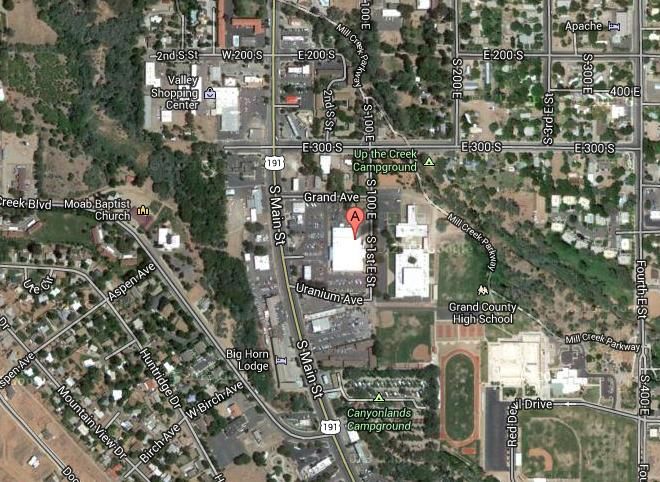 Tentative attendance - updated 7-1-14
Please don't ask to be put on the list unless you are pretty confident that you can make it !
C L O S E D
Woodsman (James) Sat, Sun, Mon, Tues
Flyjester (Devin) Sun, Mon, Tues
Lmmmmm (Larry) Sun, Mon, Tues
Al (Primer) Sat, Sun, WHITE RIM Mon and Tues
Old Sarge (Curtis) Sat, Sun, WHITE RIM Mon and Tues
w5wi (Dale) Sat, Sun, Mon
LaFJ86
LaFJ86's buddy with Taco
WASP Sun, Mon, Tues
weavinfj Mon, Tues
sandbrees Mon, Tues
Kumba Sat, Sun, Mon
ClarKent1975
deftspyder Sun, Mon, Tues
Chris the Ogre Sun, Mon, Tues
progolfer_20 Sun, Mon, Tues
Treymtn Sun, Mon (two FJs)
lostsoul4438 Sat, Sun, Mon
Lucky Logan Mon, Tues
tlcntx Mon
WALL-E Mon
Capt. Caveman Mon, Tues
jimmiee Sun, Mon, Tues
Antarctican Sun, Mon, Tues
FJMAX Sat, Sun, Mon
TxAggie Sat, Sun, Mon, Tues
majic2119 Sun, Mon, Tues
I_FIX_U_UP Sun and WHITE RIM with Sarge
VOODOO71 Sat, Sun, Mon, Tues
FJ Moose Mon, Tues
Voight Kampff Tues
NW FJC Tues
Xx_Blackout Sat, Sun, Mon, Tues
tOM Mon, Tues
jimmy buffet - will lead a Top of the World run on Monday
Sippster Tues
High Pockets
Redeemed Mon, Tues
AIX Sat, Sun, Mon
blkhwk Sun WHITE RIM Mon and Tues
Capping off the list right here.
C L O S E D