As it has been customary the last few years, here is the official planning thread for 2019 ! :bigthumb: To be clear, this is not part of the FJ Summit. This is just a way get in a few more days of wheeling on your vacation, meet some new faces and get an introduction to Moab if you've never been there before. There are no registration fees and it is not an "organized event", just a bunch of friends getting together to wheel (if any rangers ask :lol: ) on Saturday 13th, Sunday 14th and Monday 15th. Some may run trails on Tuesday as well.
I'm just starting this thread to get the ball rolling. I plan to be there on Sat and Sun but have asked Deb and others to step up and help lead groups keeping in mind that there is always a mix of difficulty required by those in attendance.
If you are heading to Ouray for the FJ Summit afterwards, I do not recommend making the three hour drive to Ouray in the late evening or in the dark. The one time I did this, there were multiple near misses with very large deer. Seriously, it was ridiculous.
We'll be concentrating as much on great scenery and views as we are on great wheeling. Most of you are driving a long ways for the Summit and a major breakage would be a big killjoy. There are some good obstacles mixed in with rock crawling, sand washes etc. A lift, aftermarket skid plates and sliders are definitely required as is a little bit of off road experience. Bring your cameras !
We had a great time in 2012 with folks from all over enjoying Kane Creek Canyon, Top of the World, Metal Masher, Poison Spider and Shafer Trail . . . with a bit of the White Rim Road :lol: oops ! :shrug03: In 2013 we hit Long Canyon, Shafer Trail, Hells Revenge, Top of the World, and Elephant Hill. In 2014 we ran Seven Mile Rim, Top of the World, Shafer Trail, Long Canyon, Hells Revenge, Porcupine Rim, Spring Canyon and Tusher Tunnel. In 2015, we hit (in multiple groups) Lockhart Basin, Hells Revenge, Bull Canyon, Poison Spider and many others. In 2016, some of us did more difficult trails such as Kane Creek, Lockhart Basin and Flat Iron Mesa and some did other trails such as Onion Creek/Geyser Pass. In 2018, some of us did
Link to 2013 pictures here --->
https://www.fjcruiserforums.com/forums/2013-fjcruiser-summit/169825-moab-before-summit-pictures.html
Bringing the group up to SOB Hill on the Elephant Hill Trail.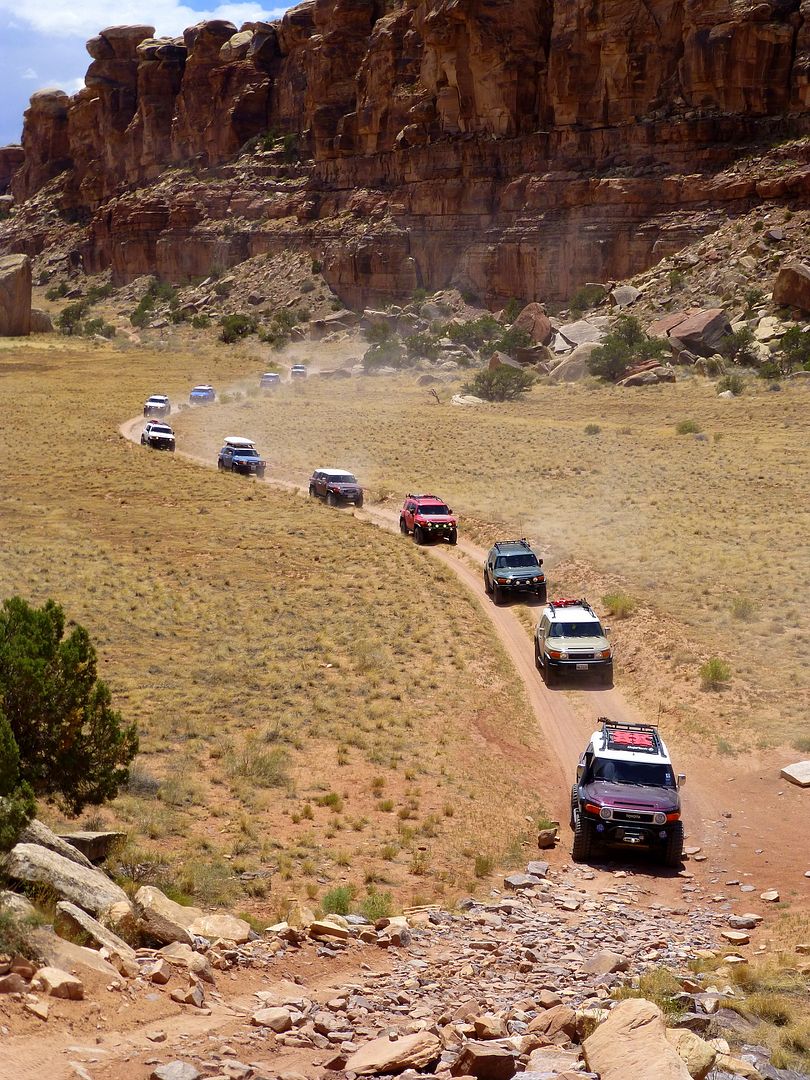 The weather every year since we started this in 2012 has been great. However, past weather is no guarantee of future weather. Once we get close to trip time, the 15 day weather forecast should give us an idea of whether the Moab weather will be like but I wouldn't worry too much about it.
http://www.climate-charts.com/noaa-us2/UT425733.png
Hope to see you there. :cheers:
It can be really slow getting groups moving in the morning, especially when folks roll in right at the planned departure time and still need to gas-up and run into the store for supplies. Let's plan to meet at 8:00 so we can be on the road to the trail heads at 8:30. It starts to get really hot standing around about that time so PLEASE BE GASSED UP AND HAVE YOUR GROCERIES READY.

Meeting at City Market, 426 South Main Street (just a few blocks south of downtown and on the east side of hwy 191) - gather on north end of parking area (the left as you drive in) - you can gas up at their gas station and pickup snacks, drinks, ice etc but please get there early enough to allow for all of this so we aren't held up.

In the pic below, City Market is the big white roofed building with the red tag. We will meet on the north side of the parking lot just below the word Grand. Their gas station is just above the word Uranium. Again, make sure to be there early to gas up and buy food and beverages.