Here I will post pics and info about some of the adventures we have enjoyed in our 2010 FJ Cruiser. I will try to accurately describe the trails and the amount of difficulty we encountered so that it may be beneficial to other members. Please feel free to ask questions, ask for directions, comments or add your own experiences on these particular trails or areas in here at any time.
Current mods: 3" lift. Tires are 285/70/17 BFG AT's. Everything else is stock. FJ does have a rear locking differential.
This is where we spent our first night in our 2010 FJ. We pulled in late at night so were not picky about the perfect spot. This is in the Mill Canyon area just south of the Moab airport. There are lots of super off road opportunities in this area.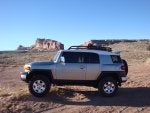 This is in Long Canyon, just north west of Moab. A very easy trail, but beautiful and worth the trip. We did this and Gemini Bridges the same day.
A view nearing the top of Long Canyon.
Enjoying the desert north of Grand Junction, Colorado.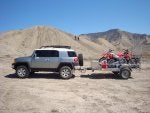 Elk hunting in the Colorado high country. I slept in the back three nights in a row. Low temps between 10 and 25 degrees. My water bottles inside the FJ did not freeze.
This is on the potash/ Schaefer Switchback trail just N.W. of Moab, looking down on the Colorado River. This is where they filmed part of the movie, Thelma and Louise. This trail is very easy. The switchbacks are tight and steep, but a Subaru could easily do it.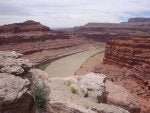 And the other direction.
The bluff in the distance is Dead Horse Point. This photo was taken from the same place as the two previous.
Our FJ was not the biggest kid on the block.
Running Dome Plateau trail, just N.E. of Moab with forum members Sweptwingnut. The hi tech pics were taken by them. This trail is quite easy with 3 inches of lift. Lots of side roads, so GPS is helpful.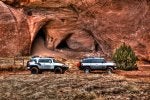 Posing on the slick rock. Fanny dragging.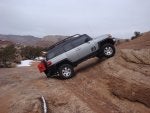 Laboca Arch. Getting here was the hardest part of the trail.
This was probably the most challenging obstacle on the entire trail.
Some neat old houses near some mines built out of rail road ties.
A gravel pile calling my name. Three attempts to get on top. Real loose.