My incoming BASE $22,890 4WD stick is available!!!
Hello members. My incoming So Cal (First week of May) extremely hard-to-find $22,890 BASE MODEL Sun Fusion 4WD manual tranny FJ will be up for grabs. The MSRP is WELL BELOW $24K including the destination charge!!! Floor mats are the only option ordered. Try to find one of these at a Toyota dealer!!! Yes, the deal is for MSRP as well. This vehicle has been on order since October of 2005.
My practical side took over and I ended up buying a 4 door pickup instead after taking a new FJC for a test drive.
Contact me via this forum and I will hook-up the first serious buyer with my sales associate. I would rather have it sold to a member than someone off the street!
Tint the rear windows, throw on some nice wheels and tires, and you can an awesome brand new 4WD 2007 Cruiser with zero miles for under $25K!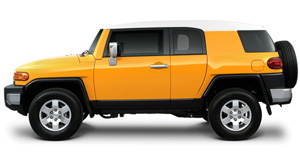 Incoming FJ has the "blackie" standard 17" steel wheels